柠檬苦素
Limonin
| | | | | |
| --- | --- | --- | --- | --- |
| 产品名称 | 产品编号 | CAS编号 | 包装 | QQ客服 |
| 柠檬苦素 | CFN99280 | 1180-71-8 | 10mg | QQ客服:2159513211 |
| 柠檬苦素 | CFN99280 | 1180-71-8 | 20mg | QQ客服:2159513211 |
| 柠檬苦素 | CFN99280 | 1180-71-8 | 50mg | QQ客服:2159513211 |
| 柠檬苦素 | CFN99280 | 1180-71-8 | 100mg | QQ客服:2159513211 |
1. 在您收到产品后请检查产品。如无问题,请将产品存入冰霜并且样品瓶保持密封,产品可以存放长达24个月(2-8摄氏度)。

2. 只要有可能,产品溶解后,您应该在同一天应用于您的实验。 但是,如果您需要提前做预实验,或者需要全部溶解,我们建议您将溶液以等分试样的形式存放在-20℃的密封小瓶中。 通常,这些可用于长达两周。 使用前,打开样品瓶前,我们建议您将产品平衡至室温至少1小时。

3. 需要更多关于溶解度,使用和处理的建议? 请发送电子邮件至:service@chemfaces.com
订购流程
1. 在线订购
请联系我们QQ客服


2. 电话订购
请拨打电话:
027-84237683 或 027-84237783


3. 邮件或传真订购
发送电子邮件到: manager@chemfaces.com 或
发送传真到:027-84254680


提供订购信息
为了方便客户的订购,请需要订购ChemFaces产品的客户,在下单的时候请提供下列信息,以供我们快速为您建立发货信息。
1. 产品编号(CAS No.或产品名称)
2. 发货地址
3. 联系方法 (联系人,电话)
4. 开票抬头 (如果需要发票的客户)
5. 发票地址(发货地址与发票地址不同)
发货时间
1. 付款方式为100%预付款客户,我们将在确认收到货款后当天或1-3个工作日发货。

2. 付款方式为月结的客户,我们承诺在收到订单后当天或1-3个工作日内发货。

3. 如果客户所需要的产品,需要重新生产,我们有权告知客户,交货时间需要延期。
ChemFaces的产品在许多优秀和顶级科学期刊中被引用
我们的产品现已经出口到下面的研究机构与大学,并且还在增涨
University of Toronto (Canada)
University of Ioannina (Greece)
Pennsylvania State University (USA)
University of Mysore (India)
Chungnam National University (Korea)
Universidad de Buenos Aires (Argentina)
Heinrich-Heine-University Düsseldorf (Germany)
Chiang Mai University (Thailand)
University of Illinois at Chicago (USA)
University of Canterbury (New Zealand)
University of East Anglia (United Kingdom)
Univerzita Karlova v Praze (Czech Republic)
Donald Danforth Plant Science Center (USA)
Universidade da Beira Interior (Germany)
国外学术期刊发表的引用ChemFaces产品的部分文献
Description:
Limonin is a widely used dietary supplement, one of the most prevalent citrus limonoids, which has antioxidant, anti-inflammatory, anticancer and anti-human immunodeficiency virus(HIV)activity. It induced a down regulation of TLR-2 ,TLR-4,TNF-α, TNF-α/IL-10,NF-κB and caspase. It showed the potent inhibition of CYP3A4, with IC50 values of 6.20 μM (CYP3A4/testosterone) and 19.10 μM (CYP3A4/midazolam).

Targets:
HIV | P450 (e.g. CYP17) | TLR | TNF-α | NF-κB
In vitro:

J Nat Sci Biol Med. 2013 Jan;4(1):126-33.
Influence of limonin on Wnt signalling molecule in HepG2 cell lines.[Pubmed: 23633848]
The role of limonin as potent anti carcinogenic, apoptosis and chemotherapeutic agents has been supported by limited studies.
METHODS AND RESULTS:
In this study, limonin is identified as a potent anti proliferative agent against human hepatoma HepG2 cells based on the cell viability study, LDH leakage assay. Induction of apoptosis in HepG2 cells by limonin was evidenced by western blot analysis of Bax, Cyclin D1, Caspase 3 and Caspase9. Since Wnt signalling is involved in the initiation and sustaining of hepatocellular carcinoma we studied differential expression of LRP5, LRP6 and DKK wnt players.
CONCLUSIONS:
Limonin found to down regulate these players which forms a rationale for further investigation on effect on limonin in cancer therapy.
Planta Med. 2003 Oct;69(10):910-3.
Effect of limonin and nomilin on HIV-1 replication on infected human mononuclear cells.[Pubmed: 14648393]
In the last years several plant-derived natural compounds have been screened for their anti-HIV activity in order to find lead compounds with novel structures or mechanisms of action. Among these, several triterpenoids have been found to exhibit an antiretroviral activity with different mechanisms of action.
METHODS AND RESULTS:
In this study the effect of two limonoids, limonin and nomilin, on the growth of human immunodeficiency virus-1 (HIV-1) in culture of human peripheral blood mononuclear cells (PBMC) and on monocytes/macrophages (M/M) is described. Limonin and nomilin were found to inhibit the HIV-1 replication in all cellular systems used. A dose-dependent inhibition of viral replication was observed in PBMC isolated from healthy donors and infected with HIV-1 strain after incubation with limonin and nomilin (EC (50) values: 60.0 microM and 52.2 microM, respectively). The two terpenoids inhibited at all concentrations studied the production of HIV-p24 antigen even when the PBMC employed were chronically infected (EC (50) values of 61.0 microM for limonin and 76.2 microM for nomilin). Moreover, these compounds inhibited the HIV-1 replication even in infected M/M. In this cellular system the inhibitory effect was significant at the concentrations of 20 microM, 40 microM and 80 microM starting from day 14 and reached the maximum effect after 18 days of incubation. As regards the mechanism of action, limonin and nomilin inhibit in vitro HIV-1 protease activity.
CONCLUSIONS:
In general, the results obtained point out a similar anti-HIV activity of limonin and nomilin indicating that this activity is not drastically influenced by the structural difference between the two compounds.

In vivo:

Eur J Pharmacol. 2014 Oct 5;740:676-82.
Limonin attenuates hepatocellular injury following liver ischemia and reperfusion in rats via toll-like receptor dependent pathway.[Pubmed: 24967531]
Limonin has been shown to exhibit anti-inflammatory and antioxidant properties in the settings of chemically induced hepatic injury.
METHODS AND RESULTS:
The current study aimed to investigate the protective effects of limonin on experimentally-induced hepatic ischemia reperfusion (I/R) injury in rats. Rats were injected IP with either DMSO or limonin (100 mg/kg BW), 30 min before submission to 45 min of ischemia, followed by 1 h of reperfusion. Limonin ameliorated the deleterious effects of I/R as indicated by improvement in liver function tests, reduction of lactate dehydrogenase, reduction of oxidative stress, decrease in hepatocyte degeneration, and pyknosis. Furthermore, pretreatment of I/R rats with limonin, induced a significant down regulation in the various elements of the toll like receptor (TLR)pathway including TLR-2 and TLR-4, myeloid differentiation factor 88 (MYD88) and toll/IR-1(TIR)-domain-containing adaptor protein inducing interferon-beta (TRIF) and the downstream effectors TNF-α, TNF-α/IL-10 ratio and nuclear factor-κB (NF-κB). It also increased the anti-inflammatory cytokine IL-10 and decreased the activity of the apoptotic marker, caspase-3.
CONCLUSIONS:
These data indicate that limonin exerts antioxidant and anti-inflammatory effects in ischemic liver, thus, protecting hepatocytes against I/R injury in rats. The mechanism of these hepatoprotective effects appears to be related to the antioxidant and anti-inflammatory potential of limonin mediated by the down regulation of TLR- signaling pathway.
| | | | | | |
| --- | --- | --- | --- | --- | --- |
| | 1 mg | 5 mg | 10 mg | 20 mg | 25 mg |
| 1 mM | 2.1254 mL | 10.627 mL | 21.254 mL | 42.508 mL | 53.135 mL |
| 5 mM | 0.4251 mL | 2.1254 mL | 4.2508 mL | 8.5016 mL | 10.627 mL |
| 10 mM | 0.2125 mL | 1.0627 mL | 2.1254 mL | 4.2508 mL | 5.3135 mL |
| 50 mM | 0.0425 mL | 0.2125 mL | 0.4251 mL | 0.8502 mL | 1.0627 mL |
| 100 mM | 0.0213 mL | 0.1063 mL | 0.2125 mL | 0.4251 mL | 0.5313 mL |
* Note:
If you are in the process of experiment, it's need to make the dilution ratios of the samples. The dilution data of the sheet for your reference. Normally, it's can get a better solubility within lower of Concentrations.
部分图片展示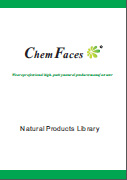 联系方式

电机:027-84237783
传真:027-84254680
在线QQ: 1413575084
E-Mail:manager@chemfaces.com

湖北省武汉沌口经济技术开区车城南路83号1号楼第三层厂房