维生素D3
Vitamin D3
| | | | | |
| --- | --- | --- | --- | --- |
| 产品名称 | 产品编号 | CAS编号 | 包装 | QQ客服 |
| 维生素D3 | CFN90027 | 67-97-0 | 10mg | QQ客服:2056216494 |
| 维生素D3 | CFN90027 | 67-97-0 | 20mg | QQ客服:2056216494 |
| 维生素D3 | CFN90027 | 67-97-0 | 50mg | QQ客服:2056216494 |
| 维生素D3 | CFN90027 | 67-97-0 | 100mg | QQ客服:2056216494 |
1. 在您收到产品后请检查产品。如无问题,请将产品存入冰霜并且样品瓶保持密封,产品可以存放长达24个月(2-8摄氏度)。

2. 只要有可能,产品溶解后,您应该在同一天应用于您的实验。 但是,如果您需要提前做预实验,或者需要全部溶解,我们建议您将溶液以等分试样的形式存放在-20℃的密封小瓶中。 通常,这些可用于长达两周。 使用前,打开样品瓶前,我们建议您将产品平衡至室温至少1小时。

3. 需要更多关于溶解度,使用和处理的建议? 请发送电子邮件至:service@chemfaces.com
订购流程
1. 在线订购
请联系我们QQ客服


2. 电话订购
请拨打电话:
027-84237683 或 027-84237783


3. 邮件或传真订购
发送电子邮件到: manager@chemfaces.com 或
发送传真到:027-84254680


提供订购信息
为了方便客户的订购,请需要订购ChemFaces产品的客户,在下单的时候请提供下列信息,以供我们快速为您建立发货信息。
1. 产品编号(CAS No.或产品名称)
2. 发货地址
3. 联系方法 (联系人,电话)
4. 开票抬头 (如果需要发票的客户)
5. 发票地址(发货地址与发票地址不同)
发货时间
1. 付款方式为100%预付款客户,我们将在确认收到货款后当天或1-3个工作日发货。

2. 付款方式为月结的客户,我们承诺在收到订单后当天或1-3个工作日内发货。

3. 如果客户所需要的产品,需要重新生产,我们有权告知客户,交货时间需要延期。
ChemFaces的产品在许多优秀和顶级科学期刊中被引用
我们的产品现已经出口到下面的研究机构与大学,并且还在增涨
University of Amsterdam (Netherlands)
Semmelweis Unicersity (Hungary)
Helmholtz Zentrum München (Germany)
Subang Jaya Medical Centre (Malaysia)
University of Illinois (USA)
Centralised Purchases Unit (CPU), B.I.T.S (India)
Universidade Federal de Santa Catarina (Brazil)
Monash University Sunway Campus (Malaysia)
Texas A&M University (USA)
Universidade Federal de Goias (UFG) (Brazil)
Johannes Gutenberg University Mainz (JGU) (Germany)
Lodz University of Technology (Poland)
Auburn University (USA)
VIB Department of Plant Systems Biology, UGent (PSB) (Belgium)
国外学术期刊发表的引用ChemFaces产品的部分文献
Description:
Vitamin D3 is a form of vitamin D, binds and activates a H305F/H397Y mutant vitamin D receptor (VDR) with EC50 of 300 nM. Supplemental calcium and Vitamin D3 may increase TGFβ1 expression and shift TGFα expression downward from the differentiation to the proliferation zone in the crypts in the normal-appearing colorectal mucosa of sporadic colorectal adenoma patients.
Targets:
TGF-β/Smad
In vitro:

J Pharm Biomed Anal. 2014 Mar;91:73-80.
Development of a validated UPLC method for simultaneous estimation of both free and entrapped (in solid lipid nanoparticles) all-trans retinoic acid and cholecalciferol (vitamin D3) and its pharmacokinetic applicability in rats.[Pubmed: 24440824]
A sensitive ultra-performance liquid chromatography (UPLC) method was developed for simultaneous estimation of all-trans retinoic acid (ATRA) and cholecalciferol (vitamin D3) in rat plasma.
METHODS AND RESULTS:
The method was validated over the linear range of 1.0-5000ng/ml (r(2)=0.999) for both vitamins with a limit of detection of 0.5ng/ml. Chromatographic separation was achieved using liquid-liquid extraction (LLE) on an Acquity BEH RP 18 column (2.1mm×50mm, I.D. 1.7μm), with mobile phase comprising of acetonitrile:methanol:water (90:8:2, v/v/v), at a flow rate of 0.20ml/min and a total run time of 5min. Intra and inter-day variability (RSD) was ≤3.1%, and the accuracy varied between 95.4-99.9% and 95.3-101.1% respectively, for ATRA and 98.5-100.8% and 99.3-101.7%, respectively for vitamin D3. High recovery of ≥96.0% for ATRA and ≥87.80% for vitamin D3 was achieved. ATRA and vitamin D3 were stable in plasma under different storage and processing conditions. The method was applied to estimate the total drug content and entrapment efficiency of ATRA and vitamin D3 loaded solid lipid nanoparticles (SLNs). Concentration of these two agents was determined in rat plasma after simultaneous subcutaneous administration in free form or when loaded into SLNs thus establishing pharmacokinetic application of the developed procedure.
CONCLUSIONS:
Results indicated an improvement in AUC0-∞ by 5.4 times and 29.4 times for ATRA and vitamin D3, respectively, upon their incorporation into SLNs. Simultaneous administration of these two vitamins and their improved and prolonged bioavailability has scope for their use in treatment and control of tuberculosis.

In vivo:

Eur J Endocrinol. 2015 Mar;172(3):235-41.
Vitamin D3 increases in abdominal subcutaneous fat tissue after supplementation with vitamin D3.[Pubmed: 25661743]
The objective was to assess the amount of vitamin D3 stored in adipose tissue after long-term supplementation with high dose vitamin D3. A cross-sectional study on 29 subjects with impaired glucose tolerance who had participated in a randomized controlled trial with vitamin D3 20 000 IU (500 μg) per week vs placebo for 3-5 years.
METHODS AND RESULTS:
Abdominal subcutaneous fat tissue was obtained by needle biopsy for the measurements of vitamin D3 and 25-hydroxyvitamin D3 (25(OH)D3). Body fat was measured with dual-energy X-ray absorptiometry, and serum 25(OH)D3 level was quantified. In the subjects given vitamin D3, the median concentrations of serum 25(OH)D3, fat vitamin D3, and fat 25(OH)D3 were 99 nmol/l, 209 ng/g, and 3.8 ng/g, respectively; and correspondingly in the placebo group 62  nmol/l, 32 ng/g, and 2.5 ng/g. If assuming an equal amount of vitamin D3 stored in all adipose tissue in the body, the median body store was 6.6 mg vitamin D3 and 0.12 mg 25(OH)D3 in those given vitamin D3.
CONCLUSIONS:
Subcutaneous adipose tissue may store large amounts of vitamin D3. The clinical importance of this storage needs to be determined.
J Steroid Biochem Mol Biol. 2015 Apr;148:275-82.
Dissecting high from low responders in a vitamin D3 intervention study.[Pubmed: 25448738]
Vitamin D3 is a pleiotropic signaling molecule that has via activation of the transcription factor vitamin D receptor (VDR) a direct effect on the expression of more than 100 genes. The aim of this study was to find transcriptomic and clinical biomarkers that are most suited to identify vitamin D3 responders within 71 pre-diabetic subjects during a 5-month intervention study (VitDmet).
METHODS AND RESULTS:
In hematopoietic cells, the genes ASAP2, CAMP, CD14, CD97, DUSP10, G0S2, IL8, LRRC8A, NINJ1, NRIP1, SLC37A2 and THBD are known as primary vitamin D targets. We demonstrate that each of these 12 genes carries a conserved VDR binding site within its genomic region and is expressed in human peripheral blood mononuclear cells (PBMCs). The changes in the expression of these genes in human PBMCs at the start and the end of the vitamin D-intervention were systematically correlated with the alteration in the circulating form of vitamin D3, 25-hydroxyvitamin D3 (25(OH)D3). Only 39-44 (55-62%) of the study subjects showed a highly significant response to vitamin D3, i.e., we considered them as "responders". In comparison, we found for 37-53 (52-75%) of the participants that only 12 biochemical and clinical parameters, such as concentrations of parathyroid hormone (PTH) and insulin, or computed values, such as homeostatic model assessment and insulin sensitivity index, show a correlation with serum 25(OH)D3 levels that is as high as that of the selected VDR target genes. All 24 parameters together described the pleiotropic vitamin D response of the VitDmet study subjects. Interestingly, they demonstrated a number of additional correlations that define a network, in which PTH plays the central role.
CONCLUSIONS:
In conclusion, vitamin D3-induced changes in human PBMCs can be described by transcriptomic and serum biomarkers and allow a segregation into high and low responders. This article is part of a Special Issue entitled '17th Vitamin D Workshop' .
| | | | | | |
| --- | --- | --- | --- | --- | --- |
| | 1 mg | 5 mg | 10 mg | 20 mg | 25 mg |
| 1 mM | 2.5998 mL | 12.9992 mL | 25.9983 mL | 51.9967 mL | 64.9958 mL |
| 5 mM | 0.52 mL | 2.5998 mL | 5.1997 mL | 10.3993 mL | 12.9992 mL |
| 10 mM | 0.26 mL | 1.2999 mL | 2.5998 mL | 5.1997 mL | 6.4996 mL |
| 50 mM | 0.052 mL | 0.26 mL | 0.52 mL | 1.0399 mL | 1.2999 mL |
| 100 mM | 0.026 mL | 0.13 mL | 0.26 mL | 0.52 mL | 0.65 mL |
* Note:
If you are in the process of experiment, it's need to make the dilution ratios of the samples. The dilution data of the sheet for your reference. Normally, it's can get a better solubility within lower of Concentrations.
部分图片展示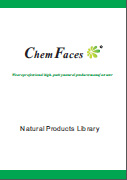 联系方式

电机:027-84237783
传真:027-84254680
在线QQ: 1413575084
E-Mail:manager@chemfaces.com

湖北省武汉沌口经济技术开区车城南路83号1号楼第三层厂房