松甾酮A
Ponasterone A
产品编号
CFN99419
CAS编号
13408-56-5
分子式 = 分子量
C27H44O6 = 464.6
产品纯度
>=98%
物理属性
Powder
化合物类型
Steroids
植物来源
The barks of Podocarpus macrophyllus
ChemFaces的产品在影响因子大于5的优秀和顶级科学期刊中被引用
| | | | | |
| --- | --- | --- | --- | --- |
| 产品名称 | 产品编号 | CAS编号 | 包装 | QQ客服 |
| 松甾酮A | CFN99419 | 13408-56-5 | 1mg | QQ客服:215959384 |
| 松甾酮A | CFN99419 | 13408-56-5 | 5mg | QQ客服:215959384 |
| 松甾酮A | CFN99419 | 13408-56-5 | 10mg | QQ客服:215959384 |
| 松甾酮A | CFN99419 | 13408-56-5 | 20mg | QQ客服:215959384 |
1. 在您收到产品后请检查产品。如无问题,请将产品存入冰霜并且样品瓶保持密封,产品可以存放长达24个月(2-8摄氏度)。

2. 只要有可能,产品溶解后,您应该在同一天应用于您的实验。 但是,如果您需要提前做预实验,或者需要全部溶解,我们建议您将溶液以等分试样的形式存放在-20℃的密封小瓶中。 通常,这些可用于长达两周。 使用前,打开样品瓶前,我们建议您将产品平衡至室温至少1小时。

3. 需要更多关于溶解度,使用和处理的建议? 请发送电子邮件至:service@chemfaces.com
订购流程
1. 在线订购
请联系我们QQ客服


2. 电话订购
请拨打电话:
027-84237683 或 027-84237783


3. 邮件或传真订购
发送电子邮件到: manager@chemfaces.com 或
发送传真到:027-84254680


提供订购信息
为了方便客户的订购,请需要订购ChemFaces产品的客户,在下单的时候请提供下列信息,以供我们快速为您建立发货信息。
1. 产品编号(CAS No.或产品名称)
2. 发货地址
3. 联系方法 (联系人,电话)
4. 开票抬头 (如果需要发票的客户)
5. 发票地址(发货地址与发票地址不同)
发货时间
1. 付款方式为100%预付款客户,我们将在确认收到货款后当天或1-3个工作日发货。

2. 付款方式为月结的客户,我们承诺在收到订单后当天或1-3个工作日内发货。

3. 如果客户所需要的产品,需要重新生产,我们有权告知客户,交货时间需要延期。
ChemFaces的产品在许多优秀和顶级科学期刊中被引用
我们的产品现已经出口到下面的研究机构与大学,并且还在增涨
Leibniz-Institut für Pflanzenbiochemie (IPB) (Germany)
Julius Kühn-Institut (Germany)
Melbourne University (Australia)
Universiti Malaysia Pahang (Malaysia)
National Cancer Institute (USA)
Monash University (Australia)
Weizmann Institute of Science (Israel)
University of South Australia (Australia)
Seoul National University of Science and Technology (Korea)
University of the Basque Country (Spain)
University Medical Center Mainz (Germany)
Indian Institute of Science (India)
Fraunhofer-Institut für Molekularbiologie und Angewandte ?kologie IME (Germany)
Michigan State University (USA)
国外学术期刊发表的引用ChemFaces产品的部分文献
Description:
Ponasterone A is insect moulting hormone. Ponasterone A induced death of non-adapted insects may be related to PoA regulating different set of genes when compared to 20E.
In vitro:

Int J Biochem Cell Biol. 2003 Jan;35(1):79-85.
Development of a ponasterone A-inducible gene expression system for application in cultured skeletal muscle cells.[Pubmed: 12467649]
The goal of this study was to develop an inducible gene expression system to assess functions of specific proteins in differentiated cultured skeletal muscle.
METHODS AND RESULTS:
We utilized and modified the ecdysone inducible system because others have used this system to express exogenous genes in vitro and in transgenic animals. A limitation of the commercially-available ecdysone system is its constitutive expression in all tissues. Hence, its application in vivo would result in expression of a cloned gene in undifferentiated and differentiated tissues. To target its expression to muscle, we removed the constitutively-active CMV promoter of pVgRXR and replaced it with a skeletal muscle alpha-actin promoter so that the regulatory features of the system would be expressed in differentiated muscle cells. We transfected our newly designed expression system into L8 muscle myoblasts and established stable cell lines via antibiotic selection.
CONCLUSIONS:
We determined that reporter gene activity was induced by Ponasterone A in myotubes, a differentiated muscle phenotype, but not in myoblasts (undifferentiated cells). This proved the validity of the concept of an inducible muscle-specific expression system. We then determined that beta-galactosidase expression was dependent upon the dose of Ponasterone A and duration of exposure to inducer. This creates potential to regulate both the level of expression and duration of expression of a cloned gene in differentiated muscle.
Bioorg Med Chem. 2005 Feb 15;13(4):1333-40.
Classical and three-dimensional QSAR for the inhibition of [3H]ponasterone A binding by diacylhydrazine-type ecdysone agonists to insect Sf-9 cells.[Pubmed: 15670941]

METHODS AND RESULTS:
The activity of 52 diacylhydrazine congeners was evaluated by measuring the inhibition of the incorporation of [3H]Ponasterone A into intact Sf-9 cells. Eleven compounds were newly synthesized in this study. Results showed that the substitution of the 2-CH3 or 3-OCH3 moiety of methoxyfenozide with other groups or the removal of either group was unfavorable to the activity. The activity was quantitatively analyzed using both classical QSAR (Hansch-Fujita) and three-dimensional QSAR methods (comparative molecular field analysis, CoMFA). Sterically favorable fields were observed at the 3- and 4-positions of the benzene ring opposite from the t-butyl group (B-ring), and a sterically unfavorable field was evidenced at the 2-position. Another sterically unfavorable field developed surrounding the favorable field observed at the 4-position of the B-ring. Electrostatically negative fields were observed near the CO moiety, above the benzene ring, and at the 4-position of the B-ring. The optimum hydrophobicity of compounds in terms of their logP values was calculated to be approximately 4.1. Results of the three dimensional structure-activity relationship analyses were consistent with those obtained from the previously reported classical QSAR for 2-chlorobenzoyl analogs containing various para-substituents. The high activity of potent insecticides such as tebufenozide and chromafenozide were rationalized by CoMFA.
CONCLUSIONS:
Thus, this CoMFA result will be useful in the design of new compounds and in understanding the molecular mechanism of the ligand-receptor interactions.
| | | | | | |
| --- | --- | --- | --- | --- | --- |
| | 1 mg | 5 mg | 10 mg | 20 mg | 25 mg |
| 1 mM | 2.1524 mL | 10.7619 mL | 21.5239 mL | 43.0478 mL | 53.8097 mL |
| 5 mM | 0.4305 mL | 2.1524 mL | 4.3048 mL | 8.6096 mL | 10.7619 mL |
| 10 mM | 0.2152 mL | 1.0762 mL | 2.1524 mL | 4.3048 mL | 5.381 mL |
| 50 mM | 0.043 mL | 0.2152 mL | 0.4305 mL | 0.861 mL | 1.0762 mL |
| 100 mM | 0.0215 mL | 0.1076 mL | 0.2152 mL | 0.4305 mL | 0.5381 mL |
* Note:
If you are in the process of experiment, it's need to make the dilution ratios of the samples. The dilution data of the sheet for your reference. Normally, it's can get a better solubility within lower of Concentrations.
部分图片展示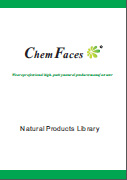 联系方式

电机:027-84237783
传真:027-84254680
在线QQ: 1413575084
E-Mail:manager@chemfaces.com

湖北省武汉沌口经济技术开区车城南路83号1号楼第三层厂房