Mahanine
Mahanine
| | | | | |
| --- | --- | --- | --- | --- |
| 产品名称 | 产品编号 | CAS编号 | 包装 | QQ客服 |
| Mahanine | CFN92199 | 28360-49-8 | 1mg | QQ客服:1413575084 |
| Mahanine | CFN92199 | 28360-49-8 | 5mg | QQ客服:1413575084 |
| Mahanine | CFN92199 | 28360-49-8 | 10mg | QQ客服:1413575084 |
| Mahanine | CFN92199 | 28360-49-8 | 20mg | QQ客服:1413575084 |
1. 在您收到产品后请检查产品。如无问题,请将产品存入冰霜并且样品瓶保持密封,产品可以存放长达24个月(2-8摄氏度)。

2. 只要有可能,产品溶解后,您应该在同一天应用于您的实验。 但是,如果您需要提前做预实验,或者需要全部溶解,我们建议您将溶液以等分试样的形式存放在-20℃的密封小瓶中。 通常,这些可用于长达两周。 使用前,打开样品瓶前,我们建议您将产品平衡至室温至少1小时。

3. 需要更多关于溶解度,使用和处理的建议? 请发送电子邮件至:service@chemfaces.com
订购流程
1. 在线订购
请联系我们QQ客服


2. 电话订购
请拨打电话:
027-84237683 或 027-84237783


3. 邮件或传真订购
发送电子邮件到: manager@chemfaces.com 或
发送传真到:027-84254680


提供订购信息
为了方便客户的订购,请需要订购ChemFaces产品的客户,在下单的时候请提供下列信息,以供我们快速为您建立发货信息。
1. 产品编号(CAS No.或产品名称)
2. 发货地址
3. 联系方法 (联系人,电话)
4. 开票抬头 (如果需要发票的客户)
5. 发票地址(发货地址与发票地址不同)
发货时间
1. 付款方式为100%预付款客户,我们将在确认收到货款后当天或1-3个工作日发货。

2. 付款方式为月结的客户,我们承诺在收到订单后当天或1-3个工作日内发货。

3. 如果客户所需要的产品,需要重新生产,我们有权告知客户,交货时间需要延期。
ChemFaces的产品在许多优秀和顶级科学期刊中被引用
我们的产品现已经出口到下面的研究机构与大学,并且还在增涨
Fraunhofer-Institut für Molekularbiologie und Angewandte ?kologie IME (Germany)
Center for protein Engineering (CIP) (Belgium)
Institute of Pathophysiology Medical University of Vienna (Austria)
Anna University (India)
Tohoku University (Japan)
Indian Institute of Science (India)
Research Unit Molecular Epigenetics (MEG) (Germany)
Chang Gung University (Taiwan)
University of Hawaii Cancer Center (USA)
National Research Council of Canada (Canada)
CSIRO - Agriculture Flagship (Australia)
Universidad de Ciencias y Artes de Chiapas (Mexico)
The Ohio State University (USA)
University of Malaya (Malaysia)
国外学术期刊发表的引用ChemFaces产品的部分文献
Description:
Mahanine has effects on the activation of the apoptotic pathway in human leukemia U937 cells, causes the mitochondrial membranes to lose their permeability, resulting in caspase-3 activation and apoptosis. Mahanine can reverse an epigenetically silenced gene, RASSF1A in prostate cancer cells by inhibiting DNMT activity that in turn down-regulates a key cell cycle regulator, cyclin D1, is an encouraging therapeutic choice for advanced prostatic cancer.
Targets:
JAK | Src | STAT | ROS | Chk | CDK | Akt | PI3K | p53
In vitro:

Cancer Lett. 2014 Aug 28;351(1):81-90.
Improved chemosensitivity in cervical cancer to cisplatin: synergistic activity of mahanine through STAT3 inhibition.[Pubmed: 24831030]
Toxicity reduction of cisplatin is necessary for improved treatment of cancer.
METHODS AND RESULTS:
Here we have demonstrated the synergistic growth-inhibitory effect of cisplatin on cervical cancer cells in-combination with a nontoxic herbal carbazole alkaloid, mahanine. Mahanine enhanced cisplatin-induced apoptosis and reduced its effective concentration ∼5-8 folds. Mahanine inhibited JAK1 and Src and subsequently promoted proteasome-mediated degradation of STAT3. This event was further enhanced in-combination with cisplatin and subsequently inhibited cancer cell migration.
CONCLUSIONS:
Collectively, our results revealed that mahanine may be a prospective agent to reduce the concentration of cisplatin in adjunct for the treatment of cancer and thereby decreasing its toxicity.
Apoptosis. 2014 Jan;19(1):149-64.
Mahanine synergistically enhances cytotoxicity of 5-fluorouracil through ROS-mediated activation of PTEN and p53/p73 in colon carcinoma.[Pubmed: 24052409]
5-Fluorouracil (5-FU) alone or in combination with other drugs is the main basis of chemotherapeutic treatment in colorectal cancer although patients with microsatellite instability generally show resistance to 5-FU treatment.
METHODS AND RESULTS:
The present investigation is focussed on the mechanistic insight of a pure herbal carbazole alkaloid, Mahanine, as a single or in combination with 5-FU in colon cancer. We demonstrated that Mahanine-induced apoptosis involved reactive oxygen species (ROS)-mediated nuclear accumulation of PTEN and its interaction with p53/p73. Mahanine and 5-FU in combination exerted synergistic inhibitory effect on cell viability. This combination also enhanced ROS production, increased tumour suppressor proteins and suppressed chemo-migration.
CONCLUSIONS:
Taken together, our results revealed that Mahanine can be a potential chemotherapeutic agent with efficacy to reduce the concentration of toxic 5-FU in colon cancer.

In vivo:

Am J Cancer Res. 2014 Nov 19;4(6):629-47.
Mahanine, a novel mitochondrial complex-III inhibitor induces G0/G1 arrest through redox alteration-mediated DNA damage response and regresses glioblastoma multiforme.[Pubmed: 25520856]
The Electron transport chain (ETC) is responsible for oxidative phosphorylation-mediated mitochondrial respiration.
METHODS AND RESULTS:
Here we wanted to address the Mahanine-induced targeted pathways in glioblastoma multiforme (GBM) in the context of G0/G1 phase arrest and redox alteration. We have demonstrated Mahanine, as a novel mitochondrial complex-III inhibitor which induced G0/G1 phase arrest in GBM. This event was preceded by accumulation of intracellular ROS by the inhibition of mitochondrial ETC. The accumulated ROS induced DNA damage response (DDR), that mediated Chk1/Chk2 upregulation and activation which were essential factors for the G0/G1 arrest. NAC-mediated scavenging of ROS generation reduced the propensity of G0/G1 phase arrest in GBM cells by Mahanine. Knockdown of Chk1/Chk2 also affected the cell cycle inhibitory potential of Mahanine. During G0/G1 arrest, other hallmark proteins like, cyclin D1/cyclin D3, CDK4/CDK6 and CDC25A were also downregulated. The G0/G1 phase restriction property of Mahanine was also established in in vivo mice model. Mahanine-induced complex-III inhibition triggered enhanced ROS in hypoxia responsible for higher G0/G1 arrest. Furthermore, we demonstrated that Mahanine-treated G0/G1 arrested cells were less potent to form xenograft tumor in vivo. Additionally, they exhibited reduced ability to migrate and form intracellular tube-like structures. Moreover, they became susceptible to differentiate and astrocyte-like cells were generated from the epithelial lineage.
CONCLUSIONS:
Taken together, our results established that complex-III of ETC is one of the possible potential targets of Mahanine. This nontoxic chemotherapeutic molecule enhanced ROS production, induced cell cycle arrest and thereafter regressed GBM without effecting normal astrocytes.
| | | | | | |
| --- | --- | --- | --- | --- | --- |
| | 1 mg | 5 mg | 10 mg | 20 mg | 25 mg |
| 1 mM | 2.8777 mL | 14.3885 mL | 28.777 mL | 57.554 mL | 71.9424 mL |
| 5 mM | 0.5755 mL | 2.8777 mL | 5.7554 mL | 11.5108 mL | 14.3885 mL |
| 10 mM | 0.2878 mL | 1.4388 mL | 2.8777 mL | 5.7554 mL | 7.1942 mL |
| 50 mM | 0.0576 mL | 0.2878 mL | 0.5755 mL | 1.1511 mL | 1.4388 mL |
| 100 mM | 0.0288 mL | 0.1439 mL | 0.2878 mL | 0.5755 mL | 0.7194 mL |
* Note:
If you are in the process of experiment, it's need to make the dilution ratios of the samples. The dilution data of the sheet for your reference. Normally, it's can get a better solubility within lower of Concentrations.
部分图片展示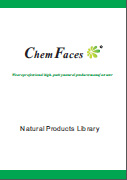 联系方式

电机:027-84237783
传真:027-84254680
在线QQ: 1413575084
E-Mail:manager@chemfaces.com

湖北省武汉沌口经济技术开区车城南路83号1号楼第三层厂房