牛膝甾酮
Inokosterone
产品编号
CFN92515
CAS编号
15130-85-5
分子式 = 分子量
C27H44O7 = 480.6
产品纯度
>=98%
物理属性
Powder
化合物类型
Steroids
植物来源
The roots of Achyranthes bidentata Blume.
ChemFaces的产品在影响因子大于5的优秀和顶级科学期刊中被引用
| | | | | |
| --- | --- | --- | --- | --- |
| 产品名称 | 产品编号 | CAS编号 | 包装 | QQ客服 |
| 牛膝甾酮 | CFN92515 | 15130-85-5 | 1mg | QQ客服:215959384 |
| 牛膝甾酮 | CFN92515 | 15130-85-5 | 5mg | QQ客服:215959384 |
| 牛膝甾酮 | CFN92515 | 15130-85-5 | 10mg | QQ客服:215959384 |
| 牛膝甾酮 | CFN92515 | 15130-85-5 | 20mg | QQ客服:215959384 |
1. 在您收到产品后请检查产品。如无问题,请将产品存入冰霜并且样品瓶保持密封,产品可以存放长达24个月(2-8摄氏度)。

2. 只要有可能,产品溶解后,您应该在同一天应用于您的实验。 但是,如果您需要提前做预实验,或者需要全部溶解,我们建议您将溶液以等分试样的形式存放在-20℃的密封小瓶中。 通常,这些可用于长达两周。 使用前,打开样品瓶前,我们建议您将产品平衡至室温至少1小时。

3. 需要更多关于溶解度,使用和处理的建议? 请发送电子邮件至:service@chemfaces.com
订购流程
1. 在线订购
请联系我们QQ客服


2. 电话订购
请拨打电话:
027-84237683 或 027-84237783


3. 邮件或传真订购
发送电子邮件到: manager@chemfaces.com 或
发送传真到:027-84254680


提供订购信息
为了方便客户的订购,请需要订购ChemFaces产品的客户,在下单的时候请提供下列信息,以供我们快速为您建立发货信息。
1. 产品编号(CAS No.或产品名称)
2. 发货地址
3. 联系方法 (联系人,电话)
4. 开票抬头 (如果需要发票的客户)
5. 发票地址(发货地址与发票地址不同)
发货时间
1. 付款方式为100%预付款客户,我们将在确认收到货款后当天或1-3个工作日发货。

2. 付款方式为月结的客户,我们承诺在收到订单后当天或1-3个工作日内发货。

3. 如果客户所需要的产品,需要重新生产,我们有权告知客户,交货时间需要延期。
ChemFaces的产品在许多优秀和顶级科学期刊中被引用
我们的产品现已经出口到下面的研究机构与大学,并且还在增涨
Griffith University (Australia)
University of Eastern Finland (Finland)
University of East Anglia (United Kingdom)
University of Dicle (Turkey)
Texas A&M University (USA)
FORTH-IMBB (Greece)
Deutsches Krebsforschungszentrum (Germany)
Agricultural Research Organization (ARO) (Israel)
University of Bordeaux (France)
Institute of Bioorganic Chemistry Polish Academy of Sciences (Poland)
Centralised Purchases Unit (CPU), B.I.T.S (India)
University of Liège (Belgium)
Korea Food Research Institute(KFRI) (Korea)
The Ohio State University (USA)
国外学术期刊发表的引用ChemFaces产品的部分文献
Description:
Inokosterone is an analgesic drug. It also shows high insect moulting hormone activity.
In vitro:

Arch Biochem Biophys. 2011 Sep 1;513(1):27-35.
C-26 vs. C-27 hydroxylation of insect steroid hormones: regioselectivity of a microsomal cytochrome P450 from a hormone-resistant cell line.[Pubmed: 21763268]
Hydroxylation of steroids at one of the side chain terminal methyl groups, commonly linked to C-26, represents an important regulatory step established in many phyla. Discrimination between the two sites, C-26 and C-27, requires knowing the stereochemistry of the products. 26-Hydroxylation of the insect steroid hormone 20-hydroxyecdysone by a microsomal cytochrome P450 was previously found to be responsible for hormonal resistance in a Chironomus cell line mainly producing the (25S)-epimer of 20,26-dihydroxyecdysone.
METHODS AND RESULTS:
Here, we studied the 25-desoxy analog of 20-hydroxyecdysone, ponasterone A, to elucidate the stereochemistry of the expected 26-hydroxy product, inokosterone, which occurs as C-25 epimers in nature. We identified the predominant metabolite as the C-25 R epimer of inokosterone on comparison by RP-HPLC with the (25R)- and (25S)-epimers the stereochemistry of which was confirmed by X-ray crystallography. (25R)-inokosterone was further oxidized to the 26-aldehyde identified by mass spectroscopy, borohydride reduction and metabolic transformation to 26-carboxylic acid. The (25S)-epimers of inokosterone and its aldehyde were minor products. With 20-hydroxyecdysone as substrate, we newly identified the (25R)-epimer of 20,26-dihydroxyecdysone as a minor product.
CONCLUSIONS:
In conclusion, the present stereochemical studies revealed high regioselectivity of the Chironomus enzyme to hydroxylate both steroids at the same methyl group, denoted C-27.

In vivo:

Chin J Integr Med . 2021 Oct;27(10):767-773.
Inokosterone Is A Potential Drug Target of Estrogen Receptor 1 in Rheumatoid Arthritis Patients: Analysis from Active Ingredient of Cyathula Officinalis[Pubmed: 34432202]
Abstract Objective: To elucidate the active compounds and the molecular mechanism of Cyathula Officinalis as a drug treatment for rheumatoid arthritis (RA). Methods: The target genes of active ingredients from Cyathula Officinalis were obtained from bioinformatics analysis tool for the molecular mechanism of traditional Chinese medicine. The protein-protein interaction between the target genes were analyzed using STRING and Genemania. The transcriptome of RA patients compared to healthy people (GSE121894) were analyzed using R program package Limma. The relative expression of the target genes was obtained from the RNA-seq datasets. The molecular docking analyses were processed based on the molecular model of estrogen receptor 1 (ESR1) binding with estradiol (PDB ID:1A52). The binding details were analyzed by SYBYL. Results: Inokosterone, ecdysterone, and cyaterone were the 3 active ingredients from Cyathula Officinalis that bind to target genes. Of all the significantly changed genes from RA patients, ESR1, ADORA1, and ANXA1 were significantly increased in mRNA samples of RA patients. Conclusion: ESR1, the transcription factor that binds inokosterone in the molecular binding analysis, is the target protein of Cyathula Officinalis. Keywords: Chinese medicine; Cyathula Officinalis; estrogen receptor 1; inokosterone; rheumatoid arthritis.
| | | | | | |
| --- | --- | --- | --- | --- | --- |
| | 1 mg | 5 mg | 10 mg | 20 mg | 25 mg |
| 1 mM | 2.0807 mL | 10.4037 mL | 20.8073 mL | 41.6146 mL | 52.0183 mL |
| 5 mM | 0.4161 mL | 2.0807 mL | 4.1615 mL | 8.3229 mL | 10.4037 mL |
| 10 mM | 0.2081 mL | 1.0404 mL | 2.0807 mL | 4.1615 mL | 5.2018 mL |
| 50 mM | 0.0416 mL | 0.2081 mL | 0.4161 mL | 0.8323 mL | 1.0404 mL |
| 100 mM | 0.0208 mL | 0.104 mL | 0.2081 mL | 0.4161 mL | 0.5202 mL |
* Note:
If you are in the process of experiment, it's need to make the dilution ratios of the samples. The dilution data of the sheet for your reference. Normally, it's can get a better solubility within lower of Concentrations.
部分图片展示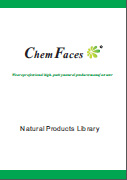 联系方式

电机:027-84237783
传真:027-84254680
在线QQ: 1413575084
E-Mail:manager@chemfaces.com

湖北省武汉沌口经济技术开区车城南路83号1号楼第三层厂房