灵芝醇A
Ganoderol A
产品编号
CFN99065
CAS编号
104700-97-2
分子式 = 分子量
C30H46O2 = 438.7
产品纯度
>=98%
物理属性
Powder
化合物类型
Triterpenoids
植物来源
The fruiting body of Ganoderma lucidum
ChemFaces的产品在影响因子大于5的优秀和顶级科学期刊中被引用
| | | | | |
| --- | --- | --- | --- | --- |
| 产品名称 | 产品编号 | CAS编号 | 包装 | QQ客服 |
| 灵芝醇A | CFN99065 | 104700-97-2 | 1mg | QQ客服:2056216494 |
| 灵芝醇A | CFN99065 | 104700-97-2 | 5mg | QQ客服:2056216494 |
| 灵芝醇A | CFN99065 | 104700-97-2 | 10mg | QQ客服:2056216494 |
| 灵芝醇A | CFN99065 | 104700-97-2 | 20mg | QQ客服:2056216494 |
1. 在您收到产品后请检查产品。如无问题,请将产品存入冰霜并且样品瓶保持密封,产品可以存放长达24个月(2-8摄氏度)。

2. 只要有可能,产品溶解后,您应该在同一天应用于您的实验。 但是,如果您需要提前做预实验,或者需要全部溶解,我们建议您将溶液以等分试样的形式存放在-20℃的密封小瓶中。 通常,这些可用于长达两周。 使用前,打开样品瓶前,我们建议您将产品平衡至室温至少1小时。

3. 需要更多关于溶解度,使用和处理的建议? 请发送电子邮件至:service@chemfaces.com
订购流程
1. 在线订购
请联系我们QQ客服


2. 电话订购
请拨打电话:
027-84237683 或 027-84237783


3. 邮件或传真订购
发送电子邮件到: manager@chemfaces.com 或
发送传真到:027-84254680


提供订购信息
为了方便客户的订购,请需要订购ChemFaces产品的客户,在下单的时候请提供下列信息,以供我们快速为您建立发货信息。
1. 产品编号(CAS No.或产品名称)
2. 发货地址
3. 联系方法 (联系人,电话)
4. 开票抬头 (如果需要发票的客户)
5. 发票地址(发货地址与发票地址不同)
发货时间
1. 付款方式为100%预付款客户,我们将在确认收到货款后当天或1-3个工作日发货。

2. 付款方式为月结的客户,我们承诺在收到订单后当天或1-3个工作日内发货。

3. 如果客户所需要的产品,需要重新生产,我们有权告知客户,交货时间需要延期。
ChemFaces的产品在许多优秀和顶级科学期刊中被引用
我们的产品现已经出口到下面的研究机构与大学,并且还在增涨
University of Pretoria (South Africa)
Medical University of Gdansk (Poland)
Korea Intitute of Science and Technology (KIST) (Korea)
Wroclaw Medical University (Poland)
Universidad Industrial de Santander (Colombia)
Warszawski Uniwersytet Medyczny (Poland)
University of Padjajaran (Indonesia)
Chulalongkorn University (Thailand)
Lodz University of Technology (Poland)
University of Eastern Finland (Finland)
Universidad Miguel Hernández (Spain)
University of Canterbury (New Zealand)
Leibniz Institute of Plant Biochemistry (Germany)
Universidad de Antioquia (Colombia)
国外学术期刊发表的引用ChemFaces产品的部分文献
Description:
Ganoderol A has significant anti-inflammatory activity and protection against UVA damage. it has an inhibitory effect on angiotensin converting enzyme activity and cholesterol biosynthesis.
In vitro:

Trop. J. Pharm. Res., 2015, 14(3):412-21.
In vitro Protective Effect of Ganoderol A Isolated from Ganadermalucidum Against Ultraviolet A Radiation and its Anti-inflammatory Properties[Reference: WebLink]
Purpose: To evaluate the ultraviolet A (UVA) protection and anti-inflammatory activity of ganoderol A extracted from Ganodermalucidum.
METHODS AND RESULTS:
Methods: The cytotoxicity and in vitro protective effect of ganoderol A against UVA damage were evaluated by MTT assay. Apoptosis and cell-cycle arrest of NIH/3T3 fibroblast cells were assayed by fluorescence-activated cell sorting (FCS). Expression of monocyte chemotactic protein-1 (MCP-1) and inducible nitric oxide synthase (iNOS) were determined using quantitative real-time polymerase chain reaction (qPCR). Results: The results indicate that the maximal non-toxic concentration of ganoderol A in NIH/3T3 cells and RAW 264.7 macrophages was 50 and 25 μg/mL respectively. DNA in the tails and tail length decreased by 55 and 70%, respectively, in the group pretreated with ganoderol A compared with the UVA-treated group. G1 phase cells decreased by 23%, whereas the number of apoptotic cells returned to normal. The expression of MCP-1 and iNOS declined to 60 and 15%, respectively, compared with LPS-stimulated group.
CONCLUSIONS:
Conclusion: Ganoderol A has significant anti-inflammatory activity and protection against UVA damage, thus suggesting that the compound is a candidate for the development of a suitable product to protect skin from UV-induced photoaging.

In vivo:

Appl Environ Microbiol. 2005 Jul;71(7):3653-8.
Effect of 26-oxygenosterols from Ganoderma lucidum and their activity as cholesterol synthesis inhibitors.[Pubmed: 16000773 ]
Ganoderma lucidum is a medicinal fungus belonging to the Polyporaceae family which has long been known in Japan as Reishi and has been used extensively in traditional Chinese medicine.
METHODS AND RESULTS:
We report the isolation and identification of the 26-oxygenosterols ganoderol A, ganoderol B, ganoderal A, and ganoderic acid Y and their biological effects on cholesterol synthesis in a human hepatic cell line in vitro. We also investigated the site of inhibition in the cholesterol synthesis pathway. We found that these oxygenated sterols from G. lucidum inhibited cholesterol biosynthesis via conversion of acetate or mevalonate as a precursor of cholesterol. By incorporation of 24,25-dihydro-[24,25-3H2]lanosterol and [3-3H]lathosterol in the presence of ganoderol A, we determined that the point of inhibition of cholesterol synthesis is between lanosterol and lathosterol.
CONCLUSIONS:
These results demonstrate that the lanosterol 14alpha-demethylase, which converts 24,25-dihydrolanosterol to cholesterol, can be inhibited by the 26-oxygenosterols from G. lucidum. These 26-oxygenosterols could lead to novel therapeutic agents that lower blood cholesterol.
| | | | | | |
| --- | --- | --- | --- | --- | --- |
| | 1 mg | 5 mg | 10 mg | 20 mg | 25 mg |
| 1 mM | 2.2795 mL | 11.3973 mL | 22.7946 mL | 45.5892 mL | 56.9866 mL |
| 5 mM | 0.4559 mL | 2.2795 mL | 4.5589 mL | 9.1178 mL | 11.3973 mL |
| 10 mM | 0.2279 mL | 1.1397 mL | 2.2795 mL | 4.5589 mL | 5.6987 mL |
| 50 mM | 0.0456 mL | 0.2279 mL | 0.4559 mL | 0.9118 mL | 1.1397 mL |
| 100 mM | 0.0228 mL | 0.114 mL | 0.2279 mL | 0.4559 mL | 0.5699 mL |
* Note:
If you are in the process of experiment, it's need to make the dilution ratios of the samples. The dilution data of the sheet for your reference. Normally, it's can get a better solubility within lower of Concentrations.
部分图片展示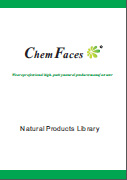 联系方式

电机:027-84237783
传真:027-84254680
在线QQ1: 2056216494 ; QQ2: 3257982914
E-Mail:manager@chemfaces.com

湖北省武汉沌口经济技术开区车城南路83号1号楼第三层厂房