柳穿鱼黄素
Pectolinarigenin
产品编号
CFN99010
CAS编号
520-12-7
分子式 = 分子量
C17H14O6 = 314.3
产品纯度
>=98%
物理属性
Yellow powder
化合物类型
Flavonoids
植物来源
The leaves of Linaria vulgaris Mill
ChemFaces的产品在影响因子大于5的优秀和顶级科学期刊中被引用
| | | | | |
| --- | --- | --- | --- | --- |
| 产品名称 | 产品编号 | CAS编号 | 包装 | QQ客服 |
| 柳穿鱼黄素 | CFN99010 | 520-12-7 | 10mg | QQ客服:2159513211 |
| 柳穿鱼黄素 | CFN99010 | 520-12-7 | 20mg | QQ客服:2159513211 |
| 柳穿鱼黄素 | CFN99010 | 520-12-7 | 50mg | QQ客服:2159513211 |
| 柳穿鱼黄素 | CFN99010 | 520-12-7 | 100mg | QQ客服:2159513211 |
1. 在您收到产品后请检查产品。如无问题,请将产品存入冰霜并且样品瓶保持密封,产品可以存放长达24个月(2-8摄氏度)。

2. 只要有可能,产品溶解后,您应该在同一天应用于您的实验。 但是,如果您需要提前做预实验,或者需要全部溶解,我们建议您将溶液以等分试样的形式存放在-20℃的密封小瓶中。 通常,这些可用于长达两周。 使用前,打开样品瓶前,我们建议您将产品平衡至室温至少1小时。

3. 需要更多关于溶解度,使用和处理的建议? 请发送电子邮件至:service@chemfaces.com
订购流程
1. 在线订购
请联系我们QQ客服


2. 电话订购
请拨打电话:
027-84237683 或 027-84237783


3. 邮件或传真订购
发送电子邮件到: manager@chemfaces.com 或
发送传真到:027-84254680


提供订购信息
为了方便客户的订购,请需要订购ChemFaces产品的客户,在下单的时候请提供下列信息,以供我们快速为您建立发货信息。
1. 产品编号(CAS No.或产品名称)
2. 发货地址
3. 联系方法 (联系人,电话)
4. 开票抬头 (如果需要发票的客户)
5. 发票地址(发货地址与发票地址不同)
发货时间
1. 付款方式为100%预付款客户,我们将在确认收到货款后当天或1-3个工作日发货。

2. 付款方式为月结的客户,我们承诺在收到订单后当天或1-3个工作日内发货。

3. 如果客户所需要的产品,需要重新生产,我们有权告知客户,交货时间需要延期。
ChemFaces的产品在许多优秀和顶级科学期刊中被引用
我们的产品现已经出口到下面的研究机构与大学,并且还在增涨
Leibniz-Institut für Pflanzenbiochemie (IPB) (Germany)
University of Illinois (USA)
University of Hertfordshire (United Kingdom)
Massachusetts General Hospital (USA)
Sanford Burnham Medical Research Institute (USA)
University of Pretoria (South Africa)
Worcester Polytechnic Institute (USA)
Universiti Kebangsaan Malaysia (Malaysia)
Kazusa DNA Research Institute (Japan)
University of Indonesia (Indonesia)
Utrecht University (Netherlands)
Funda??o Universitária de Desenvolvimento (Brazil)
VIT University (India)
University of Leipzig (Germany)
国外学术期刊发表的引用ChemFaces产品的部分文献
Description:
Pectolinarigenin possesses anti-inflammatory, antiallergic and hepatoprotective activities.It is a dual inhibitor of COX-2/5-LOX,and the IC50 >1 microM; it also can increase activity levels of GSH, GR, GCS, and GST, as well as SOD.
Targets:
COX | LOX | SOD
In vitro:

Biol Pharm Bull. 2008 Nov;31(11):2063-7.
Anti-inflammatory activity of pectolinarigenin and pectolinarin isolated from Cirsium chanroenicum.[Pubmed: 18981574]

CONCLUSIONS:
In order to identify the active anti-inflammatory ingredient(s) in Cirsium chanroenicum (Compositae), its methanol extract and several solvent fractions were prepared; the methanol extract and the ethylacetate fraction inhibited cyclooxygenase-2 (COX-2)-mediated prostaglandin E2 (PGE2) and 5-lipoxygenase (5-LOX)-mediated leukotriene (LT) production in lipopolysaccharide-treated RAW 264.7 cells and A23187-treated rat basophilic leukemia (RBL-1) cells, respectively. Further bioactivity-guided fractionation of the ethylacetate fraction using column chromatography led to the isolation of pectolinarigenin (5,7-dihydroxy-4',6-dimethoxyflavone), along with pectolinarin [pectolinarigenin 7-rhamnosyl-(1-->6)-glucoside]. Pectolinarigenin strongly inhibited COX-2-mediated PGE2 and 5-LOX-mediated LT production at >1 microM, indicating that it is a dual inhibitor of COX-2/5-LOX. However, pectolinarigenin did not affect COX-2 expression or nuclear transcription factor (NF-kappaB) activation. In addition, in vivo studies demonstrated that oral administration of these two compounds at 20-100 mg/kg resulted in similar inhibitory activities against several animal models of inflammation/allergy: arachidonic acid-induced mouse ear edema, carrageenan-induced mouse paw edema and passive cutaneous anaphylaxis.
CONCLUSIONS:
All of these results suggest that pectolinarigenin and pectolinarin possess anti-inflammatory activity and that they may inhibit eicosanoid formation in inflammatory lesions. These activities certainly contribute to the anti-inflammatory mechanism of C. chanroenicum.
Biochem Biophys Res Commun . 2017 Nov 4;493(1):765-772.
Pectolinarigenin, an aglycone of pectolinarin, has more potent inhibitory activities on melanogenesis than pectolinarin[Pubmed: 28851651]
Abstract Pectolinarin and pectolinarigenin have been reported to be major compounds in Cirsium setidens. In the present study, we demonstrated inhibitory effects of pectolinarin and pectolinarigenin from C. setidens on melanogenesis. Melanin synthesis was decreased in both pectolinarin- and pectolinarigenin-treated melan-a cells and in a reconstructed human skin model. However, pectolinarigenin treatment showed more potent inhibitory activity of melanin synthesis than did pectolinarin treatment. The concentrations of pectolinarin and pectolinarigenin in C. setidens water extracts were determined by HPLC. Unfortunately, the amount of pectolinarigenin of C. setidens water extract was lower than that of pectolinarin. To increase the pectolinarigenin content in C. setidens water extract, several component conversion methods were studied. Consequently, we identified that microwave irradiation under 1% acetic acid was an optimum sugar elimination method. Keywords: Cirsium setidens; Melanogenesis; Microwave; Pectolinarigenin; Pectolinarin; Whitening.

In vivo:

Evid Based Complement Alternat Med. 2014;2014:828760.
Inhibitory Effect on β -Hexosaminidase Release from RBL-2H3 Cells of Extracts and Some Pure Constituents of Benchalokawichian, a Thai Herbal Remedy, Used for Allergic Disorders.[Pubmed: 25580152]
Benchalokawichian (BCW), a Thai traditional herbal formulation, has long been used as antipyretic and to treat skin disorders. It comprises roots from five herbs: Ficus racemosa, Capparis micracantha, Clerodendrum petasites, Harrisonia perforata, and Tiliacora triandra. This polyherbal remedy has recently been included in the Thailand National List of Essential Medicines (Herbal Products list).
METHODS AND RESULTS:
A Bioassay-guided fractionation technique was used to evaluate antiallergy activities of crude extracts, and those obtained by the multistep column chromatography isolation of pure compounds. Inhibitory effect on the release of β-hexosaminidase from RBL-2H3 cells was used to determine antiallergic activity. Two pure compounds from BCW formulation showed higher antiallergic activity than crude or semipure extracts. Pectolinarigenin showed the highest antiallergic activity, followed by O-methylalloptaeroxylin, with IC50 values of 6.3 μg/mL and 14.16 μg/mL, respectively. Moreover, the highest activities of pure compounds were significantly higher than chlorpheniramine (16.2 μg/mL).
CONCLUSIONS:
This study provides some support for the use of BCW in reducing itching and treatment of other skin allergic disorders. The two isolated constituents exhibited high antiallergic activity and it is necessary to determine their mechanism of action. Further phytochemical and safety studies of pure compounds are required before development of these as antiallergy commercial remedies.
| | | | | | |
| --- | --- | --- | --- | --- | --- |
| | 1 mg | 5 mg | 10 mg | 20 mg | 25 mg |
| 1 mM | 3.1817 mL | 15.9084 mL | 31.8167 mL | 63.6335 mL | 79.5418 mL |
| 5 mM | 0.6363 mL | 3.1817 mL | 6.3633 mL | 12.7267 mL | 15.9084 mL |
| 10 mM | 0.3182 mL | 1.5908 mL | 3.1817 mL | 6.3633 mL | 7.9542 mL |
| 50 mM | 0.0636 mL | 0.3182 mL | 0.6363 mL | 1.2727 mL | 1.5908 mL |
| 100 mM | 0.0318 mL | 0.1591 mL | 0.3182 mL | 0.6363 mL | 0.7954 mL |
* Note:
If you are in the process of experiment, it's need to make the dilution ratios of the samples. The dilution data of the sheet for your reference. Normally, it's can get a better solubility within lower of Concentrations.
部分图片展示
| | | | | | |
| --- | --- | --- | --- | --- | --- |
| 产品名称 | 产品编号 | CAS编号 | 分子式 = 分子量 | 位单 | 联系QQ |
| 三裂鼠尾草素; Salvigenin | CFN99883 | 19103-54-9 | C18H16O6 = 328.3 | 10mg | QQ客服:215959384 |
| 4',5,6,7-四甲氧基黄酮; 4',5,6,7-Tetramethoxyflavone | CFN91034 | 1168-42-9 | C19H18O6 = 342.4 | 5mg | QQ客服:1457312923 |
| 4,5,7,8,-四甲氧基黄酮; 6-Demethoxytangeretin | CFN93255 | 6601-66-7 | C19H18O6 = 342.4 | 10mg | QQ客服:1413575084 |
| 石吊兰甲素; Lysionotin | CFN99787 | 152743-19-6 | C18H16O7 = 344.32 | 20mg | QQ客服:3257982914 |
| 栀子黄素B; Gardenin B | CFN93144 | 2798-20-1 | C19H18O7 = 358.4 | 10mg | QQ客服:3257982914 |
| 桔皮素; Tangeretin | CFN90240 | 481-53-8 | C20H20O7 = 372.37 | 20mg | QQ客服:3257982914 |
| 5,4'-二羟基黄酮; 4',5-Dihydroxyflavone | CFN97137 | 6665-67-4 | C15H10O4 = 254.2 | 20mg | QQ客服:2056216494 |
| 芹菜素; 芹黄素; 5,7,4'-三羟基黄酮; Apigenin | CFN98843 | 520-36-5 | C15H10O5 = 270.2 | 20mg | QQ客服:3257982914 |
| 芫花素; Genkwanin | CFN98670 | 437-64-9 | C16H12O5 = 284.3 | 20mg | QQ客服:3257982914 |
| 黄花夹竹桃黄酮; Thevetiaflavone | CFN96124 | 29376-68-9 | C16H12O5 = 284.3 | 5mg | QQ客服:3257982914 |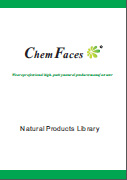 联系方式

电机:027-84237783
传真:027-84254680
在线QQ: 1413575084
E-Mail:manager@chemfaces.com

湖北省武汉沌口经济技术开区车城南路83号1号楼第三层厂房