灵芝马酮
Ganodermanontriol
产品编号
CFN99077
CAS编号
106518-63-2
分子式 = 分子量
C30H48O4 = 472.7
产品纯度
>=98%
物理属性
Powder
化合物类型
Triterpenoids
植物来源
The fruit body of Ganoderma lucidum.
ChemFaces的产品在影响因子大于5的优秀和顶级科学期刊中被引用
| | | | | |
| --- | --- | --- | --- | --- |
| 产品名称 | 产品编号 | CAS编号 | 包装 | QQ客服 |
| 灵芝马酮 | CFN99077 | 106518-63-2 | 1mg | QQ客服:1457312923 |
| 灵芝马酮 | CFN99077 | 106518-63-2 | 5mg | QQ客服:1457312923 |
| 灵芝马酮 | CFN99077 | 106518-63-2 | 10mg | QQ客服:1457312923 |
| 灵芝马酮 | CFN99077 | 106518-63-2 | 20mg | QQ客服:1457312923 |
1. 在您收到产品后请检查产品。如无问题,请将产品存入冰霜并且样品瓶保持密封,产品可以存放长达24个月(2-8摄氏度)。

2. 只要有可能,产品溶解后,您应该在同一天应用于您的实验。 但是,如果您需要提前做预实验,或者需要全部溶解,我们建议您将溶液以等分试样的形式存放在-20℃的密封小瓶中。 通常,这些可用于长达两周。 使用前,打开样品瓶前,我们建议您将产品平衡至室温至少1小时。

3. 需要更多关于溶解度,使用和处理的建议? 请发送电子邮件至:service@chemfaces.com
订购流程
1. 在线订购
请联系我们QQ客服


2. 电话订购
请拨打电话:
027-84237683 或 027-84237783


3. 邮件或传真订购
发送电子邮件到: manager@chemfaces.com 或
发送传真到:027-84254680


提供订购信息
为了方便客户的订购,请需要订购ChemFaces产品的客户,在下单的时候请提供下列信息,以供我们快速为您建立发货信息。
1. 产品编号(CAS No.或产品名称)
2. 发货地址
3. 联系方法 (联系人,电话)
4. 开票抬头 (如果需要发票的客户)
5. 发票地址(发货地址与发票地址不同)
发货时间
1. 付款方式为100%预付款客户,我们将在确认收到货款后当天或1-3个工作日发货。

2. 付款方式为月结的客户,我们承诺在收到订单后当天或1-3个工作日内发货。

3. 如果客户所需要的产品,需要重新生产,我们有权告知客户,交货时间需要延期。
ChemFaces的产品在许多优秀和顶级科学期刊中被引用
我们的产品现已经出口到下面的研究机构与大学,并且还在增涨
University of East Anglia (United Kingdom)
Universidad de Antioquia (Colombia)
University of Melbourne (Australia)
Periyar University (India)
Agricultural Research Organization (ARO) (Israel)
University of Queensland (Australia)
Universitas islam negeri Jakarta (Indonesia)
Amity University (India)
University of Brasilia (Brazil)
Siksha O Anusandhan University (India)
Universidad Industrial de Santander (Colombia)
Auburn University (USA)
Washington State University (USA)
Fraunhofer-Institut für Molekularbiologie und Angewandte ?kologie IME (Germany)
国外学术期刊发表的引用ChemFaces产品的部分文献
Description:
Ganodermanontriol has anti-cancer, hepatoprotective, anti-inflammatory, and antioxidative activities, it also shows a strong anticomplement activity against the classical pathway (CP) of the complement system with IC(50) values of 17.2 microM. Ganodermanontriol is active as an anti-HIV-1 agent with an inhibitory concentration of 7.8 micrograms ml-1.It has a wide spectrum of targets including HO-1, PI3K/Akt and p38 kinases.
Targets:
PI3K | Akt | p38MAPK | HIV | HO-1
In vitro:

J Ethnopharmacol. 2013 Dec 12;150(3):875-85.
In vitro and in vivo hepatoprotective effect of ganodermanontriol against t-BHP-induced oxidative stress.[Pubmed: 24140584]
Ganoderma lucidum (Fr.) Karst. (Ganodermataceae) is a mushroom which is used as a traditional remedy in the treatment of human diseases such as hepatitis, liver disorders, hypercholesterolemia, arthritis, bronchitis and tumorigenic diseases.
METHODS AND RESULTS:
This study targets the evaluation of hepatoprotective activity of ganodermanontriol, a sterol isolated from Ganoderma lucidum, and the investigation of its mechanism of action in Hepa1c1c7 and murine liver cells upon tert-butyl hydroperoxide (t-BHP)-induced inflammation. t-BHP was utilized to stimulate an anti-inflammatory reaction in the hepatic cell lines and murine hepatic tissue examined. Western blot and reverse transcription-quantitative polymerase chain reaction (RT-PCR) were used to estimate the expression of ganodermanontriol (GDT)-induced proteins, including heme oxidase-1 (HO-1) and mitogen-activated protein kinases (MAPKs) as well as the corresponding mRNA. Luciferase assays were conducted to evaluate the interaction between NF-E2-related factor-2 (Nrf-2), the antioxidant response element (ARE), and the promoter region of the HO-1 gene and subsequent gene expression. Biochemical markers for hepatotoxicity were monitored to assess whether GDT protected the cells from the t-BHP-mediated oxidative stimuli. GDT induced HO-1 expression via the activation of Nrf-2 nuclear translocation and the subsequent transcription of the HO-1 gene in vitro and in vivo, which seemed to be regulated by phosphatidylinositol 3-kinase (PI3K)/protein kinase B (Akt) and p38 signaling pathways. GDT exhibited in vitro and in vivo hepatoprotective activity as determined by the lowered levels of hepatic enzymes and malondialdehydes and the elevated glutathione levels.
CONCLUSIONS:
This study validates the ethnopharmacological application of Ganoderma lucidum as a treatment for hepatic disorders. GDT induced in vitro and in vivo anti-inflammatory activity in t-BHP-damaged hepatic cells through the expression of HO-1, and in which PI3K/Akt and p38 kinases are involved. Our study motivates further research in the exploration of potent hepatoprotective agents from Ganoderma lucidum.
Phytother. Res., 1999, 13(6):529–31.
Triterpene antioxidants from ganoderma lucidum.[Pubmed: 10479768]
Ganoderma lucidum was studied for its antioxidative activity by bioassay guided isolation in conjunction with in vitro tests.
METHODS AND RESULTS:
The powdered crude drug was treated with boiling water and the aqueous extract (Ex1) was further separated to obtain terpene and polysaccharide fractions. The two fractions and Ex1 were screened for their antioxidative effect against pyrogallol induced erythrocyte membrane oxidation and Fe (II)-ascorbic acid induced lipid peroxidation. All tested samples showed antioxidative activities in a dose dependent manner and the terpene fraction was found to possess the highest effect compared with the others.
CONCLUSIONS:
Chemical isolation of the terpene fraction resulted in the detection of ganoderic acids A, B, C and D, lucidenic acid B and ganodermanontriol as major ingredients.
J Nat Prod . 2011 Nov 28;74(11):2332-7.
Semisynthesis and biological evaluation of ganodermanontriol and its stereoisomeric triols[Pubmed: 22044278]
Abstract The first synthesis of ganodermanontriol, a bioactive lanostane triterpene from the medicinal mushroom Ganoderma lucidum, has been achieved in 15.3% yield over nine steps, along with its three stereoisomeric triols and ganoderol A. The key steps leading to this family of isomers involve the reconstruction of the trisubstituted alkene by stereoselective and chemoselective phosphonate reactions and the formation of the unusual Δ7,9(11)-diene core by the mild acidic opening of a lanosterone-derived epoxide. Ganodermanontriol showed promising activity on the inhibition and proliferation of breast cancer cells. The effect of ganodermanontriol and its isomers on cell proliferation was assayed; IC50 values of 5.8 and 9.7 μM on breast cancer cell lines MCF-7 and MDA-MB-231, respectively, were found for ganodermanontriol.
| | | | | | |
| --- | --- | --- | --- | --- | --- |
| | 1 mg | 5 mg | 10 mg | 20 mg | 25 mg |
| 1 mM | 2.1155 mL | 10.5775 mL | 21.1551 mL | 42.3101 mL | 52.8877 mL |
| 5 mM | 0.4231 mL | 2.1155 mL | 4.231 mL | 8.462 mL | 10.5775 mL |
| 10 mM | 0.2116 mL | 1.0578 mL | 2.1155 mL | 4.231 mL | 5.2888 mL |
| 50 mM | 0.0423 mL | 0.2116 mL | 0.4231 mL | 0.8462 mL | 1.0578 mL |
| 100 mM | 0.0212 mL | 0.1058 mL | 0.2116 mL | 0.4231 mL | 0.5289 mL |
* Note:
If you are in the process of experiment, it's need to make the dilution ratios of the samples. The dilution data of the sheet for your reference. Normally, it's can get a better solubility within lower of Concentrations.
部分图片展示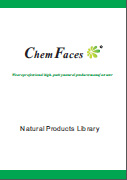 联系方式

电机:027-84237783
传真:027-84254680
在线QQ: 1413575084
E-Mail:manager@chemfaces.com

湖北省武汉沌口经济技术开区车城南路83号1号楼第三层厂房