西伯利亚远志糖A6
Sibiricose A6
产品编号
CFN90646
CAS编号
241125-75-7
分子式 = 分子量
C23H32O15 = 548.5
产品纯度
>=98%
物理属性
Powder
化合物类型
Phenylpropanoids
植物来源
The roots of Polygala tenuifolia.
ChemFaces的产品在影响因子大于5的优秀和顶级科学期刊中被引用
| | | | | |
| --- | --- | --- | --- | --- |
| 产品名称 | 产品编号 | CAS编号 | 包装 | QQ客服 |
| 西伯利亚远志糖A6 | CFN90646 | 241125-75-7 | 10mg | QQ客服:2159513211 |
| 西伯利亚远志糖A6 | CFN90646 | 241125-75-7 | 20mg | QQ客服:2159513211 |
| 西伯利亚远志糖A6 | CFN90646 | 241125-75-7 | 50mg | QQ客服:2159513211 |
| 西伯利亚远志糖A6 | CFN90646 | 241125-75-7 | 100mg | QQ客服:2159513211 |
1. 在您收到产品后请检查产品。如无问题,请将产品存入冰霜并且样品瓶保持密封,产品可以存放长达24个月(2-8摄氏度)。

2. 只要有可能,产品溶解后,您应该在同一天应用于您的实验。 但是,如果您需要提前做预实验,或者需要全部溶解,我们建议您将溶液以等分试样的形式存放在-20℃的密封小瓶中。 通常,这些可用于长达两周。 使用前,打开样品瓶前,我们建议您将产品平衡至室温至少1小时。

3. 需要更多关于溶解度,使用和处理的建议? 请发送电子邮件至:service@chemfaces.com
订购流程
1. 在线订购
请联系我们QQ客服


2. 电话订购
请拨打电话:
027-84237683 或 027-84237783


3. 邮件或传真订购
发送电子邮件到: manager@chemfaces.com 或
发送传真到:027-84254680


提供订购信息
为了方便客户的订购,请需要订购ChemFaces产品的客户,在下单的时候请提供下列信息,以供我们快速为您建立发货信息。
1. 产品编号(CAS No.或产品名称)
2. 发货地址
3. 联系方法 (联系人,电话)
4. 开票抬头 (如果需要发票的客户)
5. 发票地址(发货地址与发票地址不同)
发货时间
1. 付款方式为100%预付款客户,我们将在确认收到货款后当天或1-3个工作日发货。

2. 付款方式为月结的客户,我们承诺在收到订单后当天或1-3个工作日内发货。

3. 如果客户所需要的产品,需要重新生产,我们有权告知客户,交货时间需要延期。
ChemFaces的产品在许多优秀和顶级科学期刊中被引用
我们的产品现已经出口到下面的研究机构与大学,并且还在增涨
Heinrich-Heine-University Düsseldorf (Germany)
Texas A&M University (USA)
Universidad de Antioquia (Colombia)
Wageningen University (Netherlands)
National Cancer Institute (USA)
Institute of Chinese Materia Medica (China)
Aarhus University (Denmark)
Siksha O Anusandhan University (India)
University of Zurich (Switzerland)
Aveiro University (Portugal)
Srinakharinwirot University (Thailand)
The Australian National University (Australia)
Auburn University (USA)
Massachusetts General Hospital (USA)
国外学术期刊发表的引用ChemFaces产品的部分文献
Description:
Sibiricose A6 displays antidepressant-like action, it may prevent or relieve depression; it also shows potent antioxidant activity.
In vitro:

《China Journal of Chinese Materia Medica》 2008-11
Study on antidepressant components of sucrose ester from Polygala tenuifolia[Reference: WebLink]
To investigate the antidepressant components of Polygala tenuifolia.
METHODS AND RESULTS:
The chromatographic method was used to isolate and purify the chemical constituents,their structures were identified by spectral analysis,MTT method was applied to investigate their cytotoxic activities. Nine compounds were isolated from the roots of P.tenuifolia.Their structures were identified as sibiricose A1(1),sibiricose A5(2),tenuifoliside A(3) and 3′,6-disinapoyl sucrose(4),sibiricose A6(5),3,4,5-trimethoxycinnamate(6),polygalaxanthone Ⅲ(7),tenuifolioses A(8),tenuifolioses H(9) and some compounds' activities to PC12 were observed.
CONCLUSIONS:
Compound1 was isolated from this plant for the first time.Compounds 2,3 could protect PC12 cells damage induced by P.tenuifolia.
Talanta. 2015 Nov 1;144:830-5.
Indirect identification of antioxidants in Polygalae Radix through their reaction with 2,2-diphenyl-1-picrylhydrazyl and subsequent HPLC-ESI-Q-TOF-MS/MS.[Pubmed: 26452897]
A rapid and efficient method for the identification of antioxidants in the traditional Chinese medicine Polygalae Radix (PR) by HPLC-ESI-Q-TOF-MS/MS is described.
METHODS AND RESULTS:
The method is based on the hypothesis that upon reaction of antioxidants with 1,1-diphenyl-2-picrylhydrazyl (DPPH), the peak areas of compounds with potential antioxidant activities in the HPLC chromatogram will be significantly reduced in comparison to the untreated sample. The identity confirmation was achieved by Q-TOF-MS/MS technique. With this method, eight components were proposed possessing potent antioxidant activity. They were identified as sibiricose A5, sibiricose A6, sucrose monoester, polygalaxanthone III, tenuifoliside B, 3',6-disinapoylsucrose (DISS), sucrose diester, tenuifoliside C, respectively. DISS was proposed to be the most potent one. The antioxidant activity of DISS was evaluated by DPPH, ABTS radical scavenging assay and ferric-reducing antioxidant power (FRAP) assay in vitro. Vitamin C (Vc) was used as positive control substance. DISS showed moderate DPPH (DISS's IC50 value was 1024.17 μg/mL, Vc's was 294.68 μg/mL) and ABTS (IC50 324.13 μg/mL, Vc's was 117.50 μg/mL) free radical scavenging capacity and ferric-reducing antioxidant power.
CONCLUSIONS:
DISS can be used as a new source of natural antioxidant in foods and cosmetics.

In vivo:

Molecules. 2011 Jun 29;16(7):5507-13.
Absorbable phenylpropenoyl sucroses from Polygala tenuifolia.[Pubmed: 21716172]

METHODS AND RESULTS:
Three phenylpropenoyl sucroses--Sibiricose A5, Sibiricose A6 and 3',6-disinapoyl sucrose--were isolated from the 30% EtOH extract of Polygala tenuifolia, which displayed antidepressant-like action.
CONCLUSIONS:
HPLC analysis indicated that the three phenylpropenoyl sucroses could be absorbed into serum. From the serum pharmacochemistry point of view, these three phenylpropenoyl sucroses might prevent or relieve depression.
| | | | | | |
| --- | --- | --- | --- | --- | --- |
| | 1 mg | 5 mg | 10 mg | 20 mg | 25 mg |
| 1 mM | 1.8232 mL | 9.1158 mL | 18.2315 mL | 36.4631 mL | 45.5789 mL |
| 5 mM | 0.3646 mL | 1.8232 mL | 3.6463 mL | 7.2926 mL | 9.1158 mL |
| 10 mM | 0.1823 mL | 0.9116 mL | 1.8232 mL | 3.6463 mL | 4.5579 mL |
| 50 mM | 0.0365 mL | 0.1823 mL | 0.3646 mL | 0.7293 mL | 0.9116 mL |
| 100 mM | 0.0182 mL | 0.0912 mL | 0.1823 mL | 0.3646 mL | 0.4558 mL |
* Note:
If you are in the process of experiment, it's need to make the dilution ratios of the samples. The dilution data of the sheet for your reference. Normally, it's can get a better solubility within lower of Concentrations.
部分图片展示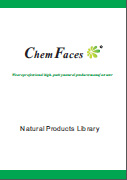 联系方式

电机:027-84237783
传真:027-84254680
在线QQ: 1413575084
E-Mail:manager@chemfaces.com

湖北省武汉沌口经济技术开区车城南路83号1号楼第三层厂房