连翘酯苷B
Forsythoside B
产品编号
CFN99715
CAS编号
81525-13-5
分子式 = 分子量
C34H44O19 = 756.70
产品纯度
>=98%
物理属性
Powder
化合物类型
Phenylpropanoids
植物来源
The fruits of Forsythia suspensa
ChemFaces的产品在影响因子大于5的优秀和顶级科学期刊中被引用
| | | | | |
| --- | --- | --- | --- | --- |
| 产品名称 | 产品编号 | CAS编号 | 包装 | QQ客服 |
| 连翘酯苷B | CFN99715 | 81525-13-5 | 10mg | QQ客服:215959384 |
| 连翘酯苷B | CFN99715 | 81525-13-5 | 20mg | QQ客服:215959384 |
| 连翘酯苷B | CFN99715 | 81525-13-5 | 50mg | QQ客服:215959384 |
| 连翘酯苷B | CFN99715 | 81525-13-5 | 100mg | QQ客服:215959384 |
1. 在您收到产品后请检查产品。如无问题,请将产品存入冰霜并且样品瓶保持密封,产品可以存放长达24个月(2-8摄氏度)。

2. 只要有可能,产品溶解后,您应该在同一天应用于您的实验。 但是,如果您需要提前做预实验,或者需要全部溶解,我们建议您将溶液以等分试样的形式存放在-20℃的密封小瓶中。 通常,这些可用于长达两周。 使用前,打开样品瓶前,我们建议您将产品平衡至室温至少1小时。

3. 需要更多关于溶解度,使用和处理的建议? 请发送电子邮件至:service@chemfaces.com
订购流程
1. 在线订购
请联系我们QQ客服


2. 电话订购
请拨打电话:
027-84237683 或 027-84237783


3. 邮件或传真订购
发送电子邮件到: manager@chemfaces.com 或
发送传真到:027-84254680


提供订购信息
为了方便客户的订购,请需要订购ChemFaces产品的客户,在下单的时候请提供下列信息,以供我们快速为您建立发货信息。
1. 产品编号(CAS No.或产品名称)
2. 发货地址
3. 联系方法 (联系人,电话)
4. 开票抬头 (如果需要发票的客户)
5. 发票地址(发货地址与发票地址不同)
发货时间
1. 付款方式为100%预付款客户,我们将在确认收到货款后当天或1-3个工作日发货。

2. 付款方式为月结的客户,我们承诺在收到订单后当天或1-3个工作日内发货。

3. 如果客户所需要的产品,需要重新生产,我们有权告知客户,交货时间需要延期。
ChemFaces的产品在许多优秀和顶级科学期刊中被引用
我们的产品现已经出口到下面的研究机构与大学,并且还在增涨
Centralised Purchases Unit (CPU), B.I.T.S (India)
University Medical Center Mainz (Germany)
Nanjing University of Chinese Medicine (China)
Ain Shams University (Egypt)
The University of Newcastle (Australia)
Subang Jaya Medical Centre (Malaysia)
University of Eastern Finland (Finland)
Seoul National University of Science and Technology (Korea)
Kyushu University (Japan)
Cornell University (USA)
Florida International University (USA)
University of Virginia (USA)
University of East Anglia (United Kingdom)
Massachusetts General Hospital (USA)
国外学术期刊发表的引用ChemFaces产品的部分文献
Description:
Forsythoside B inhibits inflammatory response, has antioxidant, antisepsis properties, and also has potent neuroprotective effects with a favorable therapeutic time-window, reduce of cerebral ischemia and reperfusion injury degree, attenuating blood-brain barrier (BBB) breakdown. Forsythoside B could inhibit TNF-alpha, IL-6, IκB and modulate NF-κB.
Targets:
TNF-α | IL Receptor | NF-kB | HMGB1 | MPO
In vivo:

Phytother Res. 2012 Jul;26(7):981-7.
Forsythoside B protects against experimental sepsis by modulating inflammatory factors.[Pubmed: 22147417]

METHODS AND RESULTS:
The present study investigated the effects of Forsythoside B on an experimental model of sepsis induced by caecal ligation and puncture (CLP) in rats and elucidated the potential mechanism in cultured RAW 264.7 cells. Results showed that Forsythoside B concentration-dependently down-regulated the levels of TNF-α, IL-6 and high-mobility group-box 1 protein (HMGB1) in lipopolysaccharide (LPS)-stimulated RAW264.7 cells, inhibited the IκB kinase (IKK) pathway and modulated nuclear factor (NF)- κB. Intravenous injection (i.v.) of Forsythoside B alone or plus Imipenem reduced serum levels of TNF-α, IL-6, HMGB1, triggering receptor expressed on myeloid cells (TREM-1) and endotoxin, while the serum level of IL-10 was up-regulated and myeloperoxidase (MPO) in lung, liver and small intestine was reduced. Meanwhile, i.v. of Forsythoside B alone or plus Imipenem reduced CLP-induced lethality in rats. These data indicated that the antisepsis effect of Forsythoside B is mediated by decreasing local and systemic levels of a wide spectrum of inflammatory mediators. Its antisepsis mechanism may be that Forsythoside B binds to LPS and reduces the biological activity of serum LPS, and inhibits NF-κB activition.
CONCLUSIONS:
Our studies enhance the case for the use of Forsythoside B in sepsis. Forsythoside B itself has promise as a therapy for the treatment of sepsis in humans.
Phytomedicine. 2010 Jul;17(8-9):635-9.
Cardioprotection with forsythoside B in rat myocardial ischemia-reperfusion injury: relation to inflammation response.[Pubmed: 19959348]
The present study was undertaken to examine the effect of forsythoside B (FB) on rat myocardial ischemia-reperfusion (I/R) model and elucidate the potential mechanism.
METHODS AND RESULTS:
Left ventricular systolic pressure (LVSP) and +/-dp/dt(max) were detected. Blood samples were collected to determine serum levels of troponin T (Tn-T), TNF-alpha and IL-6. Hearts were harvested to assess histopathological change and infarct size, determine content of MDA, myeloperoxidase (MPO), SOD and GPx activities, analyze expression of high-mobility group box 1 (HMGB1), phosphor-I kappaB-alpha and phosphor-nuclear factor kappaB (NF-kappaB) in ischemic myocardial tissue by Western blot. Compared with control group, rats treatment with FB showed a significant recovery in myocardial function with improvement of LVSP and +/-dp/dt(max). The myocardial infarct volume, serum levels of Tn-T, TNF-alpha and IL-6, content of MDA and MPO activity in myocardial tissue were all reduced, protein expression of HMGB1, phosphor-I kappaB-alpha and phosphor-NF-kappaB were down-regulated, while attenuated the decrease of SOD and GPx activities. Besides, the infiltration of polymorph nuclear leukocytes (PMNs) and histopathological damages in myocardium were decreased in FB treated groups.
CONCLUSIONS:
These findings suggested that FB rescued cardiac function from I/R injury by limiting inflammation response and its antioxidant properties.
| | | | | | |
| --- | --- | --- | --- | --- | --- |
| | 1 mg | 5 mg | 10 mg | 20 mg | 25 mg |
| 1 mM | 1.3215 mL | 6.6076 mL | 13.2153 mL | 26.4306 mL | 33.0382 mL |
| 5 mM | 0.2643 mL | 1.3215 mL | 2.6431 mL | 5.2861 mL | 6.6076 mL |
| 10 mM | 0.1322 mL | 0.6608 mL | 1.3215 mL | 2.6431 mL | 3.3038 mL |
| 50 mM | 0.0264 mL | 0.1322 mL | 0.2643 mL | 0.5286 mL | 0.6608 mL |
| 100 mM | 0.0132 mL | 0.0661 mL | 0.1322 mL | 0.2643 mL | 0.3304 mL |
* Note:
If you are in the process of experiment, it's need to make the dilution ratios of the samples. The dilution data of the sheet for your reference. Normally, it's can get a better solubility within lower of Concentrations.
部分图片展示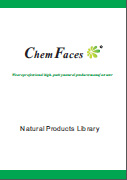 联系方式

电机:027-84237783
传真:027-84254680
在线QQ: 1413575084
E-Mail:manager@chemfaces.com

湖北省武汉沌口经济技术开区车城南路83号1号楼第三层厂房