新藤黄酸
Gambogenic acid
产品编号
CFN92097
CAS编号
173932-75-7
分子式 = 分子量
C38H46O8 = 630.8
产品纯度
>=98%
物理属性
Powder
化合物类型
Miscellaneous
植物来源
The herbs of Garcinia hanburyi Hook. f.
ChemFaces的产品在影响因子大于5的优秀和顶级科学期刊中被引用
| | | | | |
| --- | --- | --- | --- | --- |
| 产品名称 | 产品编号 | CAS编号 | 包装 | QQ客服 |
| 新藤黄酸 | CFN92097 | 173932-75-7 | 1mg | QQ客服:3257982914 |
| 新藤黄酸 | CFN92097 | 173932-75-7 | 5mg | QQ客服:3257982914 |
| 新藤黄酸 | CFN92097 | 173932-75-7 | 10mg | QQ客服:3257982914 |
| 新藤黄酸 | CFN92097 | 173932-75-7 | 20mg | QQ客服:3257982914 |
1. 在您收到产品后请检查产品。如无问题,请将产品存入冰霜并且样品瓶保持密封,产品可以存放长达24个月(2-8摄氏度)。

2. 只要有可能,产品溶解后,您应该在同一天应用于您的实验。 但是,如果您需要提前做预实验,或者需要全部溶解,我们建议您将溶液以等分试样的形式存放在-20℃的密封小瓶中。 通常,这些可用于长达两周。 使用前,打开样品瓶前,我们建议您将产品平衡至室温至少1小时。

3. 需要更多关于溶解度,使用和处理的建议? 请发送电子邮件至:service@chemfaces.com
订购流程
1. 在线订购
请联系我们QQ客服


2. 电话订购
请拨打电话:
027-84237683 或 027-84237783


3. 邮件或传真订购
发送电子邮件到: manager@chemfaces.com 或
发送传真到:027-84254680


提供订购信息
为了方便客户的订购,请需要订购ChemFaces产品的客户,在下单的时候请提供下列信息,以供我们快速为您建立发货信息。
1. 产品编号(CAS No.或产品名称)
2. 发货地址
3. 联系方法 (联系人,电话)
4. 开票抬头 (如果需要发票的客户)
5. 发票地址(发货地址与发票地址不同)
发货时间
1. 付款方式为100%预付款客户,我们将在确认收到货款后当天或1-3个工作日发货。

2. 付款方式为月结的客户,我们承诺在收到订单后当天或1-3个工作日内发货。

3. 如果客户所需要的产品,需要重新生产,我们有权告知客户,交货时间需要延期。
ChemFaces的产品在许多优秀和顶级科学期刊中被引用
我们的产品现已经出口到下面的研究机构与大学,并且还在增涨
St. Jude Children Research Hospital (USA)
University of Madras (India)
Universit?t Basel (Switzerland)
FORTH-IMBB (Greece)
Heidelberg University (Germany)
University of Wisconsin-Madison (USA)
University of Fribourg (Switzerland)
Funda??o Universitária de Desenvolvimento (Brazil)
Washington State University (USA)
University of Canterbury (New Zealand)
Kamphaengphet Rajabhat University (Thailand)
Vin?a Institute of Nuclear Sciences (Serbia)
University of Eastern Finland (Finland)
Deutsches Krebsforschungszentrum (Germany)
国外学术期刊发表的引用ChemFaces产品的部分文献
Description:
Gambogenic acid is an inhibitor of the FGFR signaling pathway in erlotinib-resistant non-small-cell lung cancer (NSCLC) and exhibits anti-tumor effects, it can cause aberrant autophagy to induce cell death and may suggest the potential application of Gambogenic acid as a tool or viable drug in anticancer therapies.Gambogenic acid could inhibit the proliferation of melanoma B16 cells and induce their apoptosis within certain time and concentration ranges. Its mechanism in inducing the cell apoptosis may be related to PI3K/Akt/mTOR signaling pathways.
Targets:
Caspase | ROS | PI3K | Akt | mTOR | MMP(e.g.TIMP) | Bcl-2/Bax | FGFR | Autophagy
In vitro:

Zhong Yao Cai. 2014 Mar;37(3):469-73.
Apoptosis of melanoma B16 cells induced by gambogenic acid.[Pubmed: 25174115]
To study the inhibitory effect of Gambogenic acid (GNA) on melanoma B16 cells proliferation, and to explore the role of cell apoptosis.
METHODS AND RESULTS:
The inhibitory effect of Gambogenic acid on the proliferation of B16 cells was measured by methyl thiazolyl tetrazolium (MTT) assay; Alternation of B16 cells ultrastructure was detected by AO/EB staining under fluorescent microscope; Flow cytometry was used to detect intracellular reactive oxygen species (ROS) in B16 cells generated by Gambogenic acid treatment Western blotting was used to investigate the expression of intracellular Caspase-3 proteins changes. MTT results showed that the Gambogenic acid within a certain time and a certain concentration significantly suppressed the proliferation of B16 cells and morphological changes were observed by fluorescence microscope on B16 cells after Gambogenic acid treatment. AO/EB staining showed that the major cell density decreased. Gambogenic acid treated cells showed obvious apoptotic status. After the cells treated with Gambogenic acid, in a short period of time, intracellular ROS levels increased dramatically compared with the control group (P < 0.01), and the mitochondrial membrane had a low potential consistently. Western blotting results showed that changes of intracellular proteins expression in the release of Caspase-3 proteins expression levels were increased after Gambogenic acid treatment.
CONCLUSIONS:
Gambogenic acid can inhibit malignant melanoma B16 cells growth and proliferation and induce apoptosis within a certain time and at a certain concentration.

In vivo:

Asian Pac J Cancer Prev. 2013;14(12):7601-5.
Gambogenic acid induction of apoptosis in a breast cancer cell line.[Pubmed: 24460340]
Gambogenic acid is a major active compound of gamboge which exudes from the Garcinia hanburyi tree. Gambogenic acid anti-cancer activity in vitro has been reported in several studies, including an A549 nude mouse model. However, the mechanisms of action remain unclear.
METHODS AND RESULTS:
We used nude mouse models to detect the effect of Gambogenic acid on breast tumors, analyzing expression of apoptosis-related proteins in vivo by Western blotting. Effects on cell proliferation, apoptosis and apoptosis-related proteins in MDA-MB-231 cells were detected by MTT, flow cytometry and Western blotting. Inhibitors of caspase-3,-8,-9 were also used to detect effects on caspase family members. We found that Gambogenic acid suppressed breast tumor growth in vivo, in association with increased expression of Fas and cleaved caspase-3,-8,-9 and bax, as well as decrease in the anti-apoptotic protein bcl-2. Gambogenic acid inhibited cell proliferation and induced cell apoptosis in a concentration-dependent manner.
CONCLUSIONS:
Our observations suggested that Gambogenic acid suppressed breast cancer MDA-MB-231 cell growth by mediating apoptosis through death receptor and mitochondrial pathways in vivo and in vitro.
| | | | | | |
| --- | --- | --- | --- | --- | --- |
| | 1 mg | 5 mg | 10 mg | 20 mg | 25 mg |
| 1 mM | 1.5853 mL | 7.9264 mL | 15.8529 mL | 31.7058 mL | 39.6322 mL |
| 5 mM | 0.3171 mL | 1.5853 mL | 3.1706 mL | 6.3412 mL | 7.9264 mL |
| 10 mM | 0.1585 mL | 0.7926 mL | 1.5853 mL | 3.1706 mL | 3.9632 mL |
| 50 mM | 0.0317 mL | 0.1585 mL | 0.3171 mL | 0.6341 mL | 0.7926 mL |
| 100 mM | 0.0159 mL | 0.0793 mL | 0.1585 mL | 0.3171 mL | 0.3963 mL |
* Note:
If you are in the process of experiment, it's need to make the dilution ratios of the samples. The dilution data of the sheet for your reference. Normally, it's can get a better solubility within lower of Concentrations.
部分图片展示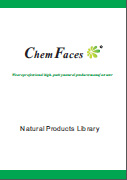 联系方式

电机:027-84237783
传真:027-84254680
在线QQ: 1413575084
E-Mail:manager@chemfaces.com

湖北省武汉沌口经济技术开区车城南路83号1号楼第三层厂房