日当药黄素,日本当药黄素,日本獐牙菜素
Swertiajaponin
产品编号
CFN90652
CAS编号
6980-25-2
分子式 = 分子量
C22H22O11 = 462.4
产品纯度
>=98%
物理属性
Yellow powder
化合物类型
Flavonoids
植物来源
The herbs of Swertia mileensis
ChemFaces的产品在影响因子大于5的优秀和顶级科学期刊中被引用
| | | | | |
| --- | --- | --- | --- | --- |
| 产品名称 | 产品编号 | CAS编号 | 包装 | QQ客服 |
| 日当药黄素,日本当药黄素,日本獐牙菜素 | CFN90652 | 6980-25-2 | 1mg | QQ客服:3257982914 |
| 日当药黄素,日本当药黄素,日本獐牙菜素 | CFN90652 | 6980-25-2 | 5mg | QQ客服:3257982914 |
| 日当药黄素,日本当药黄素,日本獐牙菜素 | CFN90652 | 6980-25-2 | 10mg | QQ客服:3257982914 |
| 日当药黄素,日本当药黄素,日本獐牙菜素 | CFN90652 | 6980-25-2 | 20mg | QQ客服:3257982914 |
1. 在您收到产品后请检查产品。如无问题,请将产品存入冰霜并且样品瓶保持密封,产品可以存放长达24个月(2-8摄氏度)。

2. 只要有可能,产品溶解后,您应该在同一天应用于您的实验。 但是,如果您需要提前做预实验,或者需要全部溶解,我们建议您将溶液以等分试样的形式存放在-20℃的密封小瓶中。 通常,这些可用于长达两周。 使用前,打开样品瓶前,我们建议您将产品平衡至室温至少1小时。

3. 需要更多关于溶解度,使用和处理的建议? 请发送电子邮件至:service@chemfaces.com
订购流程
1. 在线订购
请联系我们QQ客服


2. 电话订购
请拨打电话:
027-84237683 或 027-84237783


3. 邮件或传真订购
发送电子邮件到: manager@chemfaces.com 或
发送传真到:027-84254680


提供订购信息
为了方便客户的订购,请需要订购ChemFaces产品的客户,在下单的时候请提供下列信息,以供我们快速为您建立发货信息。
1. 产品编号(CAS No.或产品名称)
2. 发货地址
3. 联系方法 (联系人,电话)
4. 开票抬头 (如果需要发票的客户)
5. 发票地址(发货地址与发票地址不同)
发货时间
1. 付款方式为100%预付款客户,我们将在确认收到货款后当天或1-3个工作日发货。

2. 付款方式为月结的客户,我们承诺在收到订单后当天或1-3个工作日内发货。

3. 如果客户所需要的产品,需要重新生产,我们有权告知客户,交货时间需要延期。
ChemFaces的产品在许多优秀和顶级科学期刊中被引用
我们的产品现已经出口到下面的研究机构与大学,并且还在增涨
Colorado State University (USA)
St. Jude Children Research Hospital (USA)
Technical University of Denmark (Denmark)
University of Helsinki (Finland)
Centralised Purchases Unit (CPU), B.I.T.S (India)
University of Pretoria (South Africa)
Universidad Industrial de Santander (Colombia)
The University of Newcastle (Australia)
Celltrion Chemical Research Institute (Korea)
University of Illinois at Chicago (USA)
Uniwersytet Gdański (Poland)
University of Stirling (United Kingdom)
Universidade da Beira Interior (Germany)
Instytut Nawozów Sztucznych w Pu?awach (Poland)
国外学术期刊发表的引用ChemFaces产品的部分文献
Description:
Swertiajaponin possesses antimicrobial activity.
Targets:
Antifection
In vitro:

Molecules. 2009 Sep 30;14(10):3906-13.
Inhibitory effect of three C-glycosylflavonoids from Cymbopogon citratus (Lemongrass) on human low density lipoprotein oxidation.[Pubmed: 19924037]
This study assessed the inhibitory effect of three C-glycosylflavonoids from Cymbopogon citratus leaves--isoorientin (1), Swertiajaponin (2) and isoorientin 2"-Orhamnoside (3)--on human LDL oxidation.
METHODS AND RESULTS:
Isolated LDL was incubated with compounds 1-3 and the kinetics of lipid peroxidation were assessed by conjugated diene and malondialdehyde-thiobarbituric acid reactive substances (MDA-TBARS) formation after addition of copper ions. Significant differences (p < 0.05) between the lag time phase of the control and the lag time phase in the presence of the compounds 1 (0.25 microM) and 2 (0.50 microM) were observed. After five hours of incubation all three compounds showed a significant inhibitory effect on MDA-TBARS formation with respect to the control. After six hours of incubation only compound 1 kept a remarkable antioxidant effect.
CONCLUSIONS:
This study demonstrates that isoorientin (1) is an effective inhibitor of in vitro LDL oxidation. As oxidative damage to LDL is a key event in the formation of atherosclerotic lesions, the use of this natural antioxidant may be beneficial to prevent or attenuate atherosclerosis.
J Agric Food Chem. 2005 Apr 6;53(7):2511-7.
Free radical scavengers and antioxidants from Lemongrass (Cymbopogon citratus (DC.) Stapf.).[Pubmed: 15796587]

METHODS AND RESULTS:
Methanol, MeOH/water extracts, infusion, and decoction of Cymbopogon citratus were assessed for free radical scavenging effects measured by the bleaching of the 1,1-diphenyl-2-picryl-hydrazyl (DPPH) radical, scavenging of the superoxide anion, and inhibition of the enzyme xanthine oxidase (XO) and lipid peroxidation in human erythrocytes. The extracts presented effect in the DPPH and superoxide anion assay, with values ranging between 40 and 68% and 15-32% at 33 and 50 microg/mL, respectively, inhibited lipid peroxidation in erythrocytes by 19-71% at 500 microg/mL and were inactive toward the XO at 50 microg/mL. Isoorientin, isoscoparin, Swertiajaponin, isoorientin 2' '-O-rhamnoside, orientin, chlorogenic acid, and caffeic acid were isolated and identified by spectroscopic methods. Isoorientin and orientin presented similar activities toward the DPPH (IC(50): 9-10 microM) and inhibited lipid peroxidation by 70% at 100 microg/mL.
CONCLUSIONS:
Caffeic and chlorogenic acid were active superoxide anion scavengers with IC(50) values of 68.8 and 54.2 microM, respectively, and a strong effect toward DPPH. Caffeic acid inhibited lipid peroxidation by 85% at 100 microg/mL.
Oncotarget . 2017 Sep 15;8(56):95530-95541.
Swertiajaponin inhibits skin pigmentation by dual mechanisms to suppress tyrosinase[Pubmed: 29221146]
Abstract Many skin-whitening compounds target tyrosinase because it catalyzes two rate-limiting steps in melanin synthesis. Although many tyrosinase inhibitors are currently available for a skin-whitening purpose, undesirable adverse effects are also reported. Thus, numerous efforts have been made to develop safer tyrosinase inhibitors from natural products. In line with this, we tested fifty flavonoids, a group of naturally occurring antioxidants and metal chelators, and screened swertiajaponin as the strongest tyrosinase inhibitor in cell-free experiments. Swertiajaponin did not show cytotoxicity in B16F10, HaCat, and Hs27 cells and exhibited strong anti oxidative activity in experiments using the cell-free system and B16F10 cells. It markedly inhibited αMSH- or UVB-induced melanin accumulation in B16F10 cells and suppressed skin pigmentation in a human skin model. As underlying mechanisms, in silico and Lineweaver-Burk plot analyses exhibited that swertiajaponin may directly bind to and inhibit tyrosinase activity by forming multiple hydrogen bonds and hydrophobic interactions with the binding pocket of tyrosinase. In addition, western blotting results indicated that swertiajaponin inhibited oxidative stress-mediated MAPK/MITF signaling, leading to decrease in tyrosinase protein level. Together, swertiajaponin suppresses melanin accumulation by inhibiting both activity and protein expression levels of tyrosinase. Thus, it would be a novel additive for whitening cosmetics. Keywords: human skin; melanogenesis; pigmentation; swertiajaponin; tyrosinase.
| | | | | | |
| --- | --- | --- | --- | --- | --- |
| | 1 mg | 5 mg | 10 mg | 20 mg | 25 mg |
| 1 mM | 2.1626 mL | 10.8131 mL | 21.6263 mL | 43.2526 mL | 54.0657 mL |
| 5 mM | 0.4325 mL | 2.1626 mL | 4.3253 mL | 8.6505 mL | 10.8131 mL |
| 10 mM | 0.2163 mL | 1.0813 mL | 2.1626 mL | 4.3253 mL | 5.4066 mL |
| 50 mM | 0.0433 mL | 0.2163 mL | 0.4325 mL | 0.8651 mL | 1.0813 mL |
| 100 mM | 0.0216 mL | 0.1081 mL | 0.2163 mL | 0.4325 mL | 0.5407 mL |
* Note:
If you are in the process of experiment, it's need to make the dilution ratios of the samples. The dilution data of the sheet for your reference. Normally, it's can get a better solubility within lower of Concentrations.
部分图片展示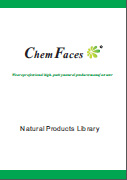 联系方式

电机:027-84237783
传真:027-84254680
在线QQ: 1413575084
E-Mail:manager@chemfaces.com

湖北省武汉沌口经济技术开区车城南路83号1号楼第三层厂房