人参皂苷Rk3
Ginsenoside Rk3
产品编号
CFN92593
CAS编号
364779-15-7
分子式 = 分子量
C36H60O8 = 620.9
产品纯度
>=98%
物理属性
Powder
化合物类型
Triterpenoids
植物来源
The roots of Panax ginseng C. A. Mey.
ChemFaces的产品在影响因子大于5的优秀和顶级科学期刊中被引用
| | | | | |
| --- | --- | --- | --- | --- |
| 产品名称 | 产品编号 | CAS编号 | 包装 | QQ客服 |
| 人参皂苷Rk3 | CFN92593 | 364779-15-7 | 1mg | QQ客服:2159513211 |
| 人参皂苷Rk3 | CFN92593 | 364779-15-7 | 5mg | QQ客服:2159513211 |
| 人参皂苷Rk3 | CFN92593 | 364779-15-7 | 10mg | QQ客服:2159513211 |
| 人参皂苷Rk3 | CFN92593 | 364779-15-7 | 20mg | QQ客服:2159513211 |
1. 在您收到产品后请检查产品。如无问题,请将产品存入冰霜并且样品瓶保持密封,产品可以存放长达24个月(2-8摄氏度)。

2. 只要有可能,产品溶解后,您应该在同一天应用于您的实验。 但是,如果您需要提前做预实验,或者需要全部溶解,我们建议您将溶液以等分试样的形式存放在-20℃的密封小瓶中。 通常,这些可用于长达两周。 使用前,打开样品瓶前,我们建议您将产品平衡至室温至少1小时。

3. 需要更多关于溶解度,使用和处理的建议? 请发送电子邮件至:service@chemfaces.com
订购流程
1. 在线订购
请联系我们QQ客服


2. 电话订购
请拨打电话:
027-84237683 或 027-84237783


3. 邮件或传真订购
发送电子邮件到: manager@chemfaces.com 或
发送传真到:027-84254680


提供订购信息
为了方便客户的订购,请需要订购ChemFaces产品的客户,在下单的时候请提供下列信息,以供我们快速为您建立发货信息。
1. 产品编号(CAS No.或产品名称)
2. 发货地址
3. 联系方法 (联系人,电话)
4. 开票抬头 (如果需要发票的客户)
5. 发票地址(发货地址与发票地址不同)
发货时间
1. 付款方式为100%预付款客户,我们将在确认收到货款后当天或1-3个工作日发货。

2. 付款方式为月结的客户,我们承诺在收到订单后当天或1-3个工作日内发货。

3. 如果客户所需要的产品,需要重新生产,我们有权告知客户,交货时间需要延期。
ChemFaces的产品在许多优秀和顶级科学期刊中被引用
我们的产品现已经出口到下面的研究机构与大学,并且还在增涨
Institute of Bioorganic Chemistry Polish Academy of Sciences (Poland)
Imperial College London (United Kingdom)
Massachusetts General Hospital (USA)
Chungnam National University (Korea)
Shanghai Institute of Biochemistry and Cell Biology (China)
Melbourne University (Australia)
University of Padjajaran (Indonesia)
Cornell University (USA)
University of Maryland (USA)
Monash University Malaysia (Malaysia)
Pennsylvania State University (USA)
Biotech R&D Institute (USA)
Harvard University (USA)
Shanghai Institute of Organic Chemistry (China)
国外学术期刊发表的引用ChemFaces产品的部分文献
Description:
Ginsenoside Rk3 is often used as a major ingredient of the compound preparation for ischemic heart diseases, it could have a role in treating inflammatory diseases. Ginsenoside Rk3 significantly inhibits TNF-α-induced NF-κB transcriptional activity, with an IC50 of 14.24±1.30 μM in HepG2 cells.
Targets:
Bcl-2/Bax | Caspase | Akt | Nrf2 | HO-1 | MAPK | NF-κB
In vitro:

Evid Based Complement Alternat Med. 2013;2013:690190.
Ginsenoside RK3 Prevents Hypoxia-Reoxygenation Induced Apoptosis in H9c2 Cardiomyocytes via AKT and MAPK Pathway.[Pubmed: 23935671 ]
Cardiac hypertrophy is a thickening of the heart muscle that is associated with cardiovascular diseases such as hypertension and myocardial infarction. It occurs initially as an adaptive process against increased workloads and often leads to sudden arrhythmic deaths. Studies suggest that the lethal arrhythmia is attributed to hypertrophy-induced destabilization of cardiac electrical activity, especially the prolongation of the action potential. The reduced activity of Ito is demonstrated to be responsible for the ionic mechanism of prolonged action potential duration and arrhythmogeneity. Isosteviol (STV), a derivative of stevioside, plays a protective role in a variety of stress-induced cardiac diseases.
METHODS AND RESULTS:
Here we report effects of STV on rat ISO-induced hypertrophic cardiomyocytes. STV alleviated ISO-induced hypertrophy of cardiomyocytes by decreasing cell area of hypertrophied cardiomyocytes. STV application prevented the prolongation of action potential which was prominent in hypertrophied cells.
CONCLUSIONS:
The decrease and increase of current densities for Ito and ICaL observed in hypertrophied myocytes were both prevented by STV application. In addition, the results of qRT-PCR suggested that the changes of electrophysiological activity of Ito and ICaL are correlated to the alterations of the mRNA transcription level.

In vivo:

Food Funct . 2017 Oct 18;8(10):3723-3736.
Anticancer effects of ginsenoside Rk3 on non-small cell lung cancer cells: in vitro and in vivo[Pubmed: 28949353]
Abstract Ginsenoside Rk3 (Rk3) is present in the roots of processed Panax notoginseng herbs and it exerts anti-platelet aggregation, pro-immunogenic and cardioprotective effects. However, little is known regarding the anticancer activities of this compound, especially in lung cancer. This study was designed to investigate the anticancer effects of Rk3 on non-small cell lung cancer (NSCLC) cells and in an H460 xenograft tumor model. Our results showed that Rk3 reduced cell viability, inhibited both cell proliferation and colony formation, and induced G1 phase cell cycle arrest by downregulating the expression of cyclin D1 and CDK4 and upregulating the expression of P21. Rk3 also induced apoptosis in a concentration-dependent manner in H460 and A549 cells by Annexin V/PI staining, TUNEL assay and JC-1 staining, resulting in a change in the nuclear morphology. Moreover, Rk3 induced the activation of caspase-8, -9, and -3, promoted changes in mitochondrial membrane potential, decreased the expression of Bcl-2, increased the expression of Bax, and caused the release of cytochrome c, which indicated that the apoptosis-inducing effects of Rk3 were triggered via death receptor-mediated mitochondria-dependent pathways. Furthermore, Rk3 significantly inhibited the growth of H460 xenograft tumors without an obvious effect on the body weight of the treated mice. Histological analysis indicated that Rk3 inhibited tumor growth by altering the proliferation and morphology of tumor cells. In addition, we confirmed that Rk3 inhibited angiogenesis via CD34 staining and chick embryo chorioallantoic membrane (CAM) assay in vivo. Taken together, our findings revealed not only the anticancer effect of Rk3 on NSCLC cells but also a new promising therapeutic agent for human NSCLC.
| | | | | | |
| --- | --- | --- | --- | --- | --- |
| | 1 mg | 5 mg | 10 mg | 20 mg | 25 mg |
| 1 mM | 1.6106 mL | 8.0528 mL | 16.1057 mL | 32.2113 mL | 40.2641 mL |
| 5 mM | 0.3221 mL | 1.6106 mL | 3.2211 mL | 6.4423 mL | 8.0528 mL |
| 10 mM | 0.1611 mL | 0.8053 mL | 1.6106 mL | 3.2211 mL | 4.0264 mL |
| 50 mM | 0.0322 mL | 0.1611 mL | 0.3221 mL | 0.6442 mL | 0.8053 mL |
| 100 mM | 0.0161 mL | 0.0805 mL | 0.1611 mL | 0.3221 mL | 0.4026 mL |
* Note:
If you are in the process of experiment, it's need to make the dilution ratios of the samples. The dilution data of the sheet for your reference. Normally, it's can get a better solubility within lower of Concentrations.
部分图片展示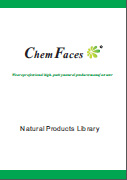 联系方式

电机:027-84237783
传真:027-84254680
在线QQ: 1413575084
E-Mail:manager@chemfaces.com

湖北省武汉沌口经济技术开区车城南路83号1号楼第三层厂房