蔷薇酸; 野鸦椿酸
Euscaphic acid
产品编号
CFN98888
CAS编号
53155-25-2
分子式 = 分子量
C30H48O5 = 488.7
产品纯度
>=98%
物理属性
Powder
化合物类型
Triterpenoids
植物来源
The dried fruit of Ziziphus jujuba.
ChemFaces的产品在影响因子大于5的优秀和顶级科学期刊中被引用
| | | | | |
| --- | --- | --- | --- | --- |
| 产品名称 | 产品编号 | CAS编号 | 包装 | QQ客服 |
| 蔷薇酸; 野鸦椿酸 | CFN98888 | 53155-25-2 | 1mg | QQ客服:1457312923 |
| 蔷薇酸; 野鸦椿酸 | CFN98888 | 53155-25-2 | 5mg | QQ客服:1457312923 |
| 蔷薇酸; 野鸦椿酸 | CFN98888 | 53155-25-2 | 10mg | QQ客服:1457312923 |
| 蔷薇酸; 野鸦椿酸 | CFN98888 | 53155-25-2 | 20mg | QQ客服:1457312923 |
1. 在您收到产品后请检查产品。如无问题,请将产品存入冰霜并且样品瓶保持密封,产品可以存放长达24个月(2-8摄氏度)。

2. 只要有可能,产品溶解后,您应该在同一天应用于您的实验。 但是,如果您需要提前做预实验,或者需要全部溶解,我们建议您将溶液以等分试样的形式存放在-20℃的密封小瓶中。 通常,这些可用于长达两周。 使用前,打开样品瓶前,我们建议您将产品平衡至室温至少1小时。

3. 需要更多关于溶解度,使用和处理的建议? 请发送电子邮件至:service@chemfaces.com
订购流程
1. 在线订购
请联系我们QQ客服


2. 电话订购
请拨打电话:
027-84237683 或 027-84237783


3. 邮件或传真订购
发送电子邮件到: manager@chemfaces.com 或
发送传真到:027-84254680


提供订购信息
为了方便客户的订购,请需要订购ChemFaces产品的客户,在下单的时候请提供下列信息,以供我们快速为您建立发货信息。
1. 产品编号(CAS No.或产品名称)
2. 发货地址
3. 联系方法 (联系人,电话)
4. 开票抬头 (如果需要发票的客户)
5. 发票地址(发货地址与发票地址不同)
发货时间
1. 付款方式为100%预付款客户,我们将在确认收到货款后当天或1-3个工作日发货。

2. 付款方式为月结的客户,我们承诺在收到订单后当天或1-3个工作日内发货。

3. 如果客户所需要的产品,需要重新生产,我们有权告知客户,交货时间需要延期。
ChemFaces的产品在许多优秀和顶级科学期刊中被引用
我们的产品现已经出口到下面的研究机构与大学,并且还在增涨
Center for protein Engineering (CIP) (Belgium)
Wroclaw Medical University (Poland)
Universit?t Basel (Switzerland)
Universidade Federal de Pernambuco (UFPE) (Brazil)
Siksha O Anusandhan University (India)
Florida A&M University (USA)
Donald Danforth Plant Science Center (USA)
Chinese University of Hong Kong (China)
Agricultural Research Organization (ARO) (Israel)
University of Wuerzburg (Germany)
Uniwersytet Jagielloński w Krakowie (Poland)
Centralised Purchases Unit (CPU), B.I.T.S (India)
Kyushu University (Japan)
Martin Luther University of Halle-Wittenberg (Germany)
国外学术期刊发表的引用ChemFaces产品的部分文献
Description:
Euscaphic acid has anti-diabetic, and anti-inflammatory activities, it inhibits LPS-induced inflammatory responses by interference with the clustering of TRAF6 with IRAK1 and TAK1, resulting in blocking the activation of IKK and MAPKs signal transduction to downregulate NF-κB activations. Euscaphic acid induces death by activation of caspase-3, dependent apoptotic pathway. Euscaphic acid and tormentic acid have inhibitory effect on high fat diet-induced obesity in the rat. Euscaphic acid also has anti-contraction effects on rat's aortic smooth muscle.
Targets:
LDL | NO | PGE | TNF-α | NOS | COX | NF-kB | JNK | ERK | p38MAPK | Calcium Channel | Sodium Channel | ATPase | Potassium Channel | IkB | IKK
In vitro:

Adv Life Sci. Technol., 2015, 33.
Anti-Contraction Effects of Euscaphic Acid Isolated from Crataegus azarolus var. aronia L on Rat's Aortic Smooth Muscle.[Reference: WebLink]
The current study represents the first attempt to investigate the effect of the Euscaphic acid (EA) on Rats isolated thoracic aortic smooth muscle cells.
METHODS AND RESULTS:
Isolated aorta was used to test the anti-contraction effects and the possible mode of action(s) of the EA (1*10 -7 M) and (3*10 -7 M) isolated from Crataegus azarolus var. aronia L. Euscaphic acid showed high anti-contraction effects on norepinephrin (NE), (1*10 -9 -10 -4 M) induced contraction in aortic smooth muscle cells in endothelium-intact, endothelium-denuded, and aortic rings pre-incubated with potassium (K + )-channels blocker (tetraethylammonium, TEA), prostaglandin I 2 (PGI ) inhibitor (indomethacin) and cyclic guanosine monophosphate (cGMP) inhibitor ( methylene blue). On the other hand, other K 2 channels subtype blockers glibenclamide (GLIB); barium chloride (BaCl ) and 4-aminopyridine (4-AP) demonstrated that adenosine triphosphate sensitive K + (K ATP ), inwardly rectifying K 2 + (K ir ) and voltage-dependent K ) channels played no role in anti-contraction induced by EA. Furthermore, the role of L-types calcium (Ca ) channels in EA anti-contractile effects on aortic smooth muscle cells was proved, by using the Ca -channel blocker verapamil, as indicated by the production of a potent anti-contraction effect . The results of the current study indicate that the anti-contraction effects of EA may be due to the activation of calcium dependent, K ) channels and blocking of L-type Ca ++ channels.
CONCLUSIONS:
Thus, from these results it can be concluded that both K and Ca ++ channels play an important role in anti-contraction effects of EA, which are mediated possibly through opening of K channels and blockade of voltage-dependent calcium channels, which may justify the use of medicinal plant C. azarolus in cardiovascular disease.
Am J Transl Res . 2019 Apr 15;11(4):2090-2098. eCollection 2019.
Euscaphic acid inhibits proliferation and promotes apoptosis of nasopharyngeal carcinoma cells by silencing the PI3K/AKT/mTOR signaling pathway[Pubmed: 31105820]
Abstract Rubus alceaefolius Poir. has been used for the treatment of nasopharyngeal carcinoma (NPC) in China for many years. Euscaphic acid is an active component of Rubus alceaefolius Poir. However, the mechanism of action of euscaphic acid in NPC remains unclear. In this study, Euscaphic acid inhibited the proliferation of NPC cells, induced apoptosis, and led to cell cycle arrest in the G1/S phase. In addition, euscaphic acid inhibited the expression of phosphatidylinositide 3-kinases (PI3K), phosphorylated protein kinase B (p-AKT), and phosphorylated mammalian target of rapamycin (p-mTOR) p-mTOR in NPC cells. The activation of the PI3K/AKT/mTOR signaling pathway by IGF-1 promoted cell proliferation, inhibited apoptosis, and cell cycle arrest in NPC cells. In conclusion, we demonstrated that euscaphic acid reduced cell proliferation and induced apoptosis and cell cycle arrest in NPC cells by suppressing the PI3K/AKT/mTOR signaling pathway. Keywords: AKT; Euscaphic acid; PI3K; mTOR; nasopharyngeal carcinoma.

In vivo:

Korean J. Pharmacogn., 2005, 36(4):324-31.
Inhibitory effect of euscaphic acid and tormentic acid from the roots of Rosa rugosa on high fat diet-induced obesity in the rat.[Reference: WebLink]
The roots of Rosa rugosa have been used to treat diabetes mellitus in the folkloric society of Korea.
METHODS AND RESULTS:
To demonstrate the active component for the rat obesity induced by high fat diet for 6 weeks, the phytochemical fractionation and the pharmacological activity test were performed on this crude drug. It was shown that the methanolic extract and its EtOAc fraction inhibited the weight increase of the rat body, abdominal fat pad and hyperlipidemia at 200 mg/kg dose. Further, the triterpenoids, Euscaphic acid and tormentic acid, isolated from R. rugosa roots were active at 30 mg/kg in the same assay. The two components shifted serum total-, HDL, and LDL-cholesterol levels toward the values of the unteated group, suggesting that the active compounds has hypolipidemic effects. The rats fed Euscaphic acid and tormentic acid also reduced thiobarbituric acid-reactive substance (TBARS) and hydroxyl radical in the rat blood and increased Superoxide dismutase activity compared to the control. TBARS values and carbonyl content of the hepatic protein were reduced by treatment with the two triterpenoids. Antioxidative enzyme (SOD, glutathione peroxidase, and catalase) activities in hepatic tissues were increased by treatment of rats with the triterpenoids, which suggests that triterpenoids inhibited the reduction of hepatic antioxidative activity caused by high fat diet.
CONCLUSIONS:
Taken together, these results support that Euscaphic acid and tormentic acid improve a high fat diet-induced hyperlipidemia via the activation of antioxidative mechanism.
| | | | | | |
| --- | --- | --- | --- | --- | --- |
| | 1 mg | 5 mg | 10 mg | 20 mg | 25 mg |
| 1 mM | 2.0462 mL | 10.2312 mL | 20.4625 mL | 40.9249 mL | 51.1561 mL |
| 5 mM | 0.4092 mL | 2.0462 mL | 4.0925 mL | 8.185 mL | 10.2312 mL |
| 10 mM | 0.2046 mL | 1.0231 mL | 2.0462 mL | 4.0925 mL | 5.1156 mL |
| 50 mM | 0.0409 mL | 0.2046 mL | 0.4092 mL | 0.8185 mL | 1.0231 mL |
| 100 mM | 0.0205 mL | 0.1023 mL | 0.2046 mL | 0.4092 mL | 0.5116 mL |
* Note:
If you are in the process of experiment, it's need to make the dilution ratios of the samples. The dilution data of the sheet for your reference. Normally, it's can get a better solubility within lower of Concentrations.
部分图片展示
| | | | | | |
| --- | --- | --- | --- | --- | --- |
| 产品名称 | 产品编号 | CAS编号 | 分子式 = 分子量 | 位单 | 联系QQ |
| 1-beta-羟基蔷薇酸; 1beta-Hydroxyeuscaphic acid | CFN92609 | 120211-98-5 | C30H48O6 = 504.7 | 5mg | QQ客服:3257982914 |
| 1,2,3,19-四羟基-12-乌苏烯-28-酸; 1,2,3,19-Tetrahydroxy-12-ursen-28-oic acid | CFN99233 | 113558-03-5 | C30H48O6 = 504.7 | 5mg | QQ客服:215959384 |
| 1-羟基-2-氧代果树酸; 1-Hydroxy-2-oxopomolic acid | CFN98080 | 217466-37-0 | C30H46O6 = 502.7 | 5mg | QQ客服:1413575084 |
| 3-O-顺式对香豆酰委陵菜酸; 3-O-cis-p-Coumaroyltormentic acid | CFN92211 | 121072-40-0 | C39H54O7 = 634.9 | 5mg | QQ客服:3257982914 |
| 蔷薇酸; 野鸦椿酸; Euscaphic acid | CFN98888 | 53155-25-2 | C30H48O5 = 488.7 | 5mg | QQ客服:3257982914 |
| 2,3-Di-O-methylthiomethyleuscaphic acid; 2,3-Di-O-methylthiomethyleuscaphic acid | CFN97578 | N/A | C34H56O5S2 = 609.0 | 5mg | QQ客服:2159513211 |
| 2,3-O-异亚丙基刺梨酸; 2,3-O-Isopropylidenyl euscaphic acid | CFN98095 | 220880-90-0 | C33H52O5 = 528.8 | 5mg | QQ客服:1413575084 |
| 2-表委陵菜酸; 2-Epitormentic acid | CFN99310 | 119725-19-8 | C30H48O5 = 488.7 | 5mg | QQ客服:3257982914 |
| 2-氧代果树酸; 2-氧代坡模醇酸; 2-Oxopomolic acid | CFN98920 | 54963-52-9 | C30H46O5 = 486.7 | 5mg | QQ客服:2159513211 |
| 2alpha,19alpha-Dihydroxy-3-oxo-urs-12-en-28-oic acid; 2alpha,19alpha-Dihydroxy-3-oxo-urs-12-en-28-oic acid | CFN89112 | 176983-21-4 | C30H46O5 = 486.69 | 5mg | QQ客服:2056216494 |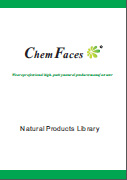 联系方式

电机:027-84237783
传真:027-84254680
在线QQ: 1413575084
E-Mail:manager@chemfaces.com

湖北省武汉沌口经济技术开区车城南路83号1号楼第三层厂房