蛇床子素
Osthol
产品编号
CFN98765
CAS编号
484-12-8
分子式 = 分子量
C15H16O3 = 244.3
产品纯度
>=98%
物理属性
Powder
化合物类型
Coumarins
植物来源
The fructus of Cnidium monnieri (L.) Cusson
ChemFaces的产品在影响因子大于5的优秀和顶级科学期刊中被引用
| | | | | |
| --- | --- | --- | --- | --- |
| 产品名称 | 产品编号 | CAS编号 | 包装 | QQ客服 |
| 蛇床子素 | CFN98765 | 484-12-8 | 10mg | QQ客服:215959384 |
| 蛇床子素 | CFN98765 | 484-12-8 | 20mg | QQ客服:215959384 |
| 蛇床子素 | CFN98765 | 484-12-8 | 50mg | QQ客服:215959384 |
| 蛇床子素 | CFN98765 | 484-12-8 | 100mg | QQ客服:215959384 |
1. 在您收到产品后请检查产品。如无问题,请将产品存入冰霜并且样品瓶保持密封,产品可以存放长达24个月(2-8摄氏度)。

2. 只要有可能,产品溶解后,您应该在同一天应用于您的实验。 但是,如果您需要提前做预实验,或者需要全部溶解,我们建议您将溶液以等分试样的形式存放在-20℃的密封小瓶中。 通常,这些可用于长达两周。 使用前,打开样品瓶前,我们建议您将产品平衡至室温至少1小时。

3. 需要更多关于溶解度,使用和处理的建议? 请发送电子邮件至:service@chemfaces.com
订购流程
1. 在线订购
请联系我们QQ客服


2. 电话订购
请拨打电话:
027-84237683 或 027-84237783


3. 邮件或传真订购
发送电子邮件到: manager@chemfaces.com 或
发送传真到:027-84254680


提供订购信息
为了方便客户的订购,请需要订购ChemFaces产品的客户,在下单的时候请提供下列信息,以供我们快速为您建立发货信息。
1. 产品编号(CAS No.或产品名称)
2. 发货地址
3. 联系方法 (联系人,电话)
4. 开票抬头 (如果需要发票的客户)
5. 发票地址(发货地址与发票地址不同)
发货时间
1. 付款方式为100%预付款客户,我们将在确认收到货款后当天或1-3个工作日发货。

2. 付款方式为月结的客户,我们承诺在收到订单后当天或1-3个工作日内发货。

3. 如果客户所需要的产品,需要重新生产,我们有权告知客户,交货时间需要延期。
ChemFaces的产品在许多优秀和顶级科学期刊中被引用
我们的产品现已经出口到下面的研究机构与大学,并且还在增涨
Universidade Federal de Pernambuco (UFPE) (Brazil)
Korea Institute of Oriental Medicine (Korea)
Center for protein Engineering (CIP) (Belgium)
Florida International University (USA)
University of Wisconsin-Madison (USA)
University of Oslo (Norway)
University of Dicle (Turkey)
Instituto Politécnico de Bragan?a (Portugal)
Shanghai Institute of Organic Chemistry (China)
University of Wuerzburg (Germany)
Charles University in Prague (Czech Republic)
University of British Columbia (Canada)
Donald Danforth Plant Science Center (USA)
Stanford University (USA)
国外学术期刊发表的引用ChemFaces产品的部分文献
Description:
Osthol is a natural antihistamine alternative, may be a potential inhibitor of histamine H1 receptor activity. Osthol has toxicity, may be used as bio-pesticides. Osthol is an inhibitor of human Pgp and multidrug efflux pumps of Staphylococcus aureus , reversing the resistance against frontline antibacterial drugs.Osthol has anti-allergic, antiosteoporosis, anti-fatty liver, antitumor, and cardioprotective effects. Osthol inhibits hepatic SREBP-1c/2 mRNA expressions and subsequent modulation of SREBP-1c/2-mediated target genes such as FAS, CYP7A and LDL receptor; it can stimulate the osteoblastic differentiation of rat calvarial osteoblast cultures by the BMP-2/p38MAPK/Runx-2/osterix pathway.
Targets:
PPAR | LDL | P450 (e.g. CYP17) | P-gp | p38MAPK | FAS | BMP-2 | Runx-2 | Histamine H1 receptor
In vitro:

Environ Health Toxicol. 2014 Dec 10;29:e2014020.
Acute toxicity assessment of Osthol content in bio-pesticides using two aquatic organisms.[Pubmed: 25518842]
This study focused on the assessment of acute toxicity caused by Osthol, a major component of environment-friendly biological pesticides, by using two aquatic organisms.
METHODS AND RESULTS:
The assessment of acute toxicity caused by Osthol was conducted in Daphnia magna and by examining the morphological abnormalities in Danio rerio embryos. The median effective concentration value of Osthol in D. magna 48 hours after inoculation was 19.3 μM. The median lethal concentration of D. rerio embryo at 96 hours was 30.6 μM. No observed effect concentration and predicted no effect concentration values of Osthol in D. magna and D. rerio were calculated as 5.4 and 0.19 μM, respectively. There was an increase in the morphological abnormalities in D. rerio embryo due to Osthol over time. Coagulation, delayed hatching, yolk sac edema, pericardial edema, and pigmentation were observed in embryos at 24-48 hours. Symptoms of scoliosis and head edema occurred after 72 hours. In addition, bent tails, ocular defects, and symptoms of collapse were observed in fertilized embryo tissue within 96 hours. Ocular defects and pigmentation were the additional symptoms observed in this study.
CONCLUSIONS:
Because Osthol showed considerable toxicity levels continuous toxicity evaluation in agro-ecosystems is necessary when bio-pesticides containing Osthol are used.
Phytother Res. 2007 Mar;21(3):226-30.
Antitumor effects of Osthol from Cnidium monnieri: an in vitro and in vivo study.[Pubmed: 17154232 ]
Cnidium monnieri (L.) Cusson is a Chinese medicine which is used widely by traditional medicine doctors. Osthol is a major bio-activity compound of the herb.
METHODS AND RESULTS:
In this study, osthol was isolated from C. monnieri and its in vitro and in vivo antitumor effects studied. The results of the in vitro study showed: that osthol inhibited the growth of HeLa, in a time- and concentration-dependent manner, with IC(50) values of 77.96 and 64.94 microm for 24 and 48 h, respectively; that osthol had lower cytotoxic effects in primary cultured normal cervical fibroblasts; and that increased DNA fragmentation and activated PARP in HeLa after treatment with osthol which could induce apoptosis. The results of the in vivo model showed that the survival days of the P-388 D1 tumor-bearing CDF(1) mice were prolonged (ILS% = 37) after osthol (30 mg/kg) was given once a day for 9 days.
CONCLUSIONS:
Based on these results, it is suggested that osthol could inhibit P-388 D1 cells in vivo and induce apoptosis in HeLa cells in vitro, and that osthol is good lead compound for developing antitumor drugs. However, C. formosanum Yabe of Taiwan's endemic plants contained little osthol, with no imperatorin, and its major components were different from that of C. monnieri. Therefore, it is suggested that C. formosanum also may possess economic worth.

In vivo:

World J Gastroenterol. 2014 Sep 7;20(33):11753-61.
Osthol attenuates hepatic steatosis via decreased triglyceride synthesis not by insulin resistance.[Pubmed: 25206279]
To evaluate the effects of osthol on intrahepatic fat synthesis, β-oxidation, inflammation, and insulin resistance by multifaceted analysis.
METHODS AND RESULTS:
Sprague-Dawley rats (n = 30) were randomly divided into control, non-alcoholic fatty liver disease (NAFLD), and osthol groups. NAFLD and osthol groups were fed with a high-fat diet for 14 wk. After 8 wk of the high-fat diet, the osthol group also received osthol 20 mg/kg orally 5 times/wk. To assess the insulin resistance, oral glucose tolerance was performed at the end of 14 wk. Immunohistochemical (4-HNE, F4/80) and hematoxylin and eosin (HE) staining were performed on liver tissue extracts after animal sacrifice at 14 wk. SREBP1c, FAS, SCD-1, PPAR-α, CROT, MCP-1, IRS-1, and IRS-2 mRNA expressions were assessed with reverse transcription-polymerase chain reaction. HE staining revealed that, compared with the NAFLD group, the osthol group showed significantly decreased intrahepatic fat content (39.4% vs 21.0%; P = 0.021). SREBP1c expression in the NAFLD group increased compared to controls (P = 0.0001), while osthol treatment decreased SREBP1c expression compared with the NAFLD group (P = 0.0059). In the osthol group, intrahepatic FAS and SCD-1, which act downstream of SREBP1c, decreased significantly compared with the NAFLD group. Moreover, PPAR-α expression in the osthol group was also significantly higher than in the NAFLD group (P = 0.0147).
CONCLUSIONS:
Osthol treatment attenuated liver steatosis by decreasing de novo liver triglyceride synthesis and had nominal effects on insulin resistance and liver inflammation.
Lipids. 2012 Oct;47(10):987-94.
Reduction of rat cardiac hypertrophy by osthol is related to regulation of cardiac oxidative stress and lipid metabolism.[Pubmed: 22918576]
The objective of this study was to examine the therapeutic effect of osthol, a coumarin compound isolated from the fruit of Cnidium monnieri (L.) Cusson, on cardiac hypertrophy in rats and investigate its potential mechanisms.
CONCLUSIONS:
The rats with cardiac hypertrophy induced by renovascular hypertension were given osthol orally by gavage for 4 weeks. The results showed that in the osthol 20 mg/kg group, the blood pressure, heart weight index and myocardial malondialdehyde content were lowered (p < 0.001, p = 0.002 and p = 0.025, respectively), the myocardial superoxide dismutase and glutathione peroxidase contents were increased (p < 0.001), and the elevated unesterified fatty acids and triacylglycerols in myocardial tissues were decreased (p = 0.017 and p = 0.004, respectively). At the same time, the myocardial peroxisome proliferator-activated receptor (PPAR)-α and carnitine palmitoyltransferase (CPT)-1a mRNA expressions were increased and the myocardial diacylglycerol acyltransferase (DGAT) mRNA expression was decreased in the osthol 20 mg/kg group (p < 0.001). Osthol treatment was associated with a decreased cross-sectional area of cardiomyocytes (p < 0.001).
CONCLUSIONS:
These findings suggest that osthol may exert a therapeutic effect on cardiac hypertrophy in rats, and its mechanisms may be related to the improvement of myocardial oxidative stress and lipid metabolism via regulation of PPARα-mediated target gene expressions including an increase in CPT-1a mRNA expression and a decrease in DGAT mRNA expression.
| | | | | | |
| --- | --- | --- | --- | --- | --- |
| | 1 mg | 5 mg | 10 mg | 20 mg | 25 mg |
| 1 mM | 4.0933 mL | 20.4666 mL | 40.9333 mL | 81.8666 mL | 102.3332 mL |
| 5 mM | 0.8187 mL | 4.0933 mL | 8.1867 mL | 16.3733 mL | 20.4666 mL |
| 10 mM | 0.4093 mL | 2.0467 mL | 4.0933 mL | 8.1867 mL | 10.2333 mL |
| 50 mM | 0.0819 mL | 0.4093 mL | 0.8187 mL | 1.6373 mL | 2.0467 mL |
| 100 mM | 0.0409 mL | 0.2047 mL | 0.4093 mL | 0.8187 mL | 1.0233 mL |
* Note:
If you are in the process of experiment, it's need to make the dilution ratios of the samples. The dilution data of the sheet for your reference. Normally, it's can get a better solubility within lower of Concentrations.
部分图片展示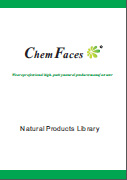 联系方式

电机:027-84237783
传真:027-84254680
在线QQ: 215959384
E-Mail:manager@chemfaces.com

湖北省武汉沌口经济技术开区车城南路83号1号楼第三层厂房