茶黄素
Theaflavin
产品编号
CFN98597
CAS编号
4670-05-7
分子式 = 分子量
C29H24O12 = 564.49
产品纯度
>=98%
物理属性
Powder
化合物类型
Flavonoids
植物来源
The leaves of Camellia sinensis (L.) O. Kuntze.
ChemFaces的产品在影响因子大于5的优秀和顶级科学期刊中被引用
| | | | | |
| --- | --- | --- | --- | --- |
| 产品名称 | 产品编号 | CAS编号 | 包装 | QQ客服 |
| 茶黄素 | CFN98597 | 4670-05-7 | 10mg | QQ客服:1457312923 |
| 茶黄素 | CFN98597 | 4670-05-7 | 20mg | QQ客服:1457312923 |
| 茶黄素 | CFN98597 | 4670-05-7 | 50mg | QQ客服:1457312923 |
| 茶黄素 | CFN98597 | 4670-05-7 | 100mg | QQ客服:1457312923 |
1. 在您收到产品后请检查产品。如无问题,请将产品存入冰霜并且样品瓶保持密封,产品可以存放长达24个月(2-8摄氏度)。

2. 只要有可能,产品溶解后,您应该在同一天应用于您的实验。 但是,如果您需要提前做预实验,或者需要全部溶解,我们建议您将溶液以等分试样的形式存放在-20℃的密封小瓶中。 通常,这些可用于长达两周。 使用前,打开样品瓶前,我们建议您将产品平衡至室温至少1小时。

3. 需要更多关于溶解度,使用和处理的建议? 请发送电子邮件至:service@chemfaces.com
订购流程
1. 在线订购
请联系我们QQ客服


2. 电话订购
请拨打电话:
027-84237683 或 027-84237783


3. 邮件或传真订购
发送电子邮件到: manager@chemfaces.com 或
发送传真到:027-84254680


提供订购信息
为了方便客户的订购,请需要订购ChemFaces产品的客户,在下单的时候请提供下列信息,以供我们快速为您建立发货信息。
1. 产品编号(CAS No.或产品名称)
2. 发货地址
3. 联系方法 (联系人,电话)
4. 开票抬头 (如果需要发票的客户)
5. 发票地址(发货地址与发票地址不同)
发货时间
1. 付款方式为100%预付款客户,我们将在确认收到货款后当天或1-3个工作日发货。

2. 付款方式为月结的客户,我们承诺在收到订单后当天或1-3个工作日内发货。

3. 如果客户所需要的产品,需要重新生产,我们有权告知客户,交货时间需要延期。
ChemFaces的产品在许多优秀和顶级科学期刊中被引用
我们的产品现已经出口到下面的研究机构与大学,并且还在增涨
Universitas islam negeri Jakarta (Indonesia)
Griffith University (Australia)
Universidade da Beira Interior (Germany)
Lodz University of Technology (Poland)
Korea Institute of Oriental Medicine (Korea)
Martin Luther University of Halle-Wittenberg (Germany)
Heinrich-Heine-University Düsseldorf (Germany)
Universiti Malaysia Pahang (Malaysia)
Istanbul University (Turkey)
Shanghai University of TCM (China)
University of Lodz (Poland)
Universiti Putra Malaysia(UPM) (Malaysia)
Georgia Institute of Technology (USA)
University of Oslo (Norway)
国外学术期刊发表的引用ChemFaces产品的部分文献
Description:
Theaflavin is a suitable natural inhibitor against influenza A (H1N1) neuraminidase, which has anti-inflammatory, antioxidative, anti-mutagenic, anti-HSV-1, and anti-carcinogenic properties. Theaflavin is active in the prevention of fatty liver and obesity, it can significantly reduce lipid accumulation, suppress fatty acid synthesis, and stimulate fatty acid oxidation. Theaflavin inhibits LPS-Induced IL-6, MCP-1, and ICAM-1 expression in bone marrow-derived macrophages through the blockade of NF-κB and MAPK signaling pathways; it also protects nigral dopaminergic neurons against chronic MPTP/probenecid induced Parkinson's disease.
Targets:
Antifection | ROS | TNF-α | NF-kB | IL Receptor | IkB | ERK | JNK | p38MAPK | Caspase | AMPK | IKK | H1N1 | HSV-1 | MCP-1 | ICAM-1 | FAS
In vitro:

J Microbiol Biotechnol. 2013 Sep 28;23(9):1322-6.
Antifungal synergy of theaflavin and epicatechin combinations against Candida albicans.[Pubmed: 23711519]
New antifungal agents are required to compensate for the increase in resistance to standard antifungal agents of Candida albicans, which is an important opportunistic fungal pathogen that causes minor infections in many individuals but very serious infections in those who are immune-compromised.
METHODS AND RESULTS:
In this study, combinations of theaflavin and epicatechin are investigated as potential antifungal agents and also to establish whether antifungal synergy exists between these two readily accessible and cost-effective polyphenols isolated from black and green tea. The results of disc diffusion assays showed stronger antibacterial activity of theaflavin:epicatechin combinations against C. albicans NCTC 3255 and NCTC 3179, than that of theaflavin alone. Minimum inhibitory concentrations (MICs) of 1,024 μg/ml with theaflavin and 128-256 μg/ml with theaflavin:epicatechin combinations were found. The fractional inhibitory concentration indexes were calculated, and the synergy between theaflavin and epicatechin against both isolates of C. albicans was confirmed.
CONCLUSIONS:
Theaflavin:epicatechin combinations show real potential for future use as a treatment for infections caused by C. albicans.
Genomics Inform . 2016 Sep;14(3):96-103.
Identification of Suitable Natural Inhibitor against Influenza A (H1N1) Neuraminidase Protein by Molecular Docking[Pubmed: 27729839]
Abstract The influenza A (H1N1) virus, also known as swine flu is a leading cause of morbidity and mortality since 2009. There is a need to explore novel anti-viral drugs for overcoming the epidemics. Traditionally, different plant extracts of garlic, ginger, kalmegh, ajwain, green tea, turmeric, menthe, tulsi, etc. have been used as hopeful source of prevention and treatment of human influenza. The H1N1 virus contains an important glycoprotein, known as neuraminidase (NA) that is mainly responsible for initiation of viral infection and is essential for the life cycle of H1N1. It is responsible for sialic acid cleavage from glycans of the infected cell. We employed amino acid sequence of H1N1 NA to predict the tertiary structure using Phyre2 server and validated using ProCheck, ProSA, ProQ, and ERRAT server. Further, the modelled structure was docked with thirteen natural compounds of plant origin using AutoDock4.2. Most of the natural compounds showed effective inhibitory activity against H1N1 NA in binding condition. This study also highlights interaction of these natural inhibitors with amino residues of NA protein. Furthermore, among 13 natural compounds, theaflavin, found in green tea, was observed to inhibit H1N1 NA proteins strongly supported by lowest docking energy. Hence, it may be of interest to consider theaflavin for further in vitro and in vivo evaluation. Keywords: influenza A Virus; molecular docking analysis; neuraminidase; phytochemicals.

In vivo:

Biochem Biophys Res Commun. 2012 Jan 6;417(1):287-93.
Theaflavin attenuates ischemia-reperfusion injury in a mouse fatty liver model.[Pubmed: 22155236]
The incidence of non-alcoholic fatty liver disease (NAFLD) has been increasing, and there is a shortage of liver donors, which has led to the acceptance of steatotic livers for transplantation. However, steatotic livers are known to experience more severe acute ischemia-reperfusion (I/R) injury than normal livers upon transplantation. In the present study, we investigated the role of theaflavin, a polyphenol substance extracted from black tea, in attenuating acute I/R injury in a fatty liver model.
METHODS AND RESULTS:
We induced I/R in normal and steatotic livers treated with or without theaflavin. We also separated primary hepatocytes from the normal and steatotic livers, and applied RAW264.7 cells, a mouse macrophage cell line, that was pretreated with theaflavin. We observed that liver steatosis, oxidative stress, inflammation and hepatocyte apoptosis were increased in the steatotic liver compared to the normal liver, however, these changes were significantly decreased by theaflavin treatment. In addition, theaflavin significantly diminished the ROS production of steatotic hepatocytes and TNF-α production by LPS-stimulated RAW264.7 cells.
CONCLUSIONS:
We concluded that theaflavin has protective effects against I/R injury in fatty livers by anti-oxidant, anti-inflammatory, and anti-apoptotic mechanisms.
J Lipid Res. 2007 Nov;48(11):2334-43.
Theaflavins attenuate hepatic lipid accumulation through activating AMPK in human HepG2 cells.[Pubmed: 17720960 ]
Black tea is one of the world's most popular beverages, and its health-promoting effects have been intensively investigated. The antiobesity and hypolipidemic effects of black tea have attracted increasing interest, but the mechanisms underlying these phenomena remain unclear.
METHODS AND RESULTS:
In the present study, the black tea major component theaflavins were assessed for their hepatic lipid-lowering potential when administered in fatty acid overload conditions both in cell culture and in an animal experimental model. We found that theaflavins significantly reduced lipid accumulation, suppressed fatty acid synthesis, and stimulated fatty acid oxidation. Furthermore, theaflavins also inhibited acetyl-coenzyme A carboxylase activities by stimulating AMP-activated protein kinase (AMPK) through the LKB1 and reactive oxygen species pathways. These observations support the idea that AMPK is a critical component of decreased hepatic lipid accumulation by theaflavin treatments.
CONCLUSIONS:
Our results show that theaflavins are bioavailable both in vitro and in vivo and may be active in the prevention of fatty liver and obesity.
| | | | | | |
| --- | --- | --- | --- | --- | --- |
| | 1 mg | 5 mg | 10 mg | 20 mg | 25 mg |
| 1 mM | 1.7715 mL | 8.8576 mL | 17.7151 mL | 35.4302 mL | 44.2878 mL |
| 5 mM | 0.3543 mL | 1.7715 mL | 3.543 mL | 7.086 mL | 8.8576 mL |
| 10 mM | 0.1772 mL | 0.8858 mL | 1.7715 mL | 3.543 mL | 4.4288 mL |
| 50 mM | 0.0354 mL | 0.1772 mL | 0.3543 mL | 0.7086 mL | 0.8858 mL |
| 100 mM | 0.0177 mL | 0.0886 mL | 0.1772 mL | 0.3543 mL | 0.4429 mL |
* Note:
If you are in the process of experiment, it's need to make the dilution ratios of the samples. The dilution data of the sheet for your reference. Normally, it's can get a better solubility within lower of Concentrations.
部分图片展示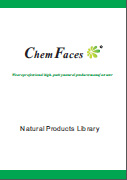 联系方式

电机:027-84237783
传真:027-84254680
在线QQ: 1413575084
E-Mail:manager@chemfaces.com

湖北省武汉沌口经济技术开区车城南路83号1号楼第三层厂房