秦皮素
Fraxetin
| | | | | |
| --- | --- | --- | --- | --- |
| 产品名称 | 产品编号 | CAS编号 | 包装 | QQ客服 |
| 秦皮素 | CFN99113 | 574-84-5 | 10mg | QQ客服:2932563308 |
| 秦皮素 | CFN99113 | 574-84-5 | 20mg | QQ客服:2932563308 |
| 秦皮素 | CFN99113 | 574-84-5 | 50mg | QQ客服:2932563308 |
| 秦皮素 | CFN99113 | 574-84-5 | 100mg | QQ客服:2932563308 |
1. 在您收到产品后请检查产品。如无问题,请将产品存入冰霜并且样品瓶保持密封,产品可以存放长达24个月(2-8摄氏度)。

2. 只要有可能,产品溶解后,您应该在同一天应用于您的实验。 但是,如果您需要提前做预实验,或者需要全部溶解,我们建议您将溶液以等分试样的形式存放在-20℃的密封小瓶中。 通常,这些可用于长达两周。 使用前,打开样品瓶前,我们建议您将产品平衡至室温至少1小时。

3. 需要更多关于溶解度,使用和处理的建议? 请发送电子邮件至:service@chemfaces.com
订购流程
1. 在线订购
请联系我们QQ客服


2. 电话订购
请拨打电话:
027-84237683 或 027-84237783


3. 邮件或传真订购
发送电子邮件到: manager@chemfaces.com 或
发送传真到:027-84254680


提供订购信息
为了方便客户的订购,请需要订购ChemFaces产品的客户,在下单的时候请提供下列信息,以供我们快速为您建立发货信息。
1. 产品编号(CAS No.或产品名称)
2. 发货地址
3. 联系方法 (联系人,电话)
4. 开票抬头 (如果需要发票的客户)
5. 发票地址(发货地址与发票地址不同)
发货时间
1. 付款方式为100%预付款客户,我们将在确认收到货款后当天或1-3个工作日发货。

2. 付款方式为月结的客户,我们承诺在收到订单后当天或1-3个工作日内发货。

3. 如果客户所需要的产品,需要重新生产,我们有权告知客户,交货时间需要延期。
ChemFaces的产品在许多优秀和顶级科学期刊中被引用
我们的产品现已经出口到下面的研究机构与大学,并且还在增涨
The University of Newcastle (Australia)
University of Beira Interior (Portugal)
Universidade Federal de Santa Catarina (Brazil)
Stanford University (USA)
Sri Ramachandra University (India)
Institute of Bioorganic Chemistry Polish Academy of Sciences (Poland)
National Chung Hsing University (Taiwan)
Universiti Malaysia Pahang (Malaysia)
Mendel University in Brno (Czech Republic)
Center for protein Engineering (CIP) (Belgium)
Lodz University of Technology (Poland)
University of Toulouse (France)
University of Parma (Italy)
University of Maryland School of Medicine (USA)
国外学术期刊发表的引用ChemFaces产品的部分文献
Description:
Fraxetin has dual-antioxidative ,hepatoprotective and antihyperglycemic functions, it shows potent protective effects against CCl4 induced oxidative stress and hepatic fibrosis, has a marked inhibitory effect on S.aureus proliferation. It increased the level of Nrf2/ARE, and HO-1, inhibit the formation of ROS, cytochrome c release, activation of caspase-3 and 9, and suppressed the up-regulation of Bax.
Targets:
Nrf2 | LDL | ROS | Caspase | HO-1 | Bcl-2/Bax
In vitro:

Mol Med Rep. 2014 Nov;10(5):2341-5.
Antibacterial mechanism of fraxetin against Staphylococcus aureus.[Pubmed: 25189268]
Fraxetin is one of the main constituents of the traditional medicinal plant Fraxinus rhynchophylla. The inhibitory effect of fraxetin on various bacterial strains has been extensively reported, however, its mechanism of action on bacterial cells remains to be elucidated.
METHODS AND RESULTS:
In the present study, the antibacterial mechanism of fraxetin on Staphylococcus aureus was systematically investigated by examining its effect on cell membranes, protein synthesis, nucleic acid content and topoisomerase activity. The results indicated that fraxetin increased the permeability of the cell membrane but did not render it permeable to macromolecules, such as DNA and RNA. Additionally, the quantity of protein, DNA and RNA decreased to 55.74, 33.86 and 48.96%, respectively following treatment with fraxetin for 16 h. The activity of topoisomerase I and topoisomerase II were also markedly inhibited as fraxetin concentration increased. The result of the ultraviolet‑visible spectrophotometry demonstrated that the DNA characteristics exhibited a blue shift and hypochromic effect following treatment with fraxetin.
CONCLUSIONS:
These results indicated that fraxetin had a marked inhibitory effect on S.aureus proliferation. Further mechanistic studies showed that fraxetin could disrupt nucleic acid and protein synthesis by preventing topoisomerase from binding to DNA.
Neurosci Res. 2005 Sep;53(1):48-56.
Fraxetin prevents rotenone-induced apoptosis by induction of endogenous glutathione in human neuroblastoma cells.[Pubmed: 15996779 ]
Fraxetin belongs to an extensive group of natural phenolic anti-oxidants.
METHODS AND RESULTS:
In the present study, using a human neuroblastoma SH-SY5Y cells, we have investigated the protective effects of this compound on modifications in endogenous reduced glutathione (GSH), intracellular oxygen species (ROS) and apoptotic death on rotenone-mediated cytoxicity. Incubation of cells with the fraxetin led to a significant elevation dose-dependent of cellular GSH and this was accompanied by a marked protection against rotenone-mediated toxicity, which was also significantly reversed in the cells with buthionine sulfoximine (BSO) co-treatment. Taken together, this study suggested that intracellular GSH appeared to be an important factor in fraxetin-mediated cytoprotection against rotenone-toxicity in SH-SY5Y cells. Fraxetin at 10-100 muM inhibited the formation of ROS, cytochrome c release, activation of caspase-3 and 9, and suppressed the up-regulation of Bax, whereas no significant change occurred in Bcl-2 levels.
CONCLUSIONS:
Our results indicated that the anti-oxidative and anti-apoptotic properties render this natural compound potentially protective against rotenone-induced cytotoxicity.

In vivo:

Phytomedicine. 2014 Feb 15;21(3):240-6.
Antioxidant and intestinal anti-inflammatory effects of plant-derived coumarin derivatives.[Pubmed: 24176844]
Coumarins, also known as benzopyrones, are plant-derived products with several pharmacological properties, including antioxidant and anti-inflammatory activities. Based on the wide distribution of coumarin derivatives in plant-based foods and beverages in the human diet, our objective was to evaluate both the antioxidant and intestinal anti-inflammatory activities of six coumarin derivatives of plant origin (scopoletin, scoparone, fraxetin, 4-methyl-umbeliferone, esculin and daphnetin) to verify if potential intestinal anti-inflammatory activity was related to antioxidant properties.
METHODS AND RESULTS:
Intestinal inflammation was induced by intracolonic instillation of TNBS in rats. The animals were treated with coumarins by oral route. The animals were killed 48 h after colitis induction. The colonic segments were obtained after laparotomy and macroscopic and biochemical parameters (determination of glutathione level and myeloperoxidase and alkaline phosphatase activities) were evaluated. The antioxidant properties of these coumarins were examined by lipid peroxidation and DPPH assays. Treatment with esculin, scoparone and daphnetin produced the best protective effects. All coumarin derivatives showed antioxidant activity in the DPPH assay, while daphnetin and fraxetin also showed antioxidant activity by inhibiting lipid peroxidation. Coumarins, except 4-methyl-umbeliferone, also showed antioxidant activity through the counteraction of glutathione levels or through the inhibition of myeloperoxidase activity.
CONCLUSIONS:
The intestinal anti-inflammatory activity of coumarin derivatives were related to their antioxidant properties, suggesting that consumption of coumarins and/or foods rich in coumarin derivatives, particularly daphnetin, esculin and scoparone, could prevent intestinal inflammatory disease.
Biochimie. 2013 Oct;95(10):1848-54.
Antihyperglycemic effect of fraxetin on hepatic key enzymes of carbohydrate metabolism in streptozotocin-induced diabetic rats.[Pubmed: 23806420]
Epidemiological studies have demonstrated that the diabetes mellitus is a serious health burden for both governments and healthcare providers.
METHODS AND RESULTS:
The present study was hypothesized to evaluate the antihyperglycemic potential of fraxetin by determining the activities of key enzymes of carbohydrate metabolism in streptozotocin (STZ) - induced diabetic rats. Diabetes was induced in male albino Wistar rats by intraperitoneal administration of STZ (40 mg/kg b.w). Fraxetin was administered to diabetic rats intra gastrically at 20, 40, 80 mg/kg b.w for 30 days. The dose 80 mg/kg b.w, significantly reduced the levels of blood glucose and glycosylated hemoglobin (HbA1c) and increased plasma insulin level. The altered activities of the key enzymes of carbohydrate metabolism such as glucokinase, glucose-6-phosphate dehydrogenase, glucose-6-phosphatase, fructose-1,6-bisphosphatase and hepatic enzymes (aspartate transaminase (AST), alanine transaminase (ALT) and alkaline phosphatase (ALP)) in the liver tissues of diabetic rats were significantly reverted to near normal levels by the administration of fraxetin. Further, fraxetin administration to diabetic rats improved body weight and hepatic glycogen content demonstrated its antihyperglycemic potential.
CONCLUSIONS:
The present findings suggest that fraxetin may be useful in the treatment of diabetes even though clinical studies to evaluate this possibility may be warranted.
| | | | | | |
| --- | --- | --- | --- | --- | --- |
| | 1 mg | 5 mg | 10 mg | 20 mg | 25 mg |
| 1 mM | 4.8038 mL | 24.0188 mL | 48.0377 mL | 96.0753 mL | 120.0942 mL |
| 5 mM | 0.9608 mL | 4.8038 mL | 9.6075 mL | 19.2151 mL | 24.0188 mL |
| 10 mM | 0.4804 mL | 2.4019 mL | 4.8038 mL | 9.6075 mL | 12.0094 mL |
| 50 mM | 0.0961 mL | 0.4804 mL | 0.9608 mL | 1.9215 mL | 2.4019 mL |
| 100 mM | 0.048 mL | 0.2402 mL | 0.4804 mL | 0.9608 mL | 1.2009 mL |
* Note:
If you are in the process of experiment, it's need to make the dilution ratios of the samples. The dilution data of the sheet for your reference. Normally, it's can get a better solubility within lower of Concentrations.
部分图片展示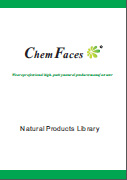 联系方式

电机:027-84237783
传真:027-84254680
在线QQ: 1413575084
E-Mail:manager@chemfaces.com

湖北省武汉沌口经济技术开区车城南路83号1号楼第三层厂房