宽缨酮
Eurycomanone
产品编号
CFN92008
CAS编号
84633-29-4
分子式 = 分子量
C20H24O9 = 408.4
产品纯度
>=98%
物理属性
Powder
化合物类型
Diterpenoids
植物来源
The roots of Eurycoma longifolia.
ChemFaces的产品在影响因子大于5的优秀和顶级科学期刊中被引用
| | | | | |
| --- | --- | --- | --- | --- |
| 产品名称 | 产品编号 | CAS编号 | 包装 | QQ客服 |
| 宽缨酮 | CFN92008 | 84633-29-4 | 10mg | QQ客服:2056216494 |
| 宽缨酮 | CFN92008 | 84633-29-4 | 20mg | QQ客服:2056216494 |
| 宽缨酮 | CFN92008 | 84633-29-4 | 50mg | QQ客服:2056216494 |
| 宽缨酮 | CFN92008 | 84633-29-4 | 100mg | QQ客服:2056216494 |
1. 在您收到产品后请检查产品。如无问题,请将产品存入冰霜并且样品瓶保持密封,产品可以存放长达24个月(2-8摄氏度)。

2. 只要有可能,产品溶解后,您应该在同一天应用于您的实验。 但是,如果您需要提前做预实验,或者需要全部溶解,我们建议您将溶液以等分试样的形式存放在-20℃的密封小瓶中。 通常,这些可用于长达两周。 使用前,打开样品瓶前,我们建议您将产品平衡至室温至少1小时。

3. 需要更多关于溶解度,使用和处理的建议? 请发送电子邮件至:service@chemfaces.com
订购流程
1. 在线订购
请联系我们QQ客服


2. 电话订购
请拨打电话:
027-84237683 或 027-84237783


3. 邮件或传真订购
发送电子邮件到: manager@chemfaces.com 或
发送传真到:027-84254680


提供订购信息
为了方便客户的订购,请需要订购ChemFaces产品的客户,在下单的时候请提供下列信息,以供我们快速为您建立发货信息。
1. 产品编号(CAS No.或产品名称)
2. 发货地址
3. 联系方法 (联系人,电话)
4. 开票抬头 (如果需要发票的客户)
5. 发票地址(发货地址与发票地址不同)
发货时间
1. 付款方式为100%预付款客户,我们将在确认收到货款后当天或1-3个工作日发货。

2. 付款方式为月结的客户,我们承诺在收到订单后当天或1-3个工作日内发货。

3. 如果客户所需要的产品,需要重新生产,我们有权告知客户,交货时间需要延期。
ChemFaces的产品在许多优秀和顶级科学期刊中被引用
我们的产品现已经出口到下面的研究机构与大学,并且还在增涨
Copenhagen University (Denmark)
University of Maryland (USA)
Srinakharinwirot University (Thailand)
University of Parma (Italy)
University of Zurich (Switzerland)
Celltrion Chemical Research Institute (Korea)
University of South Australia (Australia)
Uniwersytet Gdański (Poland)
Mahidol University (Thailand)
University of Maryland School of Medicine (USA)
Weizmann Institute of Science (Israel)
Max-Planck-Insitut (Germany)
Colorado State University (USA)
Uniwersytet Medyczny w ?odzi (Poland)
国外学术期刊发表的引用ChemFaces产品的部分文献
Description:
Eurycomanone has anti-cancer activity, it is cytotoxic on HepG2 cells by inducing apoptosis through the up-regulation of p53 and Bax, and down-regulation of Bcl-2.
Targets:
NF-kB | IkB | P450 (e.g. CYP17) | p53 | Bcl-2/Bax | Caspase | IKK
In vitro:

Molecules. 2014 Sep 16;19(9):14649-66.
Eurycomanone and eurycomanol from Eurycoma longifolia Jack as regulators of signaling pathways involved in proliferation, cell death and inflammation.[Pubmed: 25230121]
Eurycomanone and eurycomanol are two quassinoids from the roots of Eurycoma longifolia Jack.
METHODS AND RESULTS:
The aim of this study was to assess the bioactivity of these compounds in Jurkat and K562 human leukemia cell models compared to peripheral blood mononuclear cells from healthy donors. Both eurycomanone and eurycomanol inhibited Jurkat and K562 cell viability and proliferation without affecting healthy cells. Interestingly, eurycomanone inhibited NF-κB signaling through inhibition of IκBα phosphorylation and upstream mitogen activated protein kinase (MAPK) signaling, but not eurycomanol.
CONCLUSIONS:
In conclusion, both quassinoids present differential toxicity towards leukemia cells, and the presence of the α,β-unsaturated ketone in eurycomanone could be prerequisite for the NF-κB inhibition.
Phytomedicine. 2012 Jan 15;19(2):138-44.
Eurycomanone suppresses expression of lung cancer cell tumor markers, prohibitin, annexin 1 and endoplasmic reticulum protein 28.[Pubmed: 21903368]
Bioactive compounds from the medicinal plant, Eurycoma longifolia Jack have been shown to promote anti-proliferative effects on various cancer cell lines.
METHODS AND RESULTS:
Here we examined the effects of purified eurycomanone, a quassinoid found in Eurycoma longifolia Jack extract, on the expression of selected genes of the A549 lung cancer cells. Eurycomanone inhibited A549 lung cancer cell proliferation in a dose-dependent manner at concentrations ranging from 5 to 20 μg/ml. The concentration that inhibited 50% of cell growth (GI(50)) was 5.1 μg/ml. The anti-proliferative effects were not fully reversible following the removal of eurycomanone, in which 30% of cell inhibition still remained (p<0.0001, T-test). At 8 μg/ml (GI(70)), eurycomanone suppressed anchorage-independent growth of A549 cells by >25% (p<0.05, T-test, n=8) as determined using soft agar colony formation assay. Cisplatin, a chemotherapy drug used for the treatment of non small cell lung cancer on the other hand, inhibited A549 cells proliferation at concentrations ranging from 0.2 μg/ml to 15 μg/ml with a GI(50) of 0.58 μg/ml. The treatment with eurycomanone reduced the abundance expression of the lung cancer markers, heterogeneous nuclear ribonucleoprotein (hnRNP) A2/B1, p53 tumor suppressor protein and other cancer-associated genes including prohibitin (PHB), annexin 1 (ANX1) and endoplasmic reticulum protein 28 (ERp28) but not the house keeping genes. The mRNA expressions of all genes with the exception of PHB were significantly downregulated, 72 h after treatment (p<0.05, T-test, n=9). These findings suggest that eurycomanone at viable therapeutic concentrations of 5-20 μg/ml exhibited significant anti-proliferative and anti-clonogenic cell growth effects on A549 lung cancer cells.
CONCLUSIONS:
The treatment also resulted in suppression of the lung cancer cell tumor markers and several known cancer cell growth-associated genes.
| | | | | | |
| --- | --- | --- | --- | --- | --- |
| | 1 mg | 5 mg | 10 mg | 20 mg | 25 mg |
| 1 mM | 2.4486 mL | 12.2429 mL | 24.4858 mL | 48.9716 mL | 61.2145 mL |
| 5 mM | 0.4897 mL | 2.4486 mL | 4.8972 mL | 9.7943 mL | 12.2429 mL |
| 10 mM | 0.2449 mL | 1.2243 mL | 2.4486 mL | 4.8972 mL | 6.1214 mL |
| 50 mM | 0.049 mL | 0.2449 mL | 0.4897 mL | 0.9794 mL | 1.2243 mL |
| 100 mM | 0.0245 mL | 0.1224 mL | 0.2449 mL | 0.4897 mL | 0.6121 mL |
* Note:
If you are in the process of experiment, it's need to make the dilution ratios of the samples. The dilution data of the sheet for your reference. Normally, it's can get a better solubility within lower of Concentrations.
部分图片展示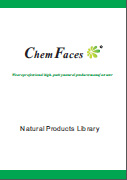 联系方式

电机:027-84237783
传真:027-84254680
在线QQ: 1413575084
E-Mail:manager@chemfaces.com

湖北省武汉沌口经济技术开区车城南路83号1号楼第三层厂房