香风草甙
Didymin
产品编号
CFN92363
CAS编号
14259-47-3
分子式 = 分子量
C28H34O14 = 594.6
产品纯度
>=98%
物理属性
Powder
化合物类型
Flavonoids
植物来源
The herbs of Clinopodium chinense
ChemFaces的产品在影响因子大于5的优秀和顶级科学期刊中被引用
| | | | | |
| --- | --- | --- | --- | --- |
| 产品名称 | 产品编号 | CAS编号 | 包装 | QQ客服 |
| 香风草甙 | CFN92363 | 14259-47-3 | 10mg | QQ客服:1413575084 |
| 香风草甙 | CFN92363 | 14259-47-3 | 20mg | QQ客服:1413575084 |
| 香风草甙 | CFN92363 | 14259-47-3 | 50mg | QQ客服:1413575084 |
| 香风草甙 | CFN92363 | 14259-47-3 | 100mg | QQ客服:1413575084 |
1. 在您收到产品后请检查产品。如无问题,请将产品存入冰霜并且样品瓶保持密封,产品可以存放长达24个月(2-8摄氏度)。

2. 只要有可能,产品溶解后,您应该在同一天应用于您的实验。 但是,如果您需要提前做预实验,或者需要全部溶解,我们建议您将溶液以等分试样的形式存放在-20℃的密封小瓶中。 通常,这些可用于长达两周。 使用前,打开样品瓶前,我们建议您将产品平衡至室温至少1小时。

3. 需要更多关于溶解度,使用和处理的建议? 请发送电子邮件至:service@chemfaces.com
订购流程
1. 在线订购
请联系我们QQ客服


2. 电话订购
请拨打电话:
027-84237683 或 027-84237783


3. 邮件或传真订购
发送电子邮件到: manager@chemfaces.com 或
发送传真到:027-84254680


提供订购信息
为了方便客户的订购,请需要订购ChemFaces产品的客户,在下单的时候请提供下列信息,以供我们快速为您建立发货信息。
1. 产品编号(CAS No.或产品名称)
2. 发货地址
3. 联系方法 (联系人,电话)
4. 开票抬头 (如果需要发票的客户)
5. 发票地址(发货地址与发票地址不同)
发货时间
1. 付款方式为100%预付款客户,我们将在确认收到货款后当天或1-3个工作日发货。

2. 付款方式为月结的客户,我们承诺在收到订单后当天或1-3个工作日内发货。

3. 如果客户所需要的产品,需要重新生产,我们有权告知客户,交货时间需要延期。
ChemFaces的产品在许多优秀和顶级科学期刊中被引用
我们的产品现已经出口到下面的研究机构与大学,并且还在增涨
Research Unit Molecular Epigenetics (MEG) (Germany)
Kyoto University (Japan)
Agricultural Research Organization (ARO) (Israel)
Harvard University (USA)
National Research Council of Canada (Canada)
Institute of Bioorganic Chemistry Polish Academy of Sciences (Poland)
Northeast Normal University Changchun (China)
Universidad de Antioquia (Colombia)
Kitasato University (Japan)
University of Cincinnati (USA)
University of Limpopo (South Africa)
Julius Kühn-Institut (Germany)
Cancer Research Initatives Foundation(CARIF) (Malaysia)
VIT University (India)
国外学术期刊发表的引用ChemFaces产品的部分文献
Description:
Didymin is a citrus-derived natural compound that kills p53 wild-type as well as drug-resistant p53-mutant neuroblastoma cells in culture, it induces apoptosis by inhibiting N-Myc and upregulating RKIP in neuroblastoma. Didymin possesses antioxidant, anti-inflammation and anti-cancer properties.
Targets:
ROS | JNK | Caspase | p53 | PI3K | Akt | CDK | p21
In vitro:

Cells Tissues Organs. 2014;199(2-3):184-200.
Neuroprotective effect of didymin on hydrogen peroxide-induced injury in the neuronal membrane system.[Pubmed: 25412833]

METHODS AND RESULTS:
In this study, the flavonoid didymin was administered in vitro in neuronal cells after hydrogen peroxide (H2O2)-induced injury (neurorescue) in order to investigate the effects of this natural molecule on cell damage in a neuronal membrane system. The results showed the effects of didymin in neuronal cells by using a polycaprolactone biodegradable membrane system as an in vitro model. Two major findings are presented in this study: first is the antioxidant property of didymin and, second, for the first time we provide evidence concerning its ability to rescue neuronal cells from oxidative damage. Didymin showed radical scavenging activities and it protected the neuronal cells against H2O2-induced neurotoxicity. Didymin increased cell viability, decreased intracellular reactive oxygen species generation, stimulated superoxide dismutase, catalase and glutathione peroxidase activity in neuronal cells which were previously insulted with H2O2. In addition, didymin strikingly inhibited H2O2-induced mitochondrial dysfunctions in terms of reduction of mitochondria membrane potential and the activation of cleaved caspase-3, and also decreased dramatically the H2O2-induced phosphorylation of c-Jun N-terminal kinase. Therefore, this molecule is capable of inducing recovery from oxidative damage, and promoting and/or restoring normal cellular conditions. Moreover, the mechanism underlying the protective effects of didymin in H2O2-injured neuronal cells might be related to the activation of antioxidant defense enzymes as well as to the inhibition of apoptotic features, such as p-JNK and caspase-3 activation.
CONCLUSIONS:
These data suggest that didymin may be a potential therapeutic molecule for the treatment of neurodegenerative disorders associated with oxidative stress.
Lung Cancer. 2010 Jun;68(3):366-74.
Didymin, a dietary flavonoid glycoside from citrus fruits, induces Fas-mediated apoptotic pathway in human non-small-cell lung cancer cells in vitro and in vivo.[Pubmed: 19733932]
Epidemiological studies provided evidence that the high dietary intake of flavonoids with fruits and vegetables could be associated with lower cancer prevalence in humans. Didymin, a dietary flavonoid glycoside from citrus fruits, possesses antioxidant properties.
METHODS AND RESULTS:
This study first investigates the anticancer effect of Didymin in human non-small-cell lung cancer A549 and H460 cells. To identity the anticancer mechanism of Didymin, we assayed its effect on apoptosis, cell cycle distribution, and levels of p53, p21/WAF1, Fas/APO-1 receptor, and Fas ligand. The results showed that Didymin-induced apoptosis of A549 and H460 cells without mediation of p53 and p21/WAF1. We suggest that Fas/Fas ligand apoptotic system is the main pathway of Didymin-mediated apoptosis of A549 and H460 cells. Importantly, a novel chemotherapeutic agent for the treatment of non-small-cell lung cancer, and is supported by animal studies which have shown Didymin delay the tumor growth in nude mice.
CONCLUSIONS:
Our study reports here for the first time that the activity of the Fas/Fas ligand apoptotic system may participate in the antiproliferative activity of Didymin in A549 and H460 cells.
| | | | | | |
| --- | --- | --- | --- | --- | --- |
| | 1 mg | 5 mg | 10 mg | 20 mg | 25 mg |
| 1 mM | 1.6818 mL | 8.409 mL | 16.818 mL | 33.6361 mL | 42.0451 mL |
| 5 mM | 0.3364 mL | 1.6818 mL | 3.3636 mL | 6.7272 mL | 8.409 mL |
| 10 mM | 0.1682 mL | 0.8409 mL | 1.6818 mL | 3.3636 mL | 4.2045 mL |
| 50 mM | 0.0336 mL | 0.1682 mL | 0.3364 mL | 0.6727 mL | 0.8409 mL |
| 100 mM | 0.0168 mL | 0.0841 mL | 0.1682 mL | 0.3364 mL | 0.4205 mL |
* Note:
If you are in the process of experiment, it's need to make the dilution ratios of the samples. The dilution data of the sheet for your reference. Normally, it's can get a better solubility within lower of Concentrations.
部分图片展示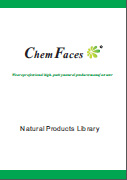 联系方式

电机:027-84237783
传真:027-84254680
在线QQ: 1413575084
E-Mail:manager@chemfaces.com

湖北省武汉沌口经济技术开区车城南路83号1号楼第三层厂房