乙酰紫草素
Acetylshikonin
产品编号
CFN90308
CAS编号
54984-93-9
分子式 = 分子量
C18H18O6 = 330.33
产品纯度
>=98%
物理属性
Powder
化合物类型
Quinones
植物来源
The roots of Lithosperraum erythrorhizon Sieb. et Zucc.
ChemFaces的产品在影响因子大于5的优秀和顶级科学期刊中被引用
| | | | | |
| --- | --- | --- | --- | --- |
| 产品名称 | 产品编号 | CAS编号 | 包装 | QQ客服 |
| 乙酰紫草素 | CFN90308 | 54984-93-9 | 10mg | QQ客服:1413575084 |
| 乙酰紫草素 | CFN90308 | 54984-93-9 | 20mg | QQ客服:1413575084 |
| 乙酰紫草素 | CFN90308 | 54984-93-9 | 50mg | QQ客服:1413575084 |
| 乙酰紫草素 | CFN90308 | 54984-93-9 | 100mg | QQ客服:1413575084 |
1. 在您收到产品后请检查产品。如无问题,请将产品存入冰霜并且样品瓶保持密封,产品可以存放长达24个月(2-8摄氏度)。

2. 只要有可能,产品溶解后,您应该在同一天应用于您的实验。 但是,如果您需要提前做预实验,或者需要全部溶解,我们建议您将溶液以等分试样的形式存放在-20℃的密封小瓶中。 通常,这些可用于长达两周。 使用前,打开样品瓶前,我们建议您将产品平衡至室温至少1小时。

3. 需要更多关于溶解度,使用和处理的建议? 请发送电子邮件至:service@chemfaces.com
订购流程
1. 在线订购
请联系我们QQ客服


2. 电话订购
请拨打电话:
027-84237683 或 027-84237783


3. 邮件或传真订购
发送电子邮件到: manager@chemfaces.com 或
发送传真到:027-84254680


提供订购信息
为了方便客户的订购,请需要订购ChemFaces产品的客户,在下单的时候请提供下列信息,以供我们快速为您建立发货信息。
1. 产品编号(CAS No.或产品名称)
2. 发货地址
3. 联系方法 (联系人,电话)
4. 开票抬头 (如果需要发票的客户)
5. 发票地址(发货地址与发票地址不同)
发货时间
1. 付款方式为100%预付款客户,我们将在确认收到货款后当天或1-3个工作日发货。

2. 付款方式为月结的客户,我们承诺在收到订单后当天或1-3个工作日内发货。

3. 如果客户所需要的产品,需要重新生产,我们有权告知客户,交货时间需要延期。
ChemFaces的产品在许多优秀和顶级科学期刊中被引用
我们的产品现已经出口到下面的研究机构与大学,并且还在增涨
Lodz University of Technology (Poland)
Universiti Kebangsaan Malaysia (Malaysia)
Fraunhofer-Institut für Molekularbiologie und Angewandte ?kologie IME (Germany)
Indian Institute of Science (India)
University of Perugia (Italy)
Universiti Putra Malaysia(UPM) (Malaysia)
Universite de Lille1 (France)
Biotech R&D Institute (USA)
Wroclaw Medical University (Poland)
University of Minnesota (USA)
Siksha O Anusandhan University (India)
University of Ioannina (Greece)
Mahidol University (Thailand)
Shanghai University of TCM (China)
国外学术期刊发表的引用ChemFaces产品的部分文献
Description:
Acetylshikonin can effectively inhibit tumor cells, it can be used to treat hepatocellular carcinoma cells expressing hepatitis B virus X protein (HBX) by inducing ER stress , an oncoprotein from hepatitis B virus. Acetylshikonin inhibits the production of eicosanoid, is due to the attenuation of cytosolic phospholipase A(2) membrane recruitment via the decrease in [Ca(2+)](i) and to the blockade of cyclooxygenase and 5-lipoxygenase activity.
Targets:
JNK | AChR | Bcl-2/Bax | ERK | MAPK | HO-1 | COX | Calcium Channel | HBVX
In vitro:

Eur J Pharmacol. 2014 Jul 15;735:132-40.
Acetylshikonin induces apoptosis of hepatitis B virus X protein-expressing human hepatocellular carcinoma cells via endoplasmic reticulum stress.[Pubmed: 24769509]

METHODS AND RESULTS:
When Acetylshikonin was added to Hep3B cells stably expressing HBX, it induced apoptosis in a dose-dependent manner. Acetylshikonin induced upregulation and export of Nur77 to the cytoplasm and activation of JNK. Likewise, suppression of Nur77 and JNK inactivation protected the cells from Acetylshikonin-induced apoptosis, indicating that Nur77 upregulation and JNK activation were required for Acetylshikonin-mediated apoptosis. Furthermore, Acetylshikonin increased the expression of Bip and ubiquitination levels of cellular proteins, features of endoplasmic reticulum (ER) stress, via the production of reactive oxygen species in a dose-dependent manner. Suppression of reactive oxygen species with N-acetylcysteine reduced levels of Bip protein and ubiquitination levels of cellular proteins during Acetylshikonintreatment, leading to protection of cells from apoptosis. Cycloheximide treatment reduced Acetylshikonin-induced ER stress, suggesting that protein synthesis is involved in Acetylshikonin-induced ER stress. Moreover, we showed using salubrinal, an ER stress inhibitor that reactive oxygen species production, Acetylshikonin activation, and Nur77 upregulation and its translocation to cytoplasm are necessary for ER-induced stress. Interestingly, we found that JNK inactivation suppresses Acetylshikonin-induced ER stress, whereas Nur77 siRNA treatment does not, indicating that JNK is required for Acetylshikonin-induced ER stress.
CONCLUSIONS:
Accordingly, we report that Acetylshikonin induces ER stress, which is prerequisite for apoptosis of HBX-expressing hepatocellular carcinoma cells.
Evid Based Complement Alternat Med. 2013;2013:937370.
Acetylshikonin, a Novel AChE Inhibitor, Inhibits Apoptosis via Upregulation of Heme Oxygenase-1 Expression in SH-SY5Y Cells.[Pubmed: 24302971]
Acetylcholinesterase inhibitors are prominent alternative in current clinical treatment for AD patients. Therefore, there is a continued need to search for novel AChEIs with good clinical efficacy and less side effects.
METHODS AND RESULTS:
By using our in-house natural product database and AutoDock Vina as a tool in docking study, we have identified twelve phytochemicals (emodin, aloe-emodin, chrysophanol, and rhein in Rhei Radix Et Rhizoma; xanthotoxin, phellopterin, alloisoimperatorin, and imperatorin in Angelicae dahuricae Radix; shikonin, acetylshikonin, isovalerylshikonin, and β,β-dimethylacrylshikonin in Arnebiae Radix) as candidates of AChEIs that were not previously reported in the literature. In addition to AChEI activity, a series of cell-based experiments were conducted for the investigation of their neuroprotective activities. We found that acetylshikonin and its derivatives prevented apoptotic cell death induced by hydrogen peroxide in human and rat neuronal SH-SY5Y and PC12 cells at 10 μM.
CONCLUSIONS:
We showed that acetylshikonin exhibited the most potent antiapoptosis activity through the inhibition of the generation of reactive oxygen species as well as protection of the loss of mitochondria membrane potential. Furthermore, we identified for the first time that the upregulation of heme oxygenase 1 by acetylshikonin is a key step mediating its antiapoptotic activity from oxidative stress in SH-SY5Y cells.
| | | | | | |
| --- | --- | --- | --- | --- | --- |
| | 1 mg | 5 mg | 10 mg | 20 mg | 25 mg |
| 1 mM | 3.0273 mL | 15.1364 mL | 30.2728 mL | 60.5455 mL | 75.6819 mL |
| 5 mM | 0.6055 mL | 3.0273 mL | 6.0546 mL | 12.1091 mL | 15.1364 mL |
| 10 mM | 0.3027 mL | 1.5136 mL | 3.0273 mL | 6.0546 mL | 7.5682 mL |
| 50 mM | 0.0605 mL | 0.3027 mL | 0.6055 mL | 1.2109 mL | 1.5136 mL |
| 100 mM | 0.0303 mL | 0.1514 mL | 0.3027 mL | 0.6055 mL | 0.7568 mL |
* Note:
If you are in the process of experiment, it's need to make the dilution ratios of the samples. The dilution data of the sheet for your reference. Normally, it's can get a better solubility within lower of Concentrations.
部分图片展示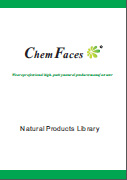 联系方式

电机:027-84237783
传真:027-84254680
在线QQ: 1413575084
E-Mail:manager@chemfaces.com

湖北省武汉沌口经济技术开区车城南路83号1号楼第三层厂房