黄藤素; 巴马汀
Palmatine
产品编号
CFN98459
CAS编号
3486-67-7
分子式 = 分子量
C21H22NO4 = 352.4
产品纯度
>=98%
物理属性
Yellow Powder
化合物类型
Alkaloids
植物来源
The rhizomes of Coptis chinensis Franch.
ChemFaces的产品在影响因子大于5的优秀和顶级科学期刊中被引用
| | | | | |
| --- | --- | --- | --- | --- |
| 产品名称 | 产品编号 | CAS编号 | 包装 | QQ客服 |
| 黄藤素; 巴马汀 | CFN98459 | 3486-67-7 | 10mg | QQ客服:3257982914 |
| 黄藤素; 巴马汀 | CFN98459 | 3486-67-7 | 20mg | QQ客服:3257982914 |
| 黄藤素; 巴马汀 | CFN98459 | 3486-67-7 | 50mg | QQ客服:3257982914 |
| 黄藤素; 巴马汀 | CFN98459 | 3486-67-7 | 100mg | QQ客服:3257982914 |
1. 在您收到产品后请检查产品。如无问题,请将产品存入冰霜并且样品瓶保持密封,产品可以存放长达24个月(2-8摄氏度)。

2. 只要有可能,产品溶解后,您应该在同一天应用于您的实验。 但是,如果您需要提前做预实验,或者需要全部溶解,我们建议您将溶液以等分试样的形式存放在-20℃的密封小瓶中。 通常,这些可用于长达两周。 使用前,打开样品瓶前,我们建议您将产品平衡至室温至少1小时。

3. 需要更多关于溶解度,使用和处理的建议? 请发送电子邮件至:service@chemfaces.com
订购流程
1. 在线订购
请联系我们QQ客服


2. 电话订购
请拨打电话:
027-84237683 或 027-84237783


3. 邮件或传真订购
发送电子邮件到: manager@chemfaces.com 或
发送传真到:027-84254680


提供订购信息
为了方便客户的订购,请需要订购ChemFaces产品的客户,在下单的时候请提供下列信息,以供我们快速为您建立发货信息。
1. 产品编号(CAS No.或产品名称)
2. 发货地址
3. 联系方法 (联系人,电话)
4. 开票抬头 (如果需要发票的客户)
5. 发票地址(发货地址与发票地址不同)
发货时间
1. 付款方式为100%预付款客户,我们将在确认收到货款后当天或1-3个工作日发货。

2. 付款方式为月结的客户,我们承诺在收到订单后当天或1-3个工作日内发货。

3. 如果客户所需要的产品,需要重新生产,我们有权告知客户,交货时间需要延期。
ChemFaces的产品在许多优秀和顶级科学期刊中被引用
我们的产品现已经出口到下面的研究机构与大学,并且还在增涨
University of Dicle (Turkey)
University of Madras (India)
Medical University of Gdansk (Poland)
Osmania University (India)
Universidade do Porto (Portugal)
Kyung Hee University (Korea)
Seoul National University of Science and Technology (Korea)
Semmelweis Unicersity (Hungary)
Universitas Airlangga (Indonesia)
Monash University (Australia)
University Medical Center Mainz (Germany)
University of Canterbury (New Zealand)
Instituto de Investigaciones Agropecuarias (Chile)
Heinrich-Heine-University Düsseldorf (Germany)
国外学术期刊发表的引用ChemFaces产品的部分文献
Description:
Palmatine shows significant antidepressant-like, anti-hyperlipidemia, hepatoprotective, and antioxidant effects, it inhibited MAO-A, I(K) and I(CRAC) activity, and activated the AhR-CYP1A pathway. Palmatine shows the strong toxic action on T. thermophila BF5 growth, it is toxic to insects and vertebrates and inhibited the multiplication of bacteria, fungi and viruses, it is active at the alpha 2-receptor ( IC50 of 956 nM).
Targets:
P450 (e.g. CYP17) | MAO | NF-kB | LDL | DNA/RNA Synthesis | 5-HT Receptor | Adrenergic Receptor | AChR | Antifection | alpha 2-receptor
In vitro:

Mol Carcinog. 2015 Oct;54(10):1227-34.
Palmatine inhibits growth and invasion in prostate cancer cell: Potential role for rpS6/NFκB/FLIP.[Pubmed: 25043857]
Novel agents are desperately needed for improving the quality of life and 5-year survival to more than 30% for metastatic castrate-resistant prostate cancer. Previously we showed that Nexrutine, Phellodendron amurense bark extract, inhibits prostate tumor growth in vitro and in vivo. Subsequently using biochemical fractionation we identified butanol fraction contributes to the observed biological activities.
METHODS AND RESULTS:
We report here that palmatine, which is present in the butanol fraction, selectively inhibits growth of prostate cancer cells without significant effect on non-tumorigenic prostate epithelial cells. By screening receptor tyrosine kinases in a protein kinase array, we identified ribosomal protein S6, a downstream target of p70S6K and the Akt/mTOR signaling cascade as a potential target. We further show that palmatine treatment is associated with decreased activation of NFκB and its downstream target gene FLIP. These events led to inhibition of invasion. Similar results were obtained using parent extract Nexrutine (Nx) suggesting that palmatine either in the purified form or as one of the components in Nx is a potent cytotoxic agent with tumor invasion inhibitory properties. Synergistic inhibition of rpS6/NFκB/FLIP axis with palmatine may have therapeutic potential for the treatment of prostate cancer and possibly other malignancies with their constitutive activation.
METHODS AND RESULTS:
These data support a biological link between rpS6/NFκB/FLIP in mediating palmatine-induced inhibitory effects and warrants additional preclinical studies to test its therapeutic efficacy.
World J Gastroenterol. 2003 Feb;9(2):329-33.
Effects of palmatine on potassium and calcium currents in isolated rat hepatocytes.[Pubmed: 12532460]
To study the effects of palmatine, a known inhibitor on delayed rectifier potassium current and L-type calcium current (I(Ca,L)) in guinea pig ventricular myocytes, on the potassium and calcium currents in isolated rat hepatocytes.
METHODS AND RESULTS:
Tight-seal whole-cell patch-clamp techniques were performed to investigate the effects of palmatine on the delayed outward potassium currents (I(K)), inward rectifier potassium current (I(K1)) and Ca(2+) release-activated Ca(2+) current (I(CRAC)) in enzymatically isolated rat hepatocytes. Palmatine 0.3-100 microM reduced I(K) in a concentration-dependent manner with EC(50) of 41.62+/-10.11 microM and n(H), 0.48+/-0.07 (n=8). The effect of the drug was poorly reversible after washout. When the bath solution was changed to tetraethylammonium (TEA) 8 mM, IK was inhibited. Palmatine 10 microM and 100 microM shifted the I-V curves of I(K) downward, and the block of I(K) was voltage-independent. Palmatine 0.3-100 microM also inhibited I(CRAC) in a concentration-dependent manner. The fitting parameters were as follows: EC(50)=51.19+/-15.18 microM, and n(H)=0.46+/-0.07 (n=8). The peak value of I(CRAC) in the I-V relationship was decreased by palmatine 10 microM and 100 microM. But the reverse potential of I(CRAC) occurred at Voltage=0 mV in all cells. Palmatine 0.3-100 microM failed to have any significant effect on either inward or outward components of I(K1) at any membrane potential examined.
CONCLUSIONS:
The inhibitory effects on I(K) and I(CRAC) could be one of the mechanisms that palmatine exerts protective effect on hepatocytes.

In vivo:

J Hazard Mater. 2009 Sep 15;168(2-3):609-13.
Action of palmatine on Tetrahymena thermophila BF5 growth investigated by microcalorimetry.[Pubmed: 19286310 ]

METHODS AND RESULTS:
Using a thermal activity monitor (TAM) air isothermal microcalorimeter with ampoule mode, the thermo-genic curves of the metabolism of Tetrahymena thermophila BF(5) growth at 28 degrees C were obtained and the action of palmatine on it was investigated. Meanwhile, the biomass change during the process of T. thermophila BF(5) growth coexisted with palmatine was studied by a haemacytometer. The results showed that a low concentration (50 microg/mL) of palmatine began to inhibit the growth of T. thermophila BF(5), and when the concentration of palmatine reached 600 microg/mL, T. thermophila BF(5) could not grow at all. The relationship between the growth rate constant (k) and the concentration c was almost linear with the correlation coefficient of 0.9957, showing the strong toxic action of palmatine on T. thermophila BF(5) growth.
CONCLUSIONS:
The biomass during T. thermophila BF(5) growth decreased obviously by the addition of palmatine at different concentrations. The investigation of biomass agreed well with the results obtained by means of microcalorimetry.
| | | | | | |
| --- | --- | --- | --- | --- | --- |
| | 1 mg | 5 mg | 10 mg | 20 mg | 25 mg |
| 1 mM | 2.8377 mL | 14.1884 mL | 28.3768 mL | 56.7537 mL | 70.9421 mL |
| 5 mM | 0.5675 mL | 2.8377 mL | 5.6754 mL | 11.3507 mL | 14.1884 mL |
| 10 mM | 0.2838 mL | 1.4188 mL | 2.8377 mL | 5.6754 mL | 7.0942 mL |
| 50 mM | 0.0568 mL | 0.2838 mL | 0.5675 mL | 1.1351 mL | 1.4188 mL |
| 100 mM | 0.0284 mL | 0.1419 mL | 0.2838 mL | 0.5675 mL | 0.7094 mL |
* Note:
If you are in the process of experiment, it's need to make the dilution ratios of the samples. The dilution data of the sheet for your reference. Normally, it's can get a better solubility within lower of Concentrations.
部分图片展示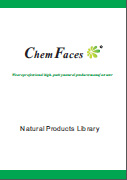 联系方式

电机:027-84237783
传真:027-84254680
在线QQ1: 2056216494 ; QQ2: 3257982914
E-Mail:manager@chemfaces.com

湖北省武汉沌口经济技术开区车城南路83号1号楼第三层厂房