水合氧化前胡素
Oxypeucedanin hydrate
| | | | | |
| --- | --- | --- | --- | --- |
| 产品名称 | 产品编号 | CAS编号 | 包装 | QQ客服 |
| 水合氧化前胡素 | CFN90557 | 2643-85-8 | 10mg | QQ客服:3257982914 |
| 水合氧化前胡素 | CFN90557 | 2643-85-8 | 20mg | QQ客服:3257982914 |
| 水合氧化前胡素 | CFN90557 | 2643-85-8 | 50mg | QQ客服:3257982914 |
| 水合氧化前胡素 | CFN90557 | 2643-85-8 | 100mg | QQ客服:3257982914 |
1. 在您收到产品后请检查产品。如无问题,请将产品存入冰霜并且样品瓶保持密封,产品可以存放长达24个月(2-8摄氏度)。

2. 只要有可能,产品溶解后,您应该在同一天应用于您的实验。 但是,如果您需要提前做预实验,或者需要全部溶解,我们建议您将溶液以等分试样的形式存放在-20℃的密封小瓶中。 通常,这些可用于长达两周。 使用前,打开样品瓶前,我们建议您将产品平衡至室温至少1小时。

3. 需要更多关于溶解度,使用和处理的建议? 请发送电子邮件至:service@chemfaces.com
订购流程
1. 在线订购
请联系我们QQ客服


2. 电话订购
请拨打电话:
027-84237683 或 027-84237783


3. 邮件或传真订购
发送电子邮件到: manager@chemfaces.com 或
发送传真到:027-84254680


提供订购信息
为了方便客户的订购,请需要订购ChemFaces产品的客户,在下单的时候请提供下列信息,以供我们快速为您建立发货信息。
1. 产品编号(CAS No.或产品名称)
2. 发货地址
3. 联系方法 (联系人,电话)
4. 开票抬头 (如果需要发票的客户)
5. 发票地址(发货地址与发票地址不同)
发货时间
1. 付款方式为100%预付款客户,我们将在确认收到货款后当天或1-3个工作日发货。

2. 付款方式为月结的客户,我们承诺在收到订单后当天或1-3个工作日内发货。

3. 如果客户所需要的产品,需要重新生产,我们有权告知客户,交货时间需要延期。
ChemFaces的产品在许多优秀和顶级科学期刊中被引用
我们的产品现已经出口到下面的研究机构与大学,并且还在增涨
Aveiro University (Portugal)
The University of Newcastle (Australia)
Universidade da Beira Interior (Germany)
Universite de Lille1 (France)
Universidad Miguel Hernández (Spain)
University of British Columbia (Canada)
John Innes Centre (United Kingdom)
University of Parma (Italy)
Copenhagen University (Denmark)
Chinese University of Hong Kong (China)
Stanford University (USA)
University of Leipzig (Germany)
National Research Council of Canada (Canada)
University of Hull (United Kingdom)
国外学术期刊发表的引用ChemFaces产品的部分文献
Description:
Oxypeucedanin hydrate is an antimutagenic agent, it has antioxidant activity, and exhibits carbohydrate metabolizing enzymes inhibitory effect.
Targets:
p21 | EGFR | Estrogen receptor | Caspase | Progestogen receptor
In vitro:

J Chromatogr B Biomed Sci Appl. 2001 Apr 5;753(2):309-14.
Simultaneous determination of byak-angelicin and oxypeucedanin hydrate in rat plasma by column-switching high-performance liquid chromatography with ultraviolet detection.[Pubmed: 11334345]

METHODS AND RESULTS:
A simple and sensitive column-switching HPLC method was developed for the simultaneous determination of two furocoumarin compounds, byak-angelicin and oxypeucedanin hydrate, which are the main components of hot water extract of Angelica dahurica root (AE), in rat plasma. Plasma sample was simply deproteinated with perchloric acid. After centrifugation, the supernatant was injected into a column-switching HPLC system consisting of a clean-up column (Symmetry Shield RP 8, 20x3.9 mm I.D.) and analytical column (Symmetry C18, 75x4.6 mm I.D.) which were connected with a six-port switching valve. The flow-rate of the mobile phase (acetonitrile-water, 20:80) was maintained at 1 ml/min. Detection was carried out at wavelength 260 nm with a UV detector. The column temperature was maintained at 40 degrees C. The calibration curves of byak-angelicin and oxypeucedanin hydrate were linear over the ranges 19.6 to 980 ng/ml (r2>0.997). The accuracy of these analytes was less than 4.4%. The intra- and inter-day relative standard deviations of byak-angelicin and oxypeucedanin hydrate were within 12.0% and 12.7%, respectively.
CONCLUSIONS:
The present method was applied for the analysis of plasma concentration from rats after administration of AE.

In vivo:

Biomed Res Int. 2014;2014:480545.
Preliminary in vitro and in vivo evaluation of antidiabetic activity of Ducrosia anethifolia Boiss. and its linear furanocoumarins.[Pubmed: 24800231]
Ducrosia anethifolia is used as flavoring additive. There have been little detailed phytochemical reports on this genus and the antidiabetic activity of this plant is not yet evaluated.
METHODS AND RESULTS:
Structure of compounds was deduced by spectroscopic analyses. Preliminary in vitro evaluation of the antidiabetic activity of crude extract and its furanocoumarins was carried out ( α -amylase, α -glucosidase, and β -galactosidase). The in vivo activity was investigated by measuring some oxidative stress markers. Biomarkers of liver injury and kidney were also determined. Eight linear furanocoumarins, psoralen, 5-methoxypsoralen, 8-methoxypsoralen, imperatorin, isooxypeucedanin, pabulenol, oxypeucedanin methanolate, oxypeucedanin hydrate, and 3-O-glucopyranosyl- β -sitosterol, were isolated. All compounds were reported for the first time from the genus Ducrosia except pabulenol. The blood glucose level, liver function enzymes, total protein, lipid, and cholesterol levels were significantly normalized by extract treatment. The antioxidant markers, glucolytic, and gluconeogenic enzymes were significantly ameliorated and the elevated level of kidney biomarkers in the diabetic groups was restored. The compounds showed inhibitory activity in a concentration dependant manner. Imperatorin and 5-methoxypsoralen showed the most potent inhibiting power.
CONCLUSIONS:
D. anethifolia extract showed hypoglycemic, hypolipidemic, and antioxidant effect as well as ameliorating kidney function. This extract and some linear furanocoumarins exhibited carbohydrate metabolizing enzymes inhibitory effect.
| | | | | | |
| --- | --- | --- | --- | --- | --- |
| | 1 mg | 5 mg | 10 mg | 20 mg | 25 mg |
| 1 mM | 3.2863 mL | 16.4317 mL | 32.8634 mL | 65.7268 mL | 82.1585 mL |
| 5 mM | 0.6573 mL | 3.2863 mL | 6.5727 mL | 13.1454 mL | 16.4317 mL |
| 10 mM | 0.3286 mL | 1.6432 mL | 3.2863 mL | 6.5727 mL | 8.2158 mL |
| 50 mM | 0.0657 mL | 0.3286 mL | 0.6573 mL | 1.3145 mL | 1.6432 mL |
| 100 mM | 0.0329 mL | 0.1643 mL | 0.3286 mL | 0.6573 mL | 0.8216 mL |
* Note:
If you are in the process of experiment, it's need to make the dilution ratios of the samples. The dilution data of the sheet for your reference. Normally, it's can get a better solubility within lower of Concentrations.
部分图片展示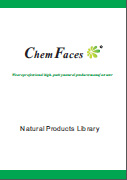 联系方式

电机:027-84237783
传真:027-84254680
在线QQ1: 2056216494 ; QQ2: 3257982914
E-Mail:manager@chemfaces.com

湖北省武汉沌口经济技术开区车城南路83号1号楼第三层厂房