木兰花碱
Magnoflorine
产品编号
CFN98071
CAS编号
2141-09-5
分子式 = 分子量
C20H24NO4 = 342.4
产品纯度
>=98%
物理属性
Powder
化合物类型
Alkaloids
植物来源
The flowers of Magnolia liliiflora Desr.
ChemFaces的产品在影响因子大于5的优秀和顶级科学期刊中被引用
| | | | | |
| --- | --- | --- | --- | --- |
| 产品名称 | 产品编号 | CAS编号 | 包装 | QQ客服 |
| 木兰花碱 | CFN98071 | 2141-09-5 | 10mg | QQ客服:3257982914 |
| 木兰花碱 | CFN98071 | 2141-09-5 | 20mg | QQ客服:3257982914 |
| 木兰花碱 | CFN98071 | 2141-09-5 | 50mg | QQ客服:3257982914 |
| 木兰花碱 | CFN98071 | 2141-09-5 | 100mg | QQ客服:3257982914 |
1. 在您收到产品后请检查产品。如无问题,请将产品存入冰霜并且样品瓶保持密封,产品可以存放长达24个月(2-8摄氏度)。

2. 只要有可能,产品溶解后,您应该在同一天应用于您的实验。 但是,如果您需要提前做预实验,或者需要全部溶解,我们建议您将溶液以等分试样的形式存放在-20℃的密封小瓶中。 通常,这些可用于长达两周。 使用前,打开样品瓶前,我们建议您将产品平衡至室温至少1小时。

3. 需要更多关于溶解度,使用和处理的建议? 请发送电子邮件至:service@chemfaces.com
订购流程
1. 在线订购
请联系我们QQ客服


2. 电话订购
请拨打电话:
027-84237683 或 027-84237783


3. 邮件或传真订购
发送电子邮件到: manager@chemfaces.com 或
发送传真到:027-84254680


提供订购信息
为了方便客户的订购,请需要订购ChemFaces产品的客户,在下单的时候请提供下列信息,以供我们快速为您建立发货信息。
1. 产品编号(CAS No.或产品名称)
2. 发货地址
3. 联系方法 (联系人,电话)
4. 开票抬头 (如果需要发票的客户)
5. 发票地址(发货地址与发票地址不同)
发货时间
1. 付款方式为100%预付款客户,我们将在确认收到货款后当天或1-3个工作日发货。

2. 付款方式为月结的客户,我们承诺在收到订单后当天或1-3个工作日内发货。

3. 如果客户所需要的产品,需要重新生产,我们有权告知客户,交货时间需要延期。
ChemFaces的产品在许多优秀和顶级科学期刊中被引用
我们的产品现已经出口到下面的研究机构与大学,并且还在增涨
University of British Columbia (Canada)
Cancer Research Initatives Foundation(CARIF) (Malaysia)
Monash University (Australia)
University of Cincinnati (USA)
Massachusetts General Hospital (USA)
Wageningen University (Netherlands)
Subang Jaya Medical Centre (Malaysia)
Universitas islam negeri Jakarta (Indonesia)
Shanghai Institute of Biochemistry and Cell Biology (China)
University of Wisconsin-Madison (USA)
Universidad de La Salle (Mexico)
Ain Shams University (Egypt)
Sri Ramachandra University (India)
Kitasato University (Japan)
国外学术期刊发表的引用ChemFaces产品的部分文献
Description:
Magnoflorine possesses high activity as α-glucosidase inhibitor in vitro and in vivo, has antidiabetic potential activity; it also has sedative and anxiolytic effects, probably mediated by a GABAergic mechanism of action. Magnoflorine has protective effects, mediated by some mechanism other than prevention of micelle formation or protection of the erythrocyte membrane against osmotic imbalance.
Targets:
LDL | GABA Receptor
In vitro:

J Nat Med. 2015 Apr 4.
Sinomenine and magnoflorine, major constituents of Sinomeni Caulis et Rhizoma, show potent protective effects against membrane damage induced by lysophosphatidylcholine in rat erythrocytes.[Pubmed: 25840917 ]
The effects of the water extract of Sinomeni Caulis et Rhizoma (SCR-WE) and its major constituents, sinomenine (SIN) and Magnoflorine (MAG), on moderate hemolysis induced by lysophosphatidylcholine (LPC) were investigated in rat erythrocytes and compared with the anti-hemolytic effects of lidocaine (LID) and propranolol (PRO) as reference drugs.
METHODS AND RESULTS:
LPC caused hemolysis at concentrations above the critical micelle concentration (CMC), and the concentration of LPC producing moderate hemolysis (60 %) was approximately 10 μM. SCR-WE at 1 ng/mL-100 μg/mL significantly inhibited the hemolysis induced by LPC. SIN and Magnoflorine attenuated LPC-induced hemolysis in a concentration-dependent manner from very low to high concentrations (1 nM-100 μM and 10 nM-100 μM, respectively). In contrast, the inhibiting effects of LID and PRO on LPC-induced hemolysis were observed at higher concentrations (1-100 μM) but not at lower concentrations (1-100 nM). Neither SIN nor Magnoflorine affected micelle formation of LPC, nor, at concentrations of 1 nM-1 μM, did they attenuate the hemolysis induced by osmotic imbalance (hypotonic hemolysis). Similarly, SCR-WE also did not modify micelle formation or hypotonic hemolysis, except at the highest concentration.
CONCLUSIONS:
These results suggest that SIN and Magnoflorine potently protect the erythrocyte membrane from LPC-induced damage and contribute to the beneficial action of SCR-WE. The protective effects of SIN and Magnoflorine are mediated by some mechanism other than prevention of micelle formation or protection of the erythrocyte membrane against osmotic imbalance.
Biol Pharm Bull. 2007 Jun;30(6):1157-60.
Magnoflorine from Coptidis Rhizoma protects high density lipoprotein during oxidant stress.[Pubmed: 17541173]
The objective of the present study was to investigate the beneficial properties of magnoflorine, an alkaloid isolated from coptidis rhizoma, on protecting human high density lipoprotein (HDL) against lipid peroxidation.
METHODS AND RESULTS:
Magnoflorine exerts an inhibitory effect against Cu2+-induced lipid peroxidation of HDL, as showed by prolongation of lag time from 62 to 123 min at the concentration of 3.0 microM. It also inhibits the generation of thiobarbituric acid reactive substances (TBARS) in the dose-dependent manners with IC50 values of 2.3+/-0.2 microM and 6.2+/-0.5 microM since HDL oxidation mediated by either catalytic Cu2+ or thermo-labile radical initiator (AAPH), respectively. Separately, Cu2+ oxidized HDL lost the antioxidant action but the inclusion of magnoflorine/Cu2+ oxidized HDL can protect LDL oxidation according to increasing magnoflorine concentration.
CONCLUSIONS:
The results suggest that magnoflorine may have a role to play in preventing the HDL oxidation.
| | | | | | |
| --- | --- | --- | --- | --- | --- |
| | 1 mg | 5 mg | 10 mg | 20 mg | 25 mg |
| 1 mM | 2.9206 mL | 14.6028 mL | 29.2056 mL | 58.4112 mL | 73.014 mL |
| 5 mM | 0.5841 mL | 2.9206 mL | 5.8411 mL | 11.6822 mL | 14.6028 mL |
| 10 mM | 0.2921 mL | 1.4603 mL | 2.9206 mL | 5.8411 mL | 7.3014 mL |
| 50 mM | 0.0584 mL | 0.2921 mL | 0.5841 mL | 1.1682 mL | 1.4603 mL |
| 100 mM | 0.0292 mL | 0.146 mL | 0.2921 mL | 0.5841 mL | 0.7301 mL |
* Note:
If you are in the process of experiment, it's need to make the dilution ratios of the samples. The dilution data of the sheet for your reference. Normally, it's can get a better solubility within lower of Concentrations.
部分图片展示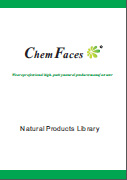 联系方式

电机:027-84237783
传真:027-84254680
在线QQ: 1413575084
E-Mail:manager@chemfaces.com

湖北省武汉沌口经济技术开区车城南路83号1号楼第三层厂房