异贝壳杉烯酸, 贝壳杉烯酸
Kaurenoic acid
产品编号
CFN97703
CAS编号
6730-83-2
分子式 = 分子量
C20H30O2 = 302.46
产品纯度
>=98%
物理属性
Cryst.
化合物类型
Diterpenoids
植物来源
The herbs of Croton antisyphiliticus
ChemFaces的产品在影响因子大于5的优秀和顶级科学期刊中被引用
| | | | | |
| --- | --- | --- | --- | --- |
| 产品名称 | 产品编号 | CAS编号 | 包装 | QQ客服 |
| 异贝壳杉烯酸, 贝壳杉烯酸 | CFN97703 | 6730-83-2 | 10mg | QQ客服:1413575084 |
| 异贝壳杉烯酸, 贝壳杉烯酸 | CFN97703 | 6730-83-2 | 20mg | QQ客服:1413575084 |
| 异贝壳杉烯酸, 贝壳杉烯酸 | CFN97703 | 6730-83-2 | 50mg | QQ客服:1413575084 |
| 异贝壳杉烯酸, 贝壳杉烯酸 | CFN97703 | 6730-83-2 | 100mg | QQ客服:1413575084 |
1. 在您收到产品后请检查产品。如无问题,请将产品存入冰霜并且样品瓶保持密封,产品可以存放长达24个月(2-8摄氏度)。

2. 只要有可能,产品溶解后,您应该在同一天应用于您的实验。 但是,如果您需要提前做预实验,或者需要全部溶解,我们建议您将溶液以等分试样的形式存放在-20℃的密封小瓶中。 通常,这些可用于长达两周。 使用前,打开样品瓶前,我们建议您将产品平衡至室温至少1小时。

3. 需要更多关于溶解度,使用和处理的建议? 请发送电子邮件至:service@chemfaces.com
订购流程
1. 在线订购
请联系我们QQ客服


2. 电话订购
请拨打电话:
027-84237683 或 027-84237783


3. 邮件或传真订购
发送电子邮件到: manager@chemfaces.com 或
发送传真到:027-84254680


提供订购信息
为了方便客户的订购,请需要订购ChemFaces产品的客户,在下单的时候请提供下列信息,以供我们快速为您建立发货信息。
1. 产品编号(CAS No.或产品名称)
2. 发货地址
3. 联系方法 (联系人,电话)
4. 开票抬头 (如果需要发票的客户)
5. 发票地址(发货地址与发票地址不同)
发货时间
1. 付款方式为100%预付款客户,我们将在确认收到货款后当天或1-3个工作日发货。

2. 付款方式为月结的客户,我们承诺在收到订单后当天或1-3个工作日内发货。

3. 如果客户所需要的产品,需要重新生产,我们有权告知客户,交货时间需要延期。
ChemFaces的产品在许多优秀和顶级科学期刊中被引用
我们的产品现已经出口到下面的研究机构与大学,并且还在增涨
University of Wisconsin-Madison (USA)
University of Toronto (Canada)
Kyushu University (Japan)
Universitas islam negeri Jakarta (Indonesia)
Universidad Industrial de Santander (Colombia)
Sapienza University of Rome (Italy)
Worcester Polytechnic Institute (USA)
Amity University (India)
John Innes Centre (United Kingdom)
Uniwersytet Medyczny w ?odzi (Poland)
Chungnam National University (Korea)
China Medical University (Taiwan)
Northeast Normal University Changchun (China)
University of Virginia (USA)
国外学术期刊发表的引用ChemFaces产品的部分文献
Description:
Kaurenoic acid has anti-inflammatory, analgesic, antimicrobial, cytotoxic and embryotoxic effects; it exerts a uterine relaxant effect acting principally through calcium blockade and in part, by the opening of ATP-sensitive potassium channels. Kaurenoic acid involves the inhibition of cytokine production and activation of the NO-cyclic GMP-protein kinase G-ATP-sensitive potassium channel signaling pathway.
Targets:
NO | PGE | COX | NOS | NF-kB | ATP | GMP
In vitro:

Evid Based Complement Alternat Med. 2013;2013:160592.
Kaurenoic Acid from Aralia continentalis Inhibits Biofilm Formation of Streptococcus mutans.[Pubmed: 23662113]
We isolated a single chemical compound from A. continentalis and identified it to be kaurenoic acid (KA) and investigated the influence of anticariogenic properties.
METHODS AND RESULTS:
Inhibitory effects of KA on cariogenic properties such as growth, acid production, biofilm formation, and the adherence of S. mutans were evaluated. Furthermore, real-time PCR analysis was performed to evaluate the influence of KA on the genetic expression of virulence factors. KA significantly inhibited the growth and acid production of S. mutans at 2-4  μ g/mL and 4  μ g/mL of KA, respectively. Furthermore, the adherence onto S-HAs was inhibited at 3-4  μ g/mL of KA and biofilm formation was significantly inhibited when treated with 3  μ g/mL KA and completely inhibited at 4  μ g/mL. Also, the inhibitory effect of KA on biofilm formation was confirmed by SEM. In confocal laser scanning microscopy, bacterial viability gradually decreased by KA in a dose dependent manner. Real-time PCR analysis showed that the expressions of gtfB, gtfC, gbpB, spaP, brpA, relA, and vicR were significantly decreased in S. mutans when it was treated with KA.
CONCLUSIONS:
These results suggest that KA from A. continentalis may be a useful agent for inhibiting the cariogenic properties of S. mutans.

In vivo:

Pharmacol Biochem Behav. 2013 Aug;109:38-43.
Anticonvulsant effect of kaurenoic acid isolated from the root bark of Annona senegalensis.[Pubmed: 23664900]
The herbal preparations of Annona senegalensis Pers. (Annonaceae) root bark are used in Nigerian ethnomedicine for the treatment of epilepsy and febrile seizures. The scientific evidence for this effect has been reported. The aim of this study was to identify and characterize the active constituent responsible for the anticonvulsant effect.
METHODS AND RESULTS:
Bioactive-guided fractionation of the methanol-methylene chloride root bark extract (MME) of A. senegalensis using pentylenetetrazole (PTZ)-induced seizures in mice, afforded a potent anticonvulsant ethyl-acetate fraction (EF). Further fractionation of the EF yielded eight sub-fractions (F₁-F₈) which were tested for anticonvulsant activity. The sub-fraction F₂ yielded white crystals that were purified to obtain A. senegalensis crystals, AS2. The AS2, which exhibited potent anticonvulsant effects, was characterized by 1D and 2D NMR spectroscopy, mass spectroscopy and X-ray crystallography. The AS2 was characterized as kaur-16-en-19-oic acid (KA), a diterpenoid. The AS2 indicated an oral LD₅₀ of 3800 mg/kg. The results showed that the MME, EF and AS2 significantly (P<0.05) and dose-dependently delayed the onset of myoclonic spasms and tonic-clonic phases of seizures induced by PTZ and maximal electroshock seizures (MES).
CONCLUSIONS:
Kaurenoic acid was identified as the anticonvulsant principle in the root bark extract of A. senegalensis. The anticonvulsant effect of the MME, EF and AS2 is most likely being mediated through central inhibitory mechanisms.
Phytomedicine. 2011 Jun 15;18(8-9):677-82.
Inhibitory effects of kaurenoic acid from Aralia continentalis on LPS-induced inflammatory response in RAW264.7 macrophages.[Pubmed: 21211951]
This study investigates the anti-inflammatory effects of a diterpenoid, kaurenoic acid, isolated from the root of Aralia continentalis (Araliaceae).
METHODS AND RESULTS:
To determine its anti-inflammatory effects, LPS-induced RAW264.7 macrophages were treated with different concentrations of kaurenoic acid and carrageenan-induced paw edema mice model was used in vivo. Kaurenoic acid (ent-kaur-16-en-19-oic acid) dose-dependently inhibited nitric oxide (NO) production, prostaglandin E(2) (PGE(2)) release, cyclooxygenase-2 (COX-2) and inducible nitric oxide synthase (iNOS) expression at micromolar concentrations in LPS-induced RAW264.7 macrophages with IC(50) (the half maximal inhibitory concentration) values of 51.73 (±2.42) μM and 106.09 (±0.27) μM in NO production and PGE(2) release, respectively. Kaurenoic acid also dose-dependently inhibited LPS-induced activation of NF-κB as assayed by electrophorectic mobility shift assay (EMSA) and it almost abolished NF-κB DNA binding affinity at 100μM. Furthermore, the in vivo anti-inflammatory effect of kaurenoic acid was examined in a carrageenan-induced paw edema model. Eight ICR mice in each group were injected with carrageenan and observed hourly, compared with the control group. Kaurenoic acid dose-dependently reduced paw swelling up to 34.4% at 5h after induction, demonstrating inhibition in an acute inflammation model.
CONCLUSIONS:
Taken together, our data suggest that kaurenoic acid, a major diterpenoid from the root of A. continentalis shows anti-inflammatory activity and the inhibition of iNOS and COX-2 expression might be one of the mechanisms responsible for its anti-inflammatory properties.
| | | | | | |
| --- | --- | --- | --- | --- | --- |
| | 1 mg | 5 mg | 10 mg | 20 mg | 25 mg |
| 1 mM | 3.3062 mL | 16.5311 mL | 33.0622 mL | 66.1244 mL | 82.6556 mL |
| 5 mM | 0.6612 mL | 3.3062 mL | 6.6124 mL | 13.2249 mL | 16.5311 mL |
| 10 mM | 0.3306 mL | 1.6531 mL | 3.3062 mL | 6.6124 mL | 8.2656 mL |
| 50 mM | 0.0661 mL | 0.3306 mL | 0.6612 mL | 1.3225 mL | 1.6531 mL |
| 100 mM | 0.0331 mL | 0.1653 mL | 0.3306 mL | 0.6612 mL | 0.8266 mL |
* Note:
If you are in the process of experiment, it's need to make the dilution ratios of the samples. The dilution data of the sheet for your reference. Normally, it's can get a better solubility within lower of Concentrations.
部分图片展示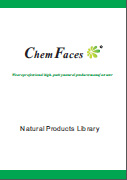 联系方式

电机:027-84237783
传真:027-84254680
在线QQ: 1413575084
E-Mail:manager@chemfaces.com

湖北省武汉沌口经济技术开区车城南路83号1号楼第三层厂房