香豆素
Coumarin
| | | | | |
| --- | --- | --- | --- | --- |
| 产品名称 | 产品编号 | CAS编号 | 包装 | QQ客服 |
| 香豆素 | CFN99552 | 91-64-5 | 10mg | QQ客服:1457312923 |
| 香豆素 | CFN99552 | 91-64-5 | 20mg | QQ客服:1457312923 |
| 香豆素 | CFN99552 | 91-64-5 | 50mg | QQ客服:1457312923 |
| 香豆素 | CFN99552 | 91-64-5 | 100mg | QQ客服:1457312923 |
1. 在您收到产品后请检查产品。如无问题,请将产品存入冰霜并且样品瓶保持密封,产品可以存放长达24个月(2-8摄氏度)。

2. 只要有可能,产品溶解后,您应该在同一天应用于您的实验。 但是,如果您需要提前做预实验,或者需要全部溶解,我们建议您将溶液以等分试样的形式存放在-20℃的密封小瓶中。 通常,这些可用于长达两周。 使用前,打开样品瓶前,我们建议您将产品平衡至室温至少1小时。

3. 需要更多关于溶解度,使用和处理的建议? 请发送电子邮件至:service@chemfaces.com
订购流程
1. 在线订购
请联系我们QQ客服


2. 电话订购
请拨打电话:
027-84237683 或 027-84237783


3. 邮件或传真订购
发送电子邮件到: manager@chemfaces.com 或
发送传真到:027-84254680


提供订购信息
为了方便客户的订购,请需要订购ChemFaces产品的客户,在下单的时候请提供下列信息,以供我们快速为您建立发货信息。
1. 产品编号(CAS No.或产品名称)
2. 发货地址
3. 联系方法 (联系人,电话)
4. 开票抬头 (如果需要发票的客户)
5. 发票地址(发货地址与发票地址不同)
发货时间
1. 付款方式为100%预付款客户,我们将在确认收到货款后当天或1-3个工作日发货。

2. 付款方式为月结的客户,我们承诺在收到订单后当天或1-3个工作日内发货。

3. 如果客户所需要的产品,需要重新生产,我们有权告知客户,交货时间需要延期。
ChemFaces的产品在许多优秀和顶级科学期刊中被引用
我们的产品现已经出口到下面的研究机构与大学,并且还在增涨
St. Jude Children Research Hospital (USA)
Uniwersytet Medyczny w ?odzi (Poland)
University of Maryland (USA)
University of Melbourne (Australia)
University of Lodz (Poland)
Complutense University of Madrid (Spain)
Institute of Pathophysiology Medical University of Vienna (Austria)
University of Medicine and Pharmacy (Romania)
Helmholtz Zentrum München (Germany)
Washington State University (USA)
Periyar University (India)
Donald Danforth Plant Science Center (USA)
Guangzhou Institutes of Biomedicine and Health (China)
Research Unit Molecular Epigenetics (MEG) (Germany)
国外学术期刊发表的引用ChemFaces产品的部分文献
Description:
Coumarin is an anticoagulant and photoprotective drug; it also has antiulcerogenic activity, which may influence the secretion control mediated by the parasympathetic system. Coumarin is a potent inducer of aflatoxin B1-aldehyde reductase, has chemoprevention of aflatoxin B1 hepatocarcinogenesis.
Targets:
NADPH-oxidase
In vitro:

J Photochem Photobiol B. 2015 May;146:44-51.
Photoprotective effect of coumarin and 3-hydroxycoumarin in sea urchin gametes and embryonic cells.[Pubmed: 25795999]
Ultraviolet radiation B (UVB) represents 5% of all solar UV radiation and chronic exposure can induce harmful biological responses, including skin cancer. Prospection of new drugs with photoprotective properties and less toxic effects is constant and natural products have been the main options in this field. Coumarins are a group of natural phenolic compounds that shows several pharmacological activities.
METHODS AND RESULTS:
The aim of present work was to investigate the effect of coumarin and six derivatives in sea urchin gametes and zygotes exposed to UVB. Embryonic development assay was used to monitor UVB embryotoxicity. Firstly, we demonstrated that coumarin inhibited first embryonic cell division from 5 μM (EC50 = 52.9 μM) and its derivatives showed an embryotoxic effect ten times higher. Then, gametes or zygotes were treated with coumarin compounds before or after UVB exposure (UVB doses ranged from 0.056 to 0.9 kJm(-2)). Pretreatment of gametes or zygotes with coumarin or 3-hydroxycoumarin (1 μM, both) decreased UVB embryotoxic effect. Protective effect of the compounds was observed only when cells were treated previous to UVB exposure. Coumarin derivatives 4-hydroxycoumarin, 6-hydroxycoumarin, 7-hydroxycoumarin, 6,7-dihydroxycoumarin and 6-methoxy-7-hydroxycoumarin did not exhibit photoprotective activity.
CONCLUSIONS:
Our data provides evidences that coumarin and 3-hydroxycoumarin can be a promising class of photoprotective drugs.

In vivo:

Cancer Res. 2000 Feb 15;60(4):957-69.
Chemoprevention of aflatoxin B1 hepatocarcinogenesis by coumarin, a natural benzopyrone that is a potent inducer of aflatoxin B1-aldehyde reductase, the glutathione S-transferase A5 and P1 subunits, and NAD(P)H:quinone oxidoreductase in rat liver.[Pubmed: 10706111]
Structurally diverse compounds can confer resistance to aflatoxin B1 (AFB1) hepatocarcinogenesis in the rat.
METHODS AND RESULTS:
Treatment with either phytochemicals [benzyl isothiocyanate, coumarin (CMRN), or indole-3-carbinol] or synthetic antioxidants and other drugs (butylated hydroxyanisole, diethyl maleate, ethoxyquin, beta-naphthoflavone, oltipraz, phenobarbital, or trans-stilbene oxide) has been found to increase hepatic aldo-keto reductase activity toward AFB1-dialdehyde and glutathione S-transferase (GST) activity toward AFB1-8,9-epoxide in both male and female rats. Under the conditions used, the natural benzopyrone CMRN was a major inducer of the AFB1 aldehyde reductase (AFAR) and the aflatoxin-conjugating class-alpha GST A5 subunit in rat liver, causing elevations of between 25- and 35-fold in hepatic levels of these proteins. Induction was not limited to AFAR and GSTA5: treatment with CMRN caused similar increases in the amount of the class-pi GST P1 subunit and NAD(P)H: quinone oxidoreductase in rat liver. Immunohistochemistry demonstrated that the overexpression of AFAR, GSTA5, GSTP1, and NAD(P)H:quinone oxidoreductase affected by CMRN is restricted to the centrilobular (periacinar) zone of the lobule, sometimes extending almost as far as the portal tract. This pattern of induction was also observed with ethoxyquin, oltipraz, and trans-stilbene oxide. By contrast, induction of these proteins by beta-naphthoflavone and diethyl maleate was predominantly periportal. Northern blotting showed that induction of these phase II drug-metabolizing enzymes by CMRN was accompanied by similar increases in the levels of their mRNAs. To assess the biological significance of enzyme induction by dietary CMRN, two intervention studies were performed in which the ability of the benzopyrone to inhibit either AFB1-initiated preneoplastic nodules (at 13 weeks) or AFB1-initiated liver tumors (at 50 weeks) was investigated. Animals pretreated with CMRN for 2 weeks prior to administration of AFB1, and with continued treatment during exposure to the carcinogen for a further 11 weeks, were protected completely from development of hepatic preneoplastic lesions by 13 weeks. In the longer-term dietary intervention, treatment with CMRN before and during exposure to AFB1 for a total of 24 weeks was found to significantly inhibit the number and size of tumors that subsequently developed by 50 weeks.
CONCLUSIONS:
These data suggest that consumption of a CMRN-containing diet provides substantial protection against the initiation of AFB1 hepatocarcinogenesis in the rat.
Stroke. 2014 Nov;45(11):3436-9.
Use of coumarin anticoagulants and cerebral microbleeds in the general population.[Pubmed: 25316276]
It remains undetermined whether the use of coumarin anticoagulants associates with cerebral microbleeds in the general population. We investigated whether (1) coumarin use relates to higher prevalence and incidence of microbleeds, (2) microbleeds are more frequent in people with higher maximum international normalized ratios (INRs), and (3) among coumarin users, variability in INR associates with microbleed presence.
METHODS AND RESULTS:
From the population-based Rotterdam Study, 4945 participants aged ≥45 years were included in the cross-sectional analysis, and 3069 participants had follow-up brain MRI. Information on coumarin use was obtained from automated pharmacy records. Coumarin users were monitored, and INR values were measured in consecutive visits. Presence and location of microbleeds were rated on brain MRI. We investigated the association of coumarin use with microbleeds using multivariable logistic regression. Overall, 8.6% had used coumarin anticoagulants before the first MRI and 5.9% before follow-up MRI. The prevalence of microbleeds was 19.4%, and the incidence was 6.9% during a mean follow-up of 3.9 years (SD, 0.5). Compared with never users, coumarin users had a higher prevalence of deep or infratentorial microbleeds and a higher incidence of any microbleeds, although statistical significance was not reached in the latter. A higher maximum INR was associated with deep or infratentorial microbleeds. Among coumarin users, a greater variability in INR was associated with a higher prevalence of microbleeds.
CONCLUSIONS:
Coumarin use is associated with microbleeds. Associations were strongest for people with greater variability in INR.
| | | | | | |
| --- | --- | --- | --- | --- | --- |
| | 1 mg | 5 mg | 10 mg | 20 mg | 25 mg |
| 1 mM | 6.8423 mL | 34.2114 mL | 68.4229 mL | 136.8457 mL | 171.0571 mL |
| 5 mM | 1.3685 mL | 6.8423 mL | 13.6846 mL | 27.3691 mL | 34.2114 mL |
| 10 mM | 0.6842 mL | 3.4211 mL | 6.8423 mL | 13.6846 mL | 17.1057 mL |
| 50 mM | 0.1368 mL | 0.6842 mL | 1.3685 mL | 2.7369 mL | 3.4211 mL |
| 100 mM | 0.0684 mL | 0.3421 mL | 0.6842 mL | 1.3685 mL | 1.7106 mL |
* Note:
If you are in the process of experiment, it's need to make the dilution ratios of the samples. The dilution data of the sheet for your reference. Normally, it's can get a better solubility within lower of Concentrations.
部分图片展示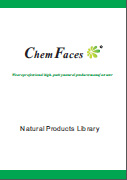 联系方式

电机:027-84237783
传真:027-84254680
在线QQ: 1413575084
E-Mail:manager@chemfaces.com

湖北省武汉沌口经济技术开区车城南路83号1号楼第三层厂房