小豆蔻明
Cardamonin
产品编号
CFN99890
CAS编号
19309-14-9
分子式 = 分子量
C16H14O4 = 270.3
产品纯度
>=98%
物理属性
Yellow powder
化合物类型
Chalcones
植物来源
The seeds of Alpinia katsumadai Hayata
ChemFaces的产品在影响因子大于5的优秀和顶级科学期刊中被引用
| | | | | |
| --- | --- | --- | --- | --- |
| 产品名称 | 产品编号 | CAS编号 | 包装 | QQ客服 |
| 小豆蔻明 | CFN99890 | 19309-14-9 | 10mg | QQ客服:215959384 |
| 小豆蔻明 | CFN99890 | 19309-14-9 | 20mg | QQ客服:215959384 |
| 小豆蔻明 | CFN99890 | 19309-14-9 | 50mg | QQ客服:215959384 |
| 小豆蔻明 | CFN99890 | 19309-14-9 | 100mg | QQ客服:215959384 |
1. 在您收到产品后请检查产品。如无问题,请将产品存入冰霜并且样品瓶保持密封,产品可以存放长达24个月(2-8摄氏度)。

2. 只要有可能,产品溶解后,您应该在同一天应用于您的实验。 但是,如果您需要提前做预实验,或者需要全部溶解,我们建议您将溶液以等分试样的形式存放在-20℃的密封小瓶中。 通常,这些可用于长达两周。 使用前,打开样品瓶前,我们建议您将产品平衡至室温至少1小时。

3. 需要更多关于溶解度,使用和处理的建议? 请发送电子邮件至:service@chemfaces.com
订购流程
1. 在线订购
请联系我们QQ客服


2. 电话订购
请拨打电话:
027-84237683 或 027-84237783


3. 邮件或传真订购
发送电子邮件到: manager@chemfaces.com 或
发送传真到:027-84254680


提供订购信息
为了方便客户的订购,请需要订购ChemFaces产品的客户,在下单的时候请提供下列信息,以供我们快速为您建立发货信息。
1. 产品编号(CAS No.或产品名称)
2. 发货地址
3. 联系方法 (联系人,电话)
4. 开票抬头 (如果需要发票的客户)
5. 发票地址(发货地址与发票地址不同)
发货时间
1. 付款方式为100%预付款客户,我们将在确认收到货款后当天或1-3个工作日发货。

2. 付款方式为月结的客户,我们承诺在收到订单后当天或1-3个工作日内发货。

3. 如果客户所需要的产品,需要重新生产,我们有权告知客户,交货时间需要延期。
ChemFaces的产品在许多优秀和顶级科学期刊中被引用
我们的产品现已经出口到下面的研究机构与大学,并且还在增涨
Universidad de Antioquia (Colombia)
Sanford Burnham Prebys Medical Discovery Institute (USA)
Auburn University (USA)
Shanghai Institute of Organic Chemistry (China)
Amity University (India)
Chang Gung University (Taiwan)
University of Vigo (Spain)
Universidade da Beira Interior (Germany)
Uniwersytet Gdański (Poland)
Almansora University (Egypt)
Siksha O Anusandhan University (India)
Wageningen University (Netherlands)
Michigan State University (USA)
Subang Jaya Medical Centre (Malaysia)
国外学术期刊发表的引用ChemFaces产品的部分文献
Description:
Cardamonin is a naturally occurring chalcone with strong anti-inflammatory , anticancer, anti-melanogenesis, and vascular activity. It is a novel TRPA1 antagonist with IC50 of 454 nM and also a NF-kB inhibitor. It ameliorates insulin resistance induced by high insulin and high glucose through the mTOR and signal pathway. It also may be a potential whitening agent for use in cosmetics and in the medical treatment of hyperpigmentation disorders.
Targets:
JNK | NOS | COX | Calcium Channel | Potassium Channel | NF-kB | MMP(e.g.TIMP) | IkB | ROS | p53 | GSK-3 | TGF-β/Smad | Wnt/β-catenin | NO | PGE | AMPK | IKK | hTRPA1
In vitro:

Biomol Ther (Seoul). 2015 Mar;23(2):141-8.
Cardamonin Suppresses TGF-β1-Induced Epithelial Mesenchymal Transition via Restoring Protein Phosphatase 2A Expression.[Pubmed: 25767682]
Epithelial mesenchymal transition (EMT) is the first step in metastasis and implicated in the phenotype of cancer stem cells. Therefore, understanding and controlling EMT, are essential to the prevention and cure of metastasis.
METHODS AND RESULTS:
In the present study, we examined, by Western blot, reverse transcription polymerase chain reaction (RT-PCR), and confocal microscopy, the effects of cardamonin (CDN) on transforming growth factor-β1 (TGF-β1)-induced EMT of A549 lung adenocarcinoma cell lines. TGF-β1 induced expression of N-cadherin and decreased expression of E-cadherin. CDN suppressed N-cadherin expression and restored E-cadherin expression. Further, TGF-β1 induced migration and invasion of A549 cancer cells, which was suppressed by CDN. TGF-β1 induced c-Jun N-terminal kinase (JNK) activation during EMT, but CDN blocked it. Protein serine/threonine phosphatase 2A (PP2A) expression in A549 cancer cells was reduced by TGF-β1 but CDN restored it.
METHODS AND RESULTS:
The overall data suggested that CDN suppresses TGF-β1-induced EMT via PP2A restoration, making it a potential new drug candidate that controls metastasis.
Mol Immunol. 2007 Feb;44(5):673-9.
Cardamonin inhibits COX and iNOS expression via inhibition of p65NF-kappaB nuclear translocation and Ikappa-B phosphorylation in RAW 264.7 macrophage cells.[Pubmed: 16777230 ]
Cardamonin, a chalcone isolated from the fruits of a local plant Alpinia rafflesiana, has Cardamonin, a chalcone isolated from the fruits of a local plant Alpinia rafflesiana, has demonstrated anti-inflammatory activity in cellular models of inflammation.
METHODS AND RESULTS:
In this report, we evaluated the ability of Cardamonin to suppress both NO and PGE2 synthesis, iNOS and COX-2 expression and enzymatic activity, and key molecules in the NF-kappaB pathway in order to determine its molecular target. Cardamonin suppressed the production of NO and PGE2 in interferon-gamma (IFN-gamma)- and lipopolysaccharide (LPS)-induced RAW 264.7 cells. This inhibition was demonstrated to be caused by a dose-dependent down-regulation of both inducible enzymes, iNOS and COX-2, without direct effect upon iNOS or COX-2 enzyme activity. Subsequently we determined that the inhibition of inducible enzyme expression was due to a dose-dependent inhibition of phosphorylation and degradation of I-kappaBalpha, which resulted in a reduction of p65NF-kappaB nuclear translocation.
CONCLUSIONS:
We conclude that Cardamonin is a potential anti-inflammatory drug lead that targets the NF-kappaB pathway.
J Cardiovasc Pharmacol. 2001 May;37(5):596-606.
Vasorelaxant effects of cardamonin and alpinetin from Alpinia henryi K. Schum.[Pubmed: 11336110]
The vascular effects of cardamonin and alpinetin from Alpinia henryi K. Schum. were examined in the rat isolated mesenteric arteries.
METHODS AND RESULTS:
1H and 13C nuclear magnetic resonance spectra showed that cardamonin is present in trans-form, and single-crystal radiographic structure revealed that alpinetin is present in S configuration. Both cardamonin and alpinetin produced a rightward shift in the concentration-response curve for phenylephrine in a noncompetitive manner, and they induced relaxation of phenylephrine-preconstricted arteries with respective mean inhibitory concentrations (IC50) of 9.3+/-0.6 microM and 27.5+/-2.8 microM. Both compounds also relaxed arteries preconstricted by endothelin I or U46619. Their relaxant effects were decreased in endothelium-removed rings. Pretreatment with N(G)-nitro-L-arginine methyl ester or methylene blue inhibited relaxation induced by both agents, and pretreatment with L-arginine reversed the effect of N(G)-nitro-L-arginine methyl ester on cardamonin-induced endothelium-dependent relaxation. The relaxant effects of cardamonin and alpinetin were unaffected by indomethacin (3 microM). Cardamonin and alpinetin inhibited 60 mM K+-induced contraction with respective IC50 of 11.5+/-0.3 microM and 37.9+/-3.6 microM. In addition, both agents inhibited the transient contraction induced by 3 microM phenylephrine or by 10 mM caffeine in Ca2+-free Krebs solution. Finally, these two agents also concentration dependently relax the arteries preconstricted by 1 microM phorbol 12,13-diacetate in Ca2+-free Krebs solution.
CONCLUSIONS:
These results indicate that purified cardamonin and alpinetin from A. henryi K. Schum. relaxed rat mesenteric arteries through multiple mechanisms. They induced both endothelium-dependent and -independent relaxation; the former is likely mediated by nitric oxide whereas the latter is probably mediated through nonselective inhibition of Ca2+ influx and intracellular Ca2+ release and inhibition of the protein kinase C-dependent contractile mechanism.
Molecules . 2016 Aug 29;21(9):1145.
CFN99890[Pubmed: 27589700]
Abstract The increasing demand for safe and effective treatments of chronic pain has promoted the investigation of novel analgesic drugs. Some herbals have been known to be able to relieve pain, while the chemical basis and target involved in this process remained to be clarified. The current study aimed to find anti-nociceptive candidates targeting transient receptor potential ankyrin 1 (TRPA1), a receptor that implicates in hyperalgesia and neurogenic inflammation. In the current study, 156 chemicals were tested for blocking HEK293/TRPA1 ion channel by calcium-influx assay. Docking study was conducted to predict the binding modes of hit compound with TRPA1 using Discovery Studio. Cytotoxicity in HEK293 was conducted by Cell Titer-Glo assay. Additionally, cardiotoxicity was assessed via xCELLigence RTCA system. We uncovered that cardamonin selectively blocked TRPA1 activation while did not interact with TRPV1 nor TRPV4 channel. A concentration-dependent inhibitory effect was observed with IC50 of 454 nM. Docking analysis of cardamonin demonstrated a compatible interaction with A-967079-binding site of TRPA1. Meanwhile, cardamonin did not significantly reduce HEK293 cell viability, nor did it impair cardiomyocyte constriction. Our data suggest that cardamonin is a selective TRPA1 antagonist, providing novel insight into the target of its anti-nociceptive activity. Keywords: Alpinia katsumadai hayata; TRPA1 antagonist; cardamonin; cardiotoxicity; hyperalgeisa.
| | | | | | |
| --- | --- | --- | --- | --- | --- |
| | 1 mg | 5 mg | 10 mg | 20 mg | 25 mg |
| 1 mM | 3.6996 mL | 18.498 mL | 36.9959 mL | 73.9919 mL | 92.4898 mL |
| 5 mM | 0.7399 mL | 3.6996 mL | 7.3992 mL | 14.7984 mL | 18.498 mL |
| 10 mM | 0.37 mL | 1.8498 mL | 3.6996 mL | 7.3992 mL | 9.249 mL |
| 50 mM | 0.074 mL | 0.37 mL | 0.7399 mL | 1.4798 mL | 1.8498 mL |
| 100 mM | 0.037 mL | 0.185 mL | 0.37 mL | 0.7399 mL | 0.9249 mL |
* Note:
If you are in the process of experiment, it's need to make the dilution ratios of the samples. The dilution data of the sheet for your reference. Normally, it's can get a better solubility within lower of Concentrations.
部分图片展示
| | | | | | |
| --- | --- | --- | --- | --- | --- |
| 产品名称 | 产品编号 | CAS编号 | 分子式 = 分子量 | 位单 | 联系QQ |
| 球松素查尔酮; Pinostrobin chalcone | CFN99878 | 18956-15-5 | C16H14O4 = 270.3 | 10mg | QQ客服:1148253675 |
| 小豆蔻明; Cardamonin | CFN99890 | 19309-14-9 | C16H14O4 = 270.3 | 20mg | QQ客服:1413575084 |
| 黄卡瓦胡椒素B; Flavokawain B | CFN92661 | 1775-97-9 | C17H16O4 = 284.3 | 20mg | QQ客服:2932563308 |
| 二氢帕夏查耳酮; Dihydropashanone | CFN97741 | 41997-41-5 | C17H18O5 = 302.33 | 5mg | QQ客服:2932563308 |
| 帕夏查耳酮; Pashanone | CFN98661 | 42438-78-8 | C17H16O5 = 300.3 | 5mg | QQ客服:3257982914 |
| 1-(2,4-二羟基-3,6-二甲氧基苯基)-3-苯基-1-丙酮; 2',4'-Dihydroxy-3',6'-dimethoxydihydrochalcone | CFN98908 | 54299-52-4 | C17H18O5 = 302.3 | 5mg | QQ客服:2932563308 |
| 2',4'-二羟基-3',6'-二甲氧基查尔酮; 2',4'-Dihydroxy-3',6'-dimethoxychalcone | CFN99391 | 129724-43-2 | C17H16O5 = 300.3 | 5mg | QQ客服:2159513211 |
| 瓜馥木甲素B,2',5'- 二羟基-3',4',6'-三甲氧基二氢查尔酮; Dihydropedicin | CFN97805 | 169234-89-3 | C18H20O6 = 332.35 | 5mg | QQ客服:1413575084 |
| 柄苣素; Pedicin | CFN97978 | 521-51-7 | C18H18O6 = 330.3 | 5mg | QQ客服:215959384 |
| 2',6'-二羟基4'-甲氧基二氢查耳酮; 2',6'-Dihydroxy 4'-methoxydihydrochalcone | CFN70346 | 35241-55-5 | C16H16O4 = 272.3 | 5mg | QQ客服:1148253675 |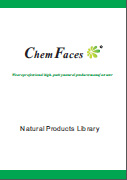 联系方式

电机:027-84237783
传真:027-84254680
在线QQ: 1413575084
E-Mail:manager@chemfaces.com

湖北省武汉沌口经济技术开区车城南路83号1号楼第三层厂房