4',5-二羟基- 3,6,7-三甲氧基黄酮
Penduletin
产品编号
CFN98957
CAS编号
569-80-2
分子式 = 分子量
C18H16O7 = 344.3
产品纯度
>=98%
物理属性
Yellow powder
化合物类型
Flavonoids
植物来源
The leaves of Laggera pterodonta
ChemFaces的产品在影响因子大于5的优秀和顶级科学期刊中被引用
| | | | | |
| --- | --- | --- | --- | --- |
| 产品名称 | 产品编号 | CAS编号 | 包装 | QQ客服 |
| 4',5-二羟基- 3,6,7-三甲氧基黄酮 | CFN98957 | 569-80-2 | 1mg | QQ客服:1413575084 |
| 4',5-二羟基- 3,6,7-三甲氧基黄酮 | CFN98957 | 569-80-2 | 5mg | QQ客服:1413575084 |
| 4',5-二羟基- 3,6,7-三甲氧基黄酮 | CFN98957 | 569-80-2 | 10mg | QQ客服:1413575084 |
| 4',5-二羟基- 3,6,7-三甲氧基黄酮 | CFN98957 | 569-80-2 | 20mg | QQ客服:1413575084 |
1. 在您收到产品后请检查产品。如无问题,请将产品存入冰霜并且样品瓶保持密封,产品可以存放长达24个月(2-8摄氏度)。

2. 只要有可能,产品溶解后,您应该在同一天应用于您的实验。 但是,如果您需要提前做预实验,或者需要全部溶解,我们建议您将溶液以等分试样的形式存放在-20℃的密封小瓶中。 通常,这些可用于长达两周。 使用前,打开样品瓶前,我们建议您将产品平衡至室温至少1小时。

3. 需要更多关于溶解度,使用和处理的建议? 请发送电子邮件至:service@chemfaces.com
订购流程
1. 在线订购
请联系我们QQ客服


2. 电话订购
请拨打电话:
027-84237683 或 027-84237783


3. 邮件或传真订购
发送电子邮件到: manager@chemfaces.com 或
发送传真到:027-84254680


提供订购信息
为了方便客户的订购,请需要订购ChemFaces产品的客户,在下单的时候请提供下列信息,以供我们快速为您建立发货信息。
1. 产品编号(CAS No.或产品名称)
2. 发货地址
3. 联系方法 (联系人,电话)
4. 开票抬头 (如果需要发票的客户)
5. 发票地址(发货地址与发票地址不同)
发货时间
1. 付款方式为100%预付款客户,我们将在确认收到货款后当天或1-3个工作日发货。

2. 付款方式为月结的客户,我们承诺在收到订单后当天或1-3个工作日内发货。

3. 如果客户所需要的产品,需要重新生产,我们有权告知客户,交货时间需要延期。
ChemFaces的产品在许多优秀和顶级科学期刊中被引用
我们的产品现已经出口到下面的研究机构与大学,并且还在增涨
University of Canterbury (New Zealand)
Utrecht University (Netherlands)
The Institute of Cancer Research (United Kingdom)
University of Lodz (Poland)
Weizmann Institute of Science (Israel)
University of Otago (New Zealand)
Vin?a Institute of Nuclear Sciences (Serbia)
Istanbul University (Turkey)
Florida A&M University (USA)
University Medical Center Mainz (Germany)
University of Toulouse (France)
University of Queensland (Australia)
University of Wuerzburg (Germany)
University of South Australia (Australia)
国外学术期刊发表的引用ChemFaces产品的部分文献
Description:
Penduletin has anti-inflammatory,anti-tumor cells, and anti-bacterical activities,it inhibits growth of the Gram-negative pathogen neisseria gonorrhoeae. Penduletin has strong activity in vitro against EV71 with low cytotoxicity.
Targets:
VEGFR | TGF-β/Smad | PGE | COX | Antifection
In vitro:

Eur J Pharm Sci. 2011 Oct 9;44(3):392-8.
Inhibition of enterovirus 71 replication by chrysosplenetin and penduletin.[Pubmed: 21914477]
In recent years, enterovirus 71 (EV71) infections have caused an increasing epidemic in young children, accompanying with more severe nervous system disease and more deaths. Unfortunately, there is no specific medication for it so far.
METHODS AND RESULTS:
Here we investigated the anti-EV71 activity of chrysosplenetin and penduletin, two o-methylated flavonols isolated from the leaves of Laggera pterodonta. These two compounds were found to have strong activity in vitro against EV71 with low cytotoxicity. In the cytopathic effect (CPE) inhibition assays, both plaque reduction assay and virus yield inhibition assay, the compounds showed a similar 50% inhibitory concentration (IC(50)) value of about 0.20 μM. The selectivity indices (SI) of chrysosplenetin and penduletin were 107.5 and 655.6 in African green monkey kidney (Vero) cells, and 69.5 and 200.5 in human rhabdomyosarcoma (RD) cells, accordingly. The preliminary mechanism analysis indicates that they function not through blocking virus entry or inactivating virus directly but inhibiting viral RNA replication. In the time-of-addition assay, both compounds inhibited progeny virus production and RNA replication by nearly 100% when introduced within 4h post infection. In addition to EV71, both compounds inhibited several other human enteroviruses with similar efficacy.
CONCLUSIONS:
These findings provide a significant lead for the discovery of anti-EV71 drug.
Oncol Res. 2005;15(2):59-68.
Antineoplastic agents 540. The Indian Gynandropsis gynandra (Capparidaceae).[Pubmed: 16119003 ]
The CH3OH-CH2Cl2 extract of an Indian collection (entire plant) of Gynandropsis gynandra (L.) Briq. was separated based on bioassay results employing cancer cell lines.
METHODS AND RESULTS:
Six cancer cell growth inhibitors were isolated and found to be known flavone apegenin (4) and flavonols 1-3, 5, and 6. The structure of flavonol 2 was confirmed by X-ray crystal structure determination. All of the five flavonols (1-3, 5, 6) inhibited the murine P388 lymphocytic leukemia cell line with ED50 values of 3.0, 9.2, 4.0, 0.37, and 3.9 microg/ml, respectively.
CONCLUSIONS:
All six of the flavonoids (1-6) also exhibited activity against a panel of six human cancer cell lines. Penduletin (3) inhibited growth of the Gram-negative pathogen Neisseria gonorrhoeae and apegenin (4) inhibited growth of the Gram-positive opportunist Enterococcus faecalis.
Planta Med. 2006 Jan;72(1):72-4.
Flavonoids from Artemisia copa with anti-inflammatory activity.[Pubmed: 16450301 ]
Bioactivity-guided fractionation of the dichloromethane and ethanol extracts from the aerial parts of Artemisia copa led to the isolation of the flavonoids spinacetin, jaceosidin, axillarin, Penduletin, tricin and chrysoeriol.
METHODS AND RESULTS:
These compounds were studied for possible inhibitory activity on the generation of inflammatory mediators in a cell line of mouse macrophages (RAW 264.7) stimulated with lipopolysaccharide. Spinacetin and jaceosidin weakly inhibited nitric oxide production whereas all flavonoids reduced prostaglandin E2 levels to different extents. The most active flavonoid was jaceosidin that inhibited cyclooxygenase-2 activity in a concentration-dependent manner with an IC50 value of 2.8 microM. In addition, the other flavonoids partially inhibited synovial phospholipase A2 activity.
CONCLUSIONS:
These mechanisms may provide a basis for explaining the anti-inflammatory activity of this plant.
| | | | | | |
| --- | --- | --- | --- | --- | --- |
| | 1 mg | 5 mg | 10 mg | 20 mg | 25 mg |
| 1 mM | 2.9044 mL | 14.5222 mL | 29.0444 mL | 58.0889 mL | 72.6111 mL |
| 5 mM | 0.5809 mL | 2.9044 mL | 5.8089 mL | 11.6178 mL | 14.5222 mL |
| 10 mM | 0.2904 mL | 1.4522 mL | 2.9044 mL | 5.8089 mL | 7.2611 mL |
| 50 mM | 0.0581 mL | 0.2904 mL | 0.5809 mL | 1.1618 mL | 1.4522 mL |
| 100 mM | 0.029 mL | 0.1452 mL | 0.2904 mL | 0.5809 mL | 0.7261 mL |
* Note:
If you are in the process of experiment, it's need to make the dilution ratios of the samples. The dilution data of the sheet for your reference. Normally, it's can get a better solubility within lower of Concentrations.
部分图片展示
| | | | | | |
| --- | --- | --- | --- | --- | --- |
| 产品名称 | 产品编号 | CAS编号 | 分子式 = 分子量 | 位单 | 联系QQ |
| 5,7-二乙酰氧基-3,4',8-三甲氧基黄酮; 5,7-Diacetoxy-3,4',8-trimethoxyflavone | CFN98818 | 5128-43-8 | C22H20O9 = 428.4 | 5mg | QQ客服:2932563308 |
| 4',5,7-三羟基 3,6,8-三甲氧基黄酮; 4',5,7-Trihydroxy 3,6,8-trimethoxyflavone | CFN70413 | 57393-71-2 | C18H16O8 = 360.3 | 5mg | QQ客服:215959384 |
| Calycopterin; Calycopterin | CFN70374 | 481-52-7 | C19H18O8 = 374.4 | 5mg | QQ客服:215959384 |
| 5,7-二羟基-3,4',6,8-四甲氧基黄酮; Araneosol | CFN98797 | 50461-86-4 | C19H18O8 = 374.4 | 5mg | QQ客服:215959384 |
| 2',3,5,7-四羟基黄酮; 2',3,5,7-Tetrahydroxyflavone | CFN70373 | 480-15-9 | C15H10O6 = 286.2 | 5mg | QQ客服:2932563308 |
| 山奈酚; Kaempferol | CFN98838 | 520-18-3 | C15H10O6 = 286.2 | 20mg | QQ客服:3257982914 |
| 3,4',7-三乙酰山奈酚; 3,4',7-三乙酸堪非醇酯; Kaempferol 3,4,7-triacetate | CFN99479 | 143724-69-0 | C21H16O9 = 412.4 | 5mg | QQ客服:2159513211 |
| 四乙酰山奈酚; 四乙酸堪非醇酯; Kaempferol tetraacetate | CFN99686 | 16274-11-6 | C23H18O10 = 454.4 | 5mg | QQ客服:2159513211 |
| 异山柰素; Isokaempferide | CFN93002 | 1592-70-7 | C16H12O6 = 300.3 | 5mg | QQ客服:215959384 |
| 5-甲氧基山奈酚; 5-甲氧基莰非醇; Kaempferol 5-methyl ether | CFN92510 | 22044-80-0 | C16H12O6 = 300.3 | 5mg | QQ客服:3257982914 |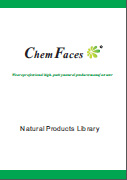 联系方式

电机:027-84237783
传真:027-84254680
在线QQ: 1413575084
E-Mail:manager@chemfaces.com

湖北省武汉沌口经济技术开区车城南路83号1号楼第三层厂房