齐墩果酸
Oleanolic acid
产品编号
CFN98800
CAS编号
508-02-1
分子式 = 分子量
C30H48O3 = 456.7
产品纯度
>=98%
物理属性
Powder
化合物类型
Triterpenoids
植物来源
The herbs of Boehmeria nivea (Linn.) Gaudich.
ChemFaces的产品在影响因子大于5的优秀和顶级科学期刊中被引用
| | | | | |
| --- | --- | --- | --- | --- |
| 产品名称 | 产品编号 | CAS编号 | 包装 | QQ客服 |
| 齐墩果酸 | CFN98800 | 508-02-1 | 10mg | QQ客服:1148253675 |
| 齐墩果酸 | CFN98800 | 508-02-1 | 20mg | QQ客服:1148253675 |
| 齐墩果酸 | CFN98800 | 508-02-1 | 50mg | QQ客服:1148253675 |
| 齐墩果酸 | CFN98800 | 508-02-1 | 100mg | QQ客服:1148253675 |
1. 在您收到产品后请检查产品。如无问题,请将产品存入冰霜并且样品瓶保持密封,产品可以存放长达24个月(2-8摄氏度)。

2. 只要有可能,产品溶解后,您应该在同一天应用于您的实验。 但是,如果您需要提前做预实验,或者需要全部溶解,我们建议您将溶液以等分试样的形式存放在-20℃的密封小瓶中。 通常,这些可用于长达两周。 使用前,打开样品瓶前,我们建议您将产品平衡至室温至少1小时。

3. 需要更多关于溶解度,使用和处理的建议? 请发送电子邮件至:service@chemfaces.com
订购流程
1. 在线订购
请联系我们QQ客服


2. 电话订购
请拨打电话:
027-84237683 或 027-84237783


3. 邮件或传真订购
发送电子邮件到: manager@chemfaces.com 或
发送传真到:027-84254680


提供订购信息
为了方便客户的订购,请需要订购ChemFaces产品的客户,在下单的时候请提供下列信息,以供我们快速为您建立发货信息。
1. 产品编号(CAS No.或产品名称)
2. 发货地址
3. 联系方法 (联系人,电话)
4. 开票抬头 (如果需要发票的客户)
5. 发票地址(发货地址与发票地址不同)
发货时间
1. 付款方式为100%预付款客户,我们将在确认收到货款后当天或1-3个工作日发货。

2. 付款方式为月结的客户,我们承诺在收到订单后当天或1-3个工作日内发货。

3. 如果客户所需要的产品,需要重新生产,我们有权告知客户,交货时间需要延期。
ChemFaces的产品在许多优秀和顶级科学期刊中被引用
我们的产品现已经出口到下面的研究机构与大学,并且还在增涨
CSIRO - Agriculture Flagship (Australia)
University of Malaya (Malaysia)
Sanford Burnham Prebys Medical Discovery Institute (USA)
Florida A&M University (USA)
University of Stirling (United Kingdom)
University of East Anglia (United Kingdom)
Universite de Lille1 (France)
Chinese University of Hong Kong (China)
Semmelweis Unicersity (Hungary)
Universidad Industrial de Santander (Colombia)
Kyung Hee University (Korea)
Fraunhofer-Institut für Molekularbiologie und Angewandte ?kologie IME (Germany)
China Medical University (Taiwan)
University of the Basque Country (Spain)
国外学术期刊发表的引用ChemFaces产品的部分文献
Description:
Oleanolic acid is a non-toxic, hepatoprotective triterpenoid found in Phytolacca Americana, which exerts antitumor, anti-inflammatory, antioxidant, and antiviral properties. Oleanolic acid exhibits anti-HCV activity at least partly through suppressing HCV NS5B RdRp activity as a noncompetitive inhibitor; it induces the upregulation of miR-132, which serves as an important regulator of neurotrophic actions, mainly through the activation of the hippocampal BDNF-ERK-CREB signalling pathways; can be employed as a lead in the development of potent NO inhibitors. Oleanolic acid supplement ameliorates fructose-induced Adipo-IR in rats via the IRS-1/phosphatidylinositol 3-kinase/Akt pathway.
Targets:
NO | TNF-α | IL Receptor | NOS | ERK | PI3K | Akt | HCV | BDNF | CREB | miR-132
In vitro:

Bioorg Med Chem Lett. 2014 Sep 1;24(17):4114-9.
Oleanolic acid analogs as NO, TNF-α and IL-1β inhibitors: synthesis, biological evaluation and docking studies.[Pubmed: 25113933]
A series of oleanolic acid analogs, characterized by structural modifications at position C-3 and C-28 of oleanane skeleton were synthesized and assessed for antiinflammatory potential towards lipopolysaccharide (LPS) induced nitric oxide (NO) production in macrophages.
METHODS AND RESULTS:
Results revealed that all the synthesized analogs of oleanolic acid inhibit NO production with an IC50 of 2.66-41.7 μM as compared to the specific nitric oxide synthase (NOS) inhibitor, L-NAME (IC50=69.21 and 73.18 μM on RAW 264.7 and J774A.1 cells, respectively) without affecting the cell viability when tested at their half maximal concentration. The most potent NO inhibitors (2, 8, 9 and 10) at a concentration of 20 μg/mL also demonstrated mild inhibition (27.9-51.9%) of LPS-induced tumor necrosis factor alpha (TNF-α) and weak inhibition (11.1-37.5%) towards interleukin 1-beta (IL-1β) production in both the cells.
CONCLUSIONS:
The present study paves a direction that analogs of oleanolic acid can be employed as a lead in the development of potent NO inhibitors. Molecular docking studies also showed that 10 (with top Goldscore docking pose 19.05) showed similar interaction as that of co-crystallized inhibitor and, thereby, helps to design the potent inhibitors of TNF-α.
Antiviral Res. 2013 Apr;98(1):44-53.
Oleanolic acid and ursolic acid: novel hepatitis C virus antivirals that inhibit NS5B activity.[Pubmed: 23422646 ]
Hepatitis C virus (HCV) infects up to 170 million people worldwide and causes significant morbidity and mortality. Unfortunately, current therapy is only curative in approximately 50% of HCV patients and has adverse side effects, which warrants the need to develop novel and effective antivirals against HCV. We have previously reported that the Chinese herb Fructus Ligustri Lucidi (FLL) directly inhibited HCV NS5B RNA-dependent RNA polymerase (RdRp) activity (Kong et al., 2007).
METHODS AND RESULTS:
In this study, we found that the FLL aqueous extract strongly suppressed HCV replication. Further high-performance liquid chromatography (HPLC) analysis combined with inhibitory assays indicates that oleanolic acid and ursolic acid are two antiviral components within FLL aqueous extract that significantly suppressed the replication of HCV genotype 1b replicon and HCV genotype 2a JFH1 virus. Moreover, oleanolic acid and ursolic acid exhibited anti-HCV activity at least partly through suppressing HCV NS5B RdRp activity as noncompetitive inhibitors.
CONCLUSIONS:
Therefore, our results for the first time demonstrated that natural products oleanolic acid and ursolic acid could be used as potential HCV antivirals that can be applied to clinic trials either as monotherapy or in combination with other HCV antivirals.
| | | | | | |
| --- | --- | --- | --- | --- | --- |
| | 1 mg | 5 mg | 10 mg | 20 mg | 25 mg |
| 1 mM | 2.1896 mL | 10.9481 mL | 21.8962 mL | 43.7924 mL | 54.7405 mL |
| 5 mM | 0.4379 mL | 2.1896 mL | 4.3792 mL | 8.7585 mL | 10.9481 mL |
| 10 mM | 0.219 mL | 1.0948 mL | 2.1896 mL | 4.3792 mL | 5.4741 mL |
| 50 mM | 0.0438 mL | 0.219 mL | 0.4379 mL | 0.8758 mL | 1.0948 mL |
| 100 mM | 0.0219 mL | 0.1095 mL | 0.219 mL | 0.4379 mL | 0.5474 mL |
* Note:
If you are in the process of experiment, it's need to make the dilution ratios of the samples. The dilution data of the sheet for your reference. Normally, it's can get a better solubility within lower of Concentrations.
部分图片展示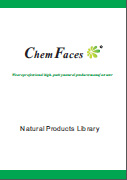 联系方式

电机:027-84237783
传真:027-84254680
在线QQ: 215959384
E-Mail:manager@chemfaces.com

湖北省武汉沌口经济技术开区车城南路83号1号楼第三层厂房