异补骨脂黄酮
Isobavachin
产品编号
CFN98400
CAS编号
31524-62-6
分子式 = 分子量
C20H20O4 = 324.4
产品纯度
>=98%
物理属性
Powder
化合物类型
Flavonoids
植物来源
The fruits of Psoralea corylifolia L.
ChemFaces的产品在影响因子大于5的优秀和顶级科学期刊中被引用
| | | | | |
| --- | --- | --- | --- | --- |
| 产品名称 | 产品编号 | CAS编号 | 包装 | QQ客服 |
| 异补骨脂黄酮 | CFN98400 | 31524-62-6 | 10mg | QQ客服:2159513211 |
| 异补骨脂黄酮 | CFN98400 | 31524-62-6 | 20mg | QQ客服:2159513211 |
| 异补骨脂黄酮 | CFN98400 | 31524-62-6 | 50mg | QQ客服:2159513211 |
| 异补骨脂黄酮 | CFN98400 | 31524-62-6 | 100mg | QQ客服:2159513211 |
1. 在您收到产品后请检查产品。如无问题,请将产品存入冰霜并且样品瓶保持密封,产品可以存放长达24个月(2-8摄氏度)。

2. 只要有可能,产品溶解后,您应该在同一天应用于您的实验。 但是,如果您需要提前做预实验,或者需要全部溶解,我们建议您将溶液以等分试样的形式存放在-20℃的密封小瓶中。 通常,这些可用于长达两周。 使用前,打开样品瓶前,我们建议您将产品平衡至室温至少1小时。

3. 需要更多关于溶解度,使用和处理的建议? 请发送电子邮件至:service@chemfaces.com
订购流程
1. 在线订购
请联系我们QQ客服


2. 电话订购
请拨打电话:
027-84237683 或 027-84237783


3. 邮件或传真订购
发送电子邮件到: manager@chemfaces.com 或
发送传真到:027-84254680


提供订购信息
为了方便客户的订购,请需要订购ChemFaces产品的客户,在下单的时候请提供下列信息,以供我们快速为您建立发货信息。
1. 产品编号(CAS No.或产品名称)
2. 发货地址
3. 联系方法 (联系人,电话)
4. 开票抬头 (如果需要发票的客户)
5. 发票地址(发货地址与发票地址不同)
发货时间
1. 付款方式为100%预付款客户,我们将在确认收到货款后当天或1-3个工作日发货。

2. 付款方式为月结的客户,我们承诺在收到订单后当天或1-3个工作日内发货。

3. 如果客户所需要的产品,需要重新生产,我们有权告知客户,交货时间需要延期。
ChemFaces的产品在许多优秀和顶级科学期刊中被引用
我们的产品现已经出口到下面的研究机构与大学,并且还在增涨
University of Toulouse (France)
University of Minnesota (USA)
National Cancer Center Research Institute (Japan)
University of Oslo (Norway)
Periyar University (India)
University of Amsterdam (Netherlands)
National Chung Hsing University (Taiwan)
Guangzhou Institutes of Biomedicine and Health (China)
Kyoto University (Japan)
University of Medicine and Pharmacy (Romania)
Mahidol University (Thailand)
Chang Gung University (Taiwan)
Wroclaw Medical University (Poland)
Universit?t Basel (Switzerland)
国外学术期刊发表的引用ChemFaces产品的部分文献
Description:
Isobavachin can stimulate osteoblasts proliferation and differentiation; it also can facilitate mouse embryonic stem cells differentiating into neuronal cells, the mechanism involved protein prenylation and, subsequently, phos-ERK activation and the phos-p38 off pathway. Isobavachin possesses estrogen-like activity in MCF-7/BOS cells, it can significantly stimulate the proliferation of MCF-7/BOS cells in a dose-dependent manner. Isobavachin has cytotoxic effects on H4IIE hepatoma and metabolically poorly active C6 glioma cells.
Targets:
ERK | p38MAPK | Caspase
In vitro:

Acta Pharmacol Sin. 2011 Apr;32(4):425-32.
Promoting effects of isobavachin on neurogenesis of mouse embryonic stem cells were associated with protein prenylation.[Pubmed: 21441946]
Some small molecules can induce mouse embryonic stem (ES) cells to differentiate into neuronal cells. Here, we explored the effect of Isobavachin (IBA), a compound with a prenyl group at position 8 of ring A, on promoting neuronal differentiation and the potential role of its protein prenylation.
METHODS AND RESULTS:
The hanging drop method was employed for embryonic body (EB) formation to mimic embryo development in vivo. The EBs were treated with Isobavachin at a final concentration of 10(-7) mol/L from EB stage (d 4) to d 8+10. Geranylgeranyltransferase I inhibitor GGTI-298 was subsequently used to disrupt protein prenylation. Neuronal subtypes, including neurons and astrocytes, were observed by fluorescence microscopy. Gene and protein expression levels were detected using RT-PCR and Western blot analysis, respectively. With Isobavachin treatment, nestin was highly expressed in the neural progenitors generated from EBs (d 4, d 8+0). EBs then further differentiated into neurons (marked by β-tubulin III) and astrocytes (marked by GFAP), which were both up-regulated in a time-dependent manner on d 8+5 and d 8+10. Co-treatment with GGTI-298 selectively abolished the Isobavachin-induced neuronal differentiation. Moreover, in the MAPK pathway, p38 and JNK phosphorylation were down-regulated, while ERK phosphorylation was up-regulated after Isobavachin treatment at different neuronal differentiation passages.
CONCLUSIONS:
Isobavachin can facilitate mouse ES cells differentiating into neuronal cells. The mechanism involved protein prenylation and, subsequently, phos-ERK activation and the phos-p38 off pathway.
Food Chem Toxicol. 2007 Jan;45(1):119-24.
Prenylation enhances cytotoxicity of apigenin and liquiritigenin in rat H4IIE hepatoma and C6 glioma cells.[Pubmed: 17045382 ]
Antioxidative as well as cytotoxic effects of the prenylated flavonoids licoflavone C (8-prenylapigenin) and isobavachin (8-prenylliquiritigenin) were investigated in comparison to the corresponding non-prenylated flavonoids (apigenin, liquiritigenin) and vitexin (apigenin-C8-glucoside) using metabolically active H4IIE hepatoma and metabolically poorly active C6 glioma cells.
METHODS AND RESULTS:
None of the substances showed radical scavenging activities in the 2,2-diphenyl-1-picrylhydrazyl (DPPH)-assay nor were they effective in protection against H2O2-induced intracellular 2',7'-dichlorodihydrofluorescein (H2DCF) oxidation (fluorescent probe for oxidative stress) in H4IIE and C6 cells. When the intrinsic effects of the substances were investigated, licoflavone C and isobavachin exerted a pronounced toxicity in both H4IIE (IC50 values of 42+/-5 and 96+/-19 micromol/L) and C6 cells (IC50 values of 37+/-6 and 69+/-3 micromol/L) while the non-prenylated analogues as well as the glycosylated derivate vitexin showed almost no cytotoxic effect up to 250 micromol/L. In H4IIE cells the induction of apoptotic cell death by licoflavone C and icobavachin was detected as an activation of caspase 3/7 (6- and 3.3-fold, respectively).
CONCLUSIONS:
Based on these experiments we suggest that C8-prenylation of a flavonoid enhances the cytotoxicity inducing an apoptotic cell death in H4IIE cells without affecting antioxidative properties.
| | | | | | |
| --- | --- | --- | --- | --- | --- |
| | 1 mg | 5 mg | 10 mg | 20 mg | 25 mg |
| 1 mM | 3.0826 mL | 15.4131 mL | 30.8261 mL | 61.6523 mL | 77.0654 mL |
| 5 mM | 0.6165 mL | 3.0826 mL | 6.1652 mL | 12.3305 mL | 15.4131 mL |
| 10 mM | 0.3083 mL | 1.5413 mL | 3.0826 mL | 6.1652 mL | 7.7065 mL |
| 50 mM | 0.0617 mL | 0.3083 mL | 0.6165 mL | 1.233 mL | 1.5413 mL |
| 100 mM | 0.0308 mL | 0.1541 mL | 0.3083 mL | 0.6165 mL | 0.7707 mL |
* Note:
If you are in the process of experiment, it's need to make the dilution ratios of the samples. The dilution data of the sheet for your reference. Normally, it's can get a better solubility within lower of Concentrations.
部分图片展示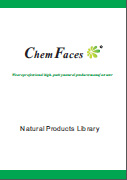 联系方式

电机:027-84237783
传真:027-84254680
在线QQ: 1413575084
E-Mail:manager@chemfaces.com

湖北省武汉沌口经济技术开区车城南路83号1号楼第三层厂房