和厚朴酚
Honokiol
| | | | | |
| --- | --- | --- | --- | --- |
| 产品名称 | 产品编号 | CAS编号 | 包装 | QQ客服 |
| 和厚朴酚 | CFN99902 | 35354-74-6 | 10mg | QQ客服:2159513211 |
| 和厚朴酚 | CFN99902 | 35354-74-6 | 20mg | QQ客服:2159513211 |
| 和厚朴酚 | CFN99902 | 35354-74-6 | 50mg | QQ客服:2159513211 |
| 和厚朴酚 | CFN99902 | 35354-74-6 | 100mg | QQ客服:2159513211 |
1. 在您收到产品后请检查产品。如无问题,请将产品存入冰霜并且样品瓶保持密封,产品可以存放长达24个月(2-8摄氏度)。

2. 只要有可能,产品溶解后,您应该在同一天应用于您的实验。 但是,如果您需要提前做预实验,或者需要全部溶解,我们建议您将溶液以等分试样的形式存放在-20℃的密封小瓶中。 通常,这些可用于长达两周。 使用前,打开样品瓶前,我们建议您将产品平衡至室温至少1小时。

3. 需要更多关于溶解度,使用和处理的建议? 请发送电子邮件至:service@chemfaces.com
订购流程
1. 在线订购
请联系我们QQ客服


2. 电话订购
请拨打电话:
027-84237683 或 027-84237783


3. 邮件或传真订购
发送电子邮件到: manager@chemfaces.com 或
发送传真到:027-84254680


提供订购信息
为了方便客户的订购,请需要订购ChemFaces产品的客户,在下单的时候请提供下列信息,以供我们快速为您建立发货信息。
1. 产品编号(CAS No.或产品名称)
2. 发货地址
3. 联系方法 (联系人,电话)
4. 开票抬头 (如果需要发票的客户)
5. 发票地址(发货地址与发票地址不同)
发货时间
1. 付款方式为100%预付款客户,我们将在确认收到货款后当天或1-3个工作日发货。

2. 付款方式为月结的客户,我们承诺在收到订单后当天或1-3个工作日内发货。

3. 如果客户所需要的产品,需要重新生产,我们有权告知客户,交货时间需要延期。
ChemFaces的产品在许多优秀和顶级科学期刊中被引用
我们的产品现已经出口到下面的研究机构与大学,并且还在增涨
Semmelweis Unicersity (Hungary)
Stanford University (USA)
University of Oslo (Norway)
Seoul National University (Korea)
Universiti Malaysia Pahang (Malaysia)
Colorado State University (USA)
Universidade Federal de Santa Catarina (Brazil)
Chang Gung University (Taiwan)
Charles Sturt University (Denmark)
University of Hawaii Cancer Center (USA)
Universite de Lille1 (France)
Wageningen University (Netherlands)
Imperial College London (United Kingdom)
Heidelberg University (Germany)
国外学术期刊发表的引用ChemFaces产品的部分文献
Description:
Honokiol has antibacterial, anti-angiogenesis, antidepressant-like, antioxidant, anti-inflammatory and anti-cancer effects. It inhibited the activation of Akt and enhances the phosphorylation of ERK1/ERK2. It can improve learning, memory impairments and neuroinflammatory processes induced by SCOP in mice, by inhibition of AChE activity.
Targets:
NOS | NO | 5-HT Receptor | cAMP | PGE | COX | ERK | IL Receptor | ROS | TNF-α | Antifection | AChR | Akt
In vitro:

J. Biol. Chem., 2003, 278(37):35501-7.
Honokiol, a Small Molecular Weight Natural Product, Inhibits Angiogenesis in Vitro and Tumor Growth in Vivo.[Reference: WebLink]
Natural products comprise a major source of small molecular weight angiogenesis inhibitors.
METHODS AND RESULTS:
We have used the transformed endothelial cell line SVR as an effective screen of natural product extracts to isolate anti-angiogenesis and anti-tumor compounds. Aqueous extracts of Magnolia grandiflora exhibit potent activity in our SVR proliferation assays. We found that the small molecular weight compound Honokiol is the active principle of magnolia extract. Honokiol exhibited potent anti-proliferative activity against SVR cells in vitro. In addition, Honokiol demonstrated preferential inhibition of primary human endothelial cells compared with fibroblasts and this inhibition was antagonized by antibodies against TNFα-related apoptosis-inducing ligand. In vivo, Honokiol was highly effective against angiosarcoma in nude mice.
CONCLUSIONS:
Our preclinical data suggests that Honokiol is a systemically available and non-toxic inhibitor of angiogenesis and should be further evaluated as a potential chemotherapeutic agent.
Eur J Pharmacol. 2004 Aug 2;496(1-3):189-95.
In vitro antibacterial and anti-inflammatory effects of honokiol and magnolol against Propionibacterium sp.[Pubmed: 15288590 ]
Honokiol and magnolol, two major phenolic constituents of Magnolia sp., have been known to exhibit antibacterial activities. However, until now, their antibacterial activity against Propionibacterium sp. has not been reported.
METHODS AND RESULTS:
To this end, the antibacterial activities of Honokiol and magnolol were detected using the disk diffusion method and a two-fold serial dilution assay. Honokiol and magnolol showed strong antibacterial activities against both Propionibacterium acnes and Propionibacterium granulosum, which are acne-causing bacteria. The minimum inhibitory concentrations (MIC) of Honokiol and magnolol was 3-4 microg/ml (11.3-15 microM) and 9 microg/ml (33.8 microM), respectively. In addition, the killing curve analysis showed that magnolol and Honokiol killed P. acnes rapidly, with 10(5) organisms/ml eliminated within 10 min of treatment with either 45 microg (169.2 microM) of magnolol or 20 microg (75.2 microM) of Honokiol per ml. The cytotoxic effect of Honokiol and magnolol was determined by a colorimetric (3-(4,5-dimetyl-2-thiazolyl)-2,5-diphenyl-2H-tetrazolium bromide) (MTT) assay using two animal cell lines, human normal fibroblasts and HaCaT. In this experiment, magnolol exhibited lower cytotoxic effects than Honokiol at the same concentration, but they showed similar cytotoxicity when triclosan was employed as an acne-mitigating agent. In addition, they reduced secretion of interleukin-8 and tumor necrosis factor alpha (TNF-alpha) induced by P. acnes in THP-1 cells indicating the anti-inflammatory effects of them. When applied topically, neither phenolic compound induced any adverse reactions in a human skin primary irritation test.
CONCLUSIONS:
Therefore, based on these results, we suggest the possibility that magnolol and Honokiol may be considered as attractive acne-mitigating candidates for topical application.

In vivo:

Prog Neuropsychopharmacol Biol Psychiatry. 2008 Apr 1;32(3):715-25.
Antidepressant-like effects of the mixture of honokiol and magnolol from the barks of Magnolia officinalis in stressed rodents.[Pubmed: 18093712 ]
Honokiol and magnolol are the main constituents simultaneously identified in the barks of Magnolia officinalis, which have been used in traditional Chinese medicine to treat a variety of mental disorders including depression.
METHODS AND RESULTS:
The mixture of Honokiol and magnolol at 20 and 40 mg/kg significantly attenuated CMS-induced decreases of 5-HT levels in frontal cortex, hippocampus, striatum, hypothalamus and nucleus accumbens. And it markedly increased 5-HIAA levels in frontal cortex, striatum and nucleus accumbens at 40 mg/kg and in frontal cortex at 20 mg/kg in the CMS rats. A subsequent reduction in 5-HIAA/5-HT ratio was found in hippocampus and nucleus accumbens in the CMS rats receiving this mixture. Furthermore, the mixture of Honokiol and magnolol reduced elevated corticosterone concentrations in serum to normalize the hypothalamic-pituitary-adrenal (HPA) hyperactivity in the CMS rats. It also reversed CMS-induced reduction in platelet AC activity, via upregulating the cyclic adenosine monophosphate (cAMP) pathway. These results suggested that the mixture of Honokiol and magnolol possessed potent antidepressant-like properties in behaviors involved in normalization of biochemical abnormalities in brain 5-HT and 5-HIAA, serum corticosterone levels and platelet AC activity in the CMS rats.
CONCLUSIONS:
Our findings could provide a basis for examining directly the interaction of the serotonergic system, the HPA axis and AC-cAMP pathway underlying the link between depression and treatment with the mixture of Honokiol and magnolol.
| | | | | | |
| --- | --- | --- | --- | --- | --- |
| | 1 mg | 5 mg | 10 mg | 20 mg | 25 mg |
| 1 mM | 3.7546 mL | 18.773 mL | 37.546 mL | 75.092 mL | 93.865 mL |
| 5 mM | 0.7509 mL | 3.7546 mL | 7.5092 mL | 15.0184 mL | 18.773 mL |
| 10 mM | 0.3755 mL | 1.8773 mL | 3.7546 mL | 7.5092 mL | 9.3865 mL |
| 50 mM | 0.0751 mL | 0.3755 mL | 0.7509 mL | 1.5018 mL | 1.8773 mL |
| 100 mM | 0.0375 mL | 0.1877 mL | 0.3755 mL | 0.7509 mL | 0.9386 mL |
* Note:
If you are in the process of experiment, it's need to make the dilution ratios of the samples. The dilution data of the sheet for your reference. Normally, it's can get a better solubility within lower of Concentrations.
部分图片展示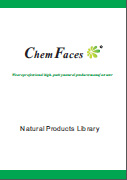 联系方式

电机:027-84237783
传真:027-84254680
在线QQ1: 2056216494 ; QQ2: 3257982914
E-Mail:manager@chemfaces.com

湖北省武汉沌口经济技术开区车城南路83号1号楼第三层厂房