京尼平
Genipin
产品编号
CFN99142
CAS编号
6902-77-8
分子式 = 分子量
C11H14O5 = 226.23
产品纯度
>=98%
物理属性
White powder
化合物类型
Iridoids
植物来源
The fruits of Gardenia jasminoides Ellis
ChemFaces的产品在影响因子大于5的优秀和顶级科学期刊中被引用
| | | | | |
| --- | --- | --- | --- | --- |
| 产品名称 | 产品编号 | CAS编号 | 包装 | QQ客服 |
| 京尼平 | CFN99142 | 6902-77-8 | 10mg | QQ客服:2159513211 |
| 京尼平 | CFN99142 | 6902-77-8 | 20mg | QQ客服:2159513211 |
| 京尼平 | CFN99142 | 6902-77-8 | 50mg | QQ客服:2159513211 |
| 京尼平 | CFN99142 | 6902-77-8 | 100mg | QQ客服:2159513211 |
1. 在您收到产品后请检查产品。如无问题,请将产品存入冰霜并且样品瓶保持密封,产品可以存放长达24个月(2-8摄氏度)。

2. 只要有可能,产品溶解后,您应该在同一天应用于您的实验。 但是,如果您需要提前做预实验,或者需要全部溶解,我们建议您将溶液以等分试样的形式存放在-20℃的密封小瓶中。 通常,这些可用于长达两周。 使用前,打开样品瓶前,我们建议您将产品平衡至室温至少1小时。

3. 需要更多关于溶解度,使用和处理的建议? 请发送电子邮件至:service@chemfaces.com
订购流程
1. 在线订购
请联系我们QQ客服


2. 电话订购
请拨打电话:
027-84237683 或 027-84237783


3. 邮件或传真订购
发送电子邮件到: manager@chemfaces.com 或
发送传真到:027-84254680


提供订购信息
为了方便客户的订购,请需要订购ChemFaces产品的客户,在下单的时候请提供下列信息,以供我们快速为您建立发货信息。
1. 产品编号(CAS No.或产品名称)
2. 发货地址
3. 联系方法 (联系人,电话)
4. 开票抬头 (如果需要发票的客户)
5. 发票地址(发货地址与发票地址不同)
发货时间
1. 付款方式为100%预付款客户,我们将在确认收到货款后当天或1-3个工作日发货。

2. 付款方式为月结的客户,我们承诺在收到订单后当天或1-3个工作日内发货。

3. 如果客户所需要的产品,需要重新生产,我们有权告知客户,交货时间需要延期。
ChemFaces的产品在许多优秀和顶级科学期刊中被引用
我们的产品现已经出口到下面的研究机构与大学,并且还在增涨
Universidad de La Salle (Mexico)
Texas A&M University (USA)
Univerzita Karlova v Praze (Czech Republic)
Seoul National University of Science and Technology (Korea)
University of Wisconsin-Madison (USA)
Instytut Nawozów Sztucznych w Pu?awach (Poland)
The Ohio State University (USA)
Worcester Polytechnic Institute (USA)
University of Toronto (Canada)
Martin Luther University of Halle-Wittenberg (Germany)
Instituto Politécnico de Bragan?a (Portugal)
Monash University Sunway Campus (Malaysia)
Harvard University (USA)
Universite de Lille1 (France)
国外学术期刊发表的引用ChemFaces产品的部分文献
Description:
Genipin is an excellent natural cross-linker for proteins, collagen, gelatin, and chitosan cross-linking, can be used as a regulating agent for drug delivery, as the raw material for gardenia blue pigment preparation. It is a novel chemical activator of EBV lytic cycle and a cell permeable inhibitor of uncoupling protein 2 (UCP2). Genipin has antimicrobial,antiviral, antitumor, and anti-inflammatory effects, it is used for choleretic action for liver diseases control and could be used for the treatment of periodontal disease to prevent MMPs expression in periodontal lesion. It shows an antithrombotic effect in vivo due to the suppression of platelet aggregation.
Targets:
ERK | TNF-α | MMP(e.g.TIMP) | JNK | AMPK | VEGFR | Phospholipase (e.g. PLA) | COX | NF-kB | PI3K | Akt | ROS | MAPK | AP-1
In vitro:

J Microbiol. 2015 Feb;53(2):155-65.
Genipin as a novel chemical activator of EBV lytic cycle.[Pubmed: 25626372]
Epstein-Barr virus (EBV) is a ubiquitous gammaherpesvirus that causes acute infection and establishes life-long latency. EBV causes several human cancers, including Burkitt's lymphoma, nasopharyngeal and gastric carcinoma. Antiviral agents can be categorized as virucides, antiviral chemotherapeutic agents, and immunomodulators. Most antiviral agents affect actively replicating viruses, but not their latent forms. Novel antiviral agents must be active on both the replicating and the latent forms of the virus. Gardenia jasminoides is an evergreen flowering plant belonging to the Rubiaceae family and is most commonly found growing wild in Vietnam, Southern China, Taiwan, Japan, Myanmar, and India. Genipin is an aglycone derived from an iridoid glycoside called geniposide, which is present in large quantities in the fruit of G. jasminoides.
METHODS AND RESULTS:
In this study, genipin was evaluated for its role as an antitumor and antiviral agent that produces inhibitory effects against EBV and EBV associated gastric carcinoma (EBVaGC). In SNU719 cells, one of EBVaGCs, genipin caused significant cytotoxicity (70 μM), induced methylation on EBV C promoter and tumor suppressor gene BCL7A, arrested cell-cycle progress (S phases), upregulated EBV latent/lytic genes in a dose-dependent manner, stimulated EBV progeny production, activated EBV F promoter for EBV lytic activation, and suppressed EBV infection.
CONCLUSIONS:
These results indicated that genipin could be a promising candidate for antiviral and antitumor agents against EBV and EBVaGC.
Biomaterials. 2013 Oct;34(31):7754-65.
Induction of angiogenesis using VEGF releasing genipin-crosslinked electrospun gelatin mats.[Pubmed: 23863451]
Rapid and controlled vascularization of engineered tissues remains one of the key limitations in tissue engineering applications.
METHODS AND RESULTS:
This study investigates the possible use of natural extracellular matrix-like scaffolds made of gelatin loaded with human vascular endothelial growth factor (VEGF), as a bioresorbable platform for long-term release and consequent angiogenic boosting. For this aim, gelatin was firstly electrospun and then cross-linked at two different concentrations (0.1% and 0.5% w/v) by using genipin, a low toxic agent, in order to fabricate a suitable substrate to be loaded with VEGF. Collected fibers were homogeneous and free of beads, the fibrous structure was retained after cross-linking. Mechanical properties were deeply affected by the chemical treatment showing a different behavior, depending on the testing conditions (i.e., dry or wet state). VEGF release was assessed by means of ELISA assay: a cumulative release of about 90% (0.1% w/v) and 60% (0.5% w/v) at 28 days was measured. Both VEGF loaded mats induced cell viability, endothelial differentiation and showed chemoattractive properties when tested on human mesenchymal stromal cells (hMSCs). In vitro and in vivo angiogenic assays demonstrated that the VEGF loaded mats induced an angiogenic potential in stimulating new vessel formation similar, if not superior, to fresh VEGF. VEGF retains bioactive and pro-angiogenic potential for up to 14 days.
CONCLUSIONS:
The results demonstrated that genipin cross-linked electrospun gelatin mats loaded with VEGF could be part of a useful strategy to stimulate and induce angiogenesis in tissue engineered applications.

In vivo:

Biochimie. 2014 Dec;107 Pt B:391-5.
Genipin inhibits MMP-1 and MMP-3 release from TNF-a-stimulated human periodontal ligament cells.[Pubmed: 25457105]
Genipin, the aglycon of geniposide found in gardenia fruit has long been considered for treatment of inflammatory diseases in traditional oriental medicine. Genipin has recently been reported to have some pharmacological functions, such as antimicrobial, antitumor, and anti-inflammatory effects.
METHODS AND RESULTS:
The aim of this study was to examine whether genipin could modify matrix metalloproteinase (MMP)-1 and MMP-3, which are related to the destruction of periodontal tissues in periodontal lesion, expression in tumor necrosis factor (TNF)-α-stimulated human periodontal ligament cells (HPDLCs). Genipin prevented TNF-α-mediated MMP-1 and MMP-3 productions in HPDLCs. Moreover, genipin could suppress not only extracellular signal-regulated kinase (ERK) and Jun-N-terminal kinase (JNK) phosphorylations but also AMP-activated protein kinase (AMPK) phosphorylation in TNF-α-stimulated HPDLCs. Inhibitors of ERK and AMPK could inhibit both MMP-1 and MMP-3 productions. Moreover, we revealed the ERK inhibitor suppressed AMPK phosphorylation in TNF-α-stimulated HPDLCs.
CONCLUSIONS:
These data provide a new mechanism through which genipin could be used for the treatment of periodontal disease to prevent MMPs expression in periodontal lesion.
| | | | | | |
| --- | --- | --- | --- | --- | --- |
| | 1 mg | 5 mg | 10 mg | 20 mg | 25 mg |
| 1 mM | 4.4203 mL | 22.1014 mL | 44.2028 mL | 88.4056 mL | 110.507 mL |
| 5 mM | 0.8841 mL | 4.4203 mL | 8.8406 mL | 17.6811 mL | 22.1014 mL |
| 10 mM | 0.442 mL | 2.2101 mL | 4.4203 mL | 8.8406 mL | 11.0507 mL |
| 50 mM | 0.0884 mL | 0.442 mL | 0.8841 mL | 1.7681 mL | 2.2101 mL |
| 100 mM | 0.0442 mL | 0.221 mL | 0.442 mL | 0.8841 mL | 1.1051 mL |
* Note:
If you are in the process of experiment, it's need to make the dilution ratios of the samples. The dilution data of the sheet for your reference. Normally, it's can get a better solubility within lower of Concentrations.
部分图片展示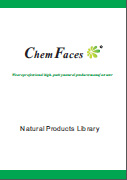 联系方式

电机:027-84237783
传真:027-84254680
在线QQ: 215959384
E-Mail:manager@chemfaces.com

湖北省武汉沌口经济技术开区车城南路83号1号楼第三层厂房