去水淫羊藿黄素; 脱水淫羊藿素
Icaritin
产品编号
CFN98527
CAS编号
118525-40-9
分子式 = 分子量
C21H20O6 = 368.38
产品纯度
>=98%
物理属性
Yellow powder
化合物类型
Flavonoids
植物来源
The roots of Epimedium brevicornu Maxim.
ChemFaces的产品在影响因子大于5的优秀和顶级科学期刊中被引用
| | | | | |
| --- | --- | --- | --- | --- |
| 产品名称 | 产品编号 | CAS编号 | 包装 | QQ客服 |
| 去水淫羊藿黄素; 脱水淫羊藿素 | CFN98527 | 118525-40-9 | 10mg | QQ客服:1457312923 |
| 去水淫羊藿黄素; 脱水淫羊藿素 | CFN98527 | 118525-40-9 | 20mg | QQ客服:1457312923 |
| 去水淫羊藿黄素; 脱水淫羊藿素 | CFN98527 | 118525-40-9 | 50mg | QQ客服:1457312923 |
| 去水淫羊藿黄素; 脱水淫羊藿素 | CFN98527 | 118525-40-9 | 100mg | QQ客服:1457312923 |
1. 在您收到产品后请检查产品。如无问题,请将产品存入冰霜并且样品瓶保持密封,产品可以存放长达24个月(2-8摄氏度)。

2. 只要有可能,产品溶解后,您应该在同一天应用于您的实验。 但是,如果您需要提前做预实验,或者需要全部溶解,我们建议您将溶液以等分试样的形式存放在-20℃的密封小瓶中。 通常,这些可用于长达两周。 使用前,打开样品瓶前,我们建议您将产品平衡至室温至少1小时。

3. 需要更多关于溶解度,使用和处理的建议? 请发送电子邮件至:service@chemfaces.com
订购流程
1. 在线订购
请联系我们QQ客服


2. 电话订购
请拨打电话:
027-84237683 或 027-84237783


3. 邮件或传真订购
发送电子邮件到: manager@chemfaces.com 或
发送传真到:027-84254680


提供订购信息
为了方便客户的订购,请需要订购ChemFaces产品的客户,在下单的时候请提供下列信息,以供我们快速为您建立发货信息。
1. 产品编号(CAS No.或产品名称)
2. 发货地址
3. 联系方法 (联系人,电话)
4. 开票抬头 (如果需要发票的客户)
5. 发票地址(发货地址与发票地址不同)
发货时间
1. 付款方式为100%预付款客户,我们将在确认收到货款后当天或1-3个工作日发货。

2. 付款方式为月结的客户,我们承诺在收到订单后当天或1-3个工作日内发货。

3. 如果客户所需要的产品,需要重新生产,我们有权告知客户,交货时间需要延期。
ChemFaces的产品在许多优秀和顶级科学期刊中被引用
我们的产品现已经出口到下面的研究机构与大学,并且还在增涨
University of Limpopo (South Africa)
Worcester Polytechnic Institute (USA)
University of East Anglia (United Kingdom)
University of Helsinki (Finland)
Northeast Normal University Changchun (China)
Utrecht University (Netherlands)
University of Perugia (Italy)
Seoul National University of Science and Technology (Korea)
Universidad Veracuzana (Mexico)
University of Fribourg (Switzerland)
University of South Australia (Australia)
Universidad Industrial de Santander (Colombia)
University Medical Center Mainz (Germany)
John Innes Centre (United Kingdom)
国外学术期刊发表的引用ChemFaces产品的部分文献
Description:
Icaritin, a potent inhibitor of transcription factor SREBPs, which exhibits a variety of biological activities, such as activation of cancer cell apoptosis and inhibition of growth, hormone regulation, protection against beta amyloid-induced neurotoxicity, and promotion of neuronal and cardiac cellular differentiation. Icaritin shows potent anti-leukemia activity on chronic myeloid leukemia in vitro and in vivo by regulating MAPK/ERK/JNK and JAK2/STAT3 /AKT signalings.
Targets:
IL Receptor | JAK | STAT | Bcl-2/Bax | Caspase | Estrogen receptor | JNK | ERK | Akt | p38MAPK | Bcr-Abl | Beta Amyloid | Progestogen receptor
In vitro:

Oncotarget. 2015 Apr 30;6(12):10460-72.
Icaritin suppresses multiple myeloma, by inhibiting IL-6/JAK2/STAT3.[Pubmed: 25865044]
Icaritin is an active prenylflavonoid derived from Epimedium genus, a traditional Chinese medicine. Icaritin has a wide range of pharmacological and biological activities, including cardiovascular function improvement, hormone regulation and antitumor activity.
METHODS AND RESULTS:
Here, we investigated the effect of icaritin on multiple myeloma (MM) in vitro and in vivo. Icaritin inhibited cell growth of MM cell line and primary MM cells. In contrast, icaritin had low or no cytotoxic effect on normal hematopoiesis. We also demonstrated that in MM xenograft mouse models, icaritin suppressed tumor growth and decreased serum IL-6 and IgE levels, but did not show adverse reactions such as body weight loss. The anti-MM activity of icaritin was mainly mediated by inhibiting IL-6/JAK2/STAT3 signaling.
CONCLUSIONS:
We suggest that icaritin can be further tested in clinical trials in MM.
Eur J Pharmacol. 2004 Nov 19;504(3):147-53.
Proliferation-stimulating effects of icaritin and desmethylicaritin in MCF-7 cells.[Pubmed: 15541416 ]
Icariin, Icaritin and desmethylIcaritin are constituents of Epimedium with a similar structure to genistein and daidzein.
CONCLUSIONS:
Using the modified MCF-7 cell proliferation assay (E-SCREEN assessment system), these compounds were tested for their estrogen-like activities. Icaritin and desmethylIcaritin, but not icariin, strongly stimulated the proliferation of MCF-7/BUS cells. Cell cycle analysis revealed that the proliferation stimulatory effect was associated with a marked increase in the number of MCF-7/BUS cells in S phase and a significant increase in the G2/M population, with effects similar to those of estradiol. These actions were dose dependent (range from 1 nM to 10 microM) and could be significantly inhibited by the specific estrogen receptor antagonist ICI 182,780 [7 alpha-[9(4,4,5,5,5-pentafluoropentyl)sulfinyl]nonyl)-estra-1,3,5(10)-triene-3,17beta-diol)]. The estrogen receptor-regulated progesterone receptor and PS2 mRNA levels were increased by treatment with Icaritin or desmethylIcaritin within 24 h and the effects were also reversed by ICI 182,780.
CONCLUSIONS:
It was concluded that Icaritin and desmethylIcaritin are novel phytoestrogens and that the estrogenic effects of Icaritin and desmethylIcaritin are mediated by the estrogen receptor.
Phytomedicine. 2014 Oct 15;21(12):1633-7.
Synergistic inhibitory effect of Icariside II with Icaritin from Herba Epimedii on pre-osteoclastic RAW264.7 cell growth.[Pubmed: 25442270]
Increasing evidence shows the therapeutic superiority of herbal extracts in comparison to isolated single constituents. One of the reasons may be attributed to the synergy effect of compound combinations. Flavonoids from Herba Epimedii have been shown to have therapeutic effect against bone loss. Our previous study showed that Icariside II inhibited pre-osteoclast RAW264.7 growth. The aim of this study was to investigate whether the activity of Icariside II is synergized by other components of Herba Epimedii.
METHODS AND RESULTS:
The inhibitory activity of Icariside II was significantly enhanced in the presence of the extract of Herba Epimedii (EHE) at the ratio of 1:1, 1:5 and 1:10. Icaritin, another flavonoid constituent, was shown here to inhibit RAW264.7 growth in a dose-dependent manner. Further, we found that Icariside II, together with Icaritin, synergistically inhibited RAW264.7 growth. The synergistic effect is significant when the ratio of Icariside II and Icaritin was 10:1, 5:1, 1:1, 1:2, and 1:5, respectively.
CONCLUSIONS:
In conclusion, Icaritin were an active component. The inhibitory activity of Icariside II on pre-osteoclast RAW264.7 growth was synergized by Icaritin, which maybe contribute to the efficiency of Herba Epimedii extract on curing bone-related diseases, such as osteoporosis.
| | | | | | |
| --- | --- | --- | --- | --- | --- |
| | 1 mg | 5 mg | 10 mg | 20 mg | 25 mg |
| 1 mM | 2.7146 mL | 13.5729 mL | 27.1459 mL | 54.2918 mL | 67.8647 mL |
| 5 mM | 0.5429 mL | 2.7146 mL | 5.4292 mL | 10.8584 mL | 13.5729 mL |
| 10 mM | 0.2715 mL | 1.3573 mL | 2.7146 mL | 5.4292 mL | 6.7865 mL |
| 50 mM | 0.0543 mL | 0.2715 mL | 0.5429 mL | 1.0858 mL | 1.3573 mL |
| 100 mM | 0.0271 mL | 0.1357 mL | 0.2715 mL | 0.5429 mL | 0.6786 mL |
* Note:
If you are in the process of experiment, it's need to make the dilution ratios of the samples. The dilution data of the sheet for your reference. Normally, it's can get a better solubility within lower of Concentrations.
部分图片展示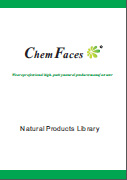 联系方式

电机:027-84237783
传真:027-84254680
在线QQ1: 2056216494 ; QQ2: 3257982914
E-Mail:manager@chemfaces.com

湖北省武汉沌口经济技术开区车城南路83号1号楼第三层厂房