2,5-二羟基苯甲酸
Gentisic acid
| | | | | |
| --- | --- | --- | --- | --- |
| 产品名称 | 产品编号 | CAS编号 | 包装 | QQ客服 |
| 2,5-二羟基苯甲酸 | CFN92451 | 490-79-9 | 10mg | QQ客服:3257982914 |
| 2,5-二羟基苯甲酸 | CFN92451 | 490-79-9 | 20mg | QQ客服:3257982914 |
| 2,5-二羟基苯甲酸 | CFN92451 | 490-79-9 | 50mg | QQ客服:3257982914 |
| 2,5-二羟基苯甲酸 | CFN92451 | 490-79-9 | 100mg | QQ客服:3257982914 |
1. 在您收到产品后请检查产品。如无问题,请将产品存入冰霜并且样品瓶保持密封,产品可以存放长达24个月(2-8摄氏度)。

2. 只要有可能,产品溶解后,您应该在同一天应用于您的实验。 但是,如果您需要提前做预实验,或者需要全部溶解,我们建议您将溶液以等分试样的形式存放在-20℃的密封小瓶中。 通常,这些可用于长达两周。 使用前,打开样品瓶前,我们建议您将产品平衡至室温至少1小时。

3. 需要更多关于溶解度,使用和处理的建议? 请发送电子邮件至:service@chemfaces.com
订购流程
1. 在线订购
请联系我们QQ客服


2. 电话订购
请拨打电话:
027-84237683 或 027-84237783


3. 邮件或传真订购
发送电子邮件到: manager@chemfaces.com 或
发送传真到:027-84254680


提供订购信息
为了方便客户的订购,请需要订购ChemFaces产品的客户,在下单的时候请提供下列信息,以供我们快速为您建立发货信息。
1. 产品编号(CAS No.或产品名称)
2. 发货地址
3. 联系方法 (联系人,电话)
4. 开票抬头 (如果需要发票的客户)
5. 发票地址(发货地址与发票地址不同)
发货时间
1. 付款方式为100%预付款客户,我们将在确认收到货款后当天或1-3个工作日发货。

2. 付款方式为月结的客户,我们承诺在收到订单后当天或1-3个工作日内发货。

3. 如果客户所需要的产品,需要重新生产,我们有权告知客户,交货时间需要延期。
ChemFaces的产品在许多优秀和顶级科学期刊中被引用
我们的产品现已经出口到下面的研究机构与大学,并且还在增涨
Utrecht University (Netherlands)
Uniwersytet Jagielloński w Krakowie (Poland)
Korea Intitute of Science and Technology (KIST) (Korea)
University of Illinois (USA)
Universiti Malaysia Pahang (Malaysia)
Shanghai University of TCM (China)
Northeast Normal University Changchun (China)
Nicolaus Copernicus Uniwersity (Poland)
Rio de Janeiro State University (Brazil)
S.N.D.T. Women's University (India)
Instytut Nawozów Sztucznych w Pu?awach (Poland)
Chulalongkorn University (Thailand)
Harvard University (USA)
Johannes Gutenberg University Mainz (JGU) (Germany)
国外学术期刊发表的引用ChemFaces产品的部分文献
Description:
Gentisic acid, an active metabolite of salicylic acid degradation, has a broad spectrum of biological activity, such as antibiotic, anti-inflammatory, antirheumatic and antioxidant properties; it also has antimutagenic/protective effects that may contribute to human health. Gentisic acid has protective effect against cyclophosphamide induced genotoxicity and hepatotoxicity in Swiss albino mice.
Targets:
LDL | Immunology & Inflammation related
In vitro:

Drug Chem Toxicol. 2017 May 16:1-7.
Cytotoxicity, mutagenicity, and antimutagenicity of the gentisic acid on HTC cells.[Pubmed: 28511592 ]
Gentisic acid (GA) exhibits antioxidant, anti-inflammatory, and antibiotic activities. This substance can be found in citrus fruits, grapes, olive oil, and peas.
METHODS AND RESULTS:
Considering that there are few studies in the literature on the toxicity of GA, the present work aimed to investigate its cytotoxic, mutagenic, and antimutagenic activities on HTC cells. GA was diluted in culture medium at the final concentration of 0.08, 0.16, 0.8, 1.6, and 8 μg/mL. The cytotoxicity was determined by the MTT assay and Trypan Blue exclusion method, with methyl methanesulfonate and doxorubicin as positive controls, respectively. The cytokinesis-block micronucleus assay determined the mutagenic/antimutagenic activity with benzo[a]pyrene as positive control. Negative control received culture medium only. GA (0.08-8 μg/mL) was not cytotoxic to HTC cells by the MTT assay nor the Trypan Blue exclusion method as no statistical difference was observed when compared to the control. Concentration of 0.08 and 0.8 μg/mL showed no mutagenic or clastogenic effects, as no significant micronuclei inductions were observed, different from 8 μg/mL, that was mutagenic. Furthermore, none of the concentrations presented an antiproliferative activity. The antimutagenic activity of GA (0.08 μg/mL) was observed at the simultaneous treatment, as it reduced the frequency of micronuclei by 76% (24 h) and 79% (48 h). Although pre- and post-treatments were not statistically different from the mutagen, they reduced the induced-damage by 11% and 21%, respectively.
CONCLUSIONS:
The present study indicated the absence of cytotoxicity and antiproliferative activities of GA, in addition to their antimutagenic/protective effects that may contribute to human health.
Eur J Pharmacol. 2005 Apr 25;513(3):173-9.
Gentisic acid, an aspirin metabolite, inhibits oxidation of low-density lipoprotein and the formation of cholesterol ester hydroperoxides in human plasma.[Pubmed: 15862799]
Gentisic acid, an aspirin metabolite, has an antioxidant effect, although its detailed mechanism remains elusive.
METHODS AND RESULTS:
The present study was designed to determine whether it inhibits low-density lipoprotein (LDL) oxidation and the formation of lipid hydroperoxides in human plasma. The susceptibility of LDL oxidative modification was investigated by a method using 2,2'-azobis or Cu2+. To study the effect of gentisic acid on free radical-induced damage to plasma lipids, cholesterol ester hydroperoxides generated by incubating human fresh plasma with Cu2+ and gentisic acid was analyzed. Gentisic acid inhibited LDL oxidation in a concentration-dependent manner. It significantly inhibited the formation of cholesterol ester hydroperoxides in plasma, and was consumed after the depletion of ascorbic acid and reduced form of coenzyme Q-10 (CoQH2-10), whereas concentrations of other antioxidants remained unchanged.
CONCLUSIONS:
Gentisic acid had a potent free radical scavenging activity with a minimal chelating effect. The potent antioxidant property of gentisic acid may partly account for the anti-atherogenic effects of aspirin.
| | | | | | |
| --- | --- | --- | --- | --- | --- |
| | 1 mg | 5 mg | 10 mg | 20 mg | 25 mg |
| 1 mM | 6.4893 mL | 32.4465 mL | 64.8929 mL | 129.7859 mL | 162.2323 mL |
| 5 mM | 1.2979 mL | 6.4893 mL | 12.9786 mL | 25.9572 mL | 32.4465 mL |
| 10 mM | 0.6489 mL | 3.2446 mL | 6.4893 mL | 12.9786 mL | 16.2232 mL |
| 50 mM | 0.1298 mL | 0.6489 mL | 1.2979 mL | 2.5957 mL | 3.2446 mL |
| 100 mM | 0.0649 mL | 0.3245 mL | 0.6489 mL | 1.2979 mL | 1.6223 mL |
* Note:
If you are in the process of experiment, it's need to make the dilution ratios of the samples. The dilution data of the sheet for your reference. Normally, it's can get a better solubility within lower of Concentrations.
部分图片展示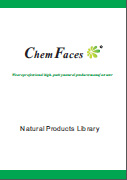 联系方式

电机:027-84237783
传真:027-84254680
在线QQ: 215959384
E-Mail:manager@chemfaces.com

湖北省武汉沌口经济技术开区车城南路83号1号楼第三层厂房