麦角固醇; 麦角甾醇
Ergosterol
产品编号
CFN98980
CAS编号
57-87-4
分子式 = 分子量
C28H44O = 396.7
产品纯度
>=98%
物理属性
Powder
化合物类型
Steroids
植物来源
The endophytic fungus of Ocimum basilicum.
ChemFaces的产品在影响因子大于5的优秀和顶级科学期刊中被引用
| | | | | |
| --- | --- | --- | --- | --- |
| 产品名称 | 产品编号 | CAS编号 | 包装 | QQ客服 |
| 麦角固醇; 麦角甾醇 | CFN98980 | 57-87-4 | 10mg | QQ客服:215959384 |
| 麦角固醇; 麦角甾醇 | CFN98980 | 57-87-4 | 20mg | QQ客服:215959384 |
| 麦角固醇; 麦角甾醇 | CFN98980 | 57-87-4 | 50mg | QQ客服:215959384 |
| 麦角固醇; 麦角甾醇 | CFN98980 | 57-87-4 | 100mg | QQ客服:215959384 |
1. 在您收到产品后请检查产品。如无问题,请将产品存入冰霜并且样品瓶保持密封,产品可以存放长达24个月(2-8摄氏度)。

2. 只要有可能,产品溶解后,您应该在同一天应用于您的实验。 但是,如果您需要提前做预实验,或者需要全部溶解,我们建议您将溶液以等分试样的形式存放在-20℃的密封小瓶中。 通常,这些可用于长达两周。 使用前,打开样品瓶前,我们建议您将产品平衡至室温至少1小时。

3. 需要更多关于溶解度,使用和处理的建议? 请发送电子邮件至:service@chemfaces.com
订购流程
1. 在线订购
请联系我们QQ客服


2. 电话订购
请拨打电话:
027-84237683 或 027-84237783


3. 邮件或传真订购
发送电子邮件到: manager@chemfaces.com 或
发送传真到:027-84254680


提供订购信息
为了方便客户的订购,请需要订购ChemFaces产品的客户,在下单的时候请提供下列信息,以供我们快速为您建立发货信息。
1. 产品编号(CAS No.或产品名称)
2. 发货地址
3. 联系方法 (联系人,电话)
4. 开票抬头 (如果需要发票的客户)
5. 发票地址(发货地址与发票地址不同)
发货时间
1. 付款方式为100%预付款客户,我们将在确认收到货款后当天或1-3个工作日发货。

2. 付款方式为月结的客户,我们承诺在收到订单后当天或1-3个工作日内发货。

3. 如果客户所需要的产品,需要重新生产,我们有权告知客户,交货时间需要延期。
ChemFaces的产品在许多优秀和顶级科学期刊中被引用
我们的产品现已经出口到下面的研究机构与大学,并且还在增涨
Utah State University (USA)
Ateneo de Manila University (Philippines)
Harvard University (USA)
John Innes Centre (United Kingdom)
Chang Gung University (Taiwan)
University of Padjajaran (Indonesia)
University of Hertfordshire (United Kingdom)
Heinrich-Heine-University Düsseldorf (Germany)
Martin Luther University of Halle-Wittenberg (Germany)
Instituto Politécnico de Bragan?a (Portugal)
Imperial College London (United Kingdom)
Universite Libre de Bruxelles (Belgium)
University Medical Center Mainz (Germany)
University of Eastern Finland (Finland)
国外学术期刊发表的引用ChemFaces产品的部分文献
Description:
Ergosterol is the primary sterol found in fungi, with antioxidative, anti-proliferative, and anti-inflammatory effects, ergosterol peroxide has the potential to be developed as a therapeutic agent to prevent renal fibrosis. Ergosterol can promote pheromone signaling and plasma membrane fusion in mating yeast, the critical requirement for ergosterol in V-ATPase function may underlie the antifungal activity of azoles.
Targets:
TGF-β/Smad | ERK | p38MAPK | JNK | ATPase | Calcium Channel | Antifection
In vitro:

Phytomedicine. 2014 Feb 15;21(3):372-8.
Ergosterol peroxide from Cordyceps cicadae ameliorates TGF-β1-induced activation of kidney fibroblasts.[Pubmed: 24095053]
Chronic kidney disease is a growing public health problem with an urgent need for new pharmacological agents. Ergosterol peroxide (EP) is the major sterol produced by Cordyceps cicadae Shing (C. cicadae), a widely used traditional Chinese medicine. C. cicadae has been used to treat many kinds of diseases and has a potential benefit on renoprotection. This study aimed to investigate the anti-fibrotic effects of EP as well as the underlying mechanisms.
METHODS AND RESULTS:
A normal rat kidney fibroblast cell line (NRK-49F) was stimulated to undergo fibroblast activation by transforming growth factor-β1 (TGF-β1) and EP treatment was applied to explore its potential anti-fibrotic effects. Cell proliferation was investigated using MTT analysis. Fibrosis-associated protein expression was analyzed using immunohistochemistry and/or Western blotting. EP treatment attenuated TGF-β1-induced renal fibroblast proliferation, expression of cytoskeleton protein and CTGF, as well as ECM production. Additionally, EP blocked TGF-β1-stimulated phosphorylation of ERK1/2, p38 and JNK pathway. Moreover, the TGF-β1-induced expression of fibronectin was attenuated by either inhibition of MAPKs or by EP treatment.
CONCLUSIONS:
In conclusion, our findings demonstrate that EP is able to suppress TGF-β1-induced fibroblasts activation in NRK-49F. This new information provides a line of theoretical evidence supporting the use of C. cicadae in the intervention of kidney disease and suggests that EP has the potential to be developed as a therapeutic agent to prevent renal fibrosis.
BMC Complement Altern Med. 2013 Sep 17;13:229.
Trans-chalcone and quercetin down-regulate fatty acid synthase gene expression and reduce ergosterol content in the human pathogenic dermatophyte Trichophyton rubrum.[Pubmed: 24044691]
Fatty acid synthase (FAS) is a promising antifungal target due to its marked structural differences between fungal and mammalian cells. The aim of this study was to evaluate the antifungal activity of flavonoids described in the scientific literature as FAS inhibitors (quercetin, trans-chalcone, ellagic acid, luteolin, galangin, and genistein) against the dermatophyte Trichophyton rubrum and their effects on fatty acid and ergosterol synthesis.
METHODS AND RESULTS:
The antifungal activity of the natural products was tested by the microdilution assay for determination of the minimum inhibitory concentration (MIC). The effect of the compounds on the cell membrane was evaluated using a protoplast regeneration assay. Ergosterol content was quantified by spectrophotometry. Inhibition of FAS by flavonoids was evaluated by an enzymatic assay to determine IC50 values. Quantitative RT-PCR was used to measure transcription levels of the FAS1 and ERG6 genes involved in fatty acid and ergosterol biosynthesis, respectively, during exposure of T. rubrum to the flavonoids tested. The flavonoids quercetin and trans-chalcone were effective against T. rubrum, with MICs of 125 and 7.5 μg/mL for the wild-type strain (MYA3108) and of 63 and 1.9 μg/mL for the ABC transporter mutant strain (ΔTruMDR2), respectively. The MICs of the fluconazole and cerulenin controls were 63 and 125 μg/mL for the wild-type strain and 30 and 15 μg/mL for the mutant strain, respectively. Quercetin and trans-chalcone also reduced ergosterol content in the two strains, indicating that interference with fatty acid and ergosterol synthesis caused cell membrane disruption. The MIC of quercetin reduced the number of regenerated protoplasts by 30.26% (wild-type strain) and by 91.66% (mutant strain). Half the MIC (0.5 MIC) of quercetin did not reduce the number of regenerated wild-type fungal colonies, but caused a 36.19% reduction in the number of mutant strain protoplasts. In contrast, the MIC and 0.5 MIC of trans-chalcone and cerulenin drastically reduced protoplast regeneration in the two strains. The FAS1 gene was repressed in the presence of MICs of quercetin, trans-chalcone, fluconazole and cerulenin. The ERG6 gene was induced in the presence of MICs of fluconazole and cerulenin and was repressed in the presence of MICs of trans-chalcone and quercetin. Trans-chalcone and quercetin inhibited the enzymatic activity of FAS, with IC50 values of 68.23 and 17.1 μg/mL, respectively.
CONCLUSIONS:
Trans-chalcone and quercetin showed antifungal activity against T. rubrum, reducing ergosterol levels and modulating the expression of FAS1 and ERG6.
J Microbiol Methods. 2004 Nov;59(2):253-62.
Ergosterol as a measure of living fungal biomass: persistence in environmental samples after fungal death.[Pubmed: 15369861 ]
The membrane lipid ergosterol is found almost exclusively in fungi, and is frequently used by environmental microbiologists as an indicator of living fungal biomass, based on the assumption that ergosterol is labile, and therefore rapidly degraded after the death of fungal hyphae.
METHODS AND RESULTS:
We studied the degradation of ergosterol in environmental samples without living fungi. Under the conditions used in this study, ergosterol was very stable both when added as a pure compound and when associated with dead fungi. The decrease of ergosterol was at most 34% during 2 months when protected from sunlight. Presence of a natural bacterial assemblage did not enhance degradation over this time period, as compared to sterile controls. However, photochemical degradation was significant, and led to a 43% decrease of in ergosterol content during 24 h.
CONCLUSIONS:
These results suggest that ergosterol should be used cautiously as a biomarker for living fungi.

In vivo:

PLoS Pathog. 2010 Jun 3;6(6):e1000939.
Requirement for ergosterol in V-ATPase function underlies antifungal activity of azole drugs.[Pubmed: 20532216]
Ergosterol is an important constituent of fungal membranes. Azoles inhibit ergosterol biosynthesis, although the cellular basis for their antifungal activity is not understood. We used multiple approaches to demonstrate a critical requirement for ergosterol in vacuolar H(+)-ATPase function, which is known to be essential for fungal virulence.
METHODS AND RESULTS:
Ergosterol biosynthesis mutants of S. cerevisiae failed to acidify the vacuole and exhibited multiple vma(-) phenotypes. Extraction of ergosterol from vacuolar membranes also inactivated V-ATPase without disrupting membrane association of its subdomains. In both S. cerevisiae and the fungal pathogen C. albicans, fluconazole impaired vacuolar acidification, whereas concomitant ergosterol feeding restored V-ATPase function and cell growth. Furthermore, fluconazole exacerbated cytosolic Ca(2+) and H(+) surges triggered by the antimicrobial agent amiodarone, and impaired Ca(2+) sequestration in purified vacuolar vesicles. These findings provide a mechanistic basis for the synergy between azoles and amiodarone observed in vitro. Moreover, we show the clinical potential of this synergy in treatment of systemic fungal infections using a murine model of Candidiasis.
CONCLUSIONS:
In summary, we demonstrate a new regulatory component in fungal V-ATPase function, a novel role for ergosterol in vacuolar ion homeostasis, a plausible cellular mechanism for azole toxicity in fungi, and preliminary in vivo evidence for synergism between two antifungal agents. New insights into the cellular basis of azole toxicity in fungi may broaden therapeutic regimens for patient populations afflicted with systemic fungal infections.
| | | | | | |
| --- | --- | --- | --- | --- | --- |
| | 1 mg | 5 mg | 10 mg | 20 mg | 25 mg |
| 1 mM | 2.5208 mL | 12.604 mL | 25.208 mL | 50.4159 mL | 63.0199 mL |
| 5 mM | 0.5042 mL | 2.5208 mL | 5.0416 mL | 10.0832 mL | 12.604 mL |
| 10 mM | 0.2521 mL | 1.2604 mL | 2.5208 mL | 5.0416 mL | 6.302 mL |
| 50 mM | 0.0504 mL | 0.2521 mL | 0.5042 mL | 1.0083 mL | 1.2604 mL |
| 100 mM | 0.0252 mL | 0.126 mL | 0.2521 mL | 0.5042 mL | 0.6302 mL |
* Note:
If you are in the process of experiment, it's need to make the dilution ratios of the samples. The dilution data of the sheet for your reference. Normally, it's can get a better solubility within lower of Concentrations.
部分图片展示
| | | | | | |
| --- | --- | --- | --- | --- | --- |
| 产品名称 | 产品编号 | CAS编号 | 分子式 = 分子量 | 位单 | 联系QQ |
| (14beta,22E)-8,14-环氧基麦角甾-4,22-二烯-3,6-二酮; 8,14-Epoxyergosta-4,22-diene-3,6-dione | CFN97834 | 1265908-20-0 | C28H40O3 = 424.62 | 5mg | QQ客服:2159513211 |
| 3,5-环麦角甾烷-6,8(14),22-三烯; 3,5-Cycloergosta-6,8(14),22-triene | CFN98257 | 24352-51-0 | C28H42 = 378.6 | 5mg | QQ客服:3257982914 |
| 5,8-Epidioxyergosta-6,9(11),22-trien-3-ol; 5,8-Epidioxyergosta-6,9(11),22-trien-3-ol | CFN93118 | 86363-50-0 | C28H42O3 = 426.63 | 5mg | QQ客服:1413575084 |
| 过氧麦角甾醇; Ergosterol peroxide | CFN98035 | 2061-64-5 | C28H44O3 = 428.7 | 5mg | QQ客服:2932563308 |
| 过氧麦角甾醇 3-O-beta-D-吡喃葡萄糖苷; Ergosterol peroxide glucoside | CFN99458 | 140447-22-9 | C34H54O8 = 590.8 | 5mg | QQ客服:2159513211 |
| 表油菜素内酯; Epibrassinolide | CFN80268 | 72962-43-7 | C28H48O6 = 480.34 | 5mg | QQ客服:2159513211 |
| 菜油甾醇; Campesterol | CFN92204 | 474-62-4 | C28H48O = 400.7 | 10mg | QQ客服:3257982914 |
| 菜籽甾醇; Brassicasterol | CFN90471 | 474-67-9 | C28H46O = 398.66 | 5mg | QQ客服:3257982914 |
| 星鱼甾醇; Stellasterol | CFN98267 | 2465-11-4 | C28H46O = 398.7 | 10mg | QQ客服:215959384 |
| 麦角甾-7,22-二烯-3-酮; Ergosta-7,22-dien-3-one | CFN96785 | 32507-77-0 | C28H44O = 396.65 | 5mg | QQ客服:3257982914 |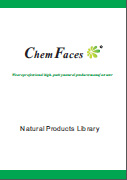 联系方式

电机:027-84237783
传真:027-84254680
在线QQ: 215959384
E-Mail:manager@chemfaces.com

湖北省武汉沌口经济技术开区车城南路83号1号楼第三层厂房