大蒜素
Allicin
| | | | | |
| --- | --- | --- | --- | --- |
| 产品名称 | 产品编号 | CAS编号 | 包装 | QQ客服 |
| 大蒜素 | CFN90201 | 539-86-6 | 10mg | QQ客服:3257982914 |
| 大蒜素 | CFN90201 | 539-86-6 | 20mg | QQ客服:3257982914 |
| 大蒜素 | CFN90201 | 539-86-6 | 50mg | QQ客服:3257982914 |
| 大蒜素 | CFN90201 | 539-86-6 | 100mg | QQ客服:3257982914 |
1. 在您收到产品后请检查产品。如无问题,请将产品存入冰霜并且样品瓶保持密封,产品可以存放长达24个月(2-8摄氏度)。

2. 只要有可能,产品溶解后,您应该在同一天应用于您的实验。 但是,如果您需要提前做预实验,或者需要全部溶解,我们建议您将溶液以等分试样的形式存放在-20℃的密封小瓶中。 通常,这些可用于长达两周。 使用前,打开样品瓶前,我们建议您将产品平衡至室温至少1小时。

3. 需要更多关于溶解度,使用和处理的建议? 请发送电子邮件至:service@chemfaces.com
订购流程
1. 在线订购
请联系我们QQ客服


2. 电话订购
请拨打电话:
027-84237683 或 027-84237783


3. 邮件或传真订购
发送电子邮件到: manager@chemfaces.com 或
发送传真到:027-84254680


提供订购信息
为了方便客户的订购,请需要订购ChemFaces产品的客户,在下单的时候请提供下列信息,以供我们快速为您建立发货信息。
1. 产品编号(CAS No.或产品名称)
2. 发货地址
3. 联系方法 (联系人,电话)
4. 开票抬头 (如果需要发票的客户)
5. 发票地址(发货地址与发票地址不同)
发货时间
1. 付款方式为100%预付款客户,我们将在确认收到货款后当天或1-3个工作日发货。

2. 付款方式为月结的客户,我们承诺在收到订单后当天或1-3个工作日内发货。

3. 如果客户所需要的产品,需要重新生产,我们有权告知客户,交货时间需要延期。
ChemFaces的产品在许多优秀和顶级科学期刊中被引用
我们的产品现已经出口到下面的研究机构与大学,并且还在增涨
University of Wollongong (Australia)
Centralised Purchases Unit (CPU), B.I.T.S (India)
Instituto de Investigaciones Agropecuarias (Chile)
Instytut Nawozów Sztucznych w Pu?awach (Poland)
University of Lodz (Poland)
Research Unit Molecular Epigenetics (MEG) (Germany)
Florida International University (USA)
University of Toronto (Canada)
Sri Ramachandra University (India)
Subang Jaya Medical Centre (Malaysia)
Seoul National University (Korea)
Universidad de La Salle (Mexico)
University of Vigo (Spain)
National Cancer Center Research Institute (Japan)
国外学术期刊发表的引用ChemFaces产品的部分文献
Description:
Allicin exerts antioxidant, bactericidal, anti-cancer, anti-inflammatory activities, it exerts an inhibitory immunomodulatory effect on intestinal epithelial cells. Allicin could significantly inhibit vascular smooth muscle cells' proliferation and migration induced by insulin, which may be related to the inhibition of the activation of ERK signal path. Allicin is beneficial in reducing blood cholesterol, triglycerides levels and systolic blood pressure in hypercholesterolemic rats, it may beneficially affect two risk factors for atherosclerosis–hyperlipidemia and hypertension.
Targets:
ROS | ERK | p38MAPK | Caspase | IL Receptor | TNF-α | IkB | Antifection | IKK
In vitro:

Int J Food Sci Nutr. 2014 Nov;65(7):868-73.
Allicin protects rat cardiomyoblasts (H9c2 cells) from hydrogen peroxide-induced oxidative injury through inhibiting the generation of intracellular reactive oxygen species.[Pubmed: 24945597]
Oxidative stress is considered an important factor that promotes cell death in response to a variety of pathophysiological conditions. This study investigated the antioxidant properties of Allicin, the principle ingredient of garlic, on preventing oxidative stress-induced injury.
METHODS AND RESULTS:
The antioxidant capacities of Allicin were measured by using 1-diphenyl-2-picrylhydrazyl (DPPH) free radical scavenging assay and hydrogen peroxide (H(2)O(2))-induced cell damage on H9c2 cardiomyoblasts. Allicin (0.3-10 μM) pre-incubation could concentration-dependently attenuate the intracellular reactive oxygen species (ROS) increase induced by H(2)O(2) on H9c2 cells. It could also protect H9c2 cells against H(2)O(2)-induced cell damage. However, the DPPH free radical scavenging activity of Allicin was shown to be low.
CONCLUSIONS:
Therefore, it is believed that the protective effect of Allicin on H9c2 cells could inhibit intracellular ROS production instead of scavenging extracellular H(2)O(2) or free radicals. For the observed protective effect on H9c2 cells, Allicin might also be effective in reducing free radical-induced myocardial cell death in ischemic condition.
Food Sci Nutr. 2015 Mar;3(2):158-68.
Analyzing the antibacterial effects of food ingredients: model experiments with allicin and garlic extracts on biofilm formation and viability of Staphylococcus epidermidis.[Pubmed: 25838894]
To demonstrate different effects of garlic extracts and their main antibiotic substance Allicin, as a template for investigations on the antibacterial activity of food ingredients.
METHODS AND RESULTS:
Staphylococcus epidermidis ATCC 12228 and the isogenic biofilm-forming strain ATCC 35984 were used to compare the activity of Allicin against planktonic bacteria and bacterial biofilms. The minimal inhibitory concentration (MIC) and the minimum biofilm inhibitory concentration (MBIC) for pure Allicin were identical and reached at a concentration of 12.5 μg/mL. MBICs for standardized garlic extracts were significantly lower, with 1.56 and 0.78 μg/mL Allicin for garlic water and ethanol extract, respectively. Biofilm density was impaired significantly at a concentration of 0.78 μg/mL Allicin. Viability staining followed by confocal laser scanning microscopy showed, however, a 100% bactericidal effect on biofilm-embedded bacteria at a concentration of 3.13 μg/mL Allicin. qRT-PCR analysis provided no convincing evidence for specific effects of Allicin on biofilm-associated genes.
CONCLUSIONS:
Extracts of fresh garlic are more potent inhibitors of Staphylococcus epidermidis biofilms than pure Allicin, but Allicin exerts a unique bactericidal effect on biofilm-embedded bacteria. The current experimental protocol has proven to be a valid approach to characterize the antimicrobial activity of traditional food ingredients.
FEMS Microbiol Lett. 2015 May;362(9). pii: fnv049.
Allicin from garlic inhibits the biofilm formation and urease activity of Proteus mirabilis in vitro.[Pubmed: 25837813 ]
Several virulence factors contribute to the pathogenesis of Proteus mirabilis.
METHODS AND RESULTS:
This study determined the inhibitory effects of Allicin on urease, hemolysin and biofilm of P. mirabilis ATCC 12453 and its antimicrobial activity against 20 clinical isolates of P. mirabilis. Allicin did not inhibit hemolysin, whereas it did inhibit relative urease activity in both pre-lysed (half-maximum inhibitory concentration, IC50 = 4.15 μg) and intact cells (IC50 = 21 μg) in a concentration-dependent manner. Allicin at sub-minimum inhibitory concentrations (2-32 μg mL(-1)) showed no significant effects on the growth of the bacteria (P > 0.05), but it reduced biofilm development in a concentration-dependent manner (P < 0.001). A higher concentration of Allicin was needed to inhibit the established biofilms. Using the microdilution technique, the MIC90 and MBC90 values of Allicin against P. mirabilis isolates were determined to be 128 and 512 μg mL(-1), respectively.
CONCLUSIONS:
The results suggest that Allicin could have clinical applications in controlling P. mirabilis infections.
Antimicrob Agents Chemother. 1997 Oct;41(10):2286-8.
Allicin from garlic strongly inhibits cysteine proteinases and cytopathic effects of Entamoeba histolytica.[Pubmed: 9333064 ]

METHODS AND RESULTS:
The ability of Entamoeba histolytica trophozoites to destroy monolayers of baby hamster kidney cells is inhibited by allicin, one of the active principles of garlic. Cysteine proteinases, an important contributor to amebic virulence, as well as alcohol dehydrogenase, are strongly inhibited by allicin.

In vivo:

Pharm Biol. 2014 Aug;52(8):1009-14.
Allicin enhances chemotherapeutic response and ameliorates tamoxifen-induced liver injury in experimental animals.[Pubmed: 24646302]
Tamoxifen (TAM) is widely used for treatment of hormone-dependent breast cancer; however, it may be accompanied with hepatic injury. Allicin is the most abundant thiosulfinate molecule from garlic with the potential to provide beneficial effects on various diseases. To elucidate the effect of commercially available Allicin on both antitumor activity and liver injury of TAM.
METHODS AND RESULTS:
The cytotoxicity of TAM and/or Allicin was evaluated in vitro using cultured Ehrlich ascites carcinoma (EAC) cells and in vivo against murine tumor (solid) model of EAC. TAM induced liver injury in rats by intraperitoneally (i.p.) injection at a dose of 45 mg/kg, for 7 successive days. TAM at a dose of 3 µM (IC50) significantly decreased percent survival of EAC to 52%. TAM combination with Allicin (5 or 10 µM) showed a significant cytotoxic effect compared with the TAM-treated group as manifested by a decrease in percent survival of EAC to 35% and 29%, respectively. Allicin (10 mg/kg, orally) enhanced the efficacy of TAM (1 mg/kg, i.p.) in mice as manifested by a significant increase in solid tumor growth inhibition by 82% compared with 70% in the TAM group. In rats, TAM intoxication resulted in a significant decline in SOD, GSH, and total protein with significant elevation in TBARS, ALT and AST, ALP, LDH, total bilirubin, γGT, and TNF-α levels. These changes are abrogated by Allicin treatment.
CONCLUSIONS:
The results suggest the beneficial role of Allicin as an adjuvant to TAM in cancer treatment by alleviating liver injury.
J Med Food. 2006 Summer;9(2):205-13.
The antioxidant properties of garlic compounds: allyl cysteine, alliin, allicin, and allyl disulfide.[Pubmed: 16822206 ]
Garlic and garlic extracts, through their antioxidant activities, have been reported to provide protection against free radical damage in the body.
METHODS AND RESULTS:
This study investigated antioxidant properties of garlic compounds representing the four main chemical classes, alliin, allyl cysteine, allyl disulfide, and Allicin, prepared by chemical synthesis or purification. Alliin scavenged superoxide, while allyl cysteine and allyl disulfide did not react with superoxide. Allicin suppressed the formation of superoxide by the xanthine/xanthine oxidase system, probably via a thiol exchange mechanism. Alliin, allyl cysteine, and allyl disulfide all scavenged hydroxyl radicals; the rate constants calculated based on deoxyribose competitive assay were 1.4-1.7 x 10(10), 2.1-2.2 x 10(9), and 0.7-1.5 x 10(10) M (1) second(1), respectively. Contrary to previous reports, Allicin did not exhibit hydroxyl radical scavenging activity in this study. Alliin, Allicin, and allyl cysteine did not prevent induced microsomal lipid peroxidation, but both alliin and allyl cysteine were hydroxyl scavengers, and allyl disulfide was a lipid peroxidation terminator.
CONCLUSIONS:
In summary, our findings indicated that allyl disulfide, alliin, Allicin, and allyl cysteine exhibit different patterns of antioxidant activities as protective compounds against free radical damage.
| | | | | | |
| --- | --- | --- | --- | --- | --- |
| | 1 mg | 5 mg | 10 mg | 20 mg | 25 mg |
| 1 mM | 6.1626 mL | 30.8128 mL | 61.6257 mL | 123.2514 mL | 154.0642 mL |
| 5 mM | 1.2325 mL | 6.1626 mL | 12.3251 mL | 24.6503 mL | 30.8128 mL |
| 10 mM | 0.6163 mL | 3.0813 mL | 6.1626 mL | 12.3251 mL | 15.4064 mL |
| 50 mM | 0.1233 mL | 0.6163 mL | 1.2325 mL | 2.465 mL | 3.0813 mL |
| 100 mM | 0.0616 mL | 0.3081 mL | 0.6163 mL | 1.2325 mL | 1.5406 mL |
* Note:
If you are in the process of experiment, it's need to make the dilution ratios of the samples. The dilution data of the sheet for your reference. Normally, it's can get a better solubility within lower of Concentrations.
部分图片展示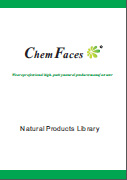 联系方式

电机:027-84237783
传真:027-84254680
在线QQ: 215959384
E-Mail:manager@chemfaces.com

湖北省武汉沌口经济技术开区车城南路83号1号楼第三层厂房