紫草素
Shikonine
产品编号
CFN92622
CAS编号
517-89-5
分子式 = 分子量
C16H16O5 = 288.3
产品纯度
>=98%
物理属性
Powder
化合物类型
Quinones
植物来源
The roots of Lithosperraum erythrorhizon Sieb. et Zucc.
ChemFaces的产品在影响因子大于5的优秀和顶级科学期刊中被引用
| | | | | |
| --- | --- | --- | --- | --- |
| 产品名称 | 产品编号 | CAS编号 | 包装 | QQ客服 |
| 紫草素 | CFN92622 | 517-89-5 | 10mg | QQ客服:2932563308 |
| 紫草素 | CFN92622 | 517-89-5 | 20mg | QQ客服:2932563308 |
| 紫草素 | CFN92622 | 517-89-5 | 50mg | QQ客服:2932563308 |
| 紫草素 | CFN92622 | 517-89-5 | 100mg | QQ客服:2932563308 |
1. 在您收到产品后请检查产品。如无问题,请将产品存入冰霜并且样品瓶保持密封,产品可以存放长达24个月(2-8摄氏度)。

2. 只要有可能,产品溶解后,您应该在同一天应用于您的实验。 但是,如果您需要提前做预实验,或者需要全部溶解,我们建议您将溶液以等分试样的形式存放在-20℃的密封小瓶中。 通常,这些可用于长达两周。 使用前,打开样品瓶前,我们建议您将产品平衡至室温至少1小时。

3. 需要更多关于溶解度,使用和处理的建议? 请发送电子邮件至:service@chemfaces.com
订购流程
1. 在线订购
请联系我们QQ客服


2. 电话订购
请拨打电话:
027-84237683 或 027-84237783


3. 邮件或传真订购
发送电子邮件到: manager@chemfaces.com 或
发送传真到:027-84254680


提供订购信息
为了方便客户的订购,请需要订购ChemFaces产品的客户,在下单的时候请提供下列信息,以供我们快速为您建立发货信息。
1. 产品编号(CAS No.或产品名称)
2. 发货地址
3. 联系方法 (联系人,电话)
4. 开票抬头 (如果需要发票的客户)
5. 发票地址(发货地址与发票地址不同)
发货时间
1. 付款方式为100%预付款客户,我们将在确认收到货款后当天或1-3个工作日发货。

2. 付款方式为月结的客户,我们承诺在收到订单后当天或1-3个工作日内发货。

3. 如果客户所需要的产品,需要重新生产,我们有权告知客户,交货时间需要延期。
ChemFaces的产品在许多优秀和顶级科学期刊中被引用
我们的产品现已经出口到下面的研究机构与大学,并且还在增涨
Uniwersytet Medyczny w ?odzi (Poland)
Instytut Nawozów Sztucznych w Pu?awach (Poland)
Uniwersytet Jagielloński w Krakowie (Poland)
Shanghai Institute of Biochemistry and Cell Biology (China)
Srinakharinwirot University (Thailand)
Universidade de Franca (Brazil)
Osmania University (India)
Julius Kühn-Institut (Germany)
Harvard University (USA)
Tohoku University (Japan)
Chinese University of Hong Kong (China)
Istanbul University (Turkey)
Chiang Mai University (Thailand)
University of Malaya (Malaysia)
国外学术期刊发表的引用ChemFaces产品的部分文献
Description:
Shikonin(Shikonine), a potent and specific Pyruvate kinase M2 (PKM2) inhibitor, has antibacterial, antitumor, and anti-inflammatory effects, it provides neuroprotection by reducing the release of various proinflammatory molecules from activated microglia. Shikonin can inhibit VEGF-induced angiogenesis and suppress tumor growth in lewis lung carcinoma-bearing mice.
Targets:
Antifection | VEGFR | PKM2 | Cdk4 | HIV | CXCR4
In vitro:

Oncogene, 2011, 30(42):4297-306.
Shikonin and its analogs inhibit cancer cell glycolysis by targeting tumor pyruvate kinase-M2.[Pubmed: 21516121]
We recently reported that shikonin(Shikonine) and its analogs were a class of necroptotic inducers that could bypass cancer drug resistance. However, the molecular targets of shikonin are not known.
METHODS AND RESULTS:
Here, we showed that shikonin and its analogs are inhibitors of tumor-specific pyruvate kinase-M2 (PKM2), among which shikonin and its enantiomeric isomer alkannin were the most potent and showed promising selectivity, that is, shikonin and alkannin at concentrations that resulted in over 50% inhibition of PKM2 activity did not inhibit PKM1 and pyruvate kinase-L (PKL). Shikonin and alkannin significantly inhibited the glycolytic rate, as manifested by cellular lactate production and glucose consumption in drug-sensitive and resistant cancer cell lines (MCF-7, MCF-7/Adr, MCF-7/Bcl-2, MCF-7/Bcl-x(L) and A549) that primarily express PKM2. HeLa cells transfected with PKM1 showed reduced sensitivity to shikonin- or alkannin-induced cell death. To the best of our knowledge, shikonin and alkannin are the most potent and specific inhibitors to PKM2 reported so far.
CONCLUSIONS:
As PKM2 universally expresses in cancer cells and dictates the last rate-limiting step of glycolysis vital for cancer cell proliferation and survival, enantiomeric shikonin and alkannin may have potential in future clinical application.
Front Pharmacol. 2016 Aug 23;7:270.
Shikonin Inhibits Intestinal Calcium-Activated Chloride Channels and Prevents Rotaviral Diarrhea.[Pubmed: 27601995 ]
Secretory diarrhea remains a global health burden and causes major mortality in children. There have been some focuses on antidiarrheal therapies that may reduce fluid losses and intestinal motility in diarrheal diseases.
METHODS AND RESULTS:
In the present study, we identified shikonin(Shikonine) as an inhibitor of TMEM16A chloride channel activity using cell-based fluorescent-quenching assay. The IC50 value of shikonin was 6.5 μM. Short-circuit current measurements demonstrated that shikonin inhibited Eact-induced Cl(-) current in a dose-dependent manner, with IC50 value of 1.5 μM. Short-circuit current measurement showed that shikonin exhibited inhibitory effect against CCh-induced Cl(-) currents in mouse colonic epithelia but did not affect cytoplasmic Ca(2+) concentration as well as the other major enterocyte chloride channel conductance regulator. Characterization study found that shikonin inhibited basolateral K(+) channel activity without affecting Na(+)/K(+)-ATPase activities. In vivo studies revealed that shikonin significantly delayed intestinal motility in mice and reduced stool water content in a neonatal mice model of rotaviral diarrhea without affecting the viral infection process in vivo.
CONCLUSIONS:
Taken together, the results suggested that shikonin inhibited enterocyte calcium-activated chloride channels, the inhibitory effect was partially through inhbition of basolateral K(+) channel activity, and shikonin could be a lead compound in the treatment of rotaviral secretory diarrhea.

In vivo:

PLoS One. 2015 May 11;10(5):e0126459.
Shikonin Suppresses Skin Carcinogenesis via Inhibiting Cell Proliferation.[Pubmed: 25961580 ]
The M2 isoform of pyruvate kinase M2 (PKM2) has been shown to be up-regulated in human skin cancers.
METHODS AND RESULTS:
To test whether PKM2 may be a target for chemoprevention, shikonin(Shikonine), a natural product from the root of Lithospermum erythrorhizon and a specific inhibitor of PKM2, was used in a chemically-induced mouse skin carcinogenesis study. The results revealed that shikonin treatment suppressed skin tumor formation. Morphological examinations and immunohistochemical staining of the skin epidermal tissues suggested that shikonin inhibited cell proliferation without inducing apoptosis. Although shikonin alone suppressed PKM2 activity, it did not suppress tumor promoter-induced PKM2 activation in the skin epidermal tissues at the end of the skin carcinogenesis study. To reveal the potential chemopreventive mechanism of shikonin, an antibody microarray analysis was performed, and the results showed that the transcription factor ATF2 and its downstream target Cdk4 were up-regulated by chemical carcinogen treatment; whereas these up-regulations were suppressed by shikonin. In a promotable skin cell model, the nuclear levels of ATF2 were increased during tumor promotion, whereas this increase was inhibited by shikonin. Furthermore, knockdown of ATF2 decreased the expression levels of Cdk4 and Fra-1 (a key subunit of the activator protein 1.
CONCLUSIONS:
In summary, these results suggest that shikonin, rather than inhibiting PKM2 in vivo, suppresses the ATF2 pathway in skin carcinogenesis.
| | | | | | |
| --- | --- | --- | --- | --- | --- |
| | 1 mg | 5 mg | 10 mg | 20 mg | 25 mg |
| 1 mM | 3.4686 mL | 17.343 mL | 34.6861 mL | 69.3722 mL | 86.7152 mL |
| 5 mM | 0.6937 mL | 3.4686 mL | 6.9372 mL | 13.8744 mL | 17.343 mL |
| 10 mM | 0.3469 mL | 1.7343 mL | 3.4686 mL | 6.9372 mL | 8.6715 mL |
| 50 mM | 0.0694 mL | 0.3469 mL | 0.6937 mL | 1.3874 mL | 1.7343 mL |
| 100 mM | 0.0347 mL | 0.1734 mL | 0.3469 mL | 0.6937 mL | 0.8672 mL |
* Note:
If you are in the process of experiment, it's need to make the dilution ratios of the samples. The dilution data of the sheet for your reference. Normally, it's can get a better solubility within lower of Concentrations.
部分图片展示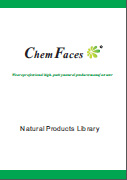 联系方式

电机:027-84237783
传真:027-84254680
在线QQ1: 2056216494 ; QQ2: 3257982914
E-Mail:manager@chemfaces.com

湖北省武汉沌口经济技术开区车城南路83号1号楼第三层厂房