原纤细薯蓣皂苷
Protogracillin
产品编号
CFN93054
CAS编号
54848-30-5
分子式 = 分子量
C51H84O23 = 1065.21
产品纯度
>=98%
物理属性
Powder
化合物类型
Steroids
植物来源
The roots of Dioscorea opposita Thunb.
ChemFaces的产品在影响因子大于5的优秀和顶级科学期刊中被引用
| | | | | |
| --- | --- | --- | --- | --- |
| 产品名称 | 产品编号 | CAS编号 | 包装 | QQ客服 |
| 原纤细薯蓣皂苷 | CFN93054 | 54848-30-5 | 1mg | QQ客服:2159513211 |
| 原纤细薯蓣皂苷 | CFN93054 | 54848-30-5 | 5mg | QQ客服:2159513211 |
| 原纤细薯蓣皂苷 | CFN93054 | 54848-30-5 | 10mg | QQ客服:2159513211 |
| 原纤细薯蓣皂苷 | CFN93054 | 54848-30-5 | 20mg | QQ客服:2159513211 |
1. 在您收到产品后请检查产品。如无问题,请将产品存入冰霜并且样品瓶保持密封,产品可以存放长达24个月(2-8摄氏度)。

2. 只要有可能,产品溶解后,您应该在同一天应用于您的实验。 但是,如果您需要提前做预实验,或者需要全部溶解,我们建议您将溶液以等分试样的形式存放在-20℃的密封小瓶中。 通常,这些可用于长达两周。 使用前,打开样品瓶前,我们建议您将产品平衡至室温至少1小时。

3. 需要更多关于溶解度,使用和处理的建议? 请发送电子邮件至:service@chemfaces.com
订购流程
1. 在线订购
请联系我们QQ客服


2. 电话订购
请拨打电话:
027-84237683 或 027-84237783


3. 邮件或传真订购
发送电子邮件到: manager@chemfaces.com 或
发送传真到:027-84254680


提供订购信息
为了方便客户的订购,请需要订购ChemFaces产品的客户,在下单的时候请提供下列信息,以供我们快速为您建立发货信息。
1. 产品编号(CAS No.或产品名称)
2. 发货地址
3. 联系方法 (联系人,电话)
4. 开票抬头 (如果需要发票的客户)
5. 发票地址(发货地址与发票地址不同)
发货时间
1. 付款方式为100%预付款客户,我们将在确认收到货款后当天或1-3个工作日发货。

2. 付款方式为月结的客户,我们承诺在收到订单后当天或1-3个工作日内发货。

3. 如果客户所需要的产品,需要重新生产,我们有权告知客户,交货时间需要延期。
ChemFaces的产品在许多优秀和顶级科学期刊中被引用
我们的产品现已经出口到下面的研究机构与大学,并且还在增涨
Universidade da Beira Interior (Germany)
Universidad de La Salle (Mexico)
Universidade Federal de Santa Catarina (Brazil)
Universitas Airlangga (Indonesia)
Leibniz Institute of Plant Biochemistry (Germany)
Nicolaus Copernicus Uniwersity (Poland)
Sant Gadge Baba Amravati University (India)
Martin Luther University of Halle-Wittenberg (Germany)
Srinakharinwirot University (Thailand)
Yale University (USA)
Michigan State University (USA)
University of Cincinnati (USA)
Leibniz-Institut für Pflanzenbiochemie (IPB) (Germany)
Heinrich-Heine-University Düsseldorf (Germany)
国外学术期刊发表的引用ChemFaces产品的部分文献
Description:
Protogracillin may have inhibitions on platelet aggregation (PAG) and thrombosis.
In vitro:

Anticancer Agents Med Chem. 2014;14(6):833-9.
Paris polyphylla: chemical and biological prospectives.[Pubmed: 24917072]
Paris polyphylla J.E. Smith is extensively used in traditional systems of Indian and Chinese medicines mainly for its anticancerous property. The national and international demand for P. polyphylla is constantly increasing and most of the supplies come from wild. Illegal and unscientific exploitation coupled with habitat destruction decreases the natural population of the herb, as a consequence this species comes under vulnerable category. Restoration and conservation of the natural population of this potential herb is prerequisites.
METHODS AND RESULTS:
This article aims to provide an overview on chemical and biological prospective of P. polyphylla. Secondary metabolites such as daucosterol, polyphyllin D, β -ecdysterone, Paris saponins I, II, V, VI, VII, H, dioscin, oligosaccharides, heptasaccharide, octasaccharide, trigofoenoside A, Protogracillin, Paris yunnanosides G-J, padelaoside B, pinnatasterone, formosanin C and 20-hydroxyecdyson saponins have been isolated from P. polyphylla. Several biological activities such as anticancerous, antitumor, cytotoxic, anthelmintic, antimicrobial, antiangiogenic, immunostimulating, contractile and hemostatic have also been reported.
CONCLUSIONS:
Consequently, this review will be helpful to the researcher and scientist for further research.

In vivo:

Fitoterapia. 2010 Dec;81(8):1147-56.
Anti-thrombotic activity and chemical characterization of steroidal saponins from Dioscorea zingiberensis C.H. Wright.[Pubmed: 20659537 ]
Steroidal saponins have long attracted scientific attention, due to their structural diversity and significant biological activities. Total steroidal saponins (TSS) extracted from the rhizomes of Dioscorea zingiberensis C.H. Wright (DZW) constitute an effective treatment for cardiovascular disease. However, the active constituents contained in DZW rhizomes and their pharmacological properties are not fully understood. The aim of this work is to determine and quantify the active constituents in DZW rhizomes using fingerprint technique, and evaluate its anti-thrombotic activity using inferior vena cava ligation thrombosis rat model and pulmonary thrombosis mice model after being gavaged with TSS for 1 or 2weeks.
METHODS AND RESULTS:
In the study, a chemical fingerprint method was firstly established and validated to quantify and standardize TSS from DZW rhizomes including parvifloside, protodeltonin, protodioscin, Protogracillin, zingiberensis saponin, deltonin, dioscin and trillin. TSS extracted from DZW rhizomes were showed to have the inhibitions on platelet aggregation (PAG) and thrombosis, and prolong activated partial thromboplastin time (APTT), thrombin time (TT), and prothrombin time (PT) in a dose-dependent manner in rats. TSS also prolonged the bleeding time and clotting time in a dose-dependent manner in mice.
CONCLUSIONS:
The results indicate that TSS could inhibit thrombosis by both improving the anticoagulation activity and inhibiting PAG action, suggesting that TSS from DZW rhizomes have the potential to reduce the risk of cardiovascular diseases by anti-thrombotic action.
| | | | | | |
| --- | --- | --- | --- | --- | --- |
| | 1 mg | 5 mg | 10 mg | 20 mg | 25 mg |
| 1 mM | 0.9388 mL | 4.6939 mL | 9.3878 mL | 18.7756 mL | 23.4696 mL |
| 5 mM | 0.1878 mL | 0.9388 mL | 1.8776 mL | 3.7551 mL | 4.6939 mL |
| 10 mM | 0.0939 mL | 0.4694 mL | 0.9388 mL | 1.8776 mL | 2.347 mL |
| 50 mM | 0.0188 mL | 0.0939 mL | 0.1878 mL | 0.3755 mL | 0.4694 mL |
| 100 mM | 0.0094 mL | 0.0469 mL | 0.0939 mL | 0.1878 mL | 0.2347 mL |
* Note:
If you are in the process of experiment, it's need to make the dilution ratios of the samples. The dilution data of the sheet for your reference. Normally, it's can get a better solubility within lower of Concentrations.
部分图片展示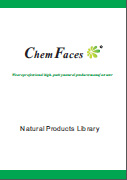 联系方式

电机:027-84237783
传真:027-84254680
在线QQ: 215959384
E-Mail:manager@chemfaces.com

湖北省武汉沌口经济技术开区车城南路83号1号楼第三层厂房