水杨酸甲酯
Methyl salicylate
| | | | | |
| --- | --- | --- | --- | --- |
| 产品名称 | 产品编号 | CAS编号 | 包装 | QQ客服 |
| 水杨酸甲酯 | CFN98549 | 119-36-8 | 10mg | QQ客服:2932563308 |
| 水杨酸甲酯 | CFN98549 | 119-36-8 | 20mg | QQ客服:2932563308 |
| 水杨酸甲酯 | CFN98549 | 119-36-8 | 50mg | QQ客服:2932563308 |
| 水杨酸甲酯 | CFN98549 | 119-36-8 | 100mg | QQ客服:2932563308 |
1. 在您收到产品后请检查产品。如无问题,请将产品存入冰霜并且样品瓶保持密封,产品可以存放长达24个月(2-8摄氏度)。

2. 只要有可能,产品溶解后,您应该在同一天应用于您的实验。 但是,如果您需要提前做预实验,或者需要全部溶解,我们建议您将溶液以等分试样的形式存放在-20℃的密封小瓶中。 通常,这些可用于长达两周。 使用前,打开样品瓶前,我们建议您将产品平衡至室温至少1小时。

3. 需要更多关于溶解度,使用和处理的建议? 请发送电子邮件至:service@chemfaces.com
订购流程
1. 在线订购
请联系我们QQ客服


2. 电话订购
请拨打电话:
027-84237683 或 027-84237783


3. 邮件或传真订购
发送电子邮件到: manager@chemfaces.com 或
发送传真到:027-84254680


提供订购信息
为了方便客户的订购,请需要订购ChemFaces产品的客户,在下单的时候请提供下列信息,以供我们快速为您建立发货信息。
1. 产品编号(CAS No.或产品名称)
2. 发货地址
3. 联系方法 (联系人,电话)
4. 开票抬头 (如果需要发票的客户)
5. 发票地址(发货地址与发票地址不同)
发货时间
1. 付款方式为100%预付款客户,我们将在确认收到货款后当天或1-3个工作日发货。

2. 付款方式为月结的客户,我们承诺在收到订单后当天或1-3个工作日内发货。

3. 如果客户所需要的产品,需要重新生产,我们有权告知客户,交货时间需要延期。
ChemFaces的产品在许多优秀和顶级科学期刊中被引用
我们的产品现已经出口到下面的研究机构与大学,并且还在增涨
Aveiro University (Portugal)
Leibniz-Institut für Pflanzenbiochemie (IPB) (Germany)
Yale University (USA)
Charles Sturt University (Denmark)
Subang Jaya Medical Centre (Malaysia)
Universitas Airlangga (Indonesia)
Universidade do Porto (Portugal)
Calcutta University (India)
University of Amsterdam (Netherlands)
University of Virginia (USA)
Shanghai Institute of Organic Chemistry (China)
Leibniz Institute of Plant Biochemistry (Germany)
The Ohio State University (USA)
Chinese University of Hong Kong (China)
国外学术期刊发表的引用ChemFaces产品的部分文献
Description:
Methyl salicylate is a common herbivore-induced plant volatile that, when applied to crops, has the potential to enhance natural enemy abundance and pest control. Methyl salicylate has both stimulatory and inhibitory actions on TRPV1 channels, it shows analgesic effects.
Targets:
Estrogen receptor | NF-kB | TNF-α | Progestogen receptor
In vitro:

Environ Microbiol. 2015 Apr;17(4):1365-76.
Plant methyl salicylate induces defense responses in the rhizobacterium Bacillus subtilis.[Pubmed: 25181478]
Bacillus subtilis is a rhizobacterium that promotes plant growth and health. Cultivation of B. subtilis with an uprooted weed on solid medium produced pleat-like architectures on colonies near the plant. To test whether plants emit signals that affect B. subtilis colony morphology, we examined the effect of plant-related compounds on colony morphology.
METHODS AND RESULTS:
Bacillus subtilis formed mucoid colonies specifically in response to methyl salicylate, which is a plant-defense signal released in response to pathogen infection. Methyl salicylate induced mucoid colony formation by stimulating poly-γ-glutamic acid biosynthesis, which formed enclosing capsules that protected the cells from exposure to antimicrobial compounds. Poly-γ-glutamic acid synthesis depended on the DegS-DegU two-component regulatory system, which activated DegSU-dependent gene transcription in response to methyl salicylate. Bacillus subtilis did not induce plant methyl salicylate production, indicating that the most probable source of methyl salicylate in the rhizosphere is pathogen-infected plants. Methyl salicylate induced B. subtilis biosynthesis of the antibiotics bacilysin and fengycin, the latter of which exhibited inhibitory activity against the plant pathogenic fungus Fusarium oxysporum.
CONCLUSIONS:
We propose that B. subtilis may sense plants under pathogen attack via methyl salicylate, and express defense responses that protect both B. subtilis and host plants in the rhizosphere.
Drug Test Anal. 2014 Jun;6 Suppl 1:67-73.
Hair analysis as a useful procedure for detection of vapour exposure to chemical warfare agents: simulation of sulphur mustard with methyl salicylate.[Pubmed: 24817050 ]
Chemical warfare agents (CWA) are highly toxic compounds which have been produced to kill or hurt people during conflicts or terrorist attacks. Despite the fact that their use is strictly prohibited according to international convention, populations' exposure still recently occurred. Development of markers of exposure to CWA is necessary to distinguish exposed victims from unexposed ones.
METHODS AND RESULTS:
We present the first study of hair usage as passive sampler to assess contamination by chemicals in vapour form. This work presents more particularly the hair adsorption capacity for methyl salicylate used as a surrogate of the vesicant sulphur mustard. Chemical vapours toxicity through the respiratory route has historically been defined through Haber's law's concentration-time (Ct) product, and vapour exposure of hair to methyl salicylate was conducted with various times or doses of exposure in the range of incapacitating and lethal Ct products corresponding to sulphur mustard. Following exposure, extraction of methyl salicylate from hair was conducted by simple soaking in dichloromethane. Methyl salicylate could be detected on hair for vapour concentration corresponding to about one fifth of the sulphur mustard concentration that would kill 50% of exposed individuals (LCt50). The amount of methyl salicylate recovered from hair increased with time or dose of exposure.
CONCLUSIONS:
It showed a good correlation with the concentration-time product, suggesting that hair could be used like a passive sampler to assess vapour exposure to chemical compounds. It introduces great perspectives concerning the use of hair as a marker of exposure to CWA.
J Am Mosq Control Assoc. 2014 Sep;30(3):199-203.
Fumigant Activity of 6 Selected Essential Oil Compounds and Combined Effect of Methyl Salicylate And Trans-Cinnamaldehyde Against Culex pipiens pallens.[Pubmed: 25843095]
We studied the knockdown activity and lethal toxicity of 6 essential oil compounds-methyl salicylate, linalool, 2-phenethyl alcohol, eugenol, β-citronellol, and trans-cinnamaldehyde-as fumigants against adult female Culex pipiens pallens in the laboratory.
METHODS AND RESULTS:
Of the 6 products tested, trans-cinnamaldehyde was the most toxic (LC50  =  0.26 μl/l air, 24 h) with a slow knockdown time (KT95  =  176.5 min at 0.5 μl/l air). Methyl salicylate displayed a lower toxicity (LC50  =  1.17 μl/l air, 24 h) but the fastest knockdown activity (KT95  =  16.8 min) at the sublethal concentration 0.5 μl/l air. Furthermore, the binary mixture of methyl salicylate and trans-cinnamaldehyde exhibited a combined effect of fast knockdown activity and high toxicity against Cx. p. pallens adults, showing potential for development as natural fumigants for mosquito control.
| | | | | | |
| --- | --- | --- | --- | --- | --- |
| | 1 mg | 5 mg | 10 mg | 20 mg | 25 mg |
| 1 mM | 6.5725 mL | 32.8623 mL | 65.7246 mL | 131.4492 mL | 164.3115 mL |
| 5 mM | 1.3145 mL | 6.5725 mL | 13.1449 mL | 26.2898 mL | 32.8623 mL |
| 10 mM | 0.6572 mL | 3.2862 mL | 6.5725 mL | 13.1449 mL | 16.4312 mL |
| 50 mM | 0.1314 mL | 0.6572 mL | 1.3145 mL | 2.629 mL | 3.2862 mL |
| 100 mM | 0.0657 mL | 0.3286 mL | 0.6572 mL | 1.3145 mL | 1.6431 mL |
* Note:
If you are in the process of experiment, it's need to make the dilution ratios of the samples. The dilution data of the sheet for your reference. Normally, it's can get a better solubility within lower of Concentrations.
部分图片展示
| | | | | | |
| --- | --- | --- | --- | --- | --- |
| 产品名称 | 产品编号 | CAS编号 | 分子式 = 分子量 | 位单 | 联系QQ |
| 水杨酸甲酯; Methyl salicylate | CFN98549 | 119-36-8 | C8H8O3 = 152.15 | 20mg | QQ客服:1413575084 |
| 2,6-二羟基苯甲酸甲酯; Methyl 2,6-dihydroxybenzoate | CFN92655 | 2150-45-0 | C8H8O4 = 168.2 | 20mg | QQ客服:2932563308 |
| 6-(beta-D-吡喃葡萄糖氧基)水杨酸甲酯; 6-(beta-D-glucopyranosyloxy)-Salicylic acid methyl ester | CFN99087 | 108124-75-0 | C14H18O9 = 330.3 | 5mg | QQ客服:2932563308 |
| 2,6-二甲氧基苯甲酸; 2,6-Dimethoxybenzoic acid | CFN99607 | 1466-76-8 | C9H10O4 = 182.2 | 20mg | QQ客服:3257982914 |
| Benzyl 2,6-dimethoxybenzoate; Benzyl 2,6-dimethoxybenzoate | CFN92793 | 34328-54-6 | C16H16O4 = 272.3 | 5mg | QQ客服:1148253675 |
| 2,4-二羟基苯乙酸甲酯; Methyl 2,4-dihydroxyphenylacetate | CFN96486 | 67828-42-6 | C9H10O4 = 182.17 | 5mg | QQ客服:2932563308 |
| 2',4'-二羟基-6'-甲氧基苯乙酮; 2',4'-Dihydroxy-6'-methoxyacetophenone | CFN98488 | 3602-54-8 | C9H10O4 = 182.2 | 5mg | QQ客服:2932563308 |
| Ethyl 2,4,6-trihydroxybenzoate; Ethyl 2,4,6-trihydroxybenzoate | CFN96091 | 90536-74-6 | C9H10O5 = 198.2 | 5mg | QQ客服:2159513211 |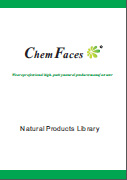 联系方式

电机:027-84237783
传真:027-84254680
在线QQ: 1413575084
E-Mail:manager@chemfaces.com

湖北省武汉沌口经济技术开区车城南路83号1号楼第三层厂房