叶黄素
Lutein
产品编号
CFN99384
CAS编号
127-40-2
分子式 = 分子量
C40H56O2 = 568.9
产品纯度
>=98%
物理属性
Coppery powder
化合物类型
Tetraterpenoids
植物来源
The herbs of Tagetes erecta
ChemFaces的产品在影响因子大于5的优秀和顶级科学期刊中被引用
| | | | | |
| --- | --- | --- | --- | --- |
| 产品名称 | 产品编号 | CAS编号 | 包装 | QQ客服 |
| 叶黄素 | CFN99384 | 127-40-2 | 1mg | QQ客服:215959384 |
| 叶黄素 | CFN99384 | 127-40-2 | 5mg | QQ客服:215959384 |
| 叶黄素 | CFN99384 | 127-40-2 | 10mg | QQ客服:215959384 |
| 叶黄素 | CFN99384 | 127-40-2 | 20mg | QQ客服:215959384 |
1. 在您收到产品后请检查产品。如无问题,请将产品存入冰霜并且样品瓶保持密封,产品可以存放长达24个月(2-8摄氏度)。

2. 只要有可能,产品溶解后,您应该在同一天应用于您的实验。 但是,如果您需要提前做预实验,或者需要全部溶解,我们建议您将溶液以等分试样的形式存放在-20℃的密封小瓶中。 通常,这些可用于长达两周。 使用前,打开样品瓶前,我们建议您将产品平衡至室温至少1小时。

3. 需要更多关于溶解度,使用和处理的建议? 请发送电子邮件至:service@chemfaces.com
订购流程
1. 在线订购
请联系我们QQ客服


2. 电话订购
请拨打电话:
027-84237683 或 027-84237783


3. 邮件或传真订购
发送电子邮件到: manager@chemfaces.com 或
发送传真到:027-84254680


提供订购信息
为了方便客户的订购,请需要订购ChemFaces产品的客户,在下单的时候请提供下列信息,以供我们快速为您建立发货信息。
1. 产品编号(CAS No.或产品名称)
2. 发货地址
3. 联系方法 (联系人,电话)
4. 开票抬头 (如果需要发票的客户)
5. 发票地址(发货地址与发票地址不同)
发货时间
1. 付款方式为100%预付款客户,我们将在确认收到货款后当天或1-3个工作日发货。

2. 付款方式为月结的客户,我们承诺在收到订单后当天或1-3个工作日内发货。

3. 如果客户所需要的产品,需要重新生产,我们有权告知客户,交货时间需要延期。
ChemFaces的产品在许多优秀和顶级科学期刊中被引用
我们的产品现已经出口到下面的研究机构与大学,并且还在增涨
University of Eastern Finland (Finland)
Sanford Burnham Prebys Medical Discovery Institute (USA)
University of Auckland (New Zealand)
University of Indonesia (Indonesia)
Research Unit Molecular Epigenetics (MEG) (Germany)
Lund University (Sweden)
Florida International University (USA)
Sanford Burnham Medical Research Institute (USA)
University of Toronto (Canada)
John Innes Centre (United Kingdom)
Calcutta University (India)
Universiti Kebangsaan Malaysia (Malaysia)
University of Lodz (Poland)
Utrecht University (Netherlands)
国外学术期刊发表的引用ChemFaces产品的部分文献
Description:
Lutein and lycopene has chemopreventive activity, the possible mechanism is their antioxidant effects. Nutritional supplementation with lutein or lutein together with antioxidants, vitamins, and minerals, improves visual function and symptoms in atrophic age-related macular degeneration (ARMD).
Targets:
ROS
In vitro:

J Chromatogr A. 2015 Apr 3;1388:119-25.
Isolation of β-carotene, α-carotene and lutein from carrots by countercurrent chromatography with the solvent system modifier benzotrifluoride.[Pubmed: 25728658]
A carotenoid purification method with dual-mode countercurrent chromatography (CCC) for β-carotene, α-carotene and Lutein from a fresh carrot extract was developed.
METHODS AND RESULTS:
The fluorinated liquid benzotrifluoride (IUPAC name: (trifluoromethyl)benzene) was used as a novel modifier in the non-aqueous ternary solvent system n-hexane/benzotrifluoride/acetonitrile. The ternary phase diagram of the type I solvent system was used to select two-phase solvent mixtures which enabled an efficient preparative separation of α-carotene, β-carotene and Lutein from concomitant pigments in crude carrot extract. By means of the modifier, high separation factors (α ≥ 1.2) were obtained, allowing baseline resolution between α-carotene and β-carotene due to specific chemical interactions such as π-π molecular interactions.
CONCLUSIONS:
After optimizing the injection step with a pseudo-ternary phase diagram, 51 mg of β-carotene, 32 mg of α-carotene and 4 mg of Lutein could be isolated from 100.2mg crude carrot extract in a short time and with high purities of 95% and 99% by using dual-mode CCC, respectively. Temperatures > 22°C had a negative impact on the separation of α-carotene and β-carotene.
J Cell Biochem Suppl. 1995;22:236-46.
Lutein, lycopene, and their oxidative metabolites in chemoprevention of cancer.[Pubmed: 8538204]
Numerous epidemiological studies have demonstrated that consuming large quantities of fruits and vegetables reduces the risk for several types of human cancers. Carotenoids are abundant in fruits and vegetables and have been extensively studied as cancer preventive agents.
METHODS AND RESULTS:
A proposed mechanism of action for the protective effect of carotenoids against cancer is based on their antioxidant capability. Recently, we have isolated and characterized 14 new carotenoids, including seven metabolites from the extracts of human serum/plasma. This brings the total number of identified blood carotenoids to 21. Lutein and lycopene, abundant in most fruits and vegetables as well as human serum, have been shown to possess strong antioxidant capability. Among the metabolites of lutein, four results from oxidation and two from non-enzymatic dehydration. The metabolite of lycopene has been identified as 5,6-dihydroxy-5,6-dihydrolycopene, which apparently results from oxidation of lycopene to an intermediate, lycopene epoxide. This intermediate may undergo metabolic reduction to form the lycopene metabolite. Although in vivo oxidation of lutein to its metabolites has been demonstrated based on data obtained from two human studies, in vivo oxidation of lycopene to its metabolite has not yet been established.
CONCLUSIONS:
Recent preliminary studies involving healthy subjects ingesting purified lutein and zeaxanthin (a dietary dihydroxycarotenoid isomeric to lutein) are presented. We propose a possible antioxidant mechanism of action for lutein and lycopene that leads to formation of the oxidation products of these promising chemopreventive agents.

In vivo:

Int J Food Sci Nutr. 2014 Nov;65(7):903-9.
Bioavailability of lutein from a lutein-enriched egg-yolk beverage and its dried re-suspended versions.[Pubmed: 25017577]
Drying a fresh Lutein-enriched egg-yolk beverage would extend its shelf life, however, functional properties should not be affected. It was investigated whether consumption of a dried beverage containing Lutein-enriched egg-yolk significantly increases serum Lutein.
METHODS AND RESULTS:
One-hundred healthy young subjects participated in this 6-weeks randomized controlled study. Subjects consumed either a "plain" control beverage (n = 26), a fresh Lutein-enriched egg-yolk beverage (n = 25), a dried version of this beverage (n = 25), or a beverage composed of the dried individual components of the drink (n = 24). The fresh and both dried versions of the Lutein-enriched egg-yolk beverage were able to increase serum Lutein levels after 6 weeks of consumption (Lutein change: -38 ± 47 nmol/L, +304 ± 113 nmol/L, +148 ± 79 nmol/L and +178 ± 83 nmol/L for control, fresh, dried and combined dried group respectively; p < 0.001). No significant change in serum cholesterol level was seen in the beverages containing Lutein-enriched egg-yolk compared to the control drink.
Nutr Rev. 2014 Sep;72(9):605-12.
Role of lutein and zeaxanthin in visual and cognitive function throughout the lifespan.[Pubmed: 25109868]
The relationship between Lutein and zeaxanthin and visual and cognitive health throughout the lifespan is compelling.
METHODS AND RESULTS:
There is a variety of evidence to support a role for Lutein and zeaxanthin in vision. Lutein's role in cognition has only recently been considered. Lutein and its isomer, zeaxanthin, are taken up selectively into eye tissue. Lutein is the predominant carotenoid in human brain tissue. Lutein and zeaxanthin in neural tissue may have biological effects that include antioxidation, anti-inflammation, and structural actions. In addition, Lutein and zeaxanthin may be protective against eye disease because they absorb damaging blue light that enters the eye. In pediatric brains, the relative contribution of Lutein to the total carotenoids is twice that found in adults, accounting for more than half the concentration of total carotenoids.
CONCLUSIONS:
The greater proportion of Lutein in the pediatric brain suggests a need for Lutein during neural development as well. In adults, higher Lutein status is related to better cognitive performance, and Lutein supplementation improves cognition. The evidence to date warrants further investigation into the role of Lutein and zeaxanthin in visual and cognitive health throughout the lifespan.
Invest Ophthalmol Vis Sci. 2014 Jul 29;55(8):5238-44.
Effects of a lutein supplement on the plasma lutein concentration and macular pigment in patients with central serous chorioretinopathy.[Pubmed: 25074771]
To investigate the effects of Lutein supplementation on plasma Lutein concentrations and the macular pigment optical density (MPOD) in central serous chorioretinopathy (CSC).
METHODS AND RESULTS:
In this double-masked placebo-controlled study, 20 patients received Lutein 20 mg/d and 19 received placebo. The plasma Lutein concentration and MPOD using autofluorescence spectrometry (density unit, DU) were measured at baseline and 1 and 4 months. RESULTS: The mean plasma Lutein concentrations and MPOD values in the Lutein and control groups, respectively, were 91.5 and 78.2 ng/mL and 0.444 and 0.437 DU at baseline; 204.9 and 79.3 ng/mL and 0.460 and 0.442 DU at 1 month; and 228.0 and 78.4 ng/mL and 0.441 and 0.421 DU at 4 months. The plasma concentration in the Lutein group was significantly higher than in controls at 1 and 4 months (P < 0.0001 for both comparisons); however, the MPOD values did not differ significantly between groups at 1 (P = 0.479) or 4 months (P = 0.883). In patients with a plasma Lutein concentration below the mean level in 20 age-matched healthy subjects (mean 105.3 ng/mL; n = 13 in Lutein group, n = 15 in control group), the control MPOD values significantly (P = 0.0430) decreased at 4 months (mean baseline, 0.437 DU; 4 months, 0.404 DU). The MPOD in the Lutein group remained at the baseline level (mean baseline, 0.426 DU; 4 months, 0.438 DU) (P = 0.6542).
CONCLUSIONS:
The MPOD did not increase in patients with CSC with short-term Lutein supplementation; however, among patients with low plasma Lutein, supplemental Lutein prevented a decline in MPOD that was observed in control subjects.
| | | | | | |
| --- | --- | --- | --- | --- | --- |
| | 1 mg | 5 mg | 10 mg | 20 mg | 25 mg |
| 1 mM | 1.7578 mL | 8.7889 mL | 17.5778 mL | 35.1556 mL | 43.9445 mL |
| 5 mM | 0.3516 mL | 1.7578 mL | 3.5156 mL | 7.0311 mL | 8.7889 mL |
| 10 mM | 0.1758 mL | 0.8789 mL | 1.7578 mL | 3.5156 mL | 4.3944 mL |
| 50 mM | 0.0352 mL | 0.1758 mL | 0.3516 mL | 0.7031 mL | 0.8789 mL |
| 100 mM | 0.0176 mL | 0.0879 mL | 0.1758 mL | 0.3516 mL | 0.4394 mL |
* Note:
If you are in the process of experiment, it's need to make the dilution ratios of the samples. The dilution data of the sheet for your reference. Normally, it's can get a better solubility within lower of Concentrations.
部分图片展示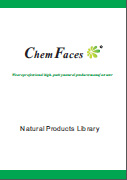 联系方式

电机:027-84237783
传真:027-84254680
在线QQ: 215959384
E-Mail:manager@chemfaces.com

湖北省武汉沌口经济技术开区车城南路83号1号楼第三层厂房