马钱苷酸
Loganic acid
产品编号
CFN98212
CAS编号
22255-40-9
分子式 = 分子量
C16H24O10 = 376.4
产品纯度
>=98%
物理属性
Powder
化合物类型
Iridoids
植物来源
The roots of Gentiana macrophylla Pall.
ChemFaces的产品在影响因子大于5的优秀和顶级科学期刊中被引用
| | | | | |
| --- | --- | --- | --- | --- |
| 产品名称 | 产品编号 | CAS编号 | 包装 | QQ客服 |
| 马钱苷酸 | CFN98212 | 22255-40-9 | 10mg | QQ客服:2159513211 |
| 马钱苷酸 | CFN98212 | 22255-40-9 | 20mg | QQ客服:2159513211 |
| 马钱苷酸 | CFN98212 | 22255-40-9 | 50mg | QQ客服:2159513211 |
| 马钱苷酸 | CFN98212 | 22255-40-9 | 100mg | QQ客服:2159513211 |
1. 在您收到产品后请检查产品。如无问题,请将产品存入冰霜并且样品瓶保持密封,产品可以存放长达24个月(2-8摄氏度)。

2. 只要有可能,产品溶解后,您应该在同一天应用于您的实验。 但是,如果您需要提前做预实验,或者需要全部溶解,我们建议您将溶液以等分试样的形式存放在-20℃的密封小瓶中。 通常,这些可用于长达两周。 使用前,打开样品瓶前,我们建议您将产品平衡至室温至少1小时。

3. 需要更多关于溶解度,使用和处理的建议? 请发送电子邮件至:service@chemfaces.com
订购流程
1. 在线订购
请联系我们QQ客服


2. 电话订购
请拨打电话:
027-84237683 或 027-84237783


3. 邮件或传真订购
发送电子邮件到: manager@chemfaces.com 或
发送传真到:027-84254680


提供订购信息
为了方便客户的订购,请需要订购ChemFaces产品的客户,在下单的时候请提供下列信息,以供我们快速为您建立发货信息。
1. 产品编号(CAS No.或产品名称)
2. 发货地址
3. 联系方法 (联系人,电话)
4. 开票抬头 (如果需要发票的客户)
5. 发票地址(发货地址与发票地址不同)
发货时间
1. 付款方式为100%预付款客户,我们将在确认收到货款后当天或1-3个工作日发货。

2. 付款方式为月结的客户,我们承诺在收到订单后当天或1-3个工作日内发货。

3. 如果客户所需要的产品,需要重新生产,我们有权告知客户,交货时间需要延期。
ChemFaces的产品在许多优秀和顶级科学期刊中被引用
我们的产品现已经出口到下面的研究机构与大学,并且还在增涨
Medical University of South Carolina (USA)
Chiang Mai University (Thailand)
Sanford Burnham Medical Research Institute (USA)
Northeast Normal University Changchun (China)
Utrecht University (Netherlands)
VIT University (India)
Uniwersytet Medyczny w ?odzi (Poland)
Charles Sturt University (Denmark)
University of Queensland (Australia)
Imperial College London (United Kingdom)
Tokyo Woman's Christian University (Japan)
Molecular Biology Institute of Barcelona (IBMB)-CSIC (Spain)
National Cancer Institute (USA)
Institute of Chinese Materia Medica (China)
国外学术期刊发表的引用ChemFaces产品的部分文献
Description:
Loganic acid( 0.7% solution) has a strong intraocular pressure (IOP)-hypotensive effect, it exhibits both sides effect on superoxide generation. Loganic acid also has protective effects on atherosclerosis risk factors in hypercholesterolemic rabbits, it shows significant anti-inflammatory effects decreasing TNF-α and IL-6 activity in serum.
Targets:
PPAR | TNF-α | IL Receptor
In vitro:

Nat Prod Res. 2013;27(10):911-5.
Anti-inflammatory effect of three iridoids in human neutrophils.[Pubmed: 22417122]
To verify the anti-inflammatory potency of iridoids, three iridoids (two natural, loganic acid: LA; geniposide: GE; and an artefact, 7(S)-n-butyl morroniside: BM) were investigated in vitro on the inhibition of superoxide generation in human neutrophils.
METHODS AND RESULTS:
All compounds showed inhibitory effect on fMLP-induced superoxide generation in a concentration-dependent manner with the following order: BM>LA>GE. BM exhibits potent inhibitory activity on superoxide anion induced by PMA, while LA and GE showed weak effect. When AA was used as stimulus, the generation of superoxide anion was suppressed by BM in a concentration-dependent manner.
CONCLUSIONS:
LA and GE exhibit both sides effect on superoxide generation.

In vivo:

Phytomedicine. 2014 Nov 15;21(13):1774-84.
The protective effect of the Cornus mas fruits (cornelian cherry) on hypertriglyceridemia and atherosclerosis through PPARα activation in hypercholesterolemic rabbits.[Pubmed: 25444446 ]
Cornelian cherry (Cornus mas L.) fruits have been used in traditional cuisine and in folk medicine in various countries. This study was conducted to evaluate the constituents and impact of cornelian cherry (C. mas L.) fruits lyophilisate on lipid levels, PPARα protein expression, atheromatous changes in the aorta, oxido-redox state, and proinflammatory cytokines in hypercholesterolemic rabbits.
METHODS AND RESULTS:
The HPLC-MS method was used for determining active constituents in cornelian cherry. In a subsequent in vivo study the protective effect of the cornelian cherry on diet-induced hyperlipidemia was studied using a rabbit model fed 1% cholesterol. Cornelian cherry (100mg/kg b.w.) or simvastatin (5mg/kg b.w.) were administered orally for 60 days. Two iridoids - Loganic acid and cornuside - and five anthocyanins were identified as the main constituents of the cornelian cherry. The administering of the cornelian cherry led to a 44% significant decrease in serum triglyceride levels, as well as prevented development of atheromatous changes in the thoracic aorta. Cornelian cherry significantly increased PPARα protein expression in the liver, indicating that its hypolipidemic effect may stem from enhanced fatty acid catabolism. Simvastatin treatment did not affect PPAR-α expression. Moreover, the cornelian cherry had a significant protective effect on diet-induced oxidative stress in the liver, as well as restored upregulated proinflammatory cytokines serum levels.
CONCLUSIONS:
In conclusion, we have shown Loganic acid to be the main iridoid constituent in the European cultivar of the cornelian cherry, and proven that the cornelian cherry could have protective effects on diet-induced hypertriglicerydemia and atherosclerosis through enhanced PPARα protein expression and via regulating oxidative stress and inflammation.
| | | | | | |
| --- | --- | --- | --- | --- | --- |
| | 1 mg | 5 mg | 10 mg | 20 mg | 25 mg |
| 1 mM | 2.6567 mL | 13.2837 mL | 26.5675 mL | 53.135 mL | 66.4187 mL |
| 5 mM | 0.5313 mL | 2.6567 mL | 5.3135 mL | 10.627 mL | 13.2837 mL |
| 10 mM | 0.2657 mL | 1.3284 mL | 2.6567 mL | 5.3135 mL | 6.6419 mL |
| 50 mM | 0.0531 mL | 0.2657 mL | 0.5313 mL | 1.0627 mL | 1.3284 mL |
| 100 mM | 0.0266 mL | 0.1328 mL | 0.2657 mL | 0.5313 mL | 0.6642 mL |
* Note:
If you are in the process of experiment, it's need to make the dilution ratios of the samples. The dilution data of the sheet for your reference. Normally, it's can get a better solubility within lower of Concentrations.
部分图片展示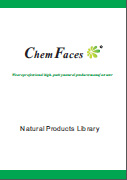 联系方式

电机:027-84237783
传真:027-84254680
在线QQ: 215959384
E-Mail:manager@chemfaces.com

湖北省武汉沌口经济技术开区车城南路83号1号楼第三层厂房