异欧前胡素
Isoimperatorin
产品编号
CFN99107
CAS编号
482-45-1
分子式 = 分子量
C16H14O4 = 270.28
产品纯度
>=98%
物理属性
Powder
化合物类型
Coumarins
植物来源
The roots of Peucedanum ostruthium L.
ChemFaces的产品在影响因子大于5的优秀和顶级科学期刊中被引用
| | | | | |
| --- | --- | --- | --- | --- |
| 产品名称 | 产品编号 | CAS编号 | 包装 | QQ客服 |
| 异欧前胡素 | CFN99107 | 482-45-1 | 10mg | QQ客服:1413575084 |
| 异欧前胡素 | CFN99107 | 482-45-1 | 20mg | QQ客服:1413575084 |
| 异欧前胡素 | CFN99107 | 482-45-1 | 50mg | QQ客服:1413575084 |
| 异欧前胡素 | CFN99107 | 482-45-1 | 100mg | QQ客服:1413575084 |
1. 在您收到产品后请检查产品。如无问题,请将产品存入冰霜并且样品瓶保持密封,产品可以存放长达24个月(2-8摄氏度)。

2. 只要有可能,产品溶解后,您应该在同一天应用于您的实验。 但是,如果您需要提前做预实验,或者需要全部溶解,我们建议您将溶液以等分试样的形式存放在-20℃的密封小瓶中。 通常,这些可用于长达两周。 使用前,打开样品瓶前,我们建议您将产品平衡至室温至少1小时。

3. 需要更多关于溶解度,使用和处理的建议? 请发送电子邮件至:service@chemfaces.com
订购流程
1. 在线订购
请联系我们QQ客服


2. 电话订购
请拨打电话:
027-84237683 或 027-84237783


3. 邮件或传真订购
发送电子邮件到: manager@chemfaces.com 或
发送传真到:027-84254680


提供订购信息
为了方便客户的订购,请需要订购ChemFaces产品的客户,在下单的时候请提供下列信息,以供我们快速为您建立发货信息。
1. 产品编号(CAS No.或产品名称)
2. 发货地址
3. 联系方法 (联系人,电话)
4. 开票抬头 (如果需要发票的客户)
5. 发票地址(发货地址与发票地址不同)
发货时间
1. 付款方式为100%预付款客户,我们将在确认收到货款后当天或1-3个工作日发货。

2. 付款方式为月结的客户,我们承诺在收到订单后当天或1-3个工作日内发货。

3. 如果客户所需要的产品,需要重新生产,我们有权告知客户,交货时间需要延期。
ChemFaces的产品在许多优秀和顶级科学期刊中被引用
我们的产品现已经出口到下面的研究机构与大学,并且还在增涨
National Chung Hsing University (Taiwan)
University of Illinois (USA)
VIB Department of Plant Systems Biology, UGent (PSB) (Belgium)
Funda??o Universitária de Desenvolvimento (Brazil)
Chungnam National University (Korea)
Uniwersytet Gdański (Poland)
University of Parma (Italy)
Institute of Bioorganic Chemistry Polish Academy of Sciences (Poland)
Shanghai Institute of Organic Chemistry (China)
VIT University (India)
University of Liège (Belgium)
University of Malaya (Malaysia)
Utrecht University (Netherlands)
Sant Gadge Baba Amravati University (India)
国外学术期刊发表的引用ChemFaces产品的部分文献
Description:
Isoimperatorin has analgesic, hepatoprotective, antimicrobial, anti-inflammatory, vascular relaxing and anticancer activities. It inhibited the expression of COX, TNF-α, PPAR-γ,ERK1/2, PI3K, and PKC. It showed significant inhibitory effects on acetylcholinesterase (AChE) with the IC50 of 74.6 uM, it also showed different inhibitory effects on all of the six CYP isoenzymes(human CYP1A2, 2B6, 2C9, 2C19, 2D6 and 3A4 enzymes).
Targets:
P450 (e.g. CYP17) | Nrf2 | COX | TNF-α | ERK | Akt | PI3K | PKC | PPAR | AChR
In vitro:

Lett Appl Microbiol. 2014 Apr;58(4):344-9.
In vitro activity of isoimperatorin, alone and in combination, against Mycobacterium tuberculosis.[Pubmed: 24330002]
Previous studies have shown that isoimperatorin (IO), a furanocoumarin isolated from several medicinal plants, has antimycobacterial activity against Mycobacterium tuberculosis strain H37Rv (ATCC 27294).
METHODS AND RESULTS:
This study demonstrated that IO has antimycobacterial activity against 2 drug-sensitive and 6 drug-resistant isolates, with minimum inhibitory concentrations (MICs) of 50-100 μg ml(-1) and 100-200 μg ml(-1), respectively. IO exhibited synergistic antimycobacterial effects with rifampin (RMP), isoniazid (INH) and ethambutol (EMB) against 6 drug-resistant strains, with fractional inhibitory concentration index (FICI) values of 0·133-0·472, 0·123-0·475 and 0·124-0·25, respectively. The IO/RMP, IO/INH and IO/EMB combination treatments had synergistic effects or no interaction in the 2 drug-sensitive strains and the standard strain ATCC 27294. The synergism of combined drugs against drug-resistant strains was better than drug-sensitive strains. No antagonism was observed in with the aforementioned combinations against all strains tested. IO exhibited relatively low cytotoxicity to Vero cells. Our results indicate that IO may serve as promising a template for future antimycobacterial drug development.
CONCLUSIONS:
This is the first report on the in vitro synergistic antimycobacterial effects of isoimperatorin (IO) in combination with three first-line drugs: rifampin (RMP), isoniazid (INH) and ethambutol (EMB). The results indicated that the antimycobacterial activity of IO was modest; however, IO was a useful and effective agent against Myco. tuberculosis when it was combined with first-line antimycobacterial drugs and is worthy of further development as a lead compound for the development of novel antimycobacterial therapeutic agents.
Arch Pharm Res. 2008 Feb;31(2):210-5.
The effects of isoimperatorin isolated from Angelicae dahuricae on cyclooxygenase-2 and 5-lipoxygenase in mouse bone marrow-derived mast cells.[Pubmed: 18365692]
Isoimperatorin (4-[(3-Methyl-2-butenyl)oxy]-7H-furo[3,2-g][1]benzopyran-7-one) is a medicinal herbal product that is isolated from the dried roots of Angelicae dahuricae.
METHODS AND RESULTS:
Isoimperatorin inhibits the cyclooxygenase-2 (COX-2) and COX-1-dependent phases of prostaglandin D2 (PGD2) generation in bone marrow-derived mast cells (BMMC) in a concentration-dependent manner, with IC50 values of 10.7 microM and 24 microM, respectively. However, this compound was not able to inhibit COX-1 and 2 protein expression in BMMC that were treated with concentrations of up to 50 microM, which indicates that isoimperatorin directly inhibits COX-2 activity. Furthermore, this compound consistently inhibited the production of leukotriene C4 (LTC4), as well as the degranulation reaction in BMMC, with an IC50 value of 5.7 microM and 9 microM, respectively, and these effects occurred in a dose dependent fashion.
CONCLUSIONS:
These results demonstrate that isoimperatorin has a dual cyclooxygenase-2 selective/5-lipoxygenase inhibitory activity, and therefore may provide the basis for novel anti-inflammatory drugs.
J Ethnopharmacol. 2011 Jan 27;133(2):336-44.
Isoimperatorin, cimiside E and 23-O-acetylshengmanol-3-xyloside from Cimicifugae rhizome inhibit TNF-α-induced VCAM-1 expression in human endothelial cells: involvement of PPAR-γ upregulation and PI3K, ERK1/2, and PKC signal pathways.[Pubmed: 20937376 ]
Pretreatment of test compounds significantly reduced reactive oxygen species (ROS) production and expression of vascular cell adhesion molecule-1 (VCAM-1), but not intercellular cell adhesion molecule-1 (ICAM-1). Three compounds all dose-dependently increased not only PPAR-γ expression in EA.hy926 cells but inhibited TNF-α-induced phosphorylation of Akt, extracellular-signal-regulated kinase (ERK) and protein kinase C (PKC) with different specificity. Finally, they prevented TNF-α-induced adhesion of U937 monocytic cells to EA.hy926 cells. CONCLUSIONS: The present results show that cimiside E, 23-O-actylshengmanol-3-xyloside, isoimperatorin isolated from Cimicifugae Rhizome selectively inhibits TNF-α-induced expression of VCAM-1 at least by upregulation of PPAR-γ, and signals for ERK1/2, PI3K, and PKC are involved in this effect.
| | | | | | |
| --- | --- | --- | --- | --- | --- |
| | 1 mg | 5 mg | 10 mg | 20 mg | 25 mg |
| 1 mM | 3.6999 mL | 18.4993 mL | 36.9987 mL | 73.9973 mL | 92.4967 mL |
| 5 mM | 0.74 mL | 3.6999 mL | 7.3997 mL | 14.7995 mL | 18.4993 mL |
| 10 mM | 0.37 mL | 1.8499 mL | 3.6999 mL | 7.3997 mL | 9.2497 mL |
| 50 mM | 0.074 mL | 0.37 mL | 0.74 mL | 1.4799 mL | 1.8499 mL |
| 100 mM | 0.037 mL | 0.185 mL | 0.37 mL | 0.74 mL | 0.925 mL |
* Note:
If you are in the process of experiment, it's need to make the dilution ratios of the samples. The dilution data of the sheet for your reference. Normally, it's can get a better solubility within lower of Concentrations.
部分图片展示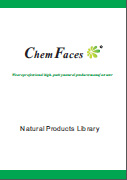 联系方式

电机:027-84237783
传真:027-84254680
在线QQ1: 2056216494 ; QQ2: 3257982914
E-Mail:manager@chemfaces.com

湖北省武汉沌口经济技术开区车城南路83号1号楼第三层厂房