甘草酸
Glycyrrhizic acid
产品编号
CFN99151
CAS编号
1405-86-3
分子式 = 分子量
C42H62O16 = 822.92
产品纯度
>=98%
物理属性
Powder
化合物类型
Triterpenoids
植物来源
The roots of Glycyrrhiza glabra L.
ChemFaces的产品在影响因子大于5的优秀和顶级科学期刊中被引用
| | | | | |
| --- | --- | --- | --- | --- |
| 产品名称 | 产品编号 | CAS编号 | 包装 | QQ客服 |
| 甘草酸 | CFN99151 | 1405-86-3 | 10mg | QQ客服:1457312923 |
| 甘草酸 | CFN99151 | 1405-86-3 | 20mg | QQ客服:1457312923 |
| 甘草酸 | CFN99151 | 1405-86-3 | 50mg | QQ客服:1457312923 |
| 甘草酸 | CFN99151 | 1405-86-3 | 100mg | QQ客服:1457312923 |
1. 在您收到产品后请检查产品。如无问题,请将产品存入冰霜并且样品瓶保持密封,产品可以存放长达24个月(2-8摄氏度)。

2. 只要有可能,产品溶解后,您应该在同一天应用于您的实验。 但是,如果您需要提前做预实验,或者需要全部溶解,我们建议您将溶液以等分试样的形式存放在-20℃的密封小瓶中。 通常,这些可用于长达两周。 使用前,打开样品瓶前,我们建议您将产品平衡至室温至少1小时。

3. 需要更多关于溶解度,使用和处理的建议? 请发送电子邮件至:service@chemfaces.com
订购流程
1. 在线订购
请联系我们QQ客服


2. 电话订购
请拨打电话:
027-84237683 或 027-84237783


3. 邮件或传真订购
发送电子邮件到: manager@chemfaces.com 或
发送传真到:027-84254680


提供订购信息
为了方便客户的订购,请需要订购ChemFaces产品的客户,在下单的时候请提供下列信息,以供我们快速为您建立发货信息。
1. 产品编号(CAS No.或产品名称)
2. 发货地址
3. 联系方法 (联系人,电话)
4. 开票抬头 (如果需要发票的客户)
5. 发票地址(发货地址与发票地址不同)
发货时间
1. 付款方式为100%预付款客户,我们将在确认收到货款后当天或1-3个工作日发货。

2. 付款方式为月结的客户,我们承诺在收到订单后当天或1-3个工作日内发货。

3. 如果客户所需要的产品,需要重新生产,我们有权告知客户,交货时间需要延期。
ChemFaces的产品在许多优秀和顶级科学期刊中被引用
我们的产品现已经出口到下面的研究机构与大学,并且还在增涨
Uniwersytet Medyczny w ?odzi (Poland)
Agricultural Research Organization (ARO) (Israel)
Fraunhofer-Institut für Molekularbiologie und Angewandte ?kologie IME (Germany)
University of Maryland (USA)
Universidade Federal de Goias (UFG) (Brazil)
Universiti Malaysia Pahang (Malaysia)
University of Hertfordshire (United Kingdom)
University of Parma (Italy)
Wroclaw Medical University (Poland)
Korea Intitute of Science and Technology (KIST) (Korea)
Complutense University of Madrid (Spain)
Deutsches Krebsforschungszentrum (Germany)
Martin Luther University of Halle-Wittenberg (Germany)
Washington State University (USA)
国外学术期刊发表的引用ChemFaces产品的部分文献
Description:
Glycyrrhizic acid has anti-tumor, antiviral ,antiallergic, anti-inflammatory, immunoregulatory,anti-diabetic activities. It is a direct HMGB1(high mobility group box 1) inhibitor that inhibits HMGB1-dependent inflammatory molecule expression and oxidative stress; modulates P38 and P-JNK but not p-ERK signalling; Also inhibits 11 beta-hydroxysteroid dehydrogenase and monoamine oxidase (MAO).
Targets:
NO | PGE | ROS | NOS | COX | TNF-α | NF-kB | PI3K | IL Receptor | Antifection
In vitro:

J Agric Food Chem. 2011 Jul 27;59(14):7726-33.
Glycyrrhizic acid and 18β-glycyrrhetinic acid modulate lipopolysaccharide-induced inflammatory response by suppression of NF-κB through PI3K p110δ and p110γ inhibitions.[Pubmed: 21644799]
The roots and rhizomes of licorice ( Glycyrrhia ) species have been used extensively as natural sweeteners and herbal medicines.
METHODS AND RESULTS:
The aim of this work was to determine the in vitro anti-inflammatory effects of glycyrrhizic acid (GA) and 18β-glycyrrhetinic acid (18βGA) from licorice in a lipopolysaccharide (LPS)-stimulated macrophage model. The results showed that treatment with 25-75 μM GA or 18βGA did not reduce RAW 264.7 cell viability but did significantly inhibit the production of LPS-induced nitric oxide (NO), prostaglandin E(2) (PGE(2)), and intracellular reactive oxygen species (ROS). Western blotting and reverse transcriptase polymerase chain reaction (RT-PCR) analyses revealed that GA and 18βGA significantly reduced the protein and mRNA levels of iNOS and COX-2 in LPS-induced macrophages. Both GA and 18βGA inhibited the activation of NF-κB and the activities of phosphoinositide-3-kinase (PI3K) p110δ and p110γ isoforms and then reduced the production of LPS-induced tumor necrosis factor-α (TNF-α), interleukin (IL)-6, and IL-1β in a dose-dependent manner. In conclusion, these results indicate that GA and 18βGA may provide an anti-inflammatory effect by attenuating the generation of excessive NO, PGE(2), and ROS and by suppressing the expression of pro-inflammatory genes through the inhibition of NF-κB and PI3K activity.
CONCLUSIONS:
Thus, the results suggest that GA and 18βGA might serve as potential agents for the treatment of inflammatory-mediated diseases.
J Ethnopharmacol. 2013 May 2;147(1):114-21.
Glycyrrhizic acid as the antiviral component of Glycyrrhiza uralensis Fisch. against coxsackievirus A16 and enterovirus 71 of hand foot and mouth disease.[Pubmed: 23454684 ]
The radices of Glycyrrhiza uralensis Fisch. and herbal preparations containing Glycyrrhiza spp. have been used for thousands of years as an herbal medicine for the treatment of viral induced cough, viral hepatitis, and viral skin diseases like ulcers in China. Glycyrrhizic acid (GA) is considered the principal component in Glycyrrhiza spp. with a wide spectrum of antiviral activity. The present study attempt to validate the medicinal use of Glycyrrhiza uralensis for hand, foot and mouth disease (HFMD) and further to verify whether GA is an active antiviral component in the water extract of Glycyrrhiza uralensis.
METHODS AND RESULTS:
Radices of Glycyrrhiza uralensis Fisch. were extracted with hot water. The chemical contents of the extract were profiled with HPLC analysis. The antiviral activity of the extract and the major components was evaluated against infection of enterovirus 71 (EV71) and coxsackievirus A16 (CVA16) on Vero cells. The cytopathic effect caused by the infection was measured with MTT assay. Infectious virion production was determined using secondary infection assays and viral protein expression by immunoblotting analysis. The extract at 1000 μg/ml suppressed EV71 replication by 1.0 log and CVA16 by 1.5 logs. The antiviral activity was associated with the content of GA in the extract since selective depletion of GA from the extract by acid precipitation resulted in loss of antiviral activity. In contrast, the acid precipitant retained antiviral activity. The precipitant at a concentration of 200 μg/ml inhibited EV71 and CVA16 replication by 1.7 and 2.2 logs, respectively. Furthermore, GA dose-dependently blocked viral replication of EV71 and CVA16. At 3 mM, GA reduced infectious CVA16 and EV71 production by 3.5 and 2.2 logs, respectively. At 5mM, CVA16 production was reduced by 6.0 logs and EV71 by 4.0 logs. Both EV71 and CVA16 are members of Enterovirus genus, time-of-drug addition studies however showed that GA directly inactivated CVA16, while GA anti-EV71 effect was associated with an event(s) post virus cell entry.
CONCLUSIONS:
This study validated the medicinal usefulness of radices Glycyrrhiza uralensis against the etiological agents of HFMD. In addition to the identification of GA as the antiviral component of Glycyrrhiza uralensis against EV71 and CVA16 infection, this study also reveals that GA inhibits EV71 and CVA16 with distinct mechanisms.

In vivo:

Am J Nephrol. 2014;40(1):84-95.
Glycyrrhizic acid ameliorates HMGB1-mediated cell death and inflammation after renal ischemia reperfusion injury.[Pubmed: 25059568]
Renal ischemia reperfusion injury (IRI) leads to acute kidney injury (AKI) and the death of tubular epithelial cells (TEC). The release of high-mobility group box-1 (HMGB1) and other damage-associated molecular pattern moieties from dying cells may promote organ dysfunction and inflammation by effects on TEC. Glycyrrhizic acid (GZA) is a functional inhibitor of HMGB1, but its ability to attenuate the HMGB1-mediated injury of TEC has not been tested.
METHODS AND RESULTS:
In vitro, hypoxia and cytokine treatment killed TEC and resulted in the progressive release of HMGB1 into the supernatant. GZA reduced the hypoxia-induced TEC death as measured by annexin-V and propidium iodide. Hypoxia increased the expression of MCP-1 and CXCL1 in TEC, which was reduced by GZA in a dose-dependent manner. Similarly, the HMGB1 activation of effector NK cells was inhibited by GZA. To test the effect of HMGB1 neutralization by GZA in vivo, mice were subjected to renal IRI. HMGB1 protein expression increased progressively in kidneys from 4 to 24 h after ischemia and was detected in tubular cells by 4 h using immunohistochemistry. GZA preserved renal function after IRI and reduced tubular necrosis and neutrophil infiltration by histological analyses and ethidium homodimer staining.
CONCLUSIONS:
Importantly, these data demonstrate for the first time that AKI following hypoxia and renal IRI may be promoted by HMGB1 release, which can reduce the survival of TEC and augment inflammation. Inhibition of the interaction of HMGB1 with TEC through GZA may represent a therapeutic strategy for the attenuation of renal injury following IRI and transplantation.
Biomed Res Int. 2014;2014:872139.
Glycyrrhizic acid in the treatment of liver diseases: literature review.[Pubmed: 24963489]
Glycyrrhizic acid (GA) is a triterpene glycoside found in the roots of licorice plants (Glycyrrhiza glabra). GA is the most important active ingredient in the licorice root, and possesses a wide range of pharmacological and biological activities. GA coupled with glycyrrhetinic acid and 18-beta-glycyrrhetic acid was developed in China or Japan as an anti-inflammatory, antiviral, and antiallergic drug for liver disease. This review summarizes the current biological activities of GA and its medical applications in liver diseases. The pharmacological actions of GA include inhibition of hepatic apoptosis and necrosis; anti-inflammatory and immune regulatory actions; antiviral effects; and antitumor effects.
CONCLUSIONS:
This paper will be a useful reference for physicians and biologists researching GA and will open the door to novel agents in drug discovery and development from Chinese herbs. With additional research, GA may be more widely used in the treatment of liver diseases or other conditions.
| | | | | | |
| --- | --- | --- | --- | --- | --- |
| | 1 mg | 5 mg | 10 mg | 20 mg | 25 mg |
| 1 mM | 1.2152 mL | 6.0759 mL | 12.1518 mL | 24.3037 mL | 30.3796 mL |
| 5 mM | 0.243 mL | 1.2152 mL | 2.4304 mL | 4.8607 mL | 6.0759 mL |
| 10 mM | 0.1215 mL | 0.6076 mL | 1.2152 mL | 2.4304 mL | 3.038 mL |
| 50 mM | 0.0243 mL | 0.1215 mL | 0.243 mL | 0.4861 mL | 0.6076 mL |
| 100 mM | 0.0122 mL | 0.0608 mL | 0.1215 mL | 0.243 mL | 0.3038 mL |
* Note:
If you are in the process of experiment, it's need to make the dilution ratios of the samples. The dilution data of the sheet for your reference. Normally, it's can get a better solubility within lower of Concentrations.
部分图片展示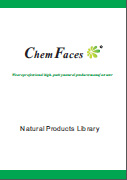 联系方式

电机:027-84237783
传真:027-84254680
在线QQ1: 2056216494 ; QQ2: 3257982914
E-Mail:manager@chemfaces.com

湖北省武汉沌口经济技术开区车城南路83号1号楼第三层厂房