人参皂苷Rb1
Ginsenoside Rb1
产品编号
CFN99964
CAS编号
41753-43-9
分子式 = 分子量
C54H92O23 = 1109.29
产品纯度
>=98%
物理属性
White powder
化合物类型
Triterpenoids
植物来源
The roots of Panax ginseng C. A. Mey.
ChemFaces的产品在影响因子大于5的优秀和顶级科学期刊中被引用
| | | | | |
| --- | --- | --- | --- | --- |
| 产品名称 | 产品编号 | CAS编号 | 包装 | QQ客服 |
| 人参皂苷Rb1 | CFN99964 | 41753-43-9 | 10mg | QQ客服:1413575084 |
| 人参皂苷Rb1 | CFN99964 | 41753-43-9 | 20mg | QQ客服:1413575084 |
| 人参皂苷Rb1 | CFN99964 | 41753-43-9 | 50mg | QQ客服:1413575084 |
| 人参皂苷Rb1 | CFN99964 | 41753-43-9 | 100mg | QQ客服:1413575084 |
1. 在您收到产品后请检查产品。如无问题,请将产品存入冰霜并且样品瓶保持密封,产品可以存放长达24个月(2-8摄氏度)。

2. 只要有可能,产品溶解后,您应该在同一天应用于您的实验。 但是,如果您需要提前做预实验,或者需要全部溶解,我们建议您将溶液以等分试样的形式存放在-20℃的密封小瓶中。 通常,这些可用于长达两周。 使用前,打开样品瓶前,我们建议您将产品平衡至室温至少1小时。

3. 需要更多关于溶解度,使用和处理的建议? 请发送电子邮件至:service@chemfaces.com
订购流程
1. 在线订购
请联系我们QQ客服


2. 电话订购
请拨打电话:
027-84237683 或 027-84237783


3. 邮件或传真订购
发送电子邮件到: manager@chemfaces.com 或
发送传真到:027-84254680


提供订购信息
为了方便客户的订购,请需要订购ChemFaces产品的客户,在下单的时候请提供下列信息,以供我们快速为您建立发货信息。
1. 产品编号(CAS No.或产品名称)
2. 发货地址
3. 联系方法 (联系人,电话)
4. 开票抬头 (如果需要发票的客户)
5. 发票地址(发货地址与发票地址不同)
发货时间
1. 付款方式为100%预付款客户,我们将在确认收到货款后当天或1-3个工作日发货。

2. 付款方式为月结的客户,我们承诺在收到订单后当天或1-3个工作日内发货。

3. 如果客户所需要的产品,需要重新生产,我们有权告知客户,交货时间需要延期。
ChemFaces的产品在许多优秀和顶级科学期刊中被引用
我们的产品现已经出口到下面的研究机构与大学,并且还在增涨
Weizmann Institute of Science (Israel)
University of East Anglia (United Kingdom)
Instituto de Investigaciones Agropecuarias (Chile)
Hamdard University (India)
Max-Planck-Insitut (Germany)
Korea Intitute of Science and Technology (KIST) (Korea)
Universidad de Ciencias y Artes de Chiapas (Mexico)
Imperial College London (United Kingdom)
University of Lodz (Poland)
University of Illinois at Chicago (USA)
Gyeongsang National University (Korea)
Cancer Research Initatives Foundation(CARIF) (Malaysia)
Universidade Católica Portuguesa (Portugal)
Complutense University of Madrid (Spain)
国外学术期刊发表的引用ChemFaces产品的部分文献
Description:
Ginsenoside Rb1 is a protopanaxadiol that has diverse in vitro and in vivo effects, including neuroprotective, cardioprotective, anti-obesity, anti-inflammatory, and anti-oxidative actions. Ginsenoside Rb1 can up-regulate the expression of GLUTs in adipose tissue, in addition to activate insulin signalling pathway, and may effectively ameliorate the progression of asthma through Relegating Th1/Th2. It inhibited Na+, K+-ATPase activity with an IC50 of 6.3±1.0 μM, activated Akt, phosphorylating GSK-3β and inhibited mPTP opening.
Targets:
p38MAPK | JNK | GLUT | Akt | IFN-γ | IL Receptor | GSK-3 | HO-1 | PKA | Estrogen receptor | Progestogen receptor
In vivo:

Vascul Pharmacol. 2015 Oct;73:86-95.
Ginsenoside Rb1 attenuates angiotensin II-induced abdominal aortic aneurysm through inactivation of the JNK and p38 signaling pathways.[Pubmed: 25912763]
Abdominal aortic aneurysm (AAA), a life-threatening vascular disease, accounts for approximately 10% of the morbidity in people over 65years old. No satisfactory approach is available to treat AAA. Ginsenosides Rb1 and Rg1 are primary ingredients of Panax notoginseng for the treatment of cardiovascular diseases, but their impact on AAA is unknown.
METHODS AND RESULTS:
An AAA model was established using an Ang II infusion in ApoE-/- mice. After continuous stimulation of Ang II for 28days, suprarenal aortic aneurysms developed in 77% mice and 12% mice died suddenly due to AAA rupture. Administration of Ginsenoside Rb1 (20mg/kg/day), but not ginsenoside Rg1, significantly reduced the incidence and mortality of AAA. Ginsenoside Rb1 treatment dramatically suppressed Ang II-induced diameter enlargement, extracellular matrix degradation, matrix metalloproteinase (MMP) production, inflammatory cell infiltration, and vascular smooth muscle cell (VSMC) dysfunction. Mechanistic studies indicated that the protective effects of Ginsenoside Rb1 were associated with the inactivation of JNK and p38 MAPK signaling pathways. A specific activator of JNK and p38, anisomycin, nearly abolished Ginsenoside Rb1-driven suppression of MMP secretion by VSMCs.
CONCLUSIONS:
Ginsenoside Rb1, as a potential anti-AAA agent, suppressed AAA through inhibiting the JNK and p38 signaling pathways.
Inflammation. 2015 Oct;38(5):1814-22.
Anti-Asthmatic Effects of Ginsenoside Rb1 in a Mouse Model of Allergic Asthma Through Relegating Th1/Th2.[Pubmed: 25832478]
The aim of the study was to investigate the anti-asthma effects of ginsenoside Rb1 (Rb1) and its possible mechanisms.
METHODS AND RESULTS:
A total of 50 mice were randomly assigned to five experimental groups: control, model, dexamethasone (2 mg/kg), and Rb1 (10 and 20 mg/kg). Airway resistance (RI) was measured; histological studies were evaluated by the hematoxylin and eosin (HE) staining; Th1/Th2, ovalbumin (OVA)-specific serum, and bronchoalveolar lavage fluid (BALF) IgE levels were evaluated enzyme-linked immunosorbent assay (ELISA); and T-bet/GATA3 proteins were evaluated by Western blot. Our study demonstrated that Rb1 inhibited OVA-induced increases in RI and eosinophil counts; interleukin (IL)-4 was recovered, and IFN-γlevel increased in bronchoalveolar lavage fluid. Histological studies demonstrated that Rb1 substantially inhibited OVA-induced eosinophilia in lung tissue. Western blot studies demonstrated that Rb1 substantially inhibited GATA3 and increased T-bet.
CONCLUSIONS:
These findings suggest that Rb1 may effectively ameliorate the progression of asthma and could be used as a therapy for patients with allergic asthma.
Pharmacogn Mag. 2014 Oct;10(40):458-63.
Effects of ginsenosides-Rb1 on exercise-induced oxidative stress in forced swimming mice.[Pubmed: 25422546]
The fleshy root of Panax ginseng C.A. Meyer (ginseng) is one of the most well-known and valued herbs in traditional Chinese medicine. Ginsenosides are considered mainly responsible for the pharmacological activities of ginseng. The purpose of this study was to investigate the effects of ginsenoside-Rb1 (G-Rb1) on swimming exercise-induced oxidative stress in male mice.
METHODS AND RESULTS:
A total of 48 animals were randomly divided into four groups, with twelve mice in each group. The first, second and third groups were designed as G-Rb1 treatment groups, got 25, 50 and 100 mg/kg bodyweight of G-Rb1, respectively. The fourth group was designed as the control group, got physiologic saline. The mice were intragastrically administered once daily for 4 weeks. The weight-loaded forced swimming test was conducted on the final day of experimentation. Then the exhaustive swimming time, blood lactate, serum creatine kinase (CK), malondialdehyde (MDA) and antioxidant enzymes in liver of mice were measured. The results showed that G-Rb1 could prolong the exhaustive swimming time and improve exercise endurance capacity of mice, as well as accelerate the clearance of blood lactate and decrease serum CK activities. Meanwhile, G-Rb1 could decrease MDA contents and increase superoxide dismutase, catalase, glutathione peroxidase activities in liver of mice.
CONCLUSIONS:
The study suggested that G-Rb1 possessed protective effects on swimming exercise-induced oxidative stress in mice.
| | | | | | |
| --- | --- | --- | --- | --- | --- |
| | 1 mg | 5 mg | 10 mg | 20 mg | 25 mg |
| 1 mM | 0.9015 mL | 4.5074 mL | 9.0148 mL | 18.0296 mL | 22.5369 mL |
| 5 mM | 0.1803 mL | 0.9015 mL | 1.803 mL | 3.6059 mL | 4.5074 mL |
| 10 mM | 0.0901 mL | 0.4507 mL | 0.9015 mL | 1.803 mL | 2.2537 mL |
| 50 mM | 0.018 mL | 0.0901 mL | 0.1803 mL | 0.3606 mL | 0.4507 mL |
| 100 mM | 0.009 mL | 0.0451 mL | 0.0901 mL | 0.1803 mL | 0.2254 mL |
* Note:
If you are in the process of experiment, it's need to make the dilution ratios of the samples. The dilution data of the sheet for your reference. Normally, it's can get a better solubility within lower of Concentrations.
部分图片展示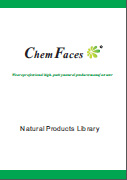 联系方式

电机:027-84237783
传真:027-84254680
在线QQ: 1413575084
E-Mail:manager@chemfaces.com

湖北省武汉沌口经济技术开区车城南路83号1号楼第三层厂房