积雪草酸
Asiatic acid
产品编号
CFN98688
CAS编号
464-92-6
分子式 = 分子量
C30H48O5 = 488.7
产品纯度
>=98%
物理属性
Powder
化合物类型
Triterpenoids
植物来源
The herbs of Centella asiatica.
ChemFaces的产品在影响因子大于5的优秀和顶级科学期刊中被引用
| | | | | |
| --- | --- | --- | --- | --- |
| 产品名称 | 产品编号 | CAS编号 | 包装 | QQ客服 |
| 积雪草酸 | CFN98688 | 464-92-6 | 10mg | QQ客服:2932563308 |
| 积雪草酸 | CFN98688 | 464-92-6 | 20mg | QQ客服:2932563308 |
| 积雪草酸 | CFN98688 | 464-92-6 | 50mg | QQ客服:2932563308 |
| 积雪草酸 | CFN98688 | 464-92-6 | 100mg | QQ客服:2932563308 |
1. 在您收到产品后请检查产品。如无问题,请将产品存入冰霜并且样品瓶保持密封,产品可以存放长达24个月(2-8摄氏度)。

2. 只要有可能,产品溶解后,您应该在同一天应用于您的实验。 但是,如果您需要提前做预实验,或者需要全部溶解,我们建议您将溶液以等分试样的形式存放在-20℃的密封小瓶中。 通常,这些可用于长达两周。 使用前,打开样品瓶前,我们建议您将产品平衡至室温至少1小时。

3. 需要更多关于溶解度,使用和处理的建议? 请发送电子邮件至:service@chemfaces.com
订购流程
1. 在线订购
请联系我们QQ客服


2. 电话订购
请拨打电话:
027-84237683 或 027-84237783


3. 邮件或传真订购
发送电子邮件到: manager@chemfaces.com 或
发送传真到:027-84254680


提供订购信息
为了方便客户的订购,请需要订购ChemFaces产品的客户,在下单的时候请提供下列信息,以供我们快速为您建立发货信息。
1. 产品编号(CAS No.或产品名称)
2. 发货地址
3. 联系方法 (联系人,电话)
4. 开票抬头 (如果需要发票的客户)
5. 发票地址(发货地址与发票地址不同)
发货时间
1. 付款方式为100%预付款客户,我们将在确认收到货款后当天或1-3个工作日发货。

2. 付款方式为月结的客户,我们承诺在收到订单后当天或1-3个工作日内发货。

3. 如果客户所需要的产品,需要重新生产,我们有权告知客户,交货时间需要延期。
ChemFaces的产品在许多优秀和顶级科学期刊中被引用
我们的产品现已经出口到下面的研究机构与大学,并且还在增涨
Lodz University of Technology (Poland)
Calcutta University (India)
S.N.D.T. Women's University (India)
Sri Sai Aditya Institute of Pharmaceutical Sciences and Research (India)
Mendel University in Brno (Czech Republic)
The Vancouver Prostate Centre (VPC) (Canada)
Mahidol University (Thailand)
Universidad de Ciencias y Artes de Chiapas (Mexico)
Washington State University (USA)
Institute of Pathophysiology Medical University of Vienna (Austria)
Deutsches Krebsforschungszentrum (Germany)
Kyushu University (Japan)
University of Queensland (Australia)
University of Oslo (Norway)
国外学术期刊发表的引用ChemFaces产品的部分文献
Description:
Asiatic acid shows antihyperlipidemic, anti-inflammatory, antioxidant, and anti-tumorigenesis effects, it inhibits NLRP3 inflammasome activation, NO and COX-2 signals. Asiatic acid inhibits the expression NDR1/2 kinase and promotes the stability of p21WAF1/CIP1 protein through attenuating NDR1/2 dependent phosphorylation of p21WAF1/CIP1 in HepG2 cells.
Targets:
TNF-α | IFN-γ | IL Receptor | Caspase | p21 | NOS | NADPH-oxidase | NO | HMG-CoA reductase | COX
In vivo:

Int Immunopharmacol. 2015 Feb;24(2):232-8.
Asiatic acid ameliorates dextran sulfate sodium-induced murine experimental colitis via suppressing mitochondria-mediated NLRP3 inflammasome activation.[Pubmed: 25523461]
In the present study, the effect of asiatic acid, a natural triterpenoid compound, on murine experimental colitis induced by dextran sulfate sodium (DSS) and its possible mechanism were examined in vivo and vitro.
METHODS AND RESULTS:
Oral administration of asiatic acid dose-dependently attenuated the loss of body weight and shortening of colon length induced by DSS. The disease activity index, histopathologic scores of musco and myeloperoxidase activity were also significantly reduced by asiatic acid treatment. Protein and mRNA levels of DSS-induced pro-inflammatory cytokines in colon, including TNF-α, IL-1β, IL-6 and IFN-γ, were markedly suppressed by asiatic acid. At the same time, decreased activation of caspase-1 in peritoneal macrophages was detected in asiatic acid-treated mice, which suggested that the NLRP3 inflammasome activation was suppressed. In addition, we also found that asiatic acid dose-dependently inhibited IL-1β secretion, caspase-1 activation as well as inflammasome assembling in vitro. Furthermore, the mechanism of asiatic acid was related to the inhibition of mitochondrial reactive oxygen species generation and prevention of mitochondrial membrane potential collapse.
CONCLUSIONS:
Taken together, our results demonstrate the ability of asiatic acid to inhibit NLRP3 inflammasome activation and its potential usage in the treatment of inflammatory bowel diseases.
Nutrients. 2014 Jan 16;6(1):355-70.
Asiatic acid alleviates hemodynamic and metabolic alterations via restoring eNOS/iNOS expression, oxidative stress, and inflammation in diet-induced metabolic syndrome rats.[Pubmed: 24441717 ]
Asiatic acid is a triterpenoid isolated from Centella asiatica. The present study aimed to investigate whether Asiatic acid could lessen the metabolic, cardiovascular complications in rats with metabolic syndrome (MS) induced by a high-carbohydrate, high-fat (HCHF) diet.
METHODS AND RESULTS:
Male Sprague-Dawley rats were fed with HCHF diet with 15% fructose in drinking water for 12 weeks to induce MS. MS rats were treated with Asiatic acid (10 or 20 mg/kg/day) or vehicle for a further three weeks. Plasma nitrate and nitrite (NOx) were markedly high with upregulation of inducible nitric oxide synthase (iNOS) expression, but dowregulation of endothelial nitric oxide synthase (eNOS) expression (p<0.05). Asiatic acid significantly improved insulin sensitivity, lipid profiles, hemodynamic parameters, oxidative stress markers, plasma TNF-α, NOx, and recovered abnormality of eNOS/iNOS expressions in MS rats (p<0.05).
CONCLUSIONS:
In conclusion, Asiatic acid improved metabolic, hemodynamic abnormalities in MS rats that could be associated with its antioxidant, anti-inflammatory effects and recovering regulation of eNOS/iNOS expression.
Phytomedicine. 2014 Feb 15;21(3):225-32.
Antidiabetic and antihyperlipidemic activity of asiatic acid in diabetic rats, role of HMG CoA: in vivo and in silico approaches.[Pubmed: 24075211]
Hyperlipidemia is an associated complication of diabetes and also a major risk factor for cardiovascular diseases.
METHODS AND RESULTS:
The present study was designed to examine the antihyperlipidemic effect of asiatic acid (AA) in streptozotocin (STZ) induced diabetic rats. Diabetes was induced in male Wistar rats by a single intraperitoneal injection of STZ (40 mg/kg b.w.). Diabetic rats show increased plasma glucose, total cholesterol, triglycerides, free fatty acids, phospholipids, low density lipoprotein, very low density liprotein, atherogenic index and decreased insulin and high density lipoprotein in diabetic rats. The activity of 3-hydroxy 3-methylglutaryl coenzyme A (HMG CoA) reductase increased significantly in contrast to the activities of lipoprotein lipase and lecithin cholesterol acyltransferase. In addition, the molecular docking of AA against HMG CoA reductase involved in cholesterol biosynthesis using Argus software. Diabetic rats were treated with AA shifted all these parameters towards normalcy. AA has shown best ligand binding energy 11.8122 kcal/mol. The antihyperlipidemic effect of AA was compared with glibenclamide; a well-known antihyperglycemic drug.
CONCLUSIONS:
In conclusion, this study indicates that AA showed an antihyperlipidemic effect in addition to its antidiabetic effect in experimental diabetes.
| | | | | | |
| --- | --- | --- | --- | --- | --- |
| | 1 mg | 5 mg | 10 mg | 20 mg | 25 mg |
| 1 mM | 2.0462 mL | 10.2312 mL | 20.4625 mL | 40.9249 mL | 51.1561 mL |
| 5 mM | 0.4092 mL | 2.0462 mL | 4.0925 mL | 8.185 mL | 10.2312 mL |
| 10 mM | 0.2046 mL | 1.0231 mL | 2.0462 mL | 4.0925 mL | 5.1156 mL |
| 50 mM | 0.0409 mL | 0.2046 mL | 0.4092 mL | 0.8185 mL | 1.0231 mL |
| 100 mM | 0.0205 mL | 0.1023 mL | 0.2046 mL | 0.4092 mL | 0.5116 mL |
* Note:
If you are in the process of experiment, it's need to make the dilution ratios of the samples. The dilution data of the sheet for your reference. Normally, it's can get a better solubility within lower of Concentrations.
部分图片展示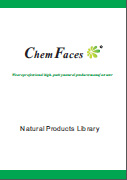 联系方式

电机:027-84237783
传真:027-84254680
在线QQ: 215959384
E-Mail:manager@chemfaces.com

湖北省武汉沌口经济技术开区车城南路83号1号楼第三层厂房